Mount Auburn Cemetery- The First Rural Cemetery in the United States
Purchases made through links earn us a small commission, at no extra cost to you.
Mount Auburn Cemetery has the distinction of being the first rural cemetery (also known as a garden cemetery) in the United States. Admired for its picturesque landscape design and Victorian funerary art, Mount Auburn became the catalyst and prototype for the American rural cemetery movement of the mid-19th century.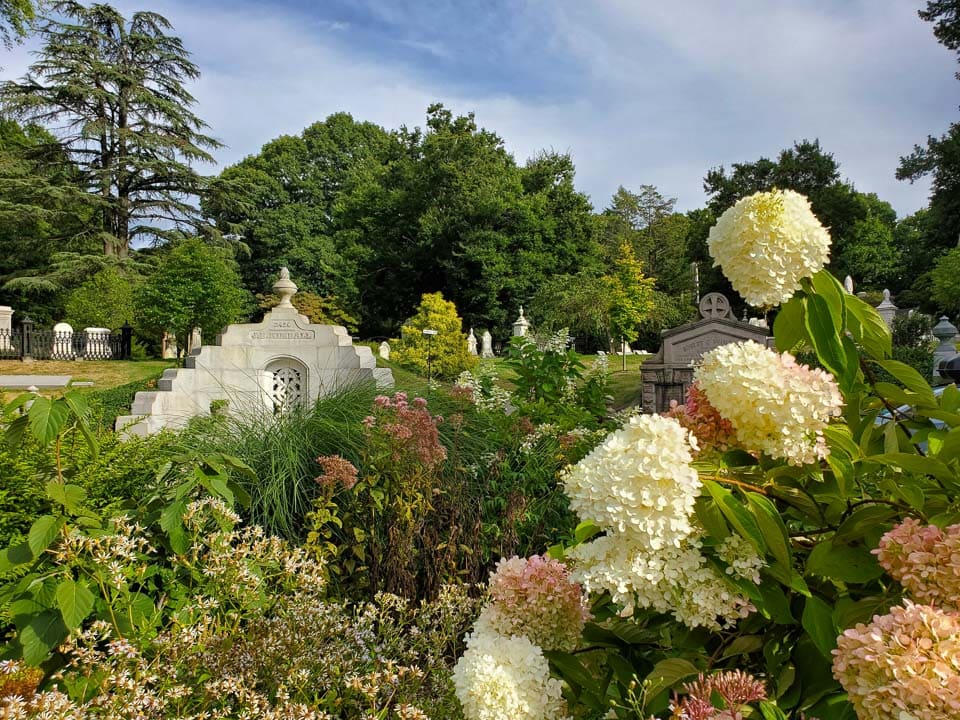 In addition to its historic importance and role as an arboretum, Mount Auburn Cemetery is also known for being the burial place of many prominent Boston Brahmins, the city's traditional upper class.
History of Mount Auburn Cemetery
In the early 1800s, the city of Boston was facing a land use problem, and potential health concerns, due to an increasing amount of burials in urban churchyards. This dilemma was not unique to Boston, as cities in Europe faced the same problem in the 19th century. In Europe, the solution was to create rural cemeteries, and soon the same approach was tried in the United States.
The idea for Mount Auburn Cemetery was conceived around 1825 by Dr. Jacob Bigelow, who had concerns about the unhealthiness of church graveyards at the time. To facilitate the creation of this new rural cemetery, the Massachusetts Horticultural Society purchased 72 acres of woodland in Cambridge and Watertown for use as a garden cemetery.
When Mount Auburn Cemetery was opened on September 24, 1831, it became the first rural cemetery in the United States. A crowd of more than 2,000 people gathered for the cemetery's dedication address by Supreme Court Justice, and first president of the Mount Auburn Association, Joseph Story.
It wasn't long until Mount Auburn Cemetery became known for its tranquil atmosphere and beautifully landscaped setting, a reputation it still holds today. The cemetery became so popular that by the 1840s it was one of the most popular tourist destinations in the country, welcoming about 60,000 visitors per year.
Throughout the course of Mount Auburn Cemetery's history, it has managed to preserve Victorian era tastes in landscape design and funerary art, while evolving to reflect changing attitudes towards death and how loved ones are commemorated. It is even credited as beginning the movement for public parks and gardens in the United States.
Mount Auburn Cemetery's historical significance, both as a landscape and burial place, led to it being listed on the National Register of Historic Places in 1975 and designated as a National Historic Landmark in 2003.
Despite its age and popularity, Mount Auburn Cemetery has burial space available and remains a non-denominational place of remembrance.
Design of Mount Auburn Cemetery
Mount Auburn Cemetery is a classic example of a 19th century rural cemetery with a landscaped, park-like appearance inspired by the English garden movement and elaborate memorials adorned with Victorian symbolism.
Its 175 acres have a romantic aesthetic with plenty of natural features such as mature woodlands, shrubs, ponds, ornamental gardens, and rolling hills. A web of curving roads and pathways divides the cemetery into small sections of scenic serenity.
Mount Auburn Cemetery was designed by Henry A.S. Dearborn, President of the Massachusetts Horticultural Society, with assistance from Alexander Wadsworth and Jacob Bigelow. They drew inspiration for its design from Père Lachaise Cemetery in Paris, the world's original garden cemetery.
Throughout Mount Auburn Cemetery you'll see several styles of monuments and memorials including obelisks, columns, canopies, pedestals, ledger stones, steles, urns, relief carvings, sarcophagi, and temples.
Much of the monumental sculpture in Mount Auburn Cemetery is decorated with allegorical figures and symbols conveying eternity, grief, hope, peace, affection, and many more ideas relating to life and death.
In addition to Mount Auburn's artistic and symbolic funerary art, you'll find three buildings of architectural interest. There's the prominent Egyptian Revival entrance gate, the Bigelow Chapel made of Quincy granite and stained glass windows, and the 62 ft tall Washington Tower which provides a panoramic view of the cemetery.
The design of Mount Auburn Cemetery was so admired in the 1800s that it served as a model for other rural cemeteries in the United States. Some of the cemeteries whose style was influenced by Mount Auburn include Green-Wood Cemetery in Brooklyn, Hollywood Cemetery in Richmond, and Laurel Hill Cemetery in Philadelphia.
Notable Monuments in Mount Auburn Cemetery
There are over 60,000 monuments thoughtfully placed around Mount Auburn Cemetery to commemorate significant events and individuals. Some of the monuments are notable for who or what they memorialize, while others are recognized for their design characteristics and artistic value.
Here are just a few of the many gorgeous monuments in Mount Auburn Cemetery you can see when visiting.
Mount Auburn Cemetery Sphinx
One of the most unique and unexpected monuments in Mount Auburn Cemetery is the Sphinx sculpture on the Bigelow Chapel Lawn.
Designed by Jacob Bigelow and sculpted from a single block of granite by Martin Milmore in 1872, the Sphinx at Mount Auburn Cemetery serves as a memorial to the Civil War. A sphinx figure was chosen because of its association with strength and intelligence.
The monument is 15 feet long and incorporates symbolism from ancient Egyptian and American cultures. On the Sphinx's headdress there's an eagle and elsewhere on the monument you'll see an American water lily and an Egyptian lotus.
An inscription on the monument reads, in both Latin and English, "American union preserved, African slavery destroyed, By the uprising of great people, By the blood of fallen heroes."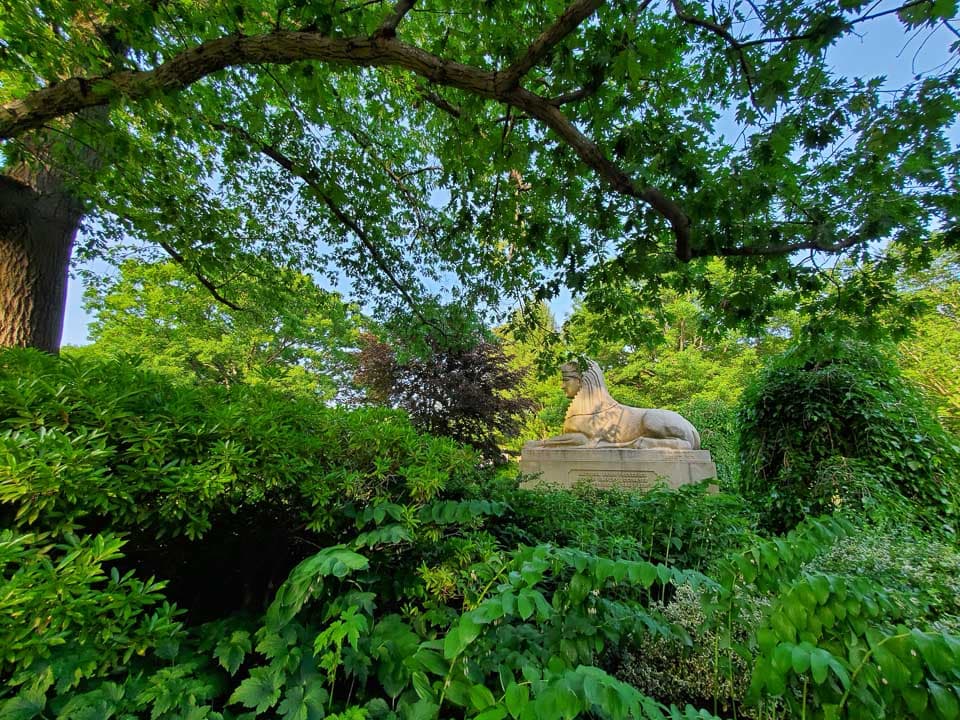 Shaw Monument
The Shaw Monument commemorates Robert Gould Shaw, a Boston philanthropist, as well as his grandson of the same name, a colonel who commanded the all-black 54th Massachusetts Infantry Regiment during the Civil War.
The Shaw Monument is notable not only for its cultural significance, but for its Neoclassical design too. Interestingly, the monument's centerpiece is a Greco-Roman marble bas-relief from the 1st century B.C. that was imported from Athens, Greece. It features two winged boreads who were the "wind brothers" in Greek mythology.
Naval Monument for the United States Exploring Expedition
Mount Auburn Cemetery has a large marble obelisk that commemorates the United States Exploring Expedition, one of the country's greatest naval expeditions. The expedition circumnavigated the globe, surveying and collecting specimens from the Pacific Ocean and surrounding lands.
The monument was erected in 1843 to honor four men who lost their lives during the voyage. The cenotaph resembles an Egyptian obelisk and stands 22 feet high.
Binney Monument
The Binney Monument is the only monument in Mount Auburn Cemetery that has been designated an American Treasure, an honor bestowed in 1999 by the National Trust for Historic Preservation and the White House Millenium Committee.
The monument memorializes Amos Binney, a naturalist and art collector, and is known for being the only completed piece of funerary art by renowned American sculptor Thomas Crawford.
Carved from Carrara marble in 1847, the monument features sculpted drapery, a laurel wreath, and an image of a male spirit rising to Heaven. On the back of the monument is an image of a mourning woman clutching an urn to her chest.
The Binney Monument is considered by many to be Crawford's greatest work of art.
Benjamin Franklin Memorial
Even though Benjamin Franklin is not buried in Mount Auburn Cemetery (his resting place is at Christ Church Burial Ground in Philadelphia), there is a monument dedicated to him in the cemetery.
Mount Auburn's Benjamin Franklin Memorial was erected in 1855 by Thomas Dowse, a philanthropist and admirer of Franklin and his work. The obelisk monument to Franklin was placed adjacent to Dowse's own obelisk memorial.
There's an inscription on the monument that reads, "To the memory of Benjamin Franklin, the Printer, the Philosopher, the Statesman, the Patriot, who, by his wisdom, blessed his country and his age, and bequeathed to the world an illustrious example of industry, integrity, and self-culture."
Thomas Handasyd Perkins Memorial
The gravesite of Thomas Handasyd Perkins, a wealthy merchant and philanthropist, has one of the most beloved memorials in Mount Auburn Cemetery.
Covering the Perkins tomb is a sculpture of a Newfoundland dog laying down with its head upright. The sculptor, Horatio Greenough, did a wonderful job capturing the dog's longing gaze, as though he/she is missing his owner.
Nathaniel Bowditch Memorial
The monument to mathemetician and ship captain Nathaniel Bowditch features a bronze sculpture of Bowditch sitting on an Egyptian-style granite pedestal. At his feet lay an octant and celestial globe- a nod to his creation of modern maritime navigation techniques.
The Bowditch Monument was crafted in 1847 by renowned British-American sculptor Robert Ball Hughes and is known for being the first life-size bronze cast in the United States.
Eddy Monument
One of the finest monuments in Mount Auburn Cemetery is the Mary Baker Eddy Memorial, a Neoclassical temple made out of Bethel White granite.
The memorial to Mary Baker Eddy, a religious leader, was designed by architect Egerton Swartwout. The open temple looks out onto Halcyon Lake and features Greek-inspired columns and a set of curving steps around the base of the monument. The temple is considered to be one of the best examples of granite carving in the United States.
Mount Auburn Cemetery Burials- Famous Graves in Mount Auburn Cemetery
There are more than 100,000 people buried in Mount Auburn Cemetery. Among the Mount Auburn Cemetery burials are scientists, inventors, architects, writers, artists, educators, conservationists, politicians, and the Boston elite.
Here are some of the many notable burials in Mount Auburn Cemetery.
Final Words
Mount Auburn is one of the most beautiful cemeteries in the United States, so is a must-see if you're visiting the Boston area.
The cemetery holds great appeal for history buffs and those who appreciate the naturalistic setting of English landscape gardens. In a way, visiting Mount Auburn Cemetery is like walking through a botanical garden and museum of funerary art all in one. You never know what beautiful scene awaits around the next bend!
Perhaps the best quality of Mount Auburn Cemetery is that it appears to be an effortless union of art and nature, life and death. The towering trees, vibrant flowers, and fluttering birds and butterflies are a comforting reminder that life goes on, even during times of sorrow.
Accommodations
If you're planning to visit Mount Auburn Cemetery and need accommodations, here is a list of hotels in Boston and surrounding area. Please consider booking your accommodations through the included link. It costs nothing extra and helps support this website.
Nearby Cemeteries
Here are some nearby cemeteries in Boston you may also be interested in:
More Burial Places in the United States