King's Chapel Burying Ground- Boston's Oldest Cemetery
Purchases made through links earn us a small commission, at no extra cost to you.
King's Chapel Burying Ground is Boston's oldest cemetery and one of three historic Boston cemeteries on the Freedom Trail.
It was a final resting place for English colonists half a century before the adjacent King's Chapel was built and contains the graves of many prominent Boston residents.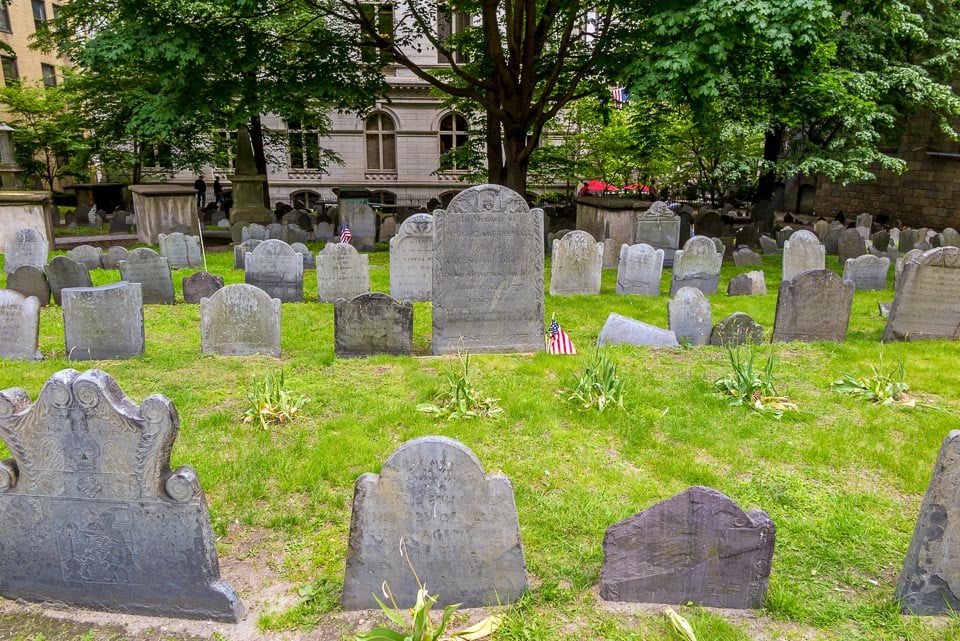 History of King's Chapel Burying Ground
Officially established in 1630, the same year Boston was founded, this burial ground may take its name from King's Chapel, but this wasn't built until 1686.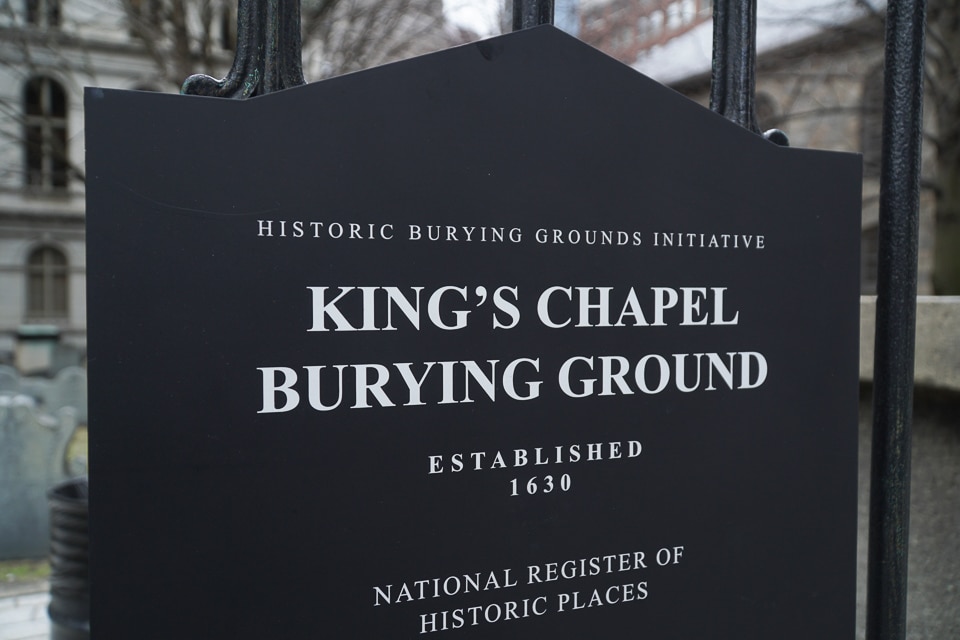 Since the Anglican congregation wasn't able to get land anywhere but the cemetery, it was here that the King's Chapel was built. The cemetery itself actually was known as the Burying Ground until the 1750s when it was renamed after the chapel, despite being unassociated with the church.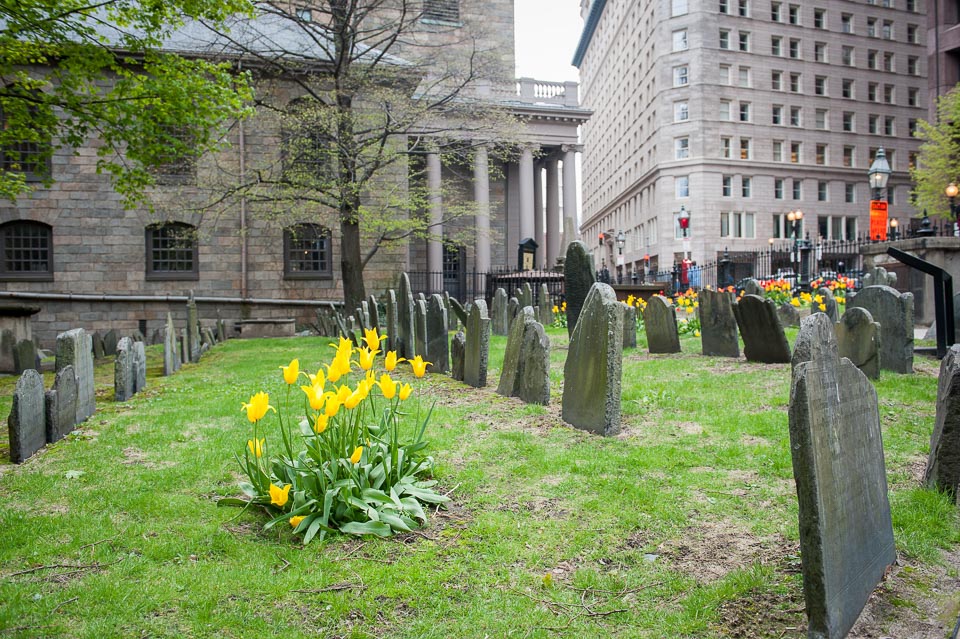 For thirty years King's Chapel Burying Ground was the only burial site in Boston. First Copp's Hill Burying Ground (1659) then Granary Burying Ground (1660) followed in answer to Boston's growing population and their deceased.
It's said that the original cemetery was part of the estate of Isaac Johnson, an English Puritan clergyman and a founding settler of Massachusetts. It's also said that Johnson was the first burial at the site.
Design of King's Chapel Burying Ground
King's Chapel Burying Ground is a small square plot, only half an acre in size. This compact space didn't exactly lend itself to large-scale burials, but eventually, over 1,000 people were buried here.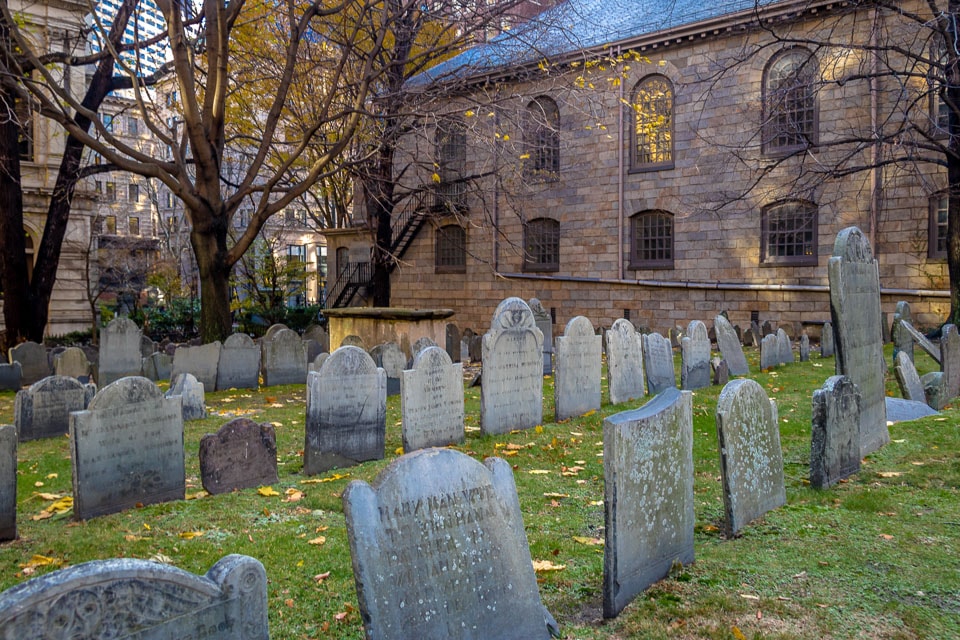 Originally the graveyard didn't have any official layout at all, and graves were placed randomly around the area. It wasn't until the early 19th century that the trend for the beautification of graveyards would emerge, creating landscaped gardens almost like public parks.
King's Chapel Burying Ground followed the trend, of course. The graves were arranged into two straight lines and proper pathways were added, as were cast iron railings. However, this meant that the bodies buried underneath didn't always match the corresponding headstone.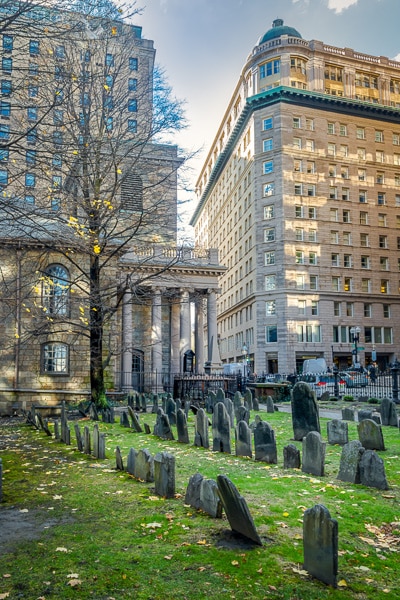 Today the cemetery is enclosed on three sides by buildings- Old City Hall on the east, King's Chapel on the south, and a commercial structure on the north. Its western side faces Tremont Street and has a decorative iron fence on a granite base.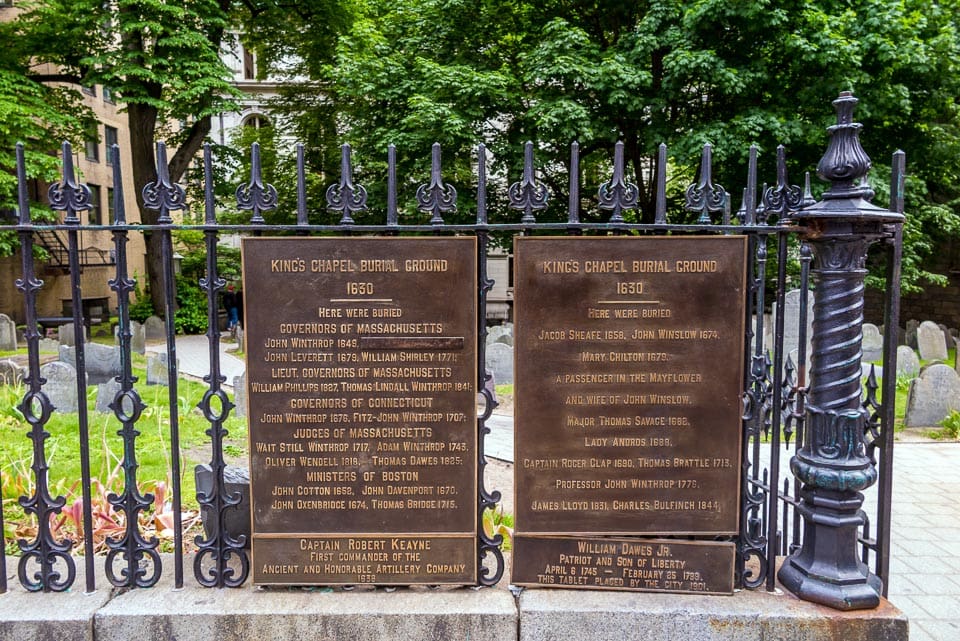 Monuments and Funerary Art
Due to the small size and age of King's Chapel Burying Ground, you won't see too many monuments and sculptures, but there are some lovely carvings on the remaining grave markers. There are only 505 headstones and 59 footstones left in the cemetery, alongside 78 tombs.
Most of the grave markers date from the 17th and 18th centuries, since burials at King's Chapel Burying Ground generally ceased in 1796 and were officially closed in 1896. Many of the slate tombstones are decorated with Puritan iconography of the time, including winged skulls, skeletons, and hourglasses.
One of the most intriguing headstones belongs to Joseph Tapping. His stone features a scene where Father Time and a skeleton are battling against the inevitability of death. The hourglass at the top represents how life is fleeting.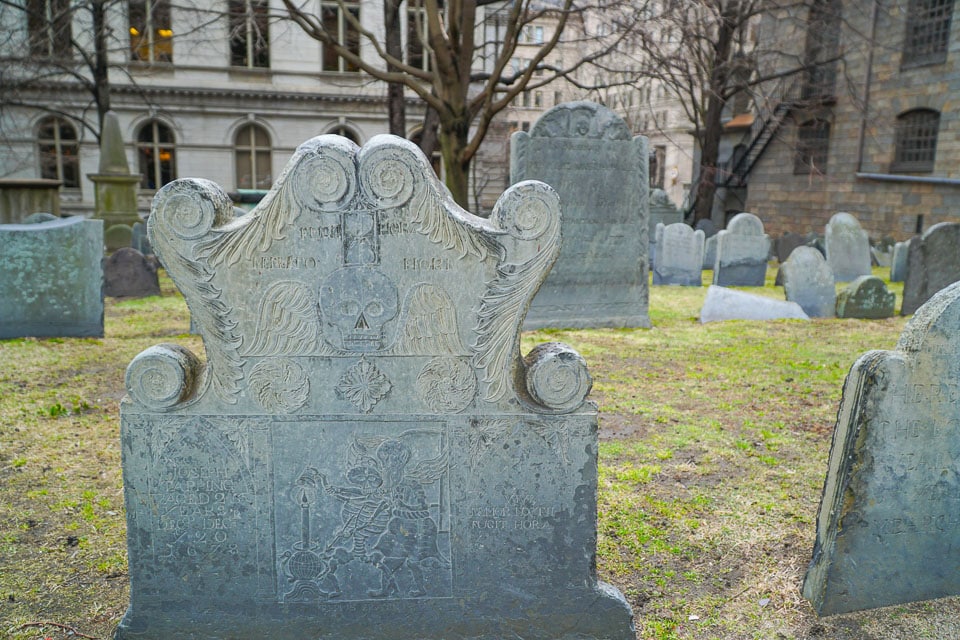 Among the upright headstones, you'll also find several tabletop tombs that were typically purchased by wealthy families. Just like the name suggests, these raised tombs look like a table.
As for monuments, there is a short obelisk on top of a wide pedestal dedicated to Colonel Thomas Dawes. You can't miss it because it's such a contrast to the round-top slate slabs that fill the cemetery.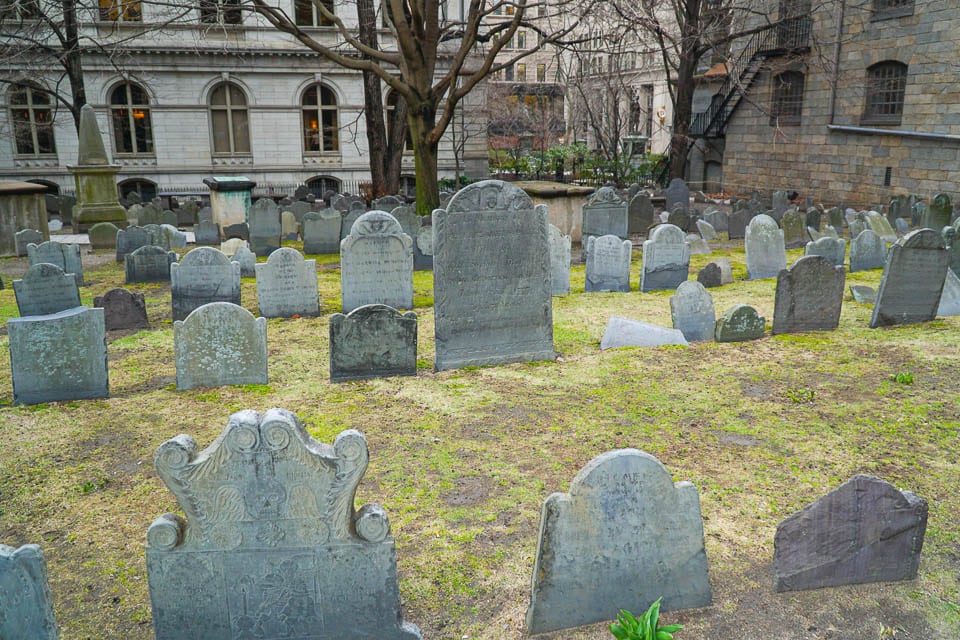 From the cemetery, you can also see another obelisk in the courtyard of King's Chapel. This one is dedicated to French naval officer Chevalier de Saint-Sauveur, who sailed to Boston in 1778 at age 28. He was part of the French allies during the Revolutionary War but died (accidentally) during a riot over bread.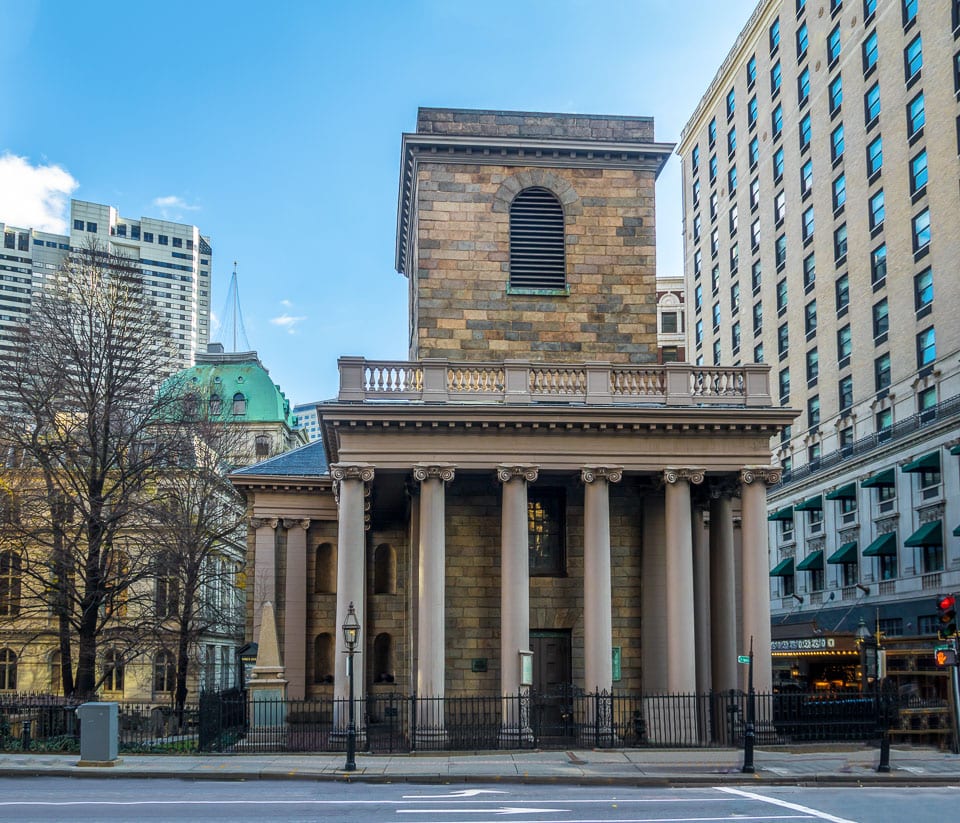 King's Chapel Burying Ground Burials- Famous Graves in King's Chapel Burying Ground
Being Boston's oldest cemetery, a great many of King's Chapel Burying Ground burials tell the story of colonial America- from its very beginnings, in fact, with the arrival of the Mayflower. Here are some of the notable people buried in King's Chapel Burying Ground.
John Winthrop (1588-1649)
John Winthrop was elected governor of Massachusetts Bay Colony in 1629. An authoritarian figure, Winthrop had a particularly influential rule and presided over a large wave of English immigration to the colony. His tomb lists a number of family members also buried alongside him.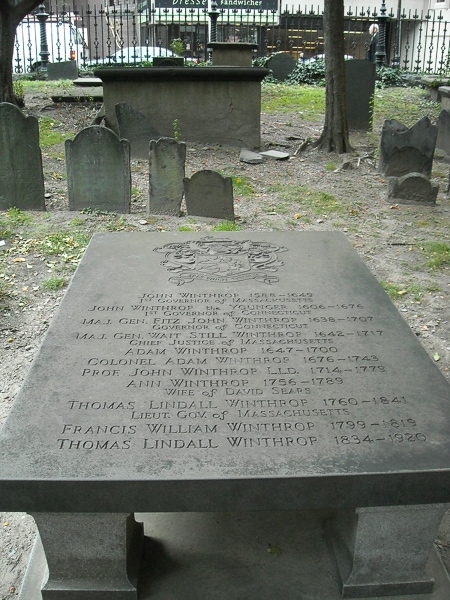 Elizabeth Murray (1726-1785)
A wealthy business owner and philanthropist, Murray used her riches (and know-how) to help women realize the power of financial freedom. She was described by two of her proteges as a "kind advisor". Her grave is a tabletop tomb.
Frederick Tudor (1783-1864)
Nicknamed "The Ice King", Tudor was a pioneer in the international ice trade. He made his fortune by shipping ice from ponds in Massachusetts to far-flung destinations, including far as India and Hong Kong.
William Dawes (1745-1799)
One of the most notable King's Chapel Burying Ground graves is that of William Dawes. He formed part of the Midnight Ride, alerting the American militia that the British were on their way, and thus playing a major role in the fortunes of the Revolutionary War. Dawes was one of several riders, alongside Paul Revere.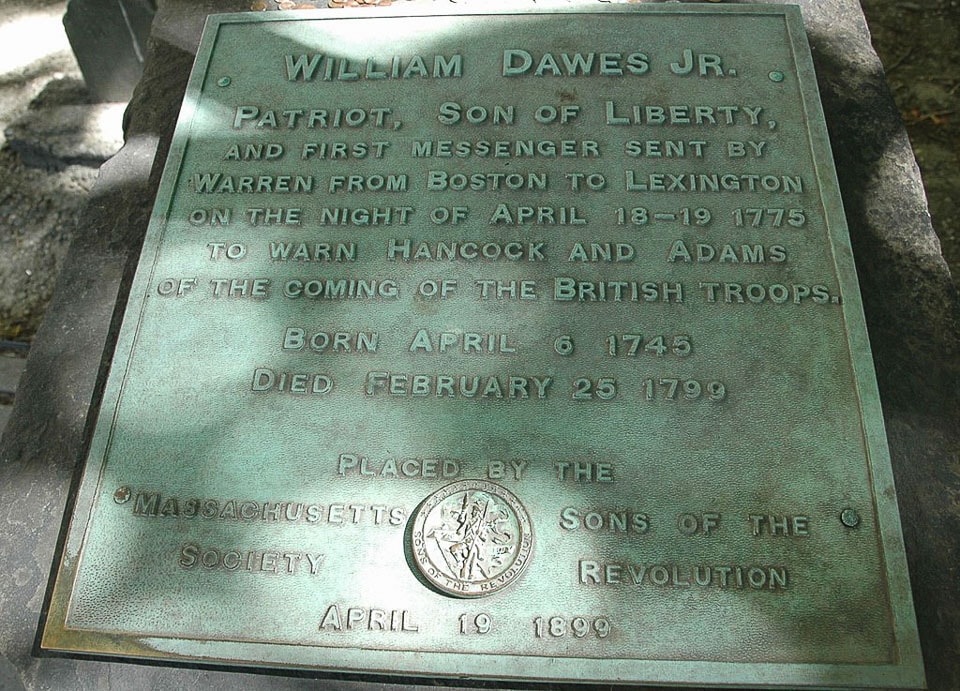 Mary Chiltern (1607-1679)
It's widely believed that Mary Chiltern was the first woman to step off the Mayflower and onto American soil. It's also believed that she was present at the first Thanksgiving in 1621. She married prosperous merchant John Winslow, a passenger of the Fortune, and they moved to Boston in 1663.
Hezekiah Usher (1615-1676)
One of the first publishers and booksellers in British America, Usher, who originally hailed from London, opened his Boston-based bookstore in 1647. He prospered, also branching into trade and real estate (accumulating much wealth in the process).
Tours of King's Chapel Burying Ground
Tours of King's Chapel Burying Ground are typically included as part of the history-focused Freedom Trail tours or paranormal-themed Boston ghost tours.
After visiting King's Chapel burying ground, you may also be interested in the chapel's "Bells and Bones Tour". This 45-55 minute guided tour tells the story of King's Chapel while visiting the church crypt and the historic bell in the upper gallery.
Interesting Facts About King's Chapel Burying Ground
Here are a few more interesting facts about King's Chapel Burying Ground and the chapel itself:
The church bell in King's Chapel was originally cast in England but was then re-cast in 1816 by Paul Revere himself. It still summons people to church today.
Many stories and legends are associated with this cemetery. One such is a concern over a man possibly being buried alive in the early-19th century by family members who wanted his property. In response, an angry mob gathered, demanding that the coffin be dug up and the body inside confirmed as dead.
Even though burials at King's Chapel Burying Ground were officially closed in 1896, a few interments were made in the 1960s.
A ventilation shaft providing fresh air to the subway system was created in the cemetery in 1896. It's encircled by a decorative iron cage.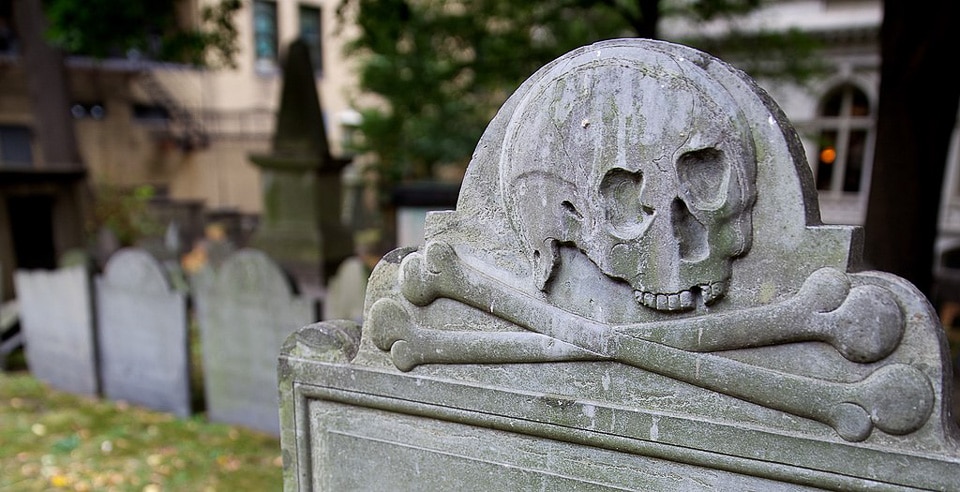 Final Words
Anybody interested in the history of the birth of America will benefit from a visit to King's Chapel Burying Ground. From the first woman to step off the Mayflower, through Boston's early entrepreneurs and heroes of the American Revolution, the people who were laid to rest here laid the foundations of a nation.
Practical Information for Visiting King's Chapel Burying Ground
Location: King's Chapel Burying Ground is located at 40 Tremont Street in Boston, Massachusetts.
Hours: King's Chapel Burying Ground is open daily from 9:00 am to 4:00 pm. Confirm current hours here.
Admission Fees: None
Tours: Walking tours that include a visit to King's Chapel Burying Ground can be booked online here.
Accommodations in Boston
If you're planning to visit King's Chapel Burying Ground and need accommodations, here is a list of hotels in Boston. Please consider booking your Boston accommodations through the included link. It costs nothing extra and helps support this website.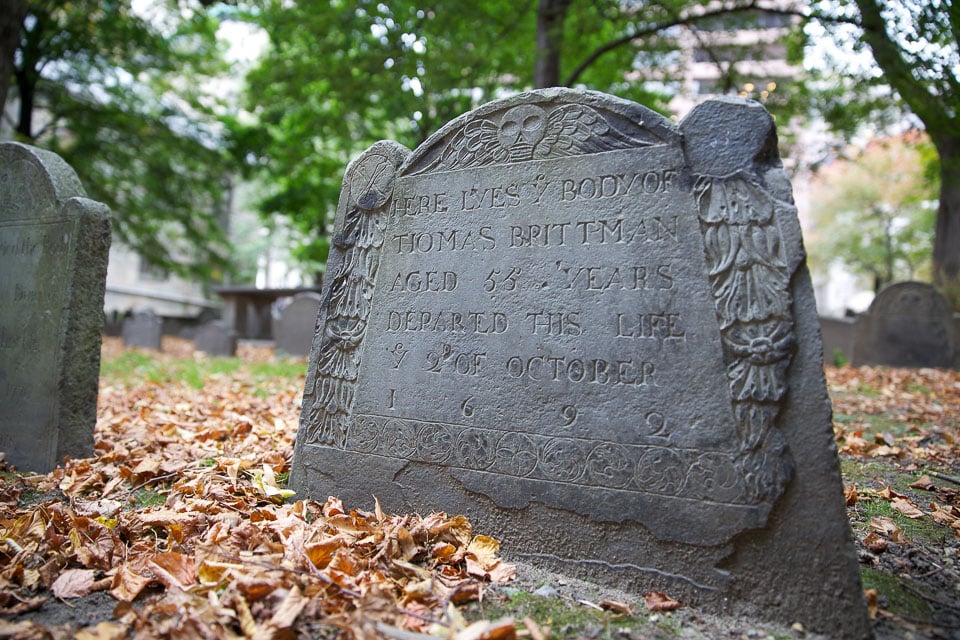 More Burial Places in the United States