Magnolia Cemetery- Charleston's Oldest Public Cemetery
Purchases made through links earn us a small commission, at no extra cost to you.
Magnolia Cemetery in Charleston, South Carolina is a scenic, historic cemetery that dates back to the mid-19th century.
With winding pathways, picturesque ponds, and elegant ironwork complementing sculpted monuments and aged headstones of prominent South Carolinians, Magnolia is a fine example of a Victorian era cemetery.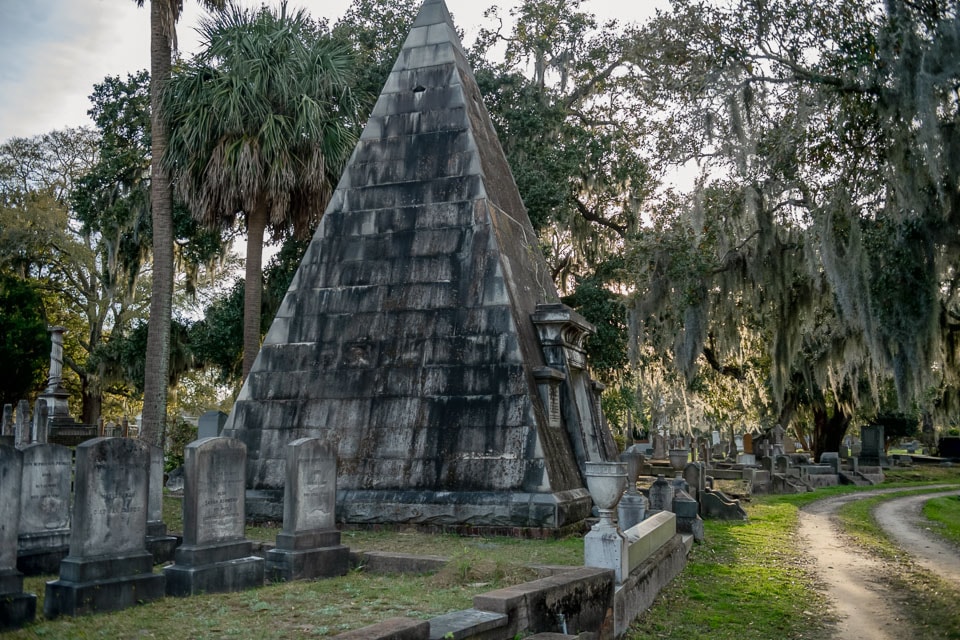 History of Magnolia Cemetery
Magnolia Cemetery was opened in 1850 on the site of a former rice plantation called Magnolia Umbra.
As was common in 19th century Europe and America, the cemetery was built in a rural area and extensively landscaped to create a park-like atmosphere. These so-called garden cemeteries were also home to ornamented mausoleums, monuments, and memorials, so it was only fitting that architect Edward C. Jones included the same in his design for Magnolia Cemetery.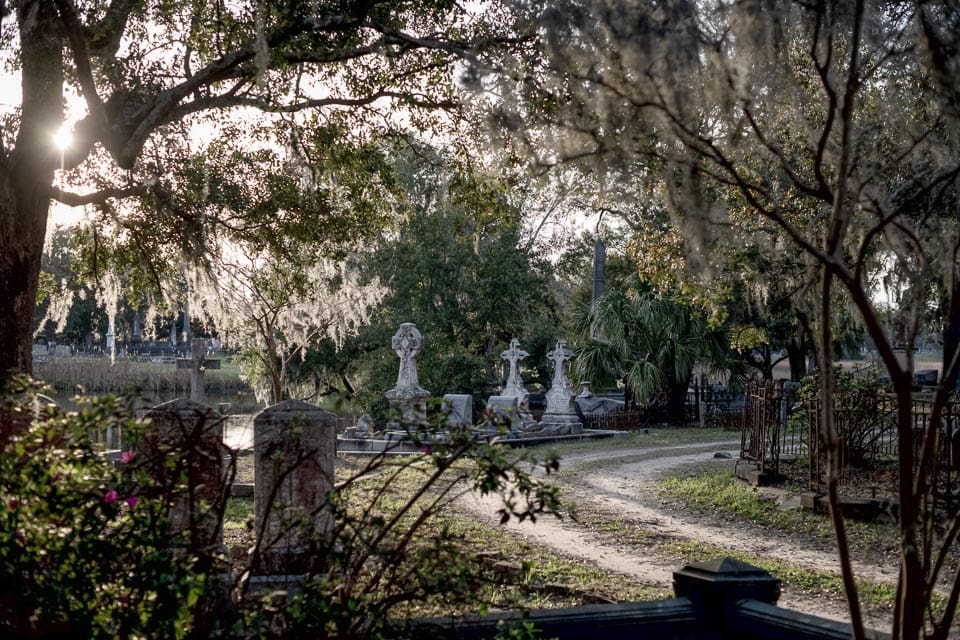 Initially there was some opposition to the plan for a rural cemetery near Charleston, stemming from preferences for traditional church graveyards, but in the end a company of eight stockholders was formed to establish Magnolia Cemetery.
The board set to work choosing a location and picking an architect. They also implemented rules for managing the cemetery that were copied from Mount Auburn Cemetery near Boston and Green-Wood Cemetery in New York, as they were among the first rural cemeteries founded in the United States.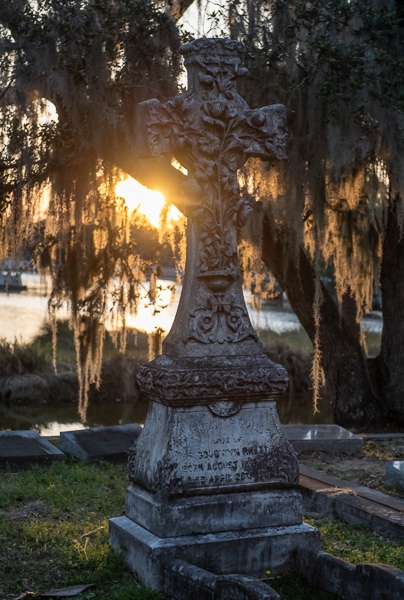 When Magnolia Cemetery was complete, a dedication speech was given on November 19, 1850 by local artist Charles Fraser to officially open the 1407 plot cemetery.
Magnolia Cemetery soon became a popular spot for both recreation and interment, with several high profile people choosing it as their final resting place. As time went on the cemetery grew, but in the 20th century it fell into decline because of rising maintenance costs.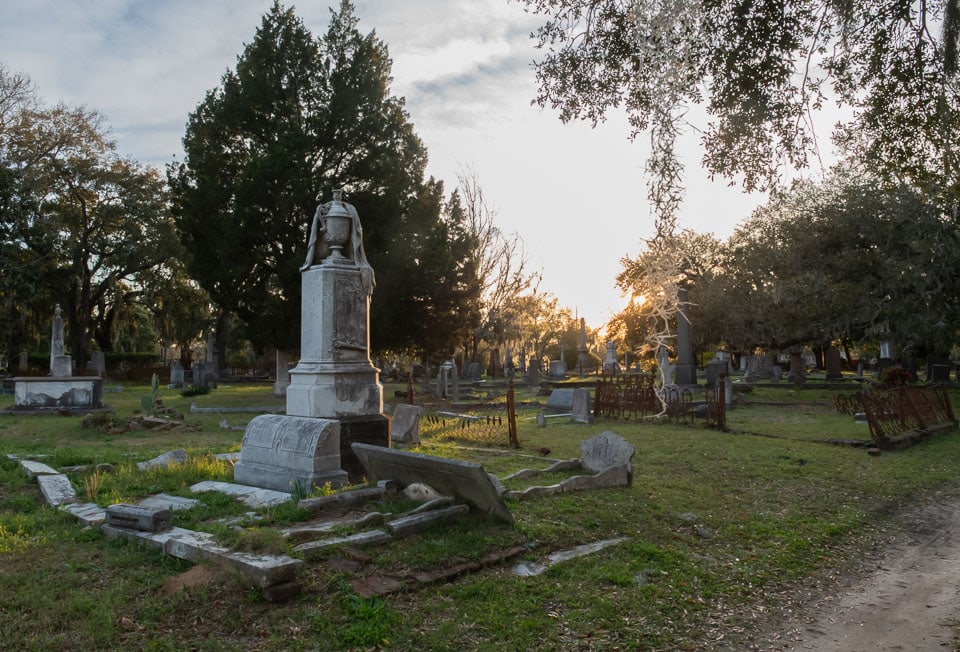 During the 1970s, under direction of a new superintendent, Magnolia Cemetery started to be revitalized to its former appearance. A few years later a nomination was put forth for Magnolia Cemetery to be included in the National Register of Historic Places, an honour that was granted in 1978.
As a designated historic district, Magnolia Cemetery retains much of its original landscape design, monuments, and sculptures even though it continues to be an operating cemetery.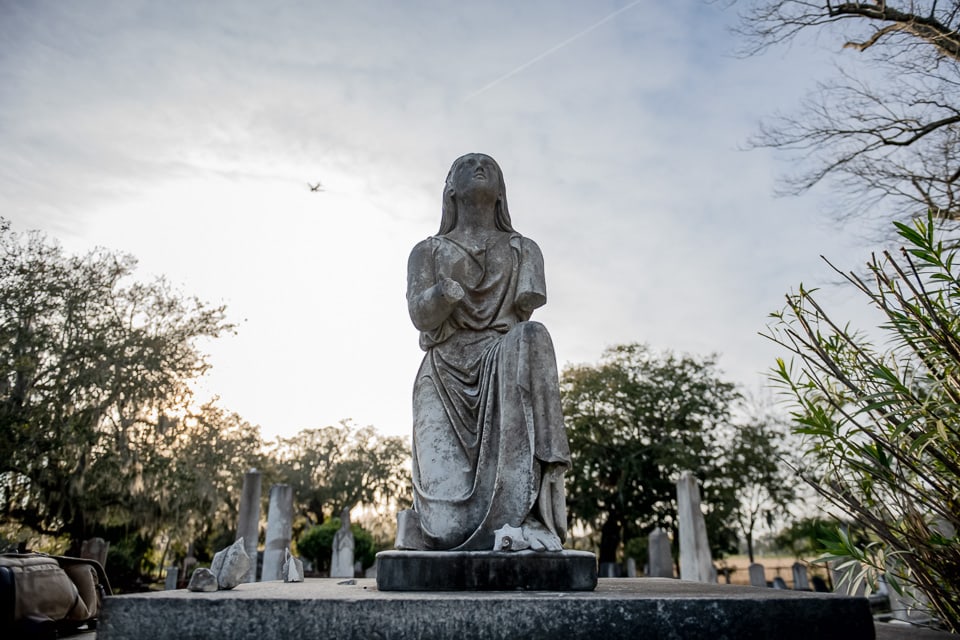 Design of Magnolia Cemetery
As was typical of Victorian-era, rural cemeteries, Magnolia was designed to do double duty as both a burial ground and public park.
The cemetery was built around a small lake with looping walking paths and roads separating the land into multiple sections. There's a mix of open spaces and areas sheltered by a variety of tree species.
Incorporated into the design are ponds, formal gardens, oak trees, and plenty of cemetery art such as urns, angel sculptures, figures of mourning women, and ornamental iron fences.
Notable Monuments in Magnolia Cemetery
Several of Magnolia Cemetery's original monuments and structures can be seen today, including the Receiving Tomb which held the newly deceased, five mausoleums, and the superintendent's building which used to be part of the Magnolia Umbra plantation.
The most unique and eye-catching monument at Magnolia Cemetery is the pyramid-shaped tomb of W.B. Smith. Although it may seem out of place, Egyptian symbols and architecture were often used in Victorian cemeteries.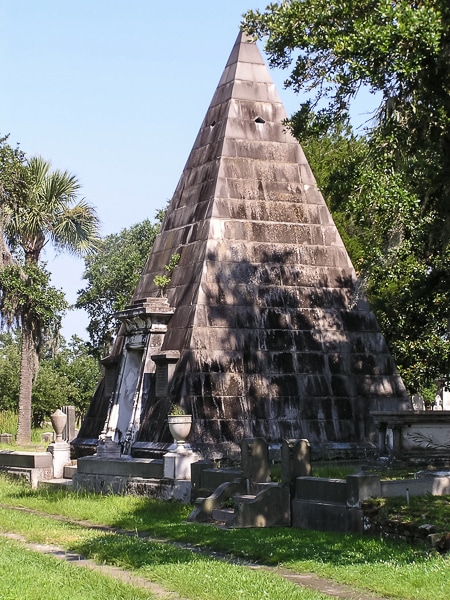 Another example of Egyptian Revival architecture in Magnolia Cemetery is the Vanderhorst Mausoleum, a grand rectangular structure from 1856.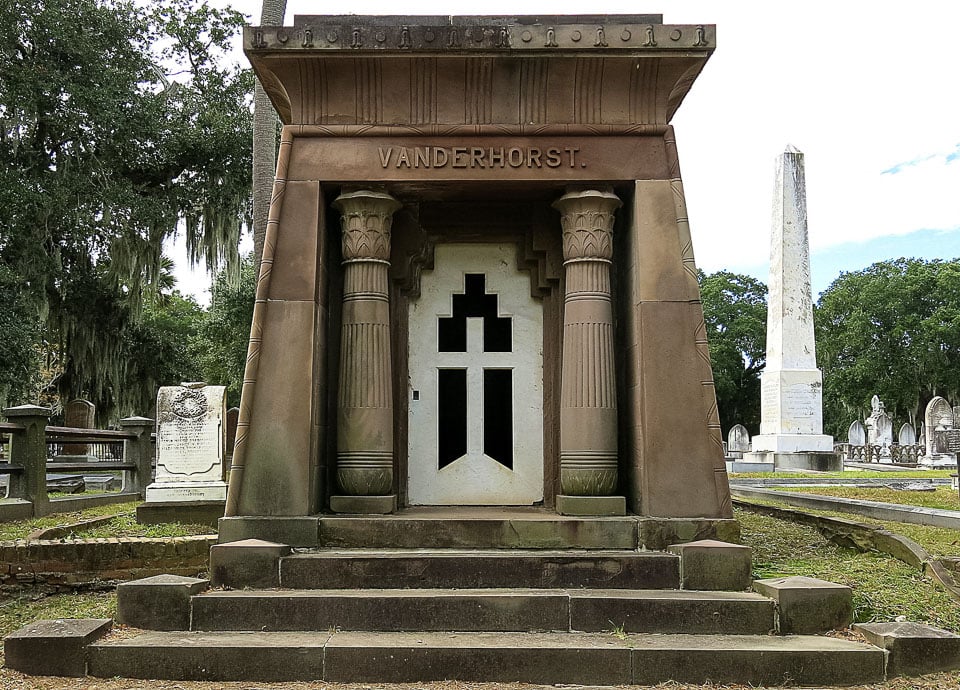 Some other exceptional monuments, tombs, and landmarks you can see when visiting Magnolia Cemetery are:
The Gibbes Mausoleum (1888)- a grass-roofed marble tomb flanked by two figures
Colonel William Washington Monument (1858)- a Doric column
Micah Jenkins Tombstone- large obelisk with a sword carved in relief
Ellen Turner Monument- sculpture of an angel inscribing a book
Hattie A. Bird Monument- sculpture of a seated female figure
Grave of Rosalie Raymond White (1882)- baby's grave in the shape of a stroller or bassinet that's adorned with a death mask
Masonic Gate- features wrought iron Masonic symbols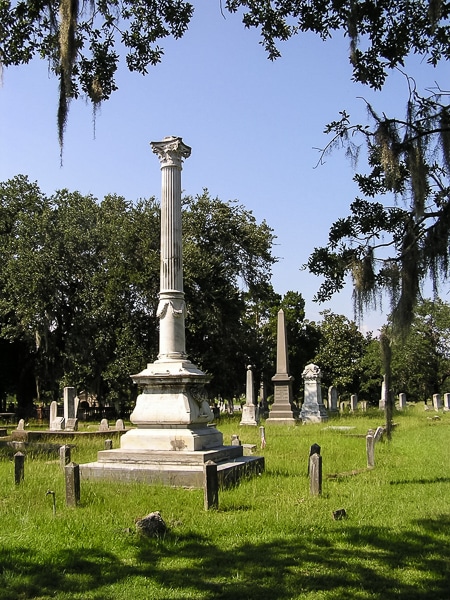 Magnolia Cemetery Burials- Famous Graves in Magnolia Cemetery
Among the Magnolia Cemetery burials you'll find the graves of several notable individuals, from politicians and Civil War generals to writers and scientists. Here are some of the high profile people buried at Magnolia Cemetery:
Politicians
William Aiken Jr. (1806-1887)- U.S. Congressman, 61st Governor of South Carolina, plantation owner, and one of the state's wealthiest citizens
William H. Brawley (1841-1916)- U.S. Representative from South Carolina and federal judge for the United States District Court for the District of South Carolina
Langdon Cheves (1776-1857)- 8th Speaker of the U.S. House of Representatives and President of the Second Bank of the United States
George Swinton Legaré (1869-1913)- U.S. Representative from South Carolina
Andrew Gordon Magrath (1813-1893)- District judge and last Governor of South Carolina under the Confederate States of America
Burnet Rhett Maybank (1899-1954)- U.S. Senator, 99th Governor of South Carolina, and mayor of Charleston
Military Members
James Connor (1829-1883)- Confederate general in the American Civil War and Attorney General of South Carolina
Horace Lawson Hunley (1823-1863)- Confederate marine engineer who developed early hand-powered submarines
Commander and crew of H.L. Hunley, a confederate submarine that sank during the Civil War after it attacked and sank the USS Housatonic warship
Roswell S. Ripley (1823-1887)- Confederate general in the Civil War and officer in the United States Army during the Mexican-American War
Judges and Lawyers
Julius Waties Waring (1880-1968)- U.S. federal judge whose judicial rulings and opinions advanced the early American Civil Rights Movement
Hugh S. Legaré (1797-1843)- 16th United States Attorney General
Writers
William Gilmore Simms (1806-1870)- politician, novelist, and historian known for writing the History of South Carolina
John Bennett (1865-1956)- author and illustrator best known for his children's books
Frank Bunker Gilbreth Jr. (1911-2001)- journalist and author known for co-writing Cheaper by the Dozen
Josephine Pinckney (1895-1957)- novelist and poet known for her best-selling novel Three O'clock Dinner
Tours of Magnolia Cemetery
For a long time, commercial/for profit tours of Magnolia Cemetery were not allowed, but thankfully this has changed.
Bulldog Tours is the only company authorized to give Magnolia Cemetery tours. They offer a 90 minute nighttime walking tour that shares stories of Magnolia's history and spirits, along with local scandals and mysteries.
During this tour you not only get exclusive access to Magnolia Cemetery, but a portion of your ticket fee is invested back into preserving the cemetery.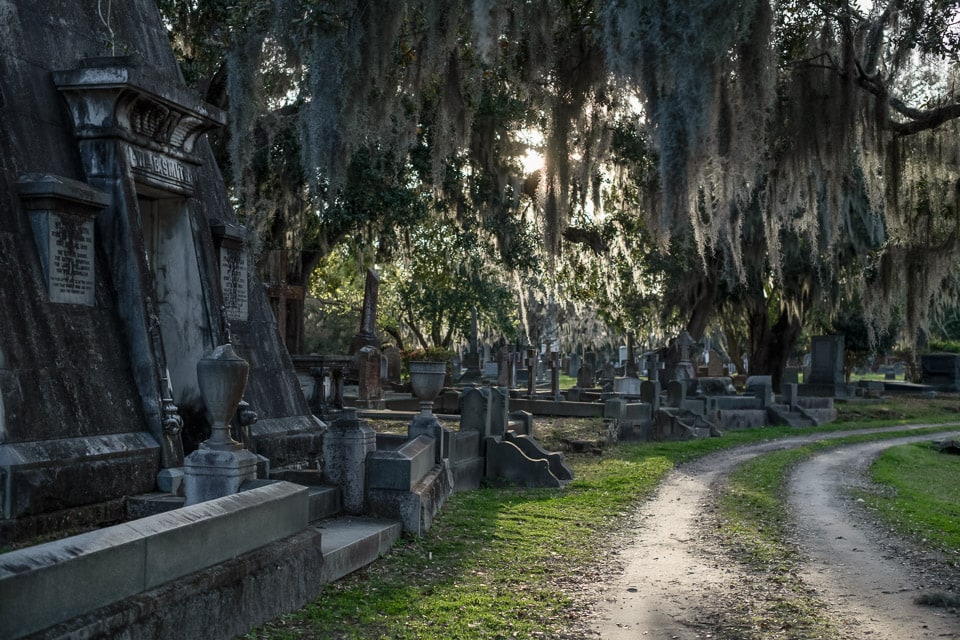 Interesting Facts About Magnolia Cemetery
There are so many intriguing things about Magnolia Cemetery, so here are a few more interesting facts about this historic burial ground:
Magnolia Cemetery is the oldest public cemetery in Charleston.
About 35,000 people are buried in Magnolia Cemetery. Over 2,000 of these are Confederate soldiers and there's an entire section of the cemetery dedicated to them.
The oldest structure at Magnolia Cemetery was built in 1805. It was a former plantation home but is now used as the superintendent's office.
During the Civil War, Magnolia Cemetery served as a Confederate encampment to defend Charleston from the Union army.
There's a live oak tree on the property believed to be over 800 years old. It stands over 60 ft/18 m tall and has a circumference of 25 ft/7.6 m. It's affectionately called "Grandfather Oak".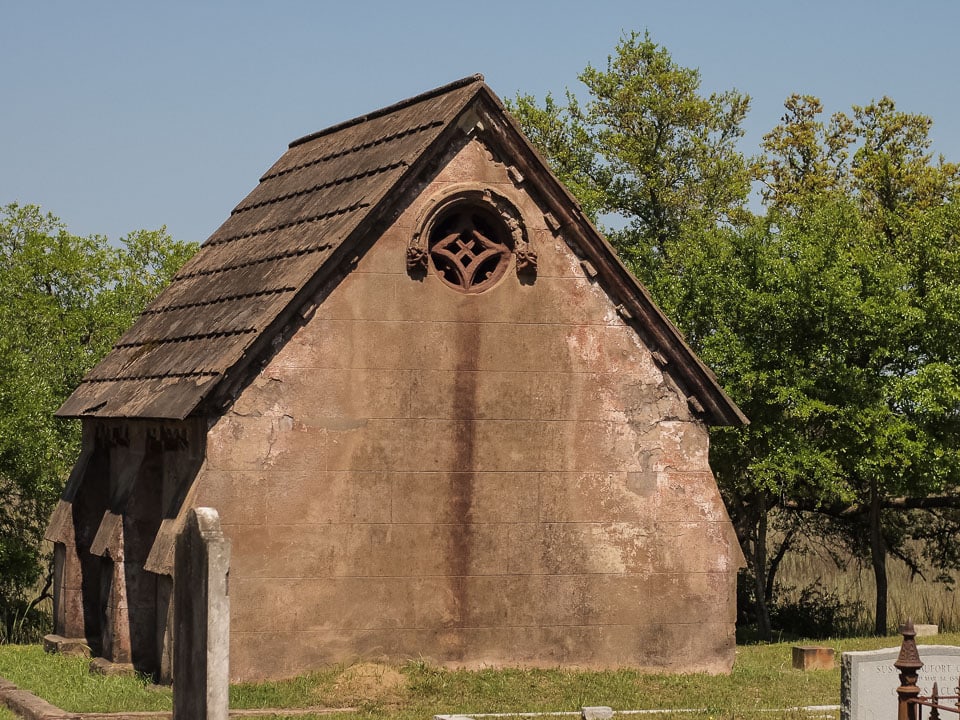 Final Words
Magnolia Cemetery is one of the must-see cemeteries in Charleston, especially if you have an interest in Civil War history and Victorian cemetery design.
The funerary art is among the most beautiful in the United States and does a wonderful job of telling the story of Victorian Charleston and the deceased. Add in some Spanish moss-draped oak trees and you have a place of enchanting beauty.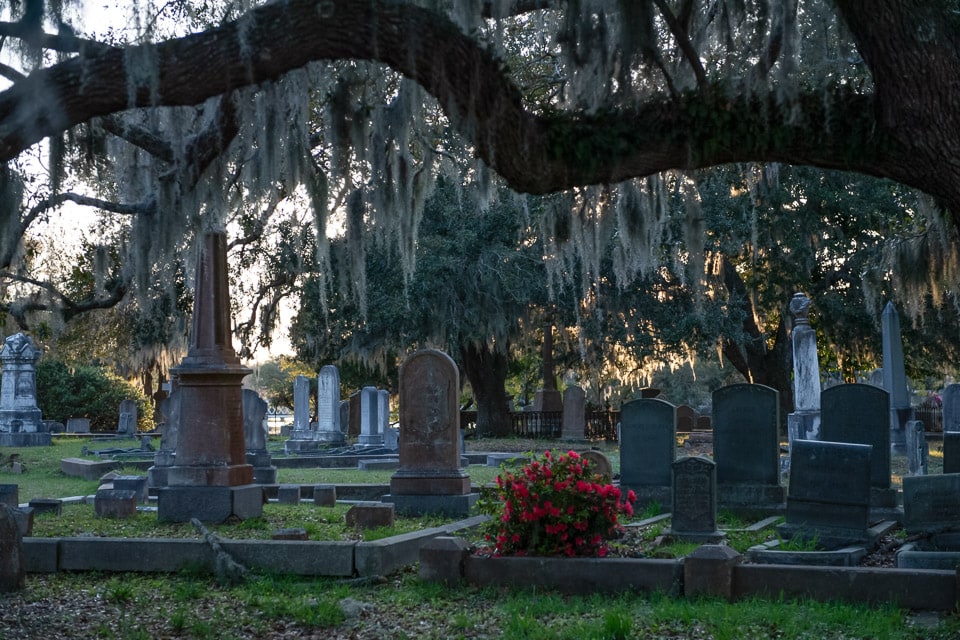 Practical Information for Visiting Magnolia Cemetery in Charleston
Location: Magnolia Cemetery is located on Charleston's upper peninsula at 70 Cunnington Avenue Charleston. It's a short drive from historic downtown Charleston.
Hours: Magnolia Cemetery is open daily from 8:00 am to 5:00 pm (6:00 pm when on daylight savings time). Confirm current hours here.
Admission Fees: None
Map: Ask for a walking map at the superintendent's office.
Tours: A 90 minute nighttime walking tour of Magnolia Cemetery can be booked online here.
Accommodations in Charleston
If you're planning to visit Magnolia Cemetery and need accommodations, here is a list of hotels in Charleston. Please consider booking your Charleston accommodations through the included link. It costs nothing extra and helps support this website.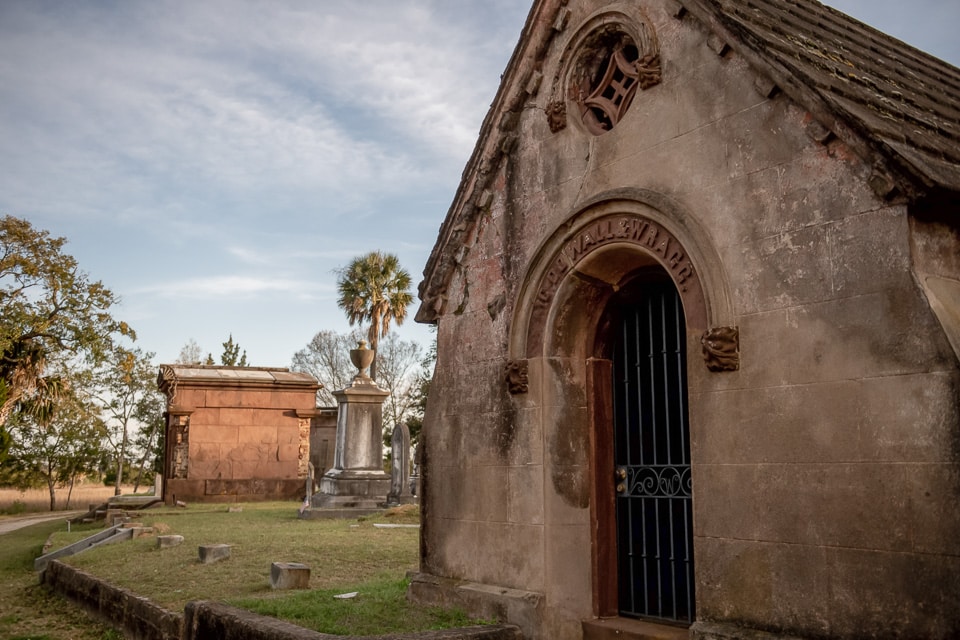 More Burial Places in the United States