Père Lachaise Cemetery- Paris' Legendary Necropolis
Purchases made through links earn us a small commission, at no extra cost to you.
Père Lachaise Cemetery in Paris is one of the world's most legendary burial places. Within its wooded grounds is a magnificent collection of sculpture, architecture, and funerary art spanning over two centuries.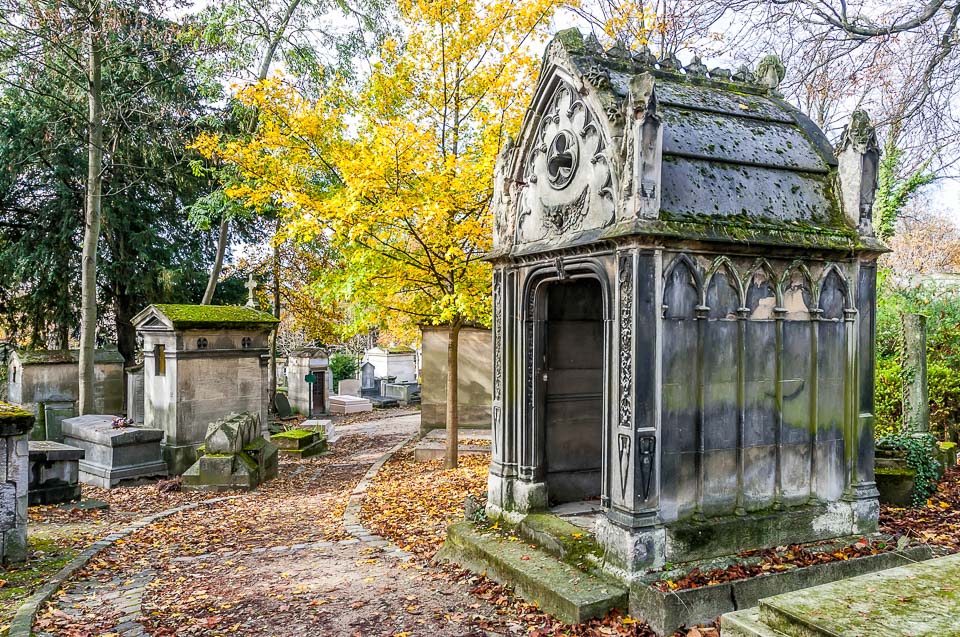 A stroll through Père Lachaise Cemetery is like taking a walk through Parisian history. What started out as Paris' first municipal cemetery and the world's first garden cemetery became a sought-after burial ground for generations of cultural icons and luminaries.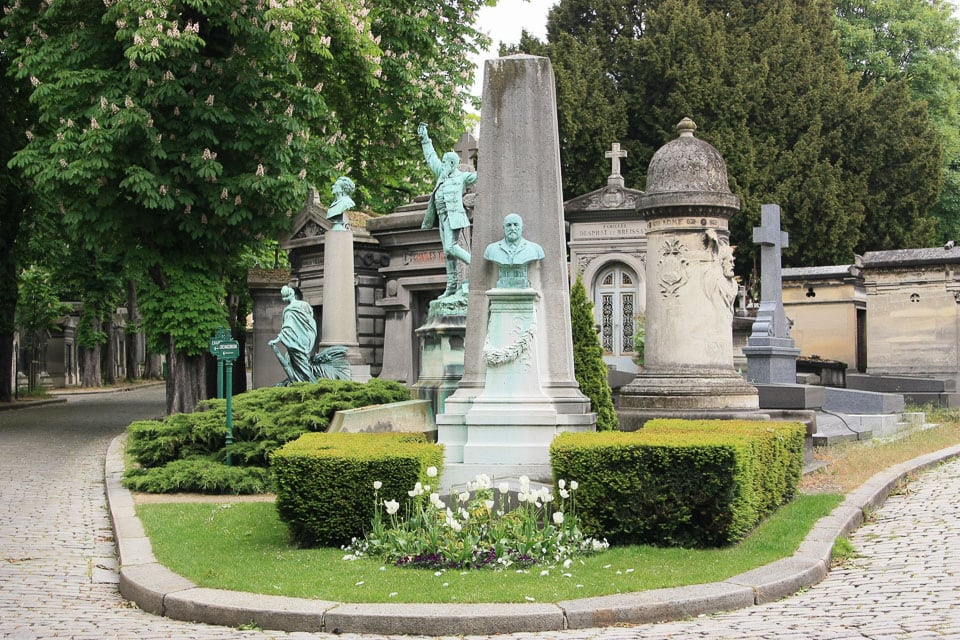 Père Lachaise Cemetery is revered not only for its famous burials and artistic treasures, but for its biodiversity as Paris' biggest greenspace.
Today Père Lachaise is Paris' largest cemetery and the most visited cemetery in the world, welcoming about 3.5 million visitors each year. Numbers like that make Père Lachaise Cemetery one of Paris' most popular tourist attractions.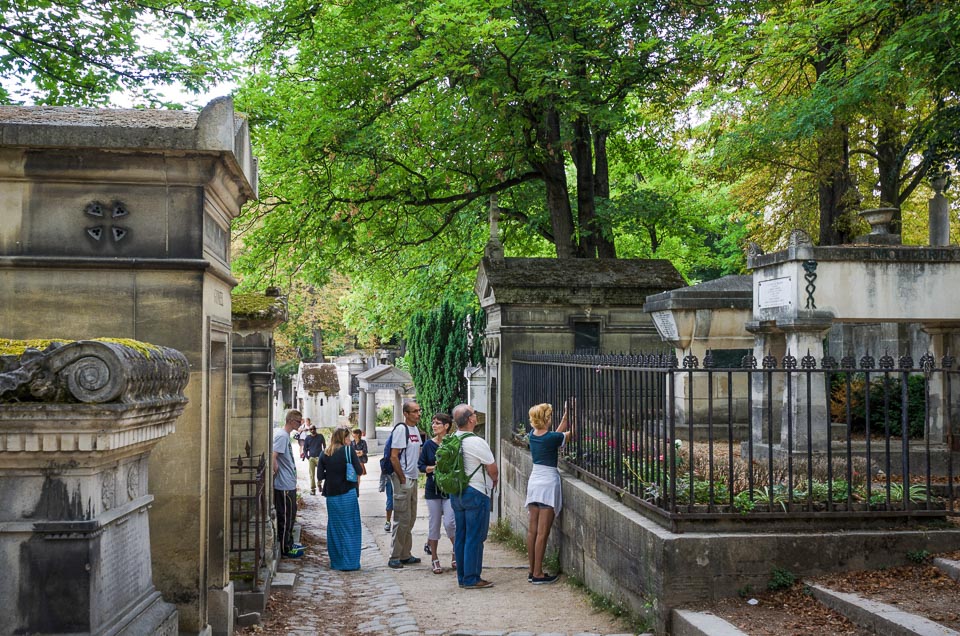 History of Père Lachaise Cemetery
In the late 18th century, churchyard cemeteries in Paris became overcrowded and unsanitary, creating public health concerns for residents. King Louis XVI ordered parish cemeteries to close and forbade further burials within city limits.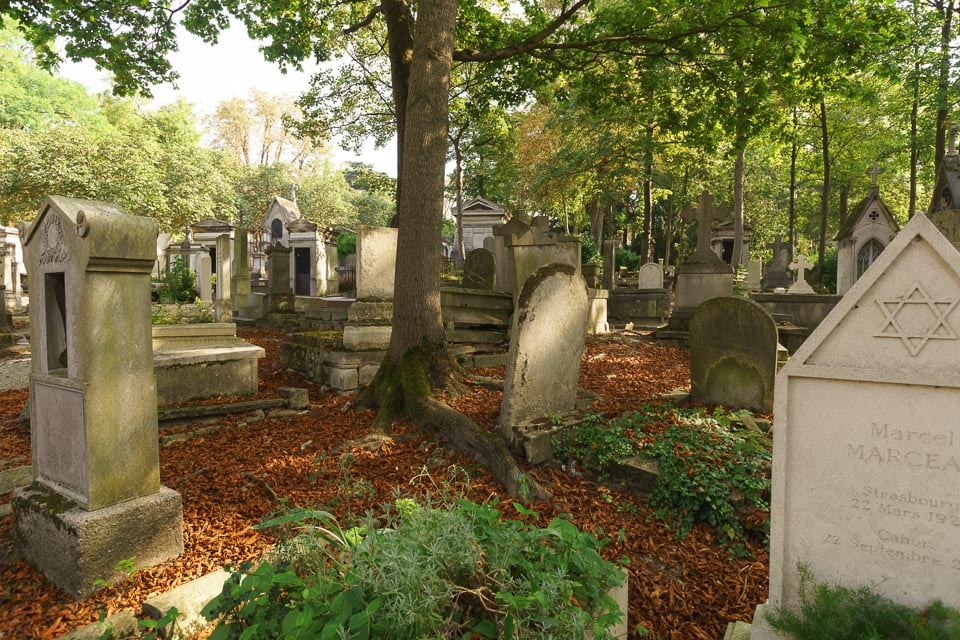 Bodies were exhumed and moved to the Paris Catacombs outside the city, but cemeteries were still needed for new burials.
To create more burial space, a section of Mont-Louis (then outside of Paris and formerly inhabited by Jesuits) was purchased and transformed into a nondenominational cemetery under the direction of Napoleon Bonaparte. This new "East Cemetery" opened in 1804 and was named Père Lachaise Cemetery, after Jesuit priest and confessor of King Louis XIV, François de la Chaise.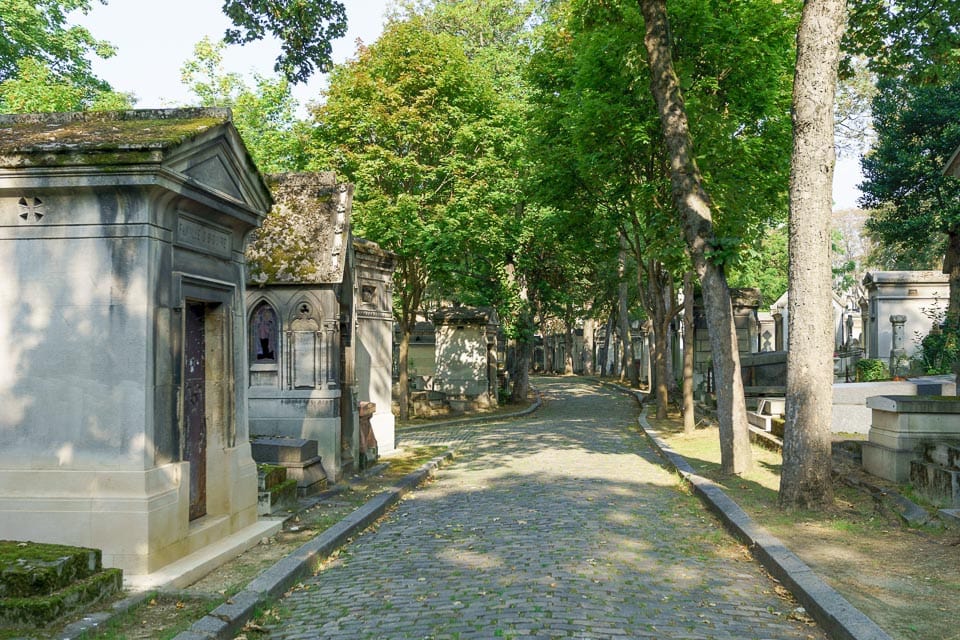 At the time of its opening, Père Lachaise Cemetery wasn't considered a desirable place to be buried because it was too far from the city. With few initial burials, a marketing campaign was devised to improve the cemetery's stature. The promotion involved moving the remains of famous individuals, including Molière and La Fontaine, to the new cemetery. The gimmick worked to increase burials since people wanted to be laid to rest among Paris' famous citizens. As more and more prominent personalities were buried in the cemetery, demand for plots continued to increase.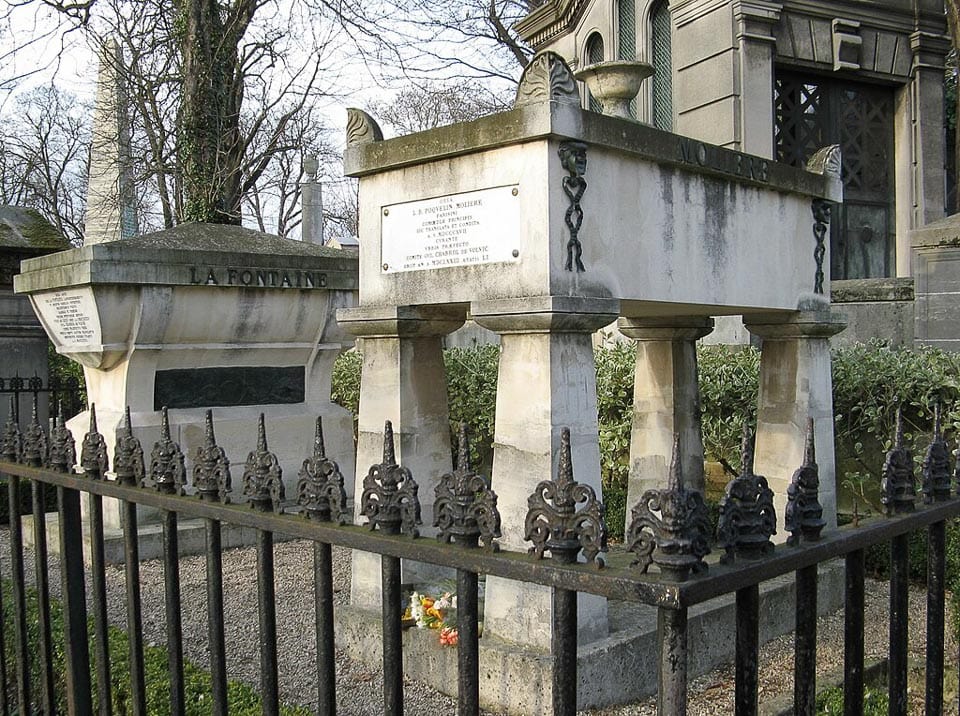 There are now more than 70,000 tombs and over 1 million people buried in Père Lachaise Cemetery. All of the burial monuments erected prior to 1900 in the old part of the cemetery are registered as Historic Monuments, with ten funerary monuments receiving the highest level of protection as classified Historic Monuments.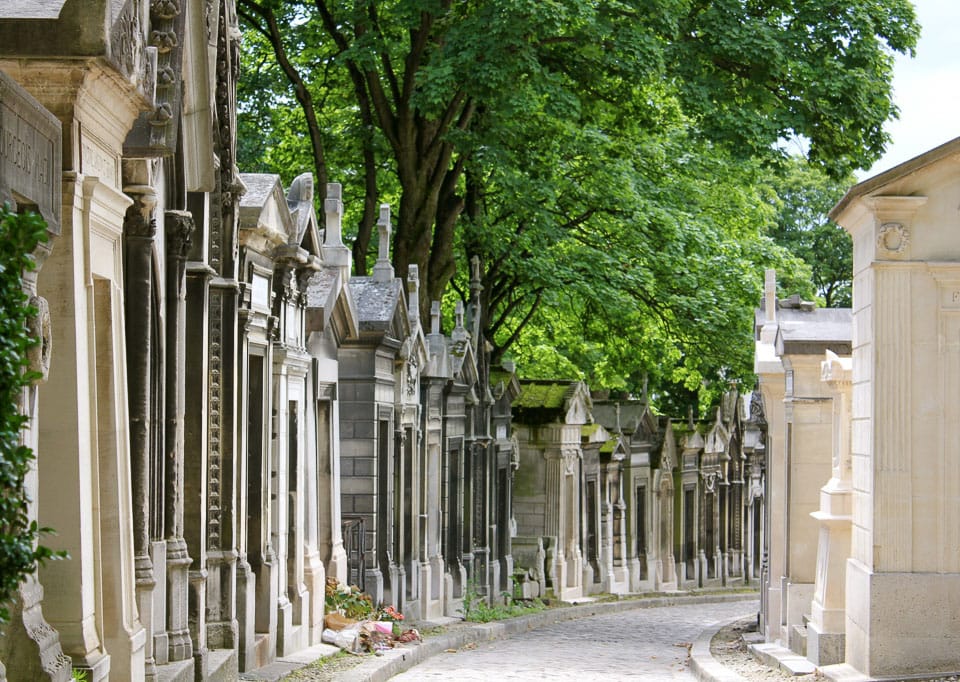 Père Lachaise Cemetery is still an active cemetery, but obtaining a plot is quite difficult as there is a high price for the few that are available and they can't be purchased in advance. You also need to live or die in Paris to be buried in the city.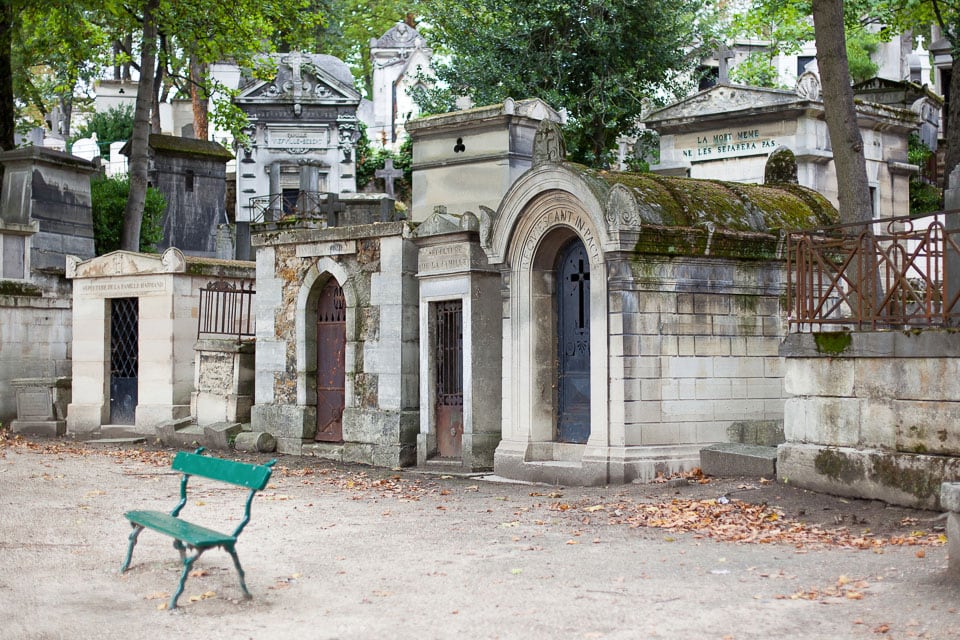 Design of Père Lachaise Cemetery- Landscaping and Architecture
Père Lachaise Cemetery consists of 110 acres of history, art, and nature.
With an attractive park-like, rural setting and grand memorials, Père Lachaise Cemetery was the first of its kind and inspired the 19th century rural cemetery movement. Just like Père Lachaise, large cemeteries began to be established outside urban areas, independent of the church, and were thoughtfully landscaped to also serve as public parks.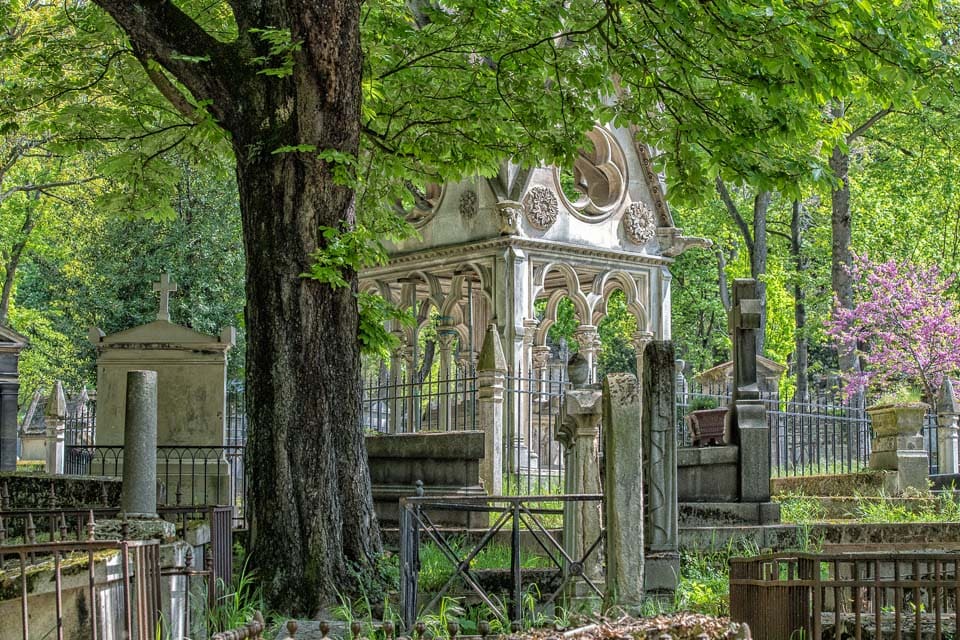 When neoclassical architect Alexandre-Theodore Brongniart designed Père Lachaise Cemetery he was influenced by English landscape gardens. His plan for the cemetery included romantic tree-shaded paths lined with plants and graves. Even after five expansions in the 1800s, the cemetery retained much of its original look and feel and still has an abundance of flowering trees and shrubs.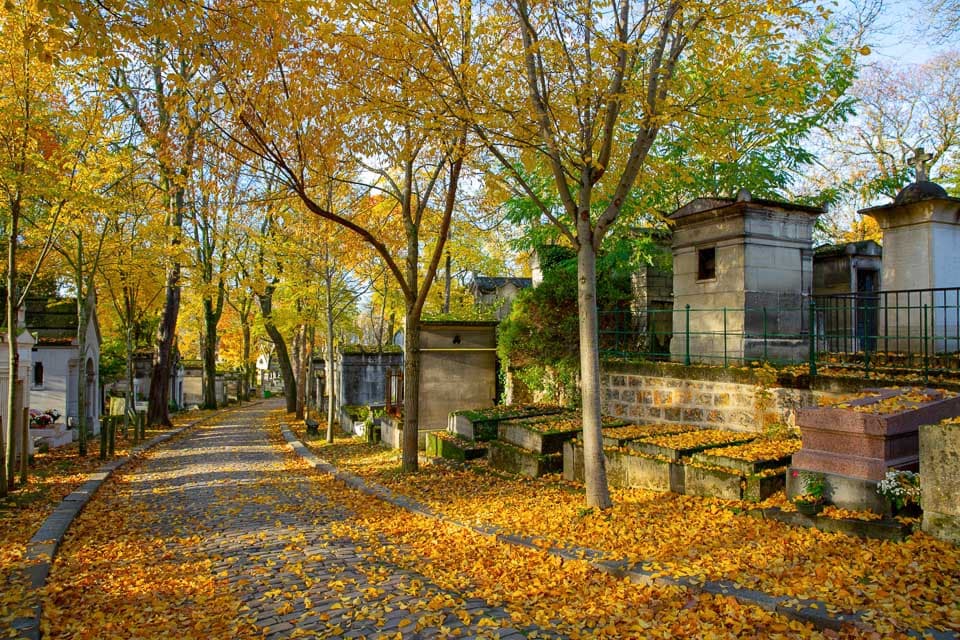 Today the cemetery is divided into 97 divisions by an intersecting network of named avenues and pathways, some of which are laid out in a grid (the newer part of the cemetery) and others that are more irregular. In total, there are about 15 km of paths in Père Lachaise Cemetery.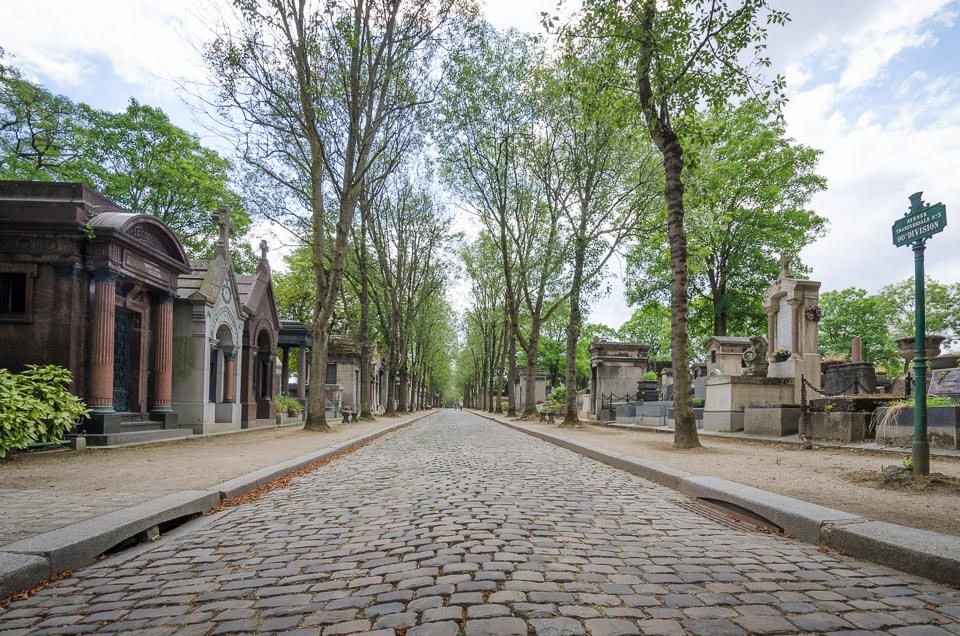 To enter the cemetery you can go through one of the five entrances located around the perimeter of the property. The main entrance at Boulevard de Ménilmontant was designed by Étienne-Hippolyte Godde, the chief architect of Paris, and features a curved wall with a tall gateway topped by a pair of carved medallions. Icons sculpted onto the gate and medallions include the hourglass to represent the inevitable passing of time, the torch to represent life, and the wreath to represent eternal life.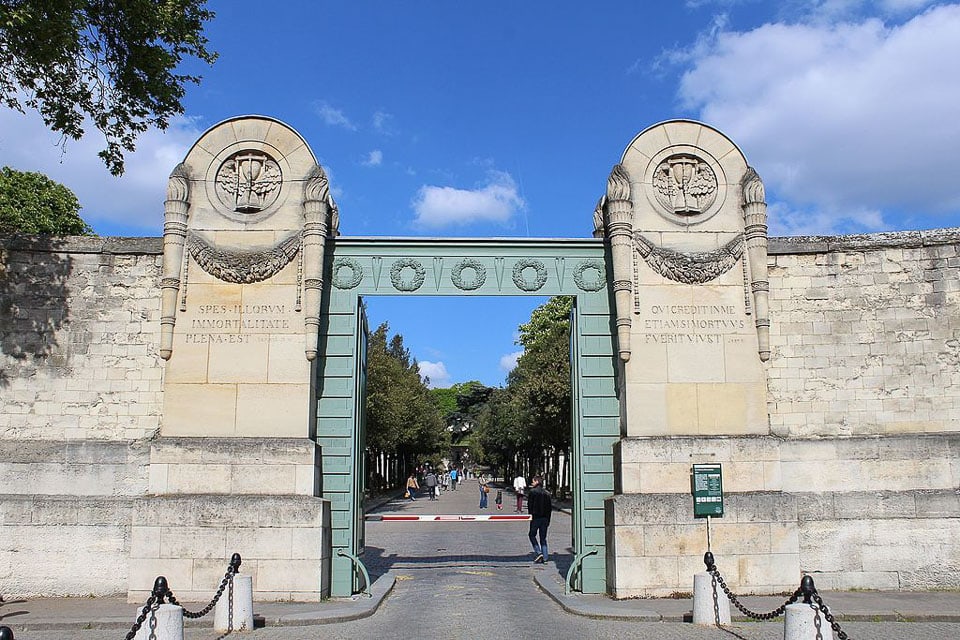 Throughout Père Lachaise Cemetery you'll find an interesting variety of memorials including simple headstones, chapel-like vaults, elaborate family mausoleums, and towering monuments.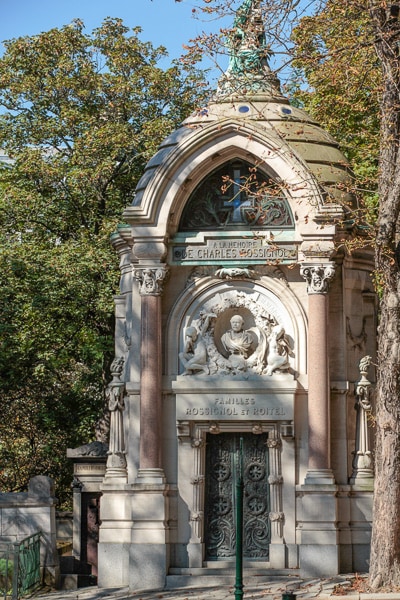 Many of the monuments and mausoleums were commissioned from notable architects and sculptors of the time and represent several architectural styles including Gothic, Romanesque, Neoclassical, Italian, Renaissance, and Art Nouveau. You'll also spot Egyptian Revival elements like obelisks and pyramids marking some gravesites.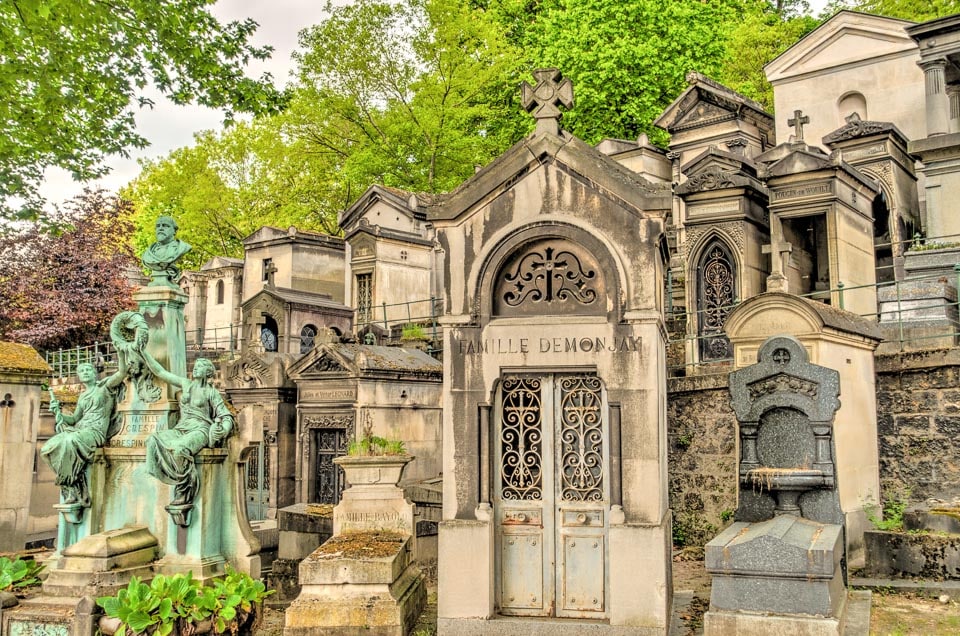 The cemetery is also home to a chapel, columbarium, and crematorium. The chapel, designed by Étienne-Hippolyte Godde, was built in 1823 and stands where the house of Père Lachaise once was. The columbarium and crematorium building was designed in Byzantine Revival style and features a large main dome with stained glass windows.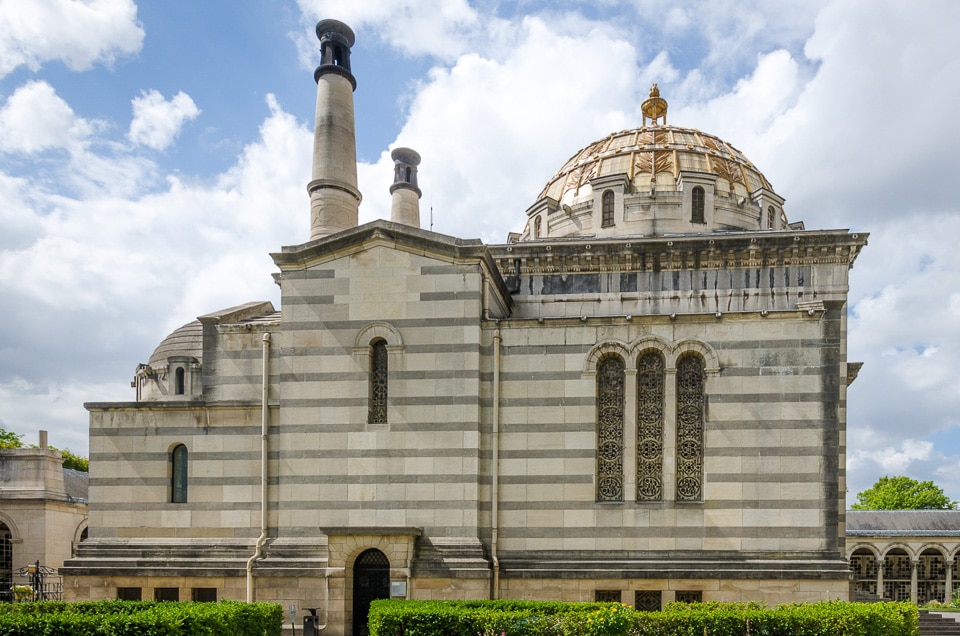 Funerary Art in Père Lachaise Cemetery
One of the most beautiful features of Père Lachaise Cemetery is its 19th century funerary art, from statuary to iconography.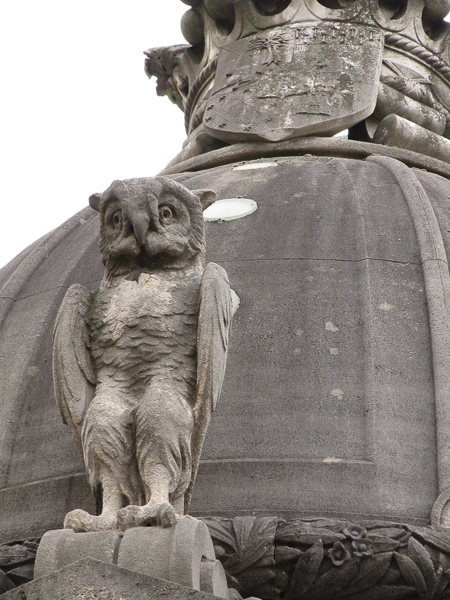 Classic symbols that you'll see decorating the gravesites in Père Lachaise Cemetery are urns, wreaths, skulls, and hourglasses.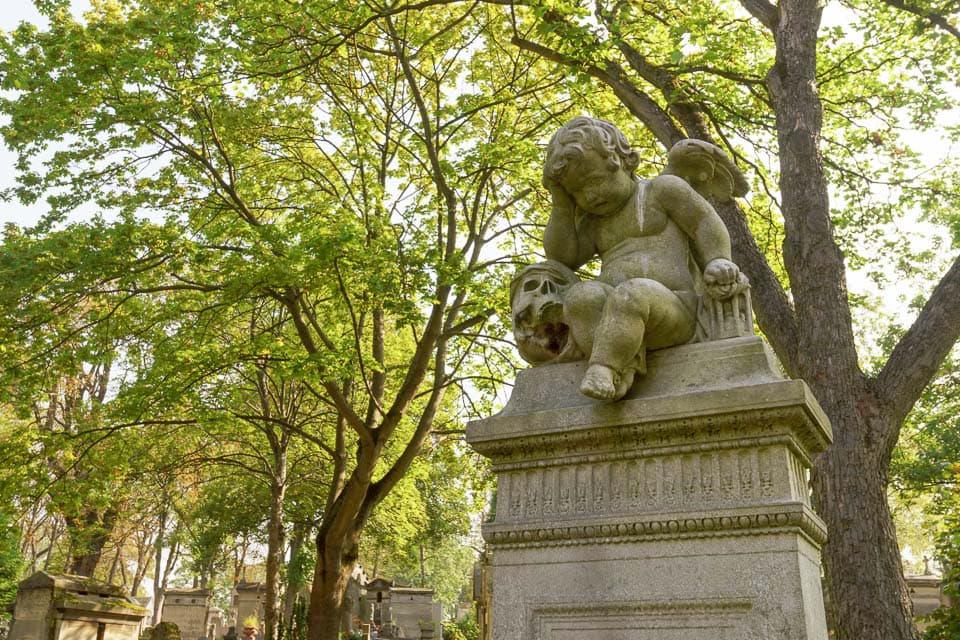 Less common are depictions of bats, which were used during the Romantic period from 1820-1850. In the funerary art at Père Lachaise Cemetery, bat wings are sometimes paired with a skull or an hourglass. Bats symbolize death and the night before the flight to heaven, but may also have been used to protect the tomb from bad luck.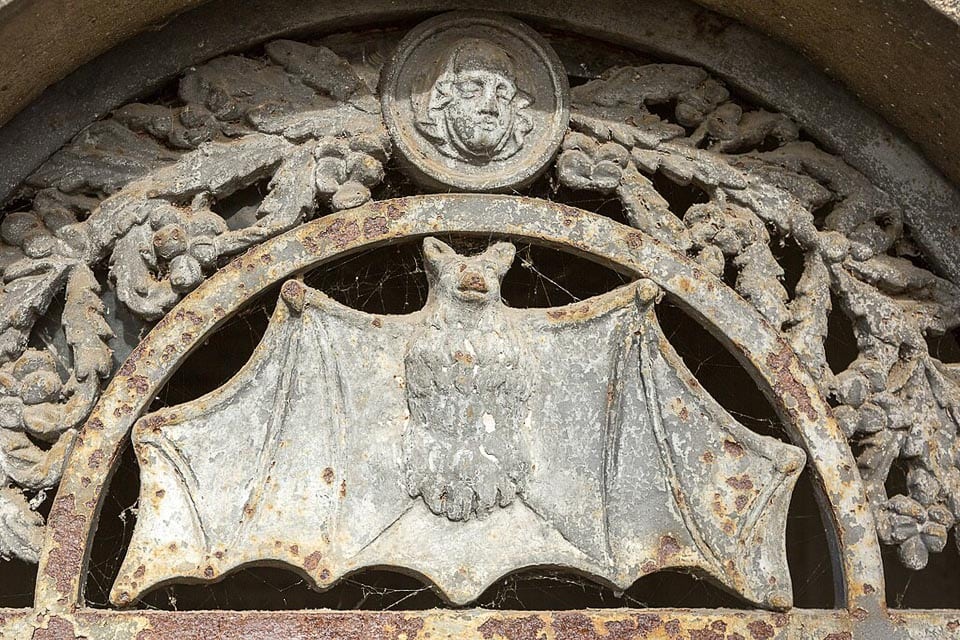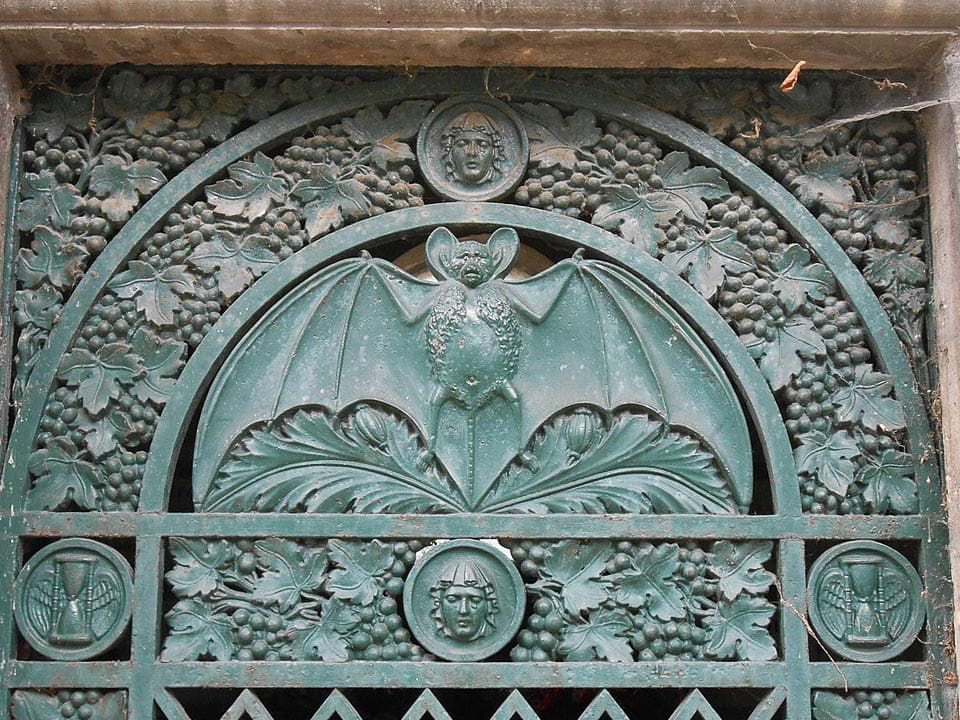 As for sculpture in Père Lachaise Cemetery, you'll see plenty of draped mourning figures, winged cherubs, and winged women. There are also tombs with life-sized sculptures or busts of the person laid to rest there.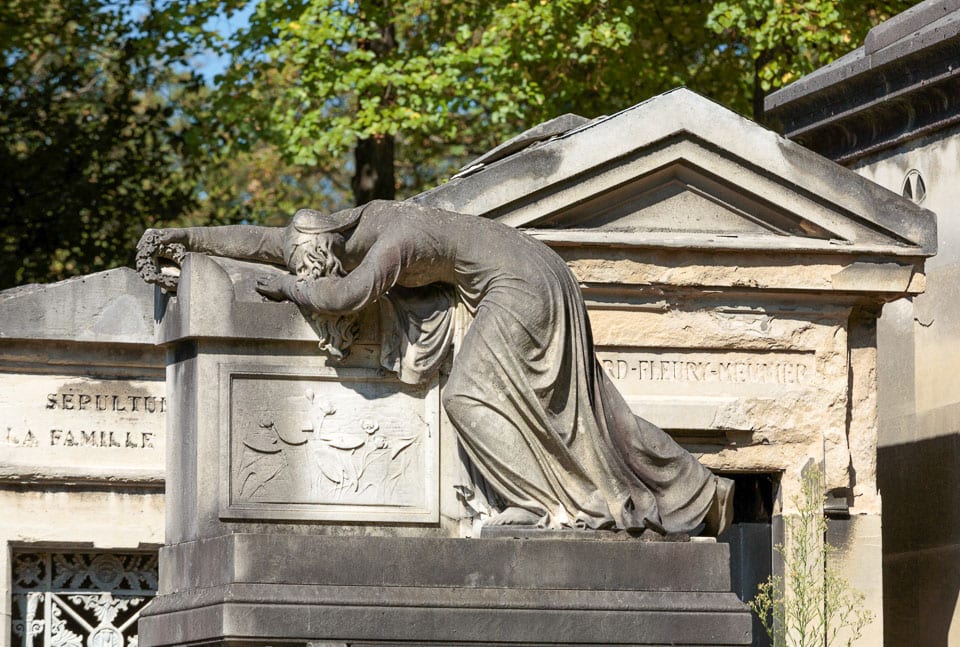 Monuments in Père Lachaise Cemetery
Père Lachaise Cemetery is best known for its beautiful funerary sculpture and famous gravesites, but there are also several monuments commemorating groups of people who died during wars, revolutions, the Holocaust, and other tragic historical events.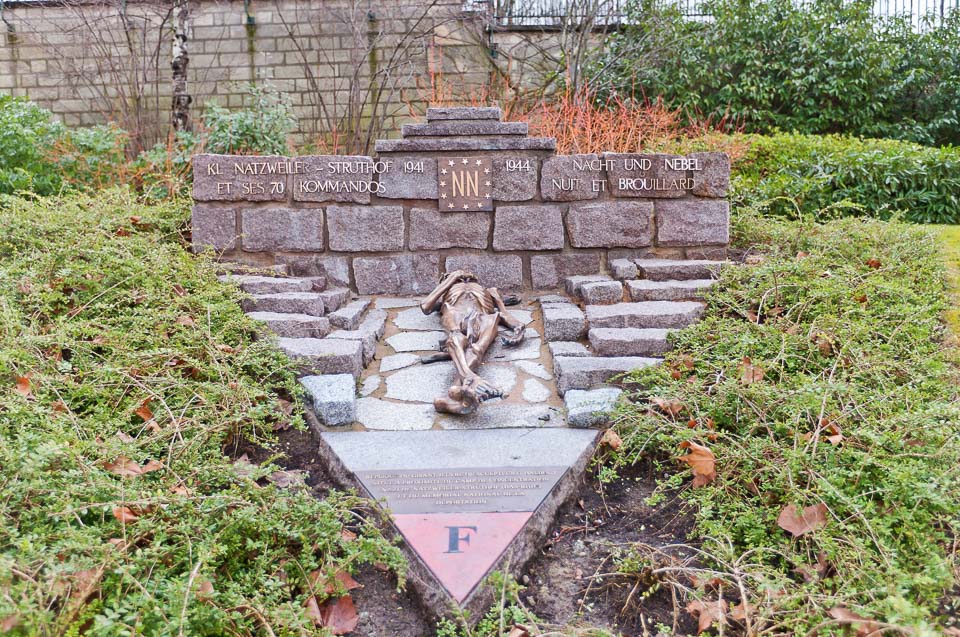 One of the most prominent memorials in Père Lachaise Cemetery is the Monument aux Morts (Monument to the Dead). Designed in the 19th century by sculptor Albert Bartholomé, this temple-like structure honours those unidentified at death. The memorial is poignantly decorated with sculpted figures showing emotional reactions to death and holds a communal ossuary that is usually closed to visitors.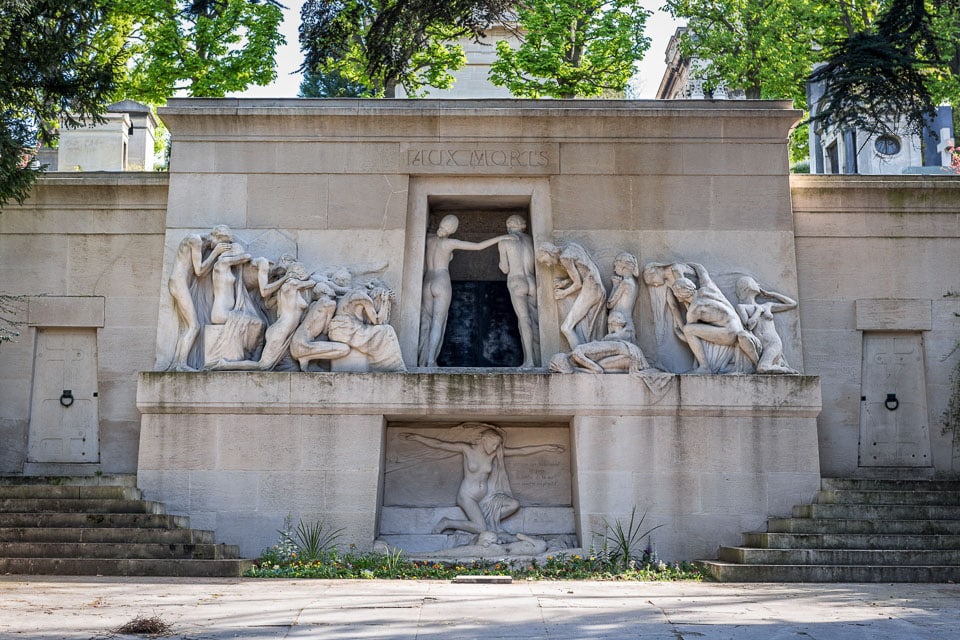 Along L'avenue des Combattants Étrangers Morts pour la France, in divisions 84 and 88 by the Gambetta entrance, you'll find several monuments dedicated to foreign soldiers who died for France during World War I and II. There are memorials for Greek, Czechoslovakian, Armenian, Belgian, Italian, Polish, Russian, and North African veterans.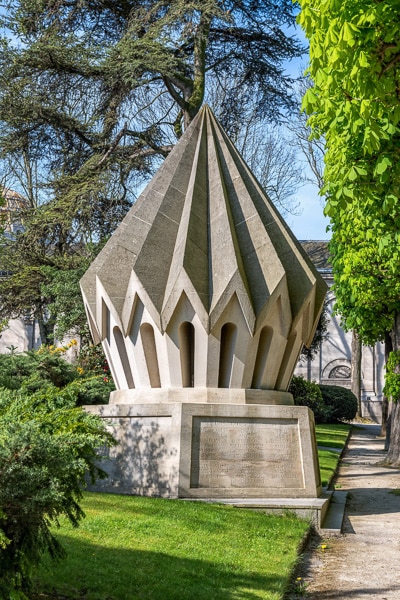 Along Avenue Circulaire, in divisions 77 and 97 near the Reunion entrance, there are a number of monuments for victims of WWII concentration camps. These monuments are in memory of deportees to the camps of Oranienburg-Sachsenhausen, Auschwitz III-Buna-Monowitz, Natzweiler-Struthof, Buchenwald-Dora, Dachau, Bergen-Belsen, Auschwitz-Birkenau, Ravensbruck, Neuengamme, Mauthausen, and Flossenburg. There's also a monument for the victims of Convoy 73. Some of the memorials are stark and modest, others are more abstract, and several have unsettling, yet emotionally powerful sculptures.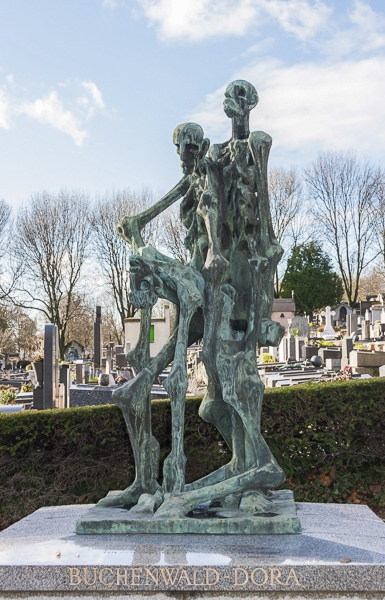 Some other monuments in Père Lachaise Cemetery are Communard's Wall (Mur des Fédérés) and its plaque remembering the 147 Paris Commune members who were executed on that spot May 28, 1871, the Monument to the Victims of the Revolutions in Samuel de Champlain Garden, and the Monument to Spanish citizens who died for freedom during World War II.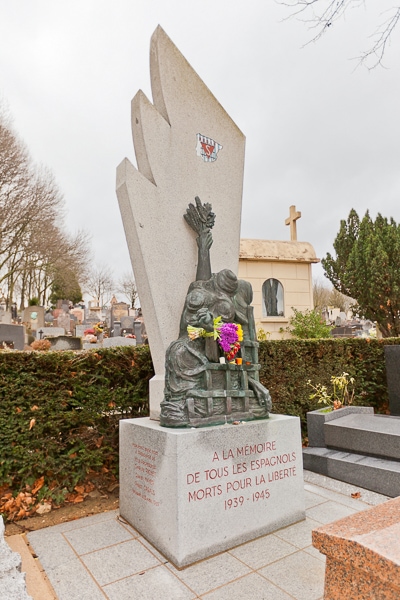 Notable Burials and Famous Graves
With such a long history and prestigious reputation, it's no surprise that Père Lachaise Cemetery is home to some of the most famous graves in Paris. Among the burials at Père Lachaise Cemetery are novelists, composers, actors, singers, musicians, artists, filmmakers, politicians, architects, scientists, and more.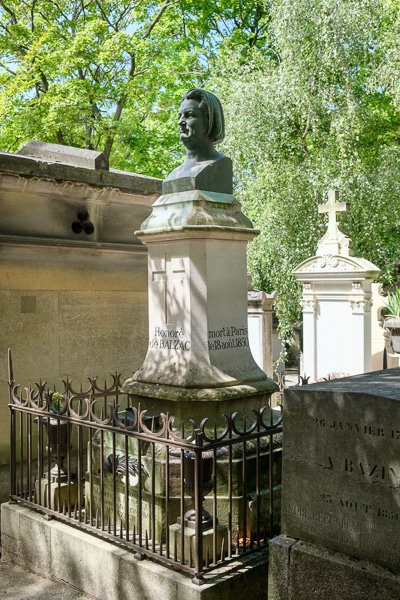 Some of the most visited gravesites in Père Lachaise Cemetery belong to singer and songwriter Jim Morrison, poet and playwright Oscar Wilde, and composer Frédéric Chopin.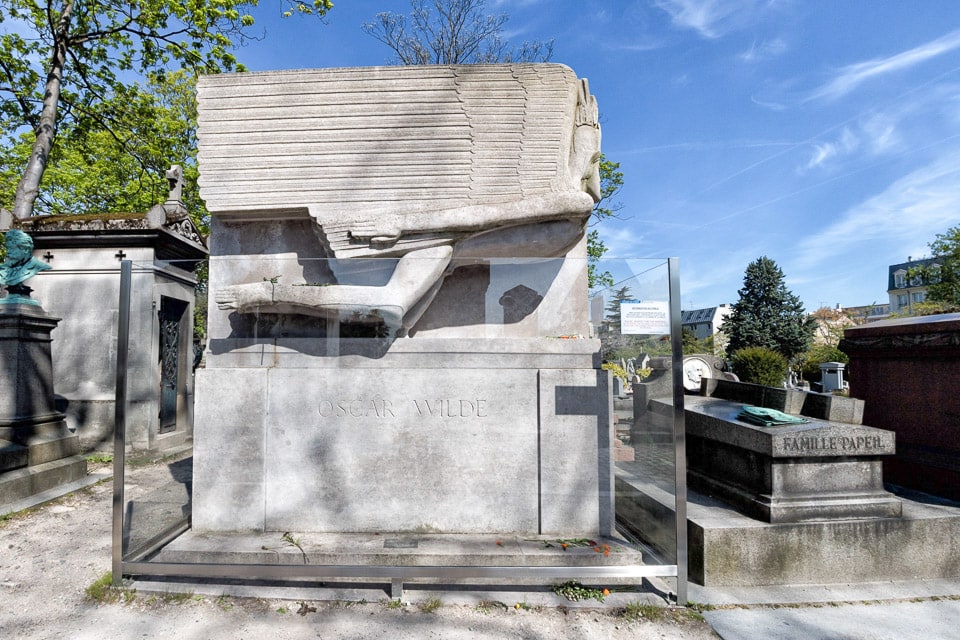 Here are just a few more of the notable people buried in Père Lachaise Cemetery:
French singer Edith Piaf
Novelist Marcel Proust
Dancer Isadora Duncan
Mime artist Marcel Marceau
Painter Georges Seurat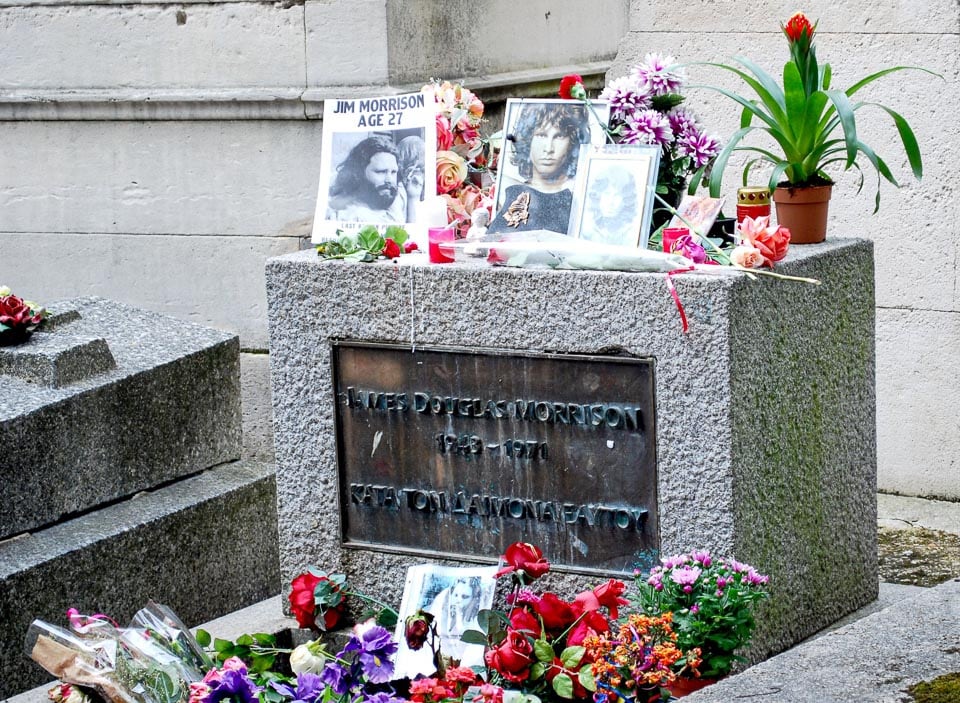 Tours of Père Lachaise Cemetery
Père Lachaise Cemetery tours are offered by local guides and tour companies instead of cemetery staff. When taking a guided tour of Père Lachaise Cemetery you'll learn about the cemetery's history and funerary art, hear stories of those who have been interred here, and visit some of the most famous graves.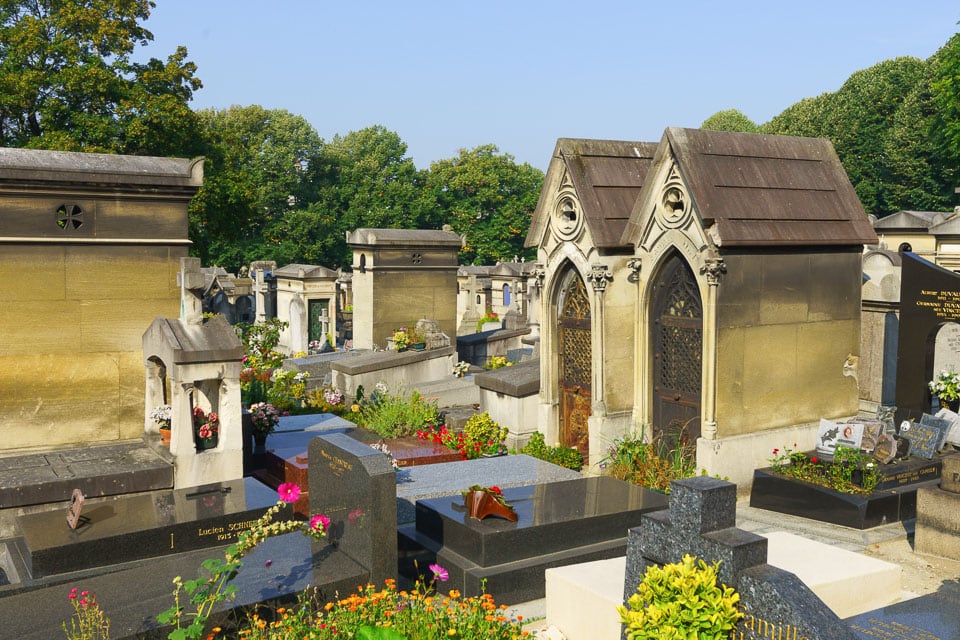 If it's your first time visiting Père Lachaise Cemetery, or you have limited time, then a guided tour is a good idea. The burial plots are quite crowded so finding certain graves can take longer than you think.
Final Words
Père Lachaise Cemetery's cultural and artistic significance makes it a must-see when in Paris. You could easily spend half a day exploring its cobblestone alleyways, searching out interesting graves and sculptures, or simply appreciating the cemetery's natural beauty.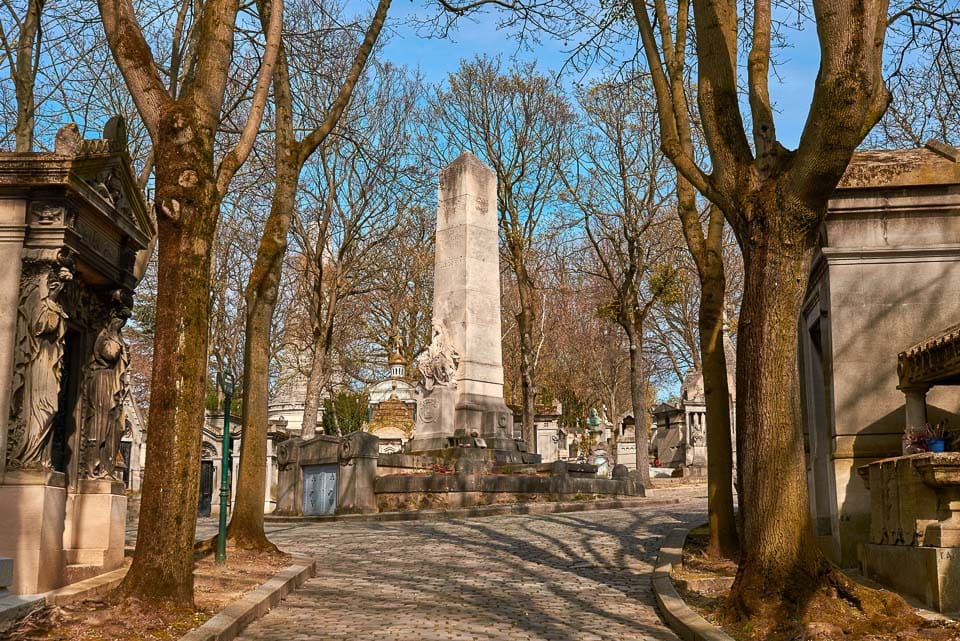 Don't be surprised if one visit isn't enough to see everything of interest. In a cemetery this large and impressive there's always something new to discover no matter how often you visit!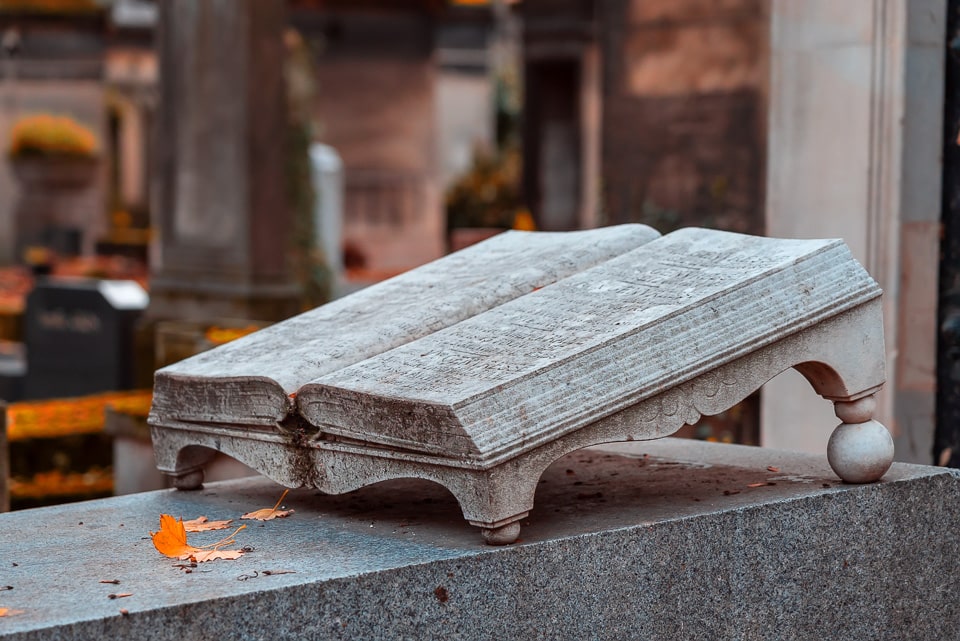 Practical Information for Visiting Père Lachaise Cemetery
Location: Père Lachaise Cemetery is located in Paris' 20th arrondissement.
Entrances: There are five entrances to Père Lachaise Cemetery, listed below with their corresponding metro stops.
The main entrance is Porte Principale at Boulevard Ménilmontant, across from Rue de la Roquette (Metro station: Philippe Auguste or Père-Lachaise)
Porte des Amandiers at Boulevard de Ménilmontant (Metro station: Père-Lachaise)
Porte du Repos at 16 Rue du Repos (Metro station: Philippe Auguste)
Porte Gambetta at Rue des Rondeaux (Metro station: Gambetta)
Porte de la Réunion at the end of Rue de la Réunion (has a flight of stairs)
Hours: Opening hours of Père Lachaise Cemetery change depending on the season, but typically it opens between 8:00 and 9:00 am and closes at 5:30 or 6:00 pm. The cemetery is open 7 days a week. You can confirm current hours here.
Admission Fees: None
Map: You can download a map of Père Lachaise Cemetery with locations of famous graves here (English) or here (French). The city's website also has thematic maps based on different interests here. Printed maps are not given out at the cemetery, but there are maps posted on signs at information points by the entrances.
Finding the divisions is easy once you have a map because the cemetery has street signs with the path names and division numbers.
Tours: There are many tours of Père Lachaise Cemetery offered by local guides and tour companies. Here is where you can book Père Lachaise Cemetery tours.
Visitor Guidelines: When visiting Père Lachaise Cemetery, remember that this is an active cemetery where people come to grieve. Don't disturb the tranquility or sit or climb on the funerary monuments. Other things that aren't allowed in the cemetery are picnics, alcohol, pets, bikes and scooters, jogging and other fitness activities, and feeding the wildlife.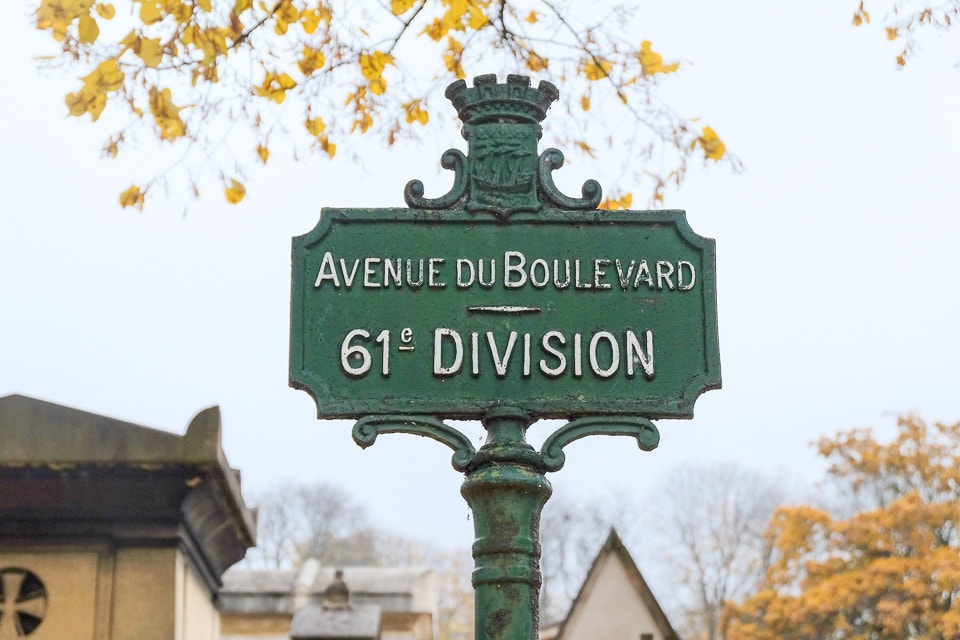 Paris Accommodations
If you're planning to visit Père Lachaise Cemetery and need accommodations, here is a list of hotels in Paris. Please consider booking your Paris accommodations through the included link. It costs nothing extra and helps support this website.
More Burial Places in Paris