Copp's Hill Burying Ground- Boston's Largest Colonial Cemetery
Purchases made through links earn us a small commission, at no extra cost to you.
Copp's Hill Burying Ground is one of several historic cemeteries in Boston that date back to the colonial era. Copp's Hill is the largest of these colonial burying grounds and is the final resting place of many notable Bostonians, including enslaved and free African Americans. The cemetery is also known for its role in a Revolutionary War battle.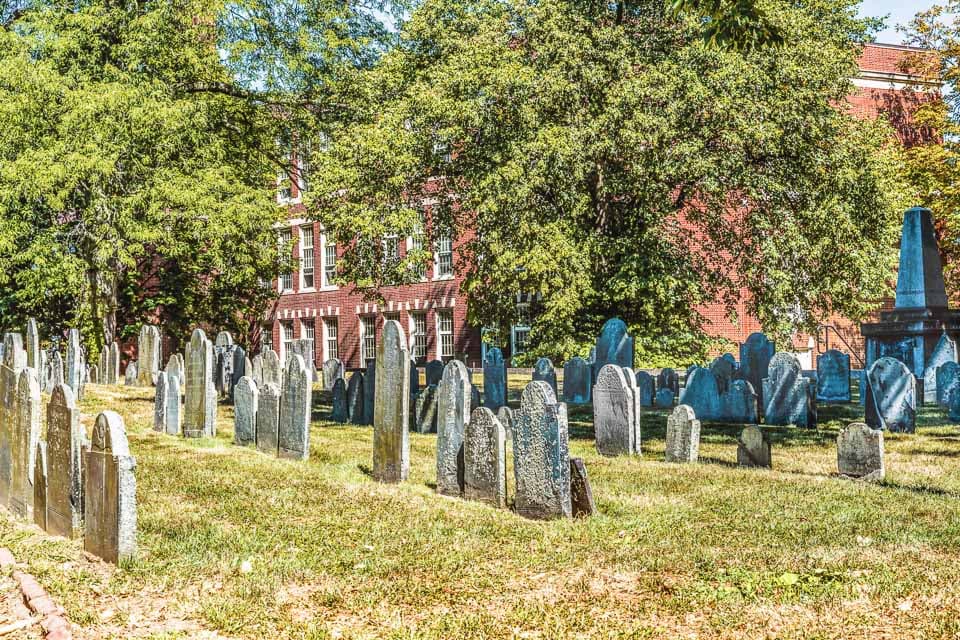 History of Copp's Hill Burying Ground
Dating from 1659, Copp's Hill was Boston's second burial ground, following the overcrowded King's Chapel Burying Ground but predating Granary Burying Ground (by one year). Copp's Hill Burying Ground was originally called North Burying Ground but was later named after William Copp, an early settler and local shoemaker who lived close by on Prince Street.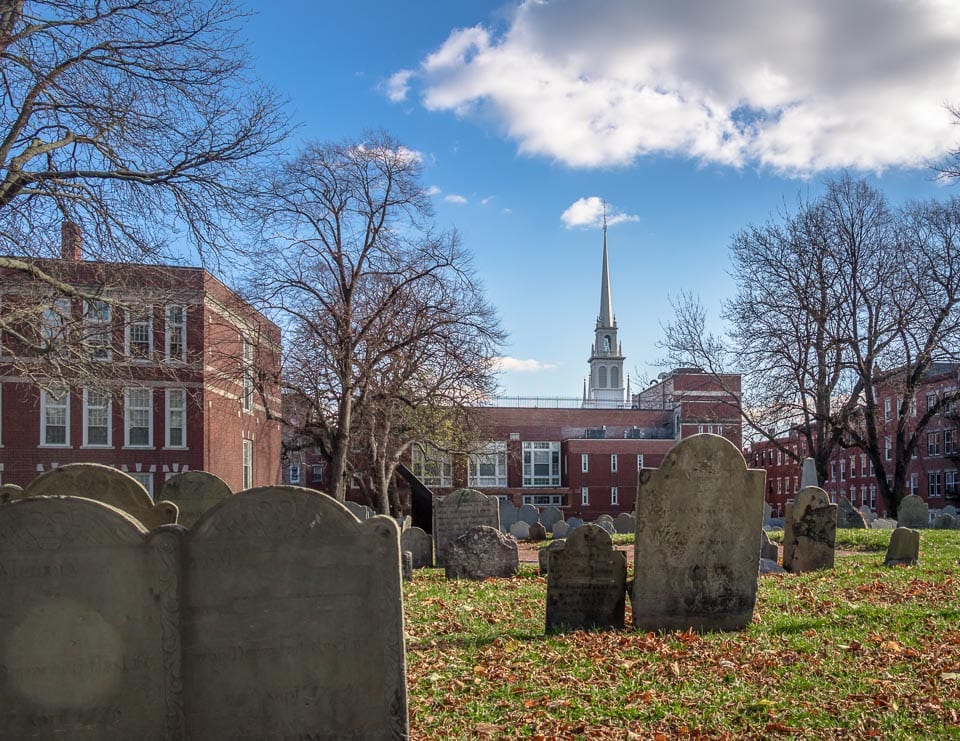 Before it was a cemetery the land was owned by John Baker and Daniel Turell and was originally home to a windmill. Later the strategic hilltop location overlooking the harbor also made it a place of military importance during the Revolutionary War. In fact, the British established fortifications on the southwest side of Copp's Hill, from where they shelled Bunker Hill and oversaw the burning of Charlestown in the 1770s.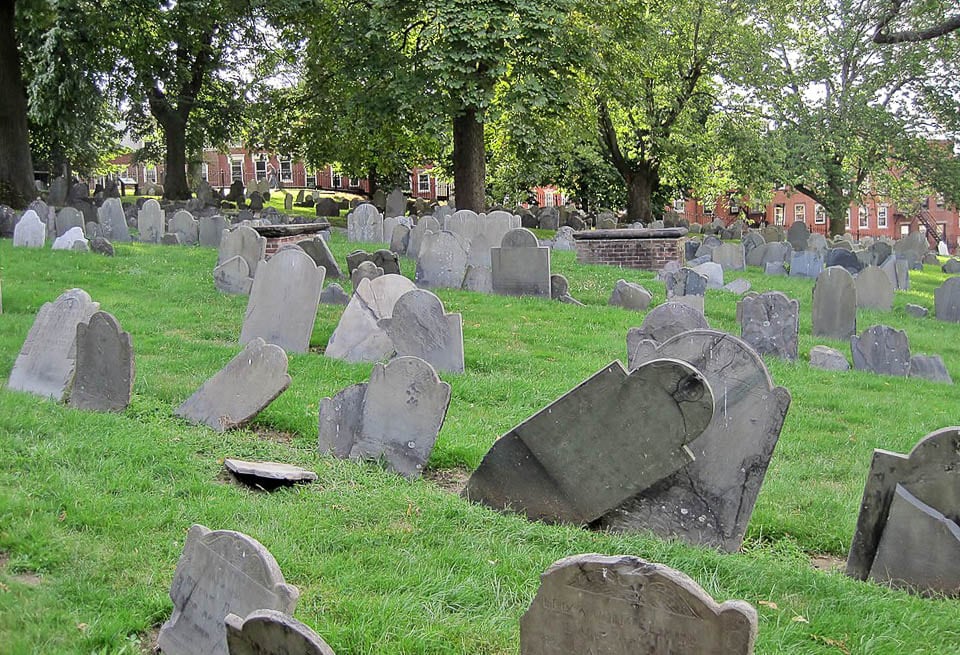 Copp's Hill Burying Ground was extended in 1708 and then again in 1809. It's estimated that up until the 1850s over 10,000 people were buried here. Today there are approximately 1,200 marked graves, many of which are notable Bostonians. The burial ground also has about 1,000 unmarked graves of African Americans who lived in a community called New Guinea at the foot of Copp's Hill.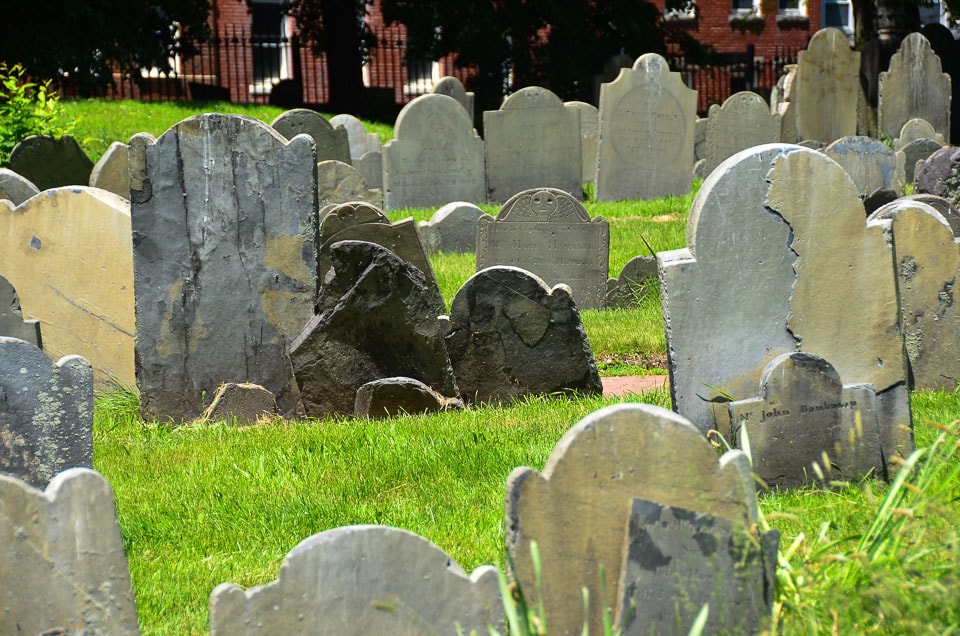 By 1840, the cemetery had fallen into disrepair, though was still maintained by the city. But by 1878 it was close to ruin. Almost a century later (in 1974), Copp's Hill Burying Ground was added to the National Register of Historic Places and has since become an official stop on the two-and-a-half-mile-long Freedom Trail through Boston.
Design of Copp's Hill Burying Ground
Only three acres in size, Copp's Hill Burying Ground was for centuries a cemetery seemingly full to the brim with burials.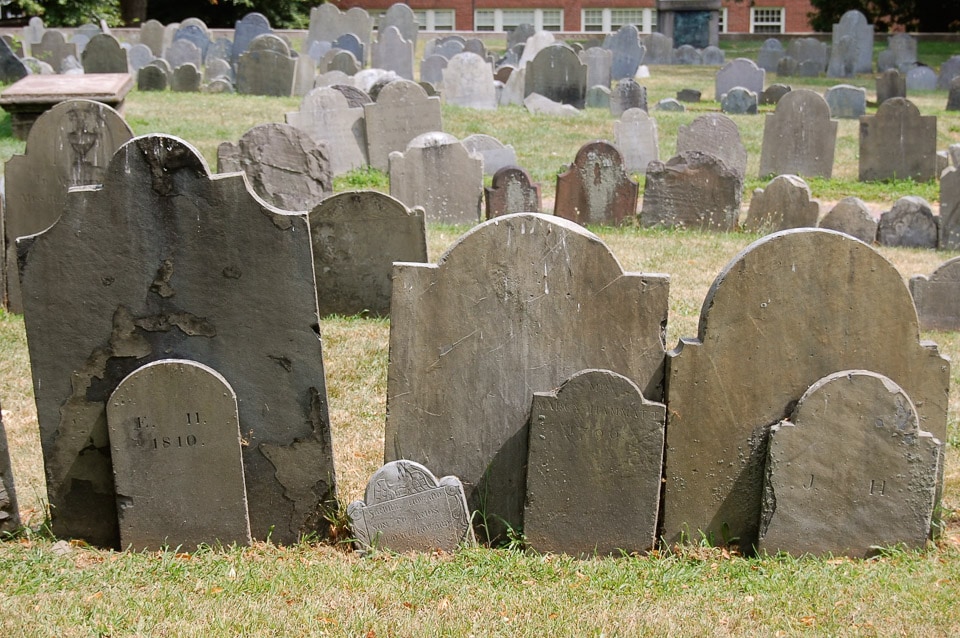 In order to neaten things up, the burial ground was altered in the 1830s. This was in line with the park-like landscaping that was taking place in cemeteries at the time. Gravestones were moved into lines, pathways were added, walls were built, and trees were planted.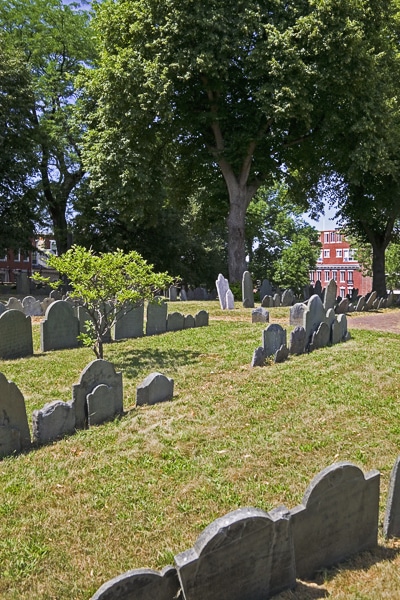 Due to the gravestones being moved into neat lines that parallel the paths, it's highly probable that they don't match up with the burials beneath them.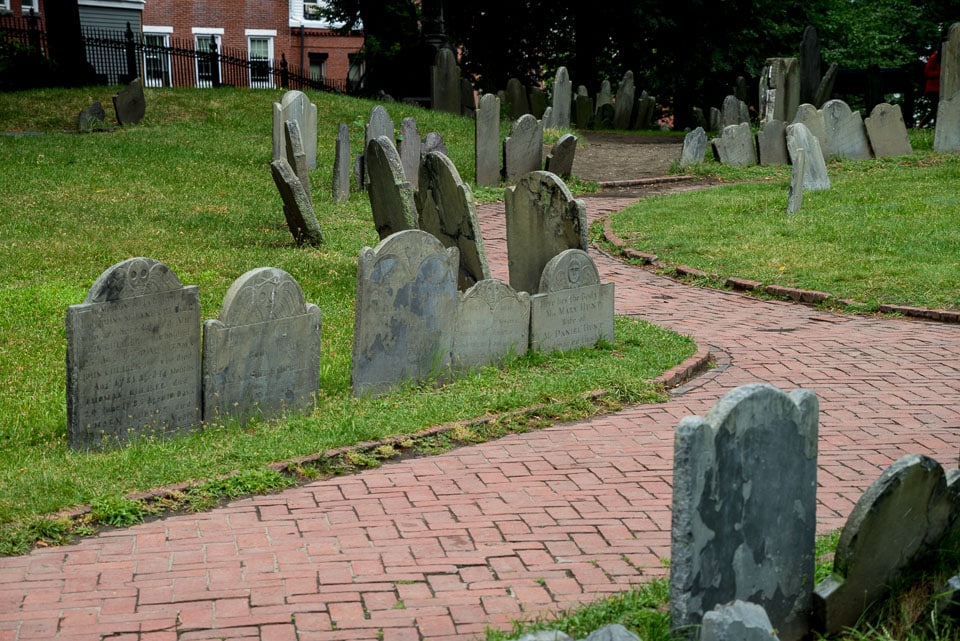 Today the cemetery retains its park-like appearance with mature deciduous trees, brick pathways, and wrought iron fencing.
Funerary Art
There are many intriguing carvings on the gravestones scattered around Copp's Hill Burying Ground. Each of these artistic designs showcases the skills of the stonecutters, who often worked as masons and bricklayers in their day job.
Symbols that can be spotted on gravestones around Copp's Hill include winged skulls (most common), a winged cherub, an urn and willow design- popularised following the Revolution- and a smattering of heraldic symbols, pointing to the English heritage of many of the deceased.
Copp's Hill Burying Ground Burials- Famous Graves in Copp's Hill Burying Ground
From puritans to shipbuilders, smugglers to servants, the list of Copp's Hill Burying Ground graves runs through a potent few centuries of the nascent nation's history. Here are some of the notable people buried in Copp's Hill Burying Ground.
The Mather Family (1722-1803)
The tomb of the Mather family of Puritan ministers is located in the southeast corner of the cemetery. Among all the Copp's Hill Burying Ground burials, this one is particularly interesting due to its connection with the Salem Witch Trials. One notable family member, Increase Mather (1639-1723), was often called "The Greatest American Puritan". He graduated from Harvard University in 1656 and was an integral character in political and religious life in the area.
Daniel Malcolm (1725-1769)
A merchant and smuggler, Daniel Malcolm was famed for his ability to smuggle large quantities of wine into Boston without paying any tax on it. Malcolm also instigated a boycott of British imports. His gravestone is chipped by bullets fired by British troops, who used it as target practice during the 1775 Siege of Boston.
Robert Newman (1752-1804)
Newman was a Patriot who played an integral part during the Battles of Lexington and Concord in 1775. During the battle, as part of the plan devised by Paul Revere, he hung lanterns in the steeple of the Old North Church in Boston.
Prince Hall (c. 1735-1807)
Prince Hall was an American abolitionist and leader of Boston's free Black community. Hall lobbied for the rights of African Americans in the late 18th century and also founded the Black Masonic Order (known today as Prince Hall Freemasonry).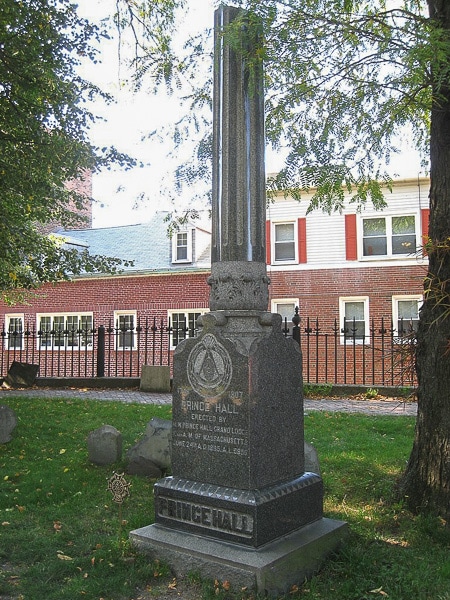 Edmund Hartt (1744-1824)
Hartt was an important shipbuilder in Boston. He is most famed for being the man behind the construction of the USS Constitution in 1797. Hartt also built USS Boston, USS Argus, and the USS Independence.
Mary Augustus (c. 1734-1759)
Along with her husband Ceasor Augustus (a "servant of Robert Bull", as it says on her epitaph), the gravestone of Mary Augustus is one of the few Copp's Hill Burying Ground graves attributed to the free Black community of Boston.
George Worthylake (1673-1718)
George Worthylake was the first keeper of the Boston Light. He, his wife, and their daughter were buried under a unique triple headstone after drowning when their canoe capsized while on route to the lighthouse.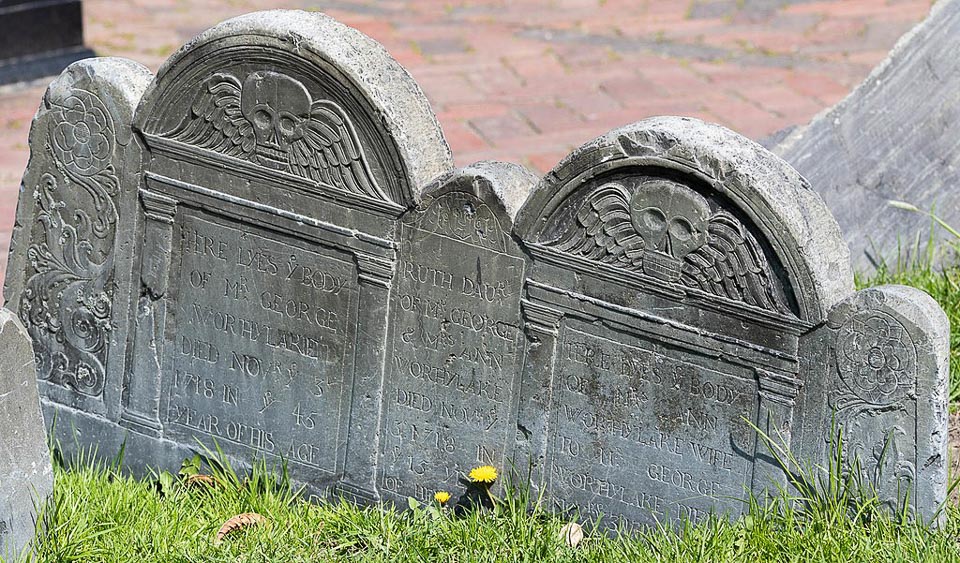 Phyllis Wheatley (c. 1753-1784)
Phyllis Wheatley grew up in enslavement after being kidnapped from West Africa and sold to a Boston family. She was given an education, which was unusual for someone in her circumstance, and went on to become an author. She is considered to be the first African American to have a book of poetry published.
Tours of Copp's Hill Burying Ground
If you're looking for a deeper insight into the history of Copp's Hill Burying Ground, you'll be pleased to know that tours regularly pass through the old cemetery. For one thing, it's officially part of the Freedom Trail, especially due to its connection with the Siege of Boston.
Ghost tours also visit Copp's Hill Burying Ground, telling tales of spooky happenings and strange events said to have occurred here over the years.
Interesting Facts About Copp's Hill Burying Ground
Here are a few more interesting facts about Copp's Hill Burying Ground in Boston:
The oldest surviving gravestone in Copp's Hill Burying Ground dates to 1661. It is for the grandsons of the cobbler after whom the cemetery was named.
On June 30th, 1704, crowds gathered on Copp's Hill to watch the hanging of seven pirates. Even boats moored up along the river to catch a glimpse of the gruesome spectacle.
Around 60% of the gravestones in Copp's Hill Burying Ground date to before the American Revolution. Twenty nine of the Boston Tea participants could possibly be buried here, too.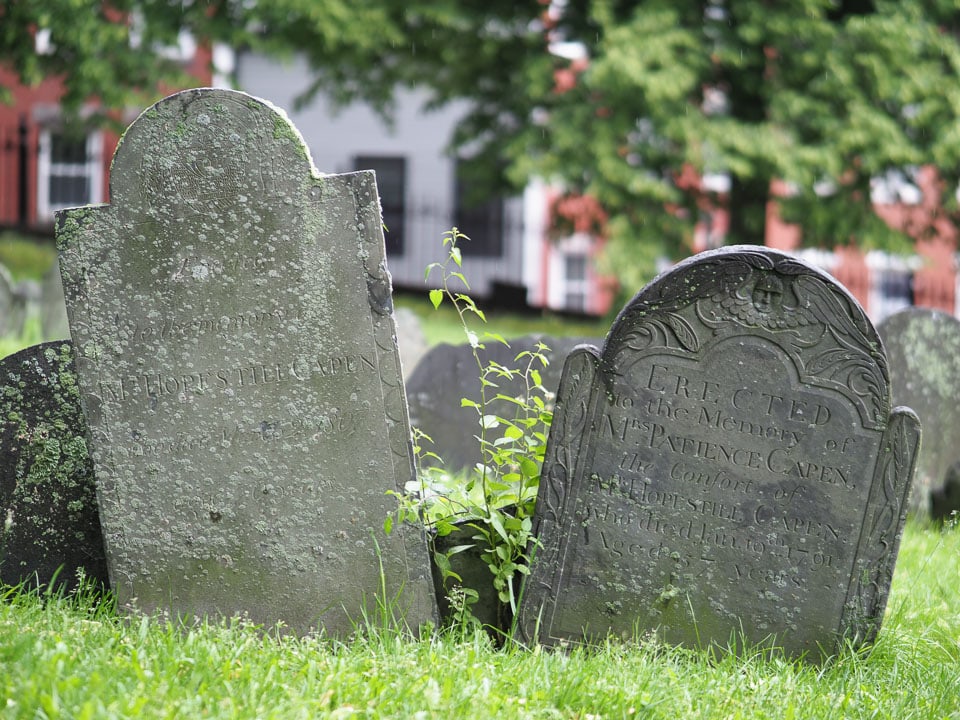 Final Words
Copp's Hill Burying Ground is intrinsically linked to the history of Boston. And that's not just because of the people who are laid to rest here. The strategic location of the hill and the part it played during the Revolutionary War will intrigue war history buffs, while Black history can also be told through the many burials of a free, burgeoning community at the foot of this fascinating cemetery.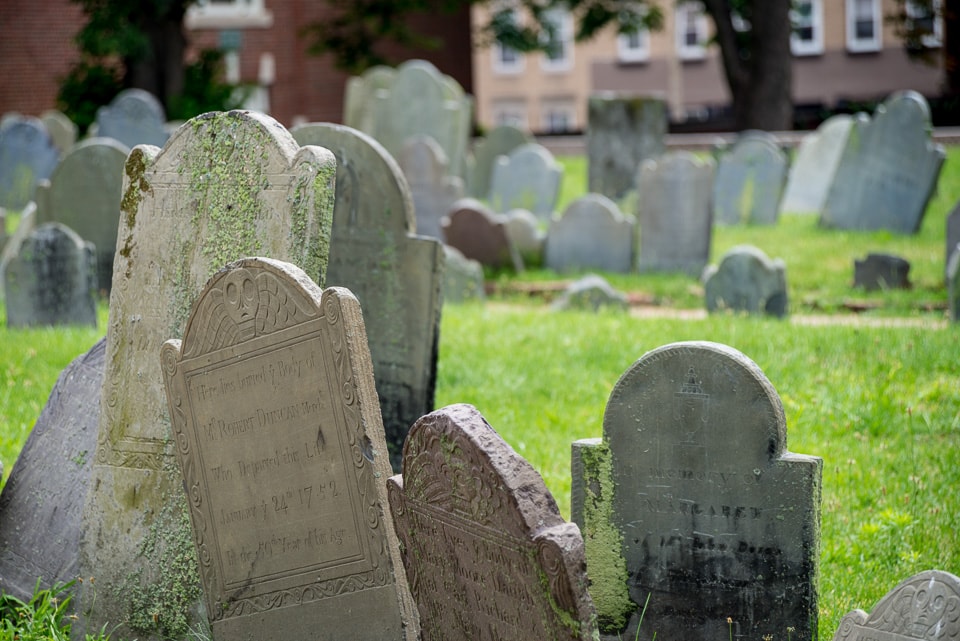 Practical Information for Visiting Copp's Hill Burying Ground
Location: Copp's Hill Burying Ground is located at 45 Hull Street in Boston, Massachusetts.
Hours: Copp's Hill Burying Ground is open daily from 9:00 am- 4:00 pm. Confirm current hours here.
Admission Fees: None
Tours: Walking tours that include a visit to Copp's Hill Burying Ground can be booked here.
Accommodations in Boston
If you're planning to visit Copp's Hill Burying Ground and need accommodations, here is a list of hotels in Boston. Please consider booking your Boston accommodations through the included link. It costs nothing extra and helps support this website.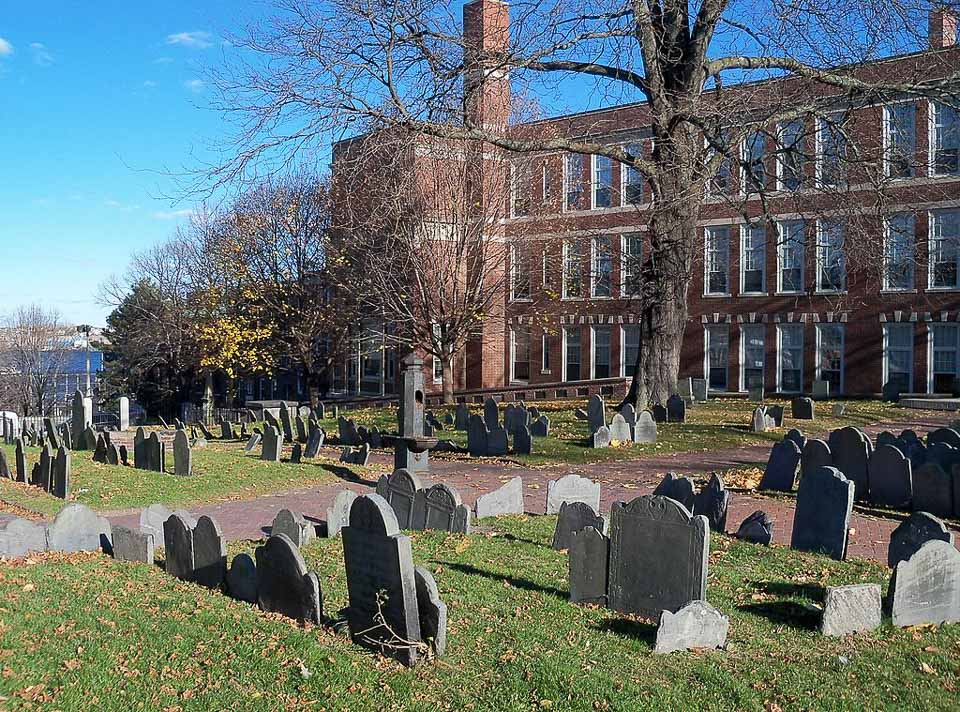 More Burial Places in the United States