Arlington National Cemetery Guide- History, Design, and Notable Sites
Purchases made through links earn us a small commission, at no extra cost to you.
Arlington National Cemetery is the most esteemed military cemetery in the United States. It contains burials of veterans from every major American war, from the Revolutionary War to recent conflicts in the Middle East.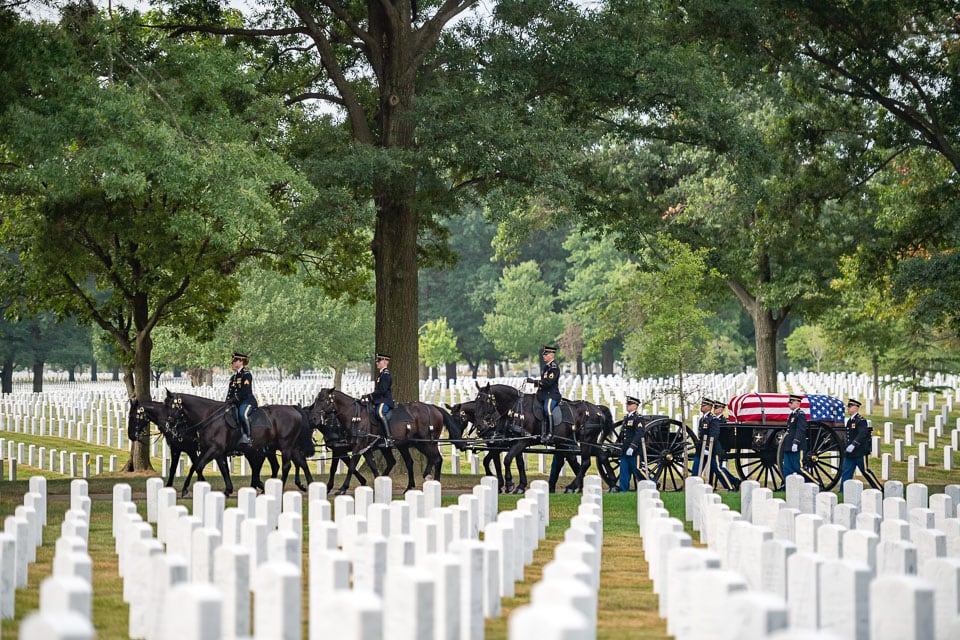 There's so much to discover and learn about Arlington National Cemetery, from its founding and design to its monuments and memorials. Whether you're planning a visit or just interested in learning about the nation's premier military burial ground, here's an informative guide to Arlington National Cemetery.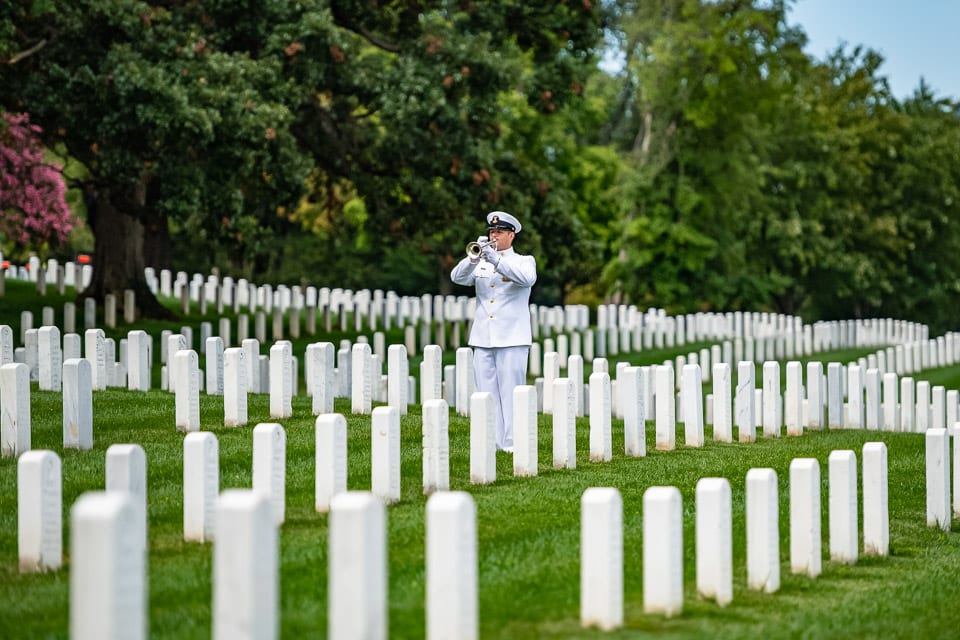 History of Arlington National Cemetery
Arlington National Cemetery was officially established on June 15, 1864, about a month after the first military burial took place on the property, but the land wasn't always used as a burial ground for the nation's soldiers.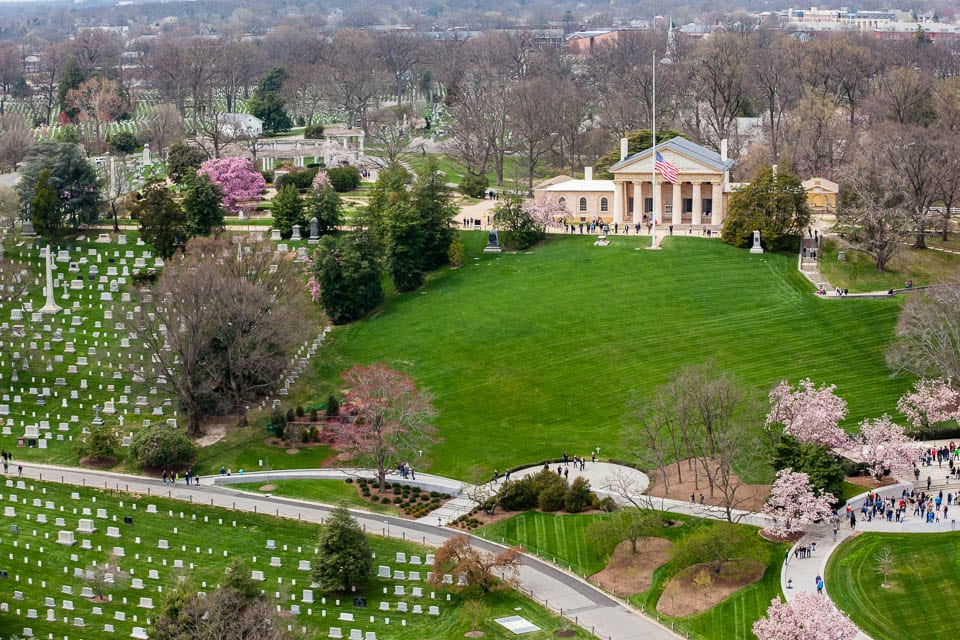 The area that is now Arlington Cemetery was once an estate and working plantation owned by George Washington's step grandson, George Washington Parke Custis. From 1808 to 1818 Custis had a Greek-Revival mansion built on the Arlington Estate to be his home and a memorial to George Washington, the first president of the United States. Heirlooms handed down from George Washington were on display in the house.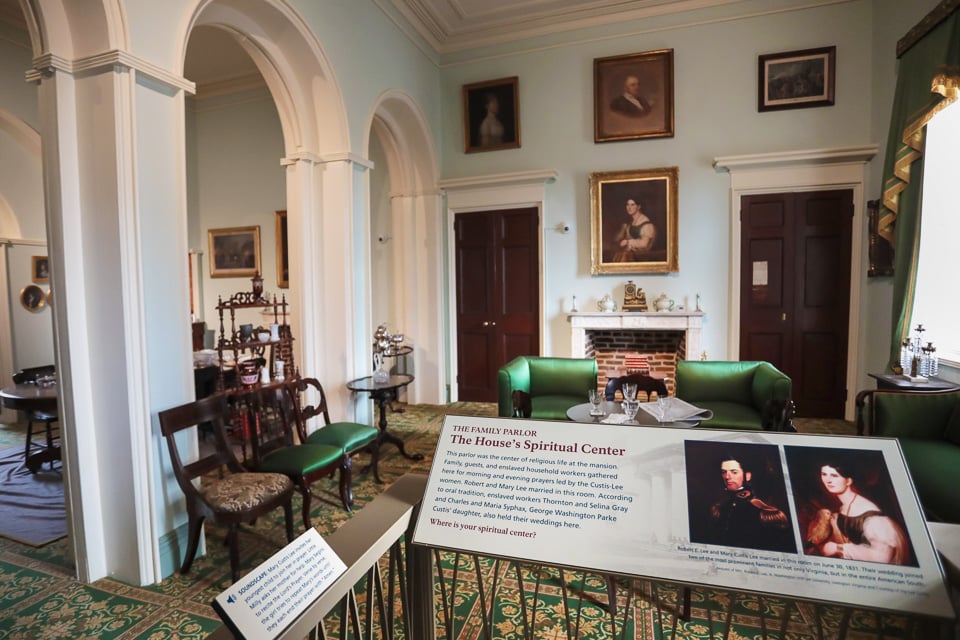 After the death of Custis and his wife in the mid-1800's, the estate was inherited by their only child, Mary Anna Randolph Custis, and her husband Robert E. Lee, who would serve as a Confederate general during the Civil War.
In 1861, after Virginia seceded from the United States, the Lee family abandoned Arlington House and never returned. Since the estate was on strategic high ground, the U.S. army swooped in to occupy it as part of their defense of Washington D.C. Troops constructed forts and a camp at these new headquarters.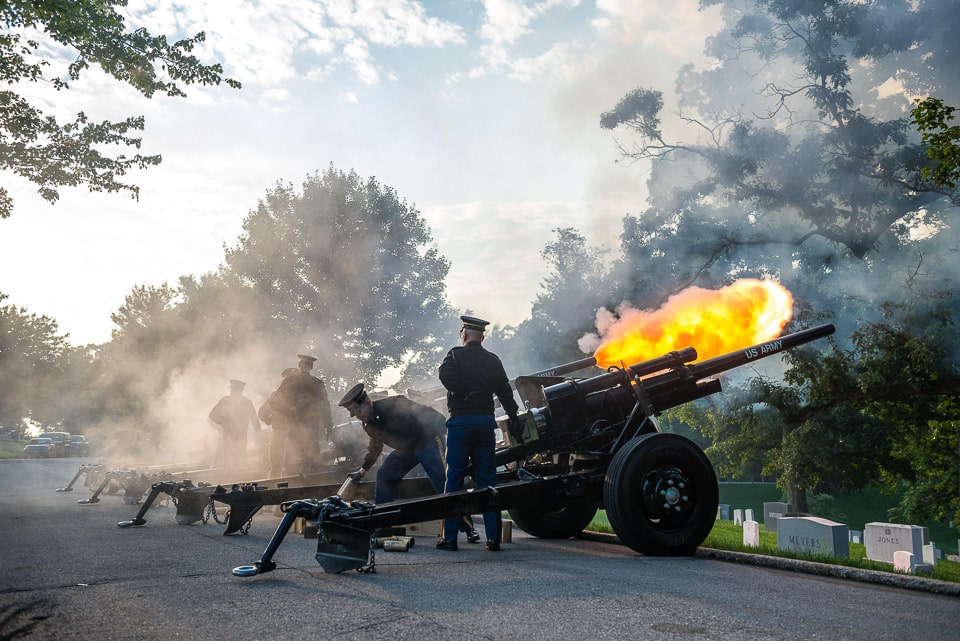 After leaving the estate, the Lees failed to pay their taxes in person (as required by law at the time), so the federal government purchased it in January 1864.
As the war went on cemeteries filled up, so Brigadier General Montgomery C. Meigs, quartermaster general of the U.S. Army, authorized military burials at Arlington Estate.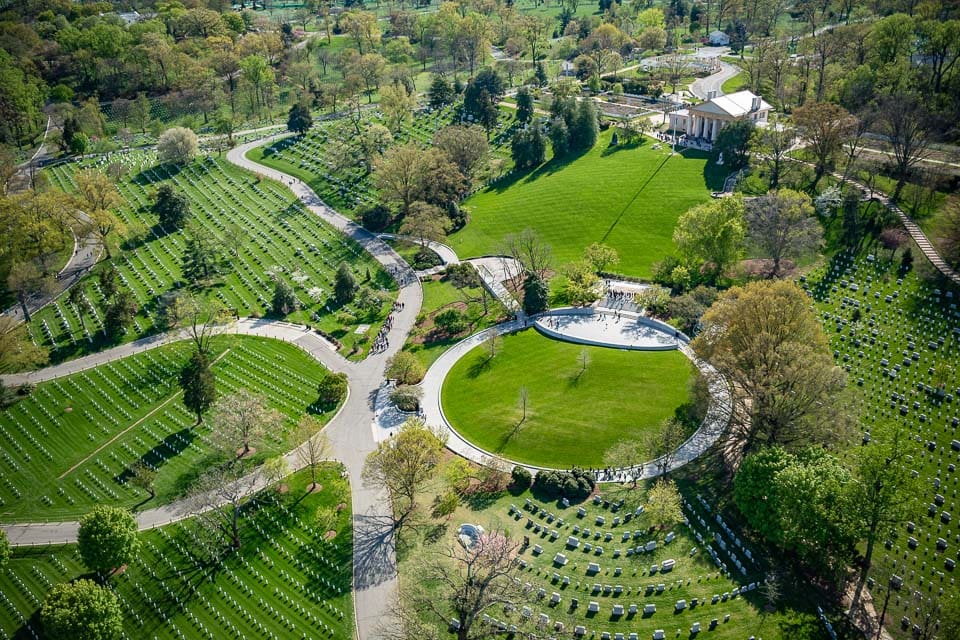 On May 13, 1864, the first soldier was buried at Arlington. By mid-June, Arlington was formally designated as a national cemetery and the Army set aside 200 acres for military burials.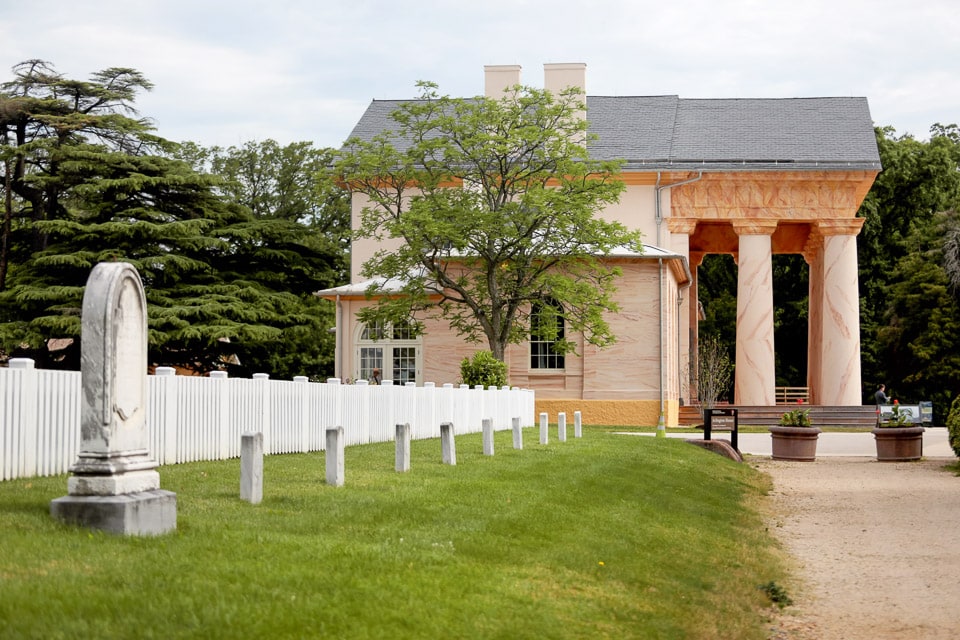 In addition to becoming a cemetery during the Civil War, the property also served as a refuge for African Americans fleeing enslavement in the South. A "Freedman's Village" was created by the federal government to be a community for these newly freed people. Although the village was intended to be temporary, people lived and farmed there until 1900 when the government closed it and incorporated the land into Arlington National Cemetery.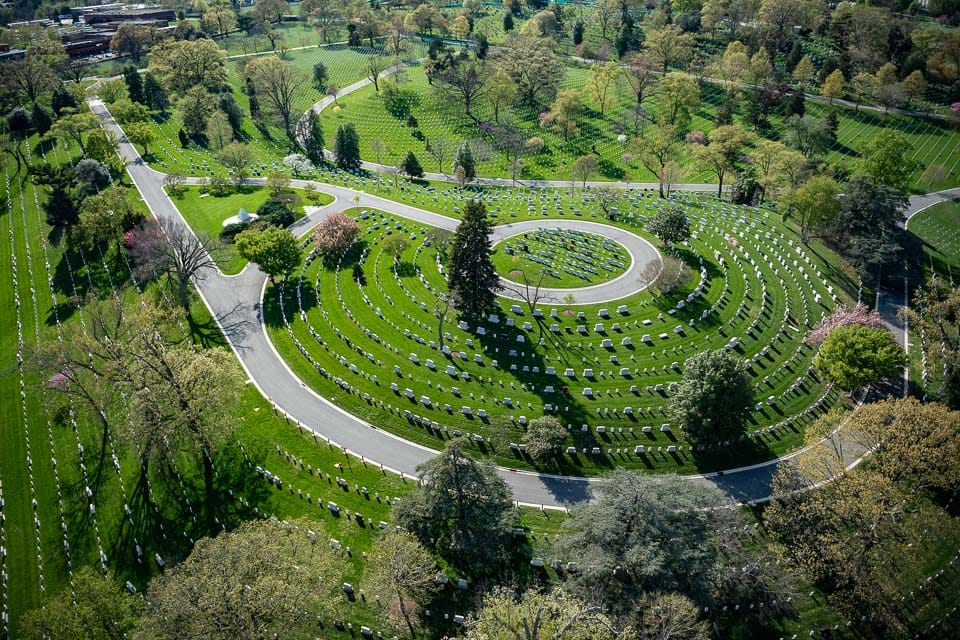 Arlington National Cemetery remained in use after the Civil War, eventually growing to 639 acres and approximately 400,000 burials. To this day Arlington is an active military cemetery.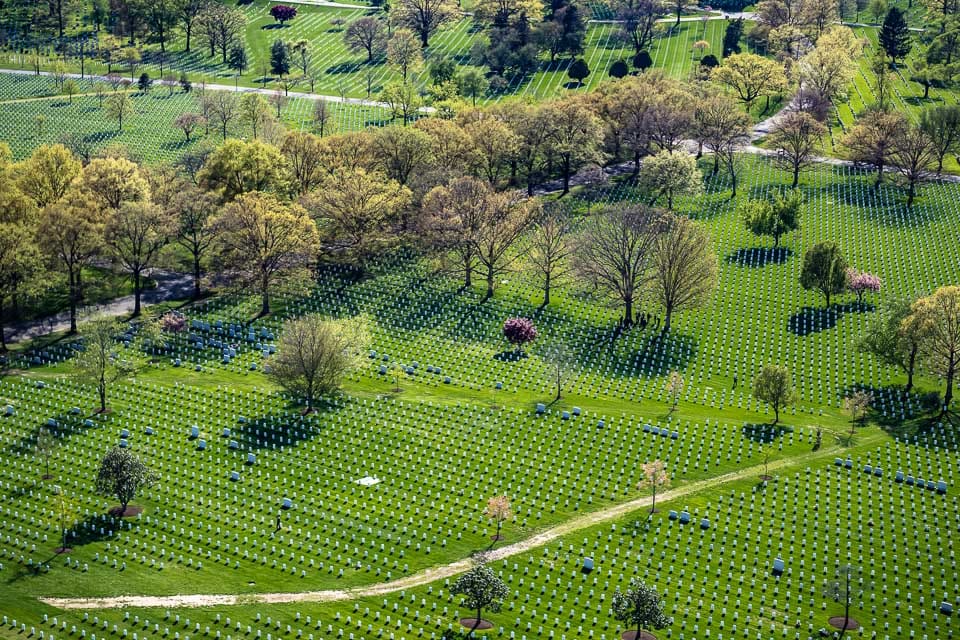 Design of Arlington National Cemetery- Landscape, Sections and Headstones
Arlington National Cemetery consists of 70 sections divided by curving roads and pathways. The sections are laid out across rolling green hills and are decorated with mature trees and ornamental plants.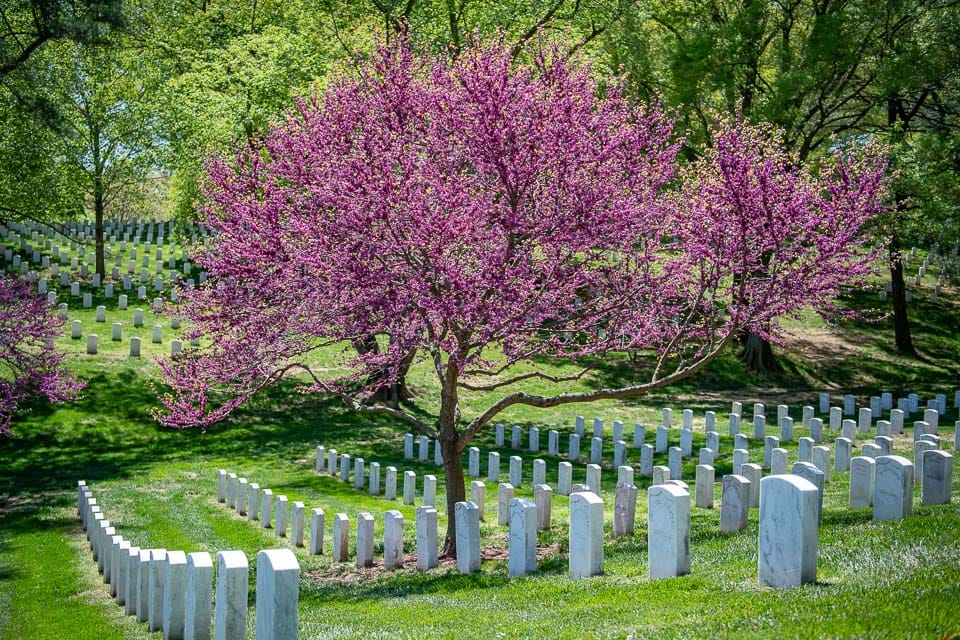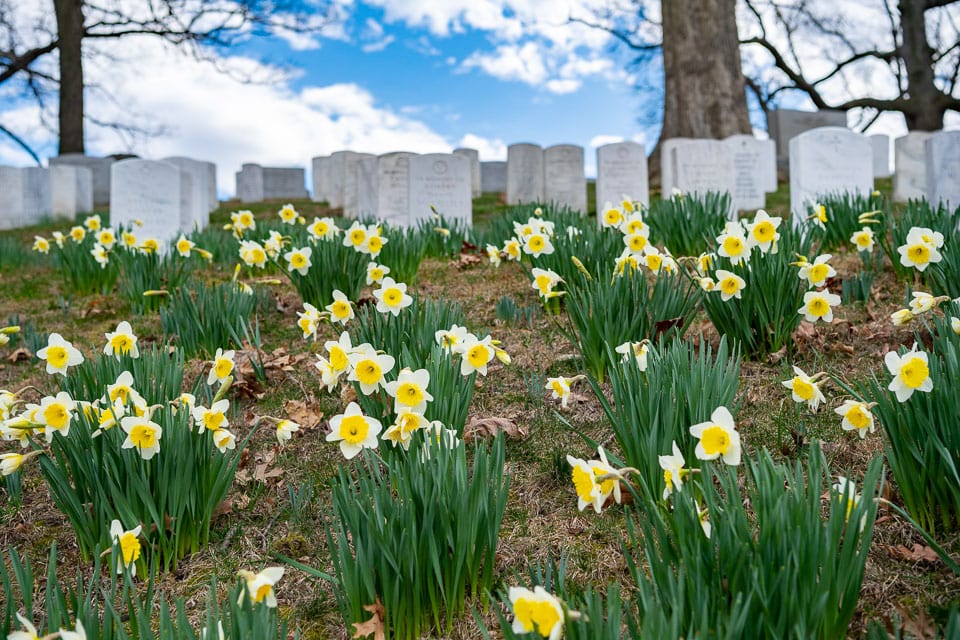 At one time the cemetery was organized by race and rank, but that policy ended in 1948 when the military was desegregated. For example, Section 27, one of the oldest areas of the cemetery, was used as the burial area for African American soldiers, Section 13 was for white Civil War soldiers, and Section 21 was for nurses.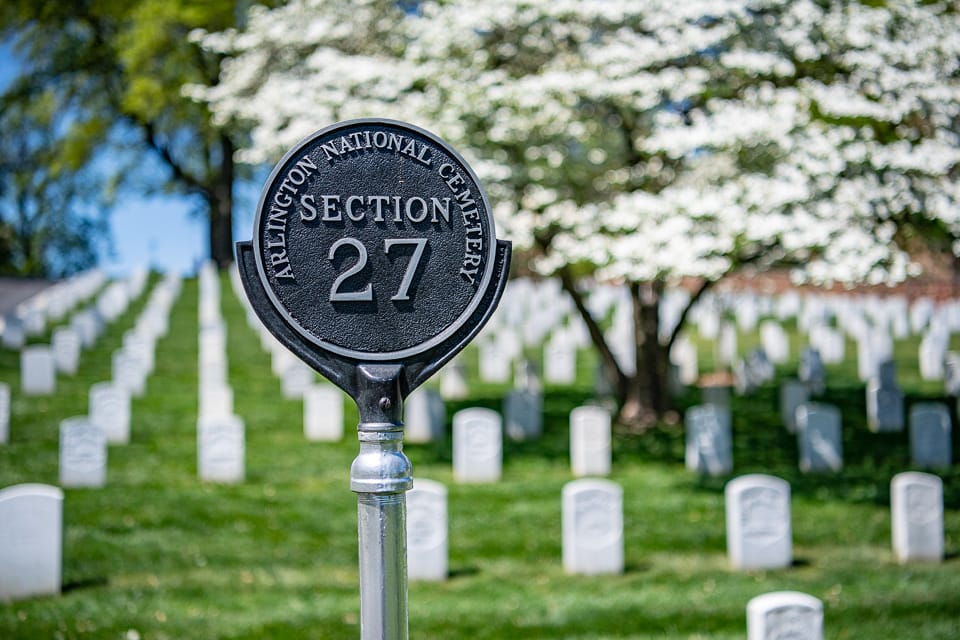 Now the sections of the cemetery tend to be organized by events, with veterans of the same wars being buried in the same section. Section 60 is an example of this as it has casualties from wars in Iraq and Afghanistan.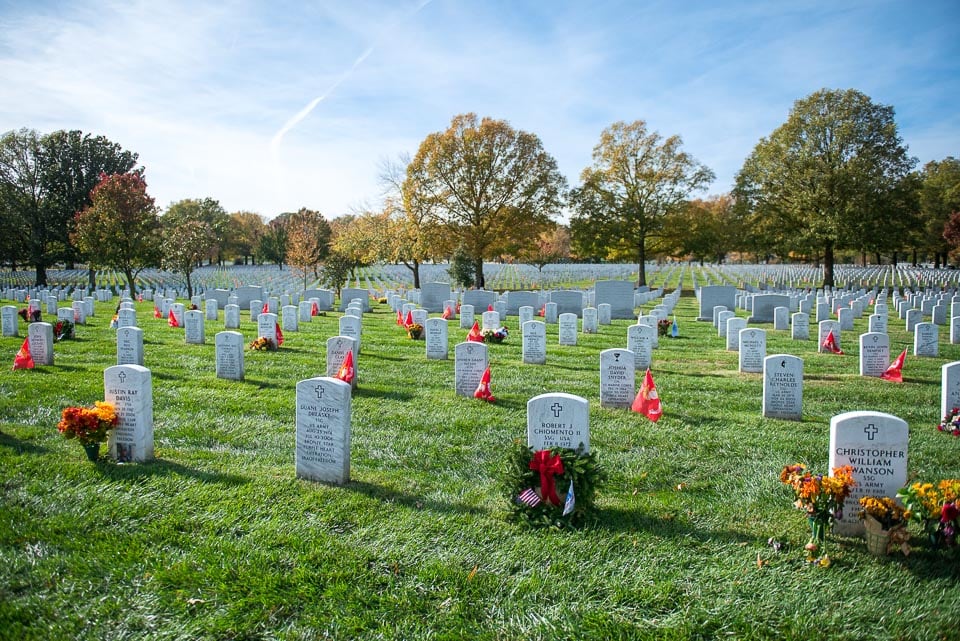 The cemetery's sections can also be distinguished by the type of tombstones that are present. Prior to 1947, families could select any design for their loved one's headstone so you'll see a wide variety in the oldest areas of the cemetery. When that policy changed, families who wanted to erect a privately purchased headstone instead of using a government issued one could do so in 13 authorized sections of the cemetery, and only if the marker was relatively simple.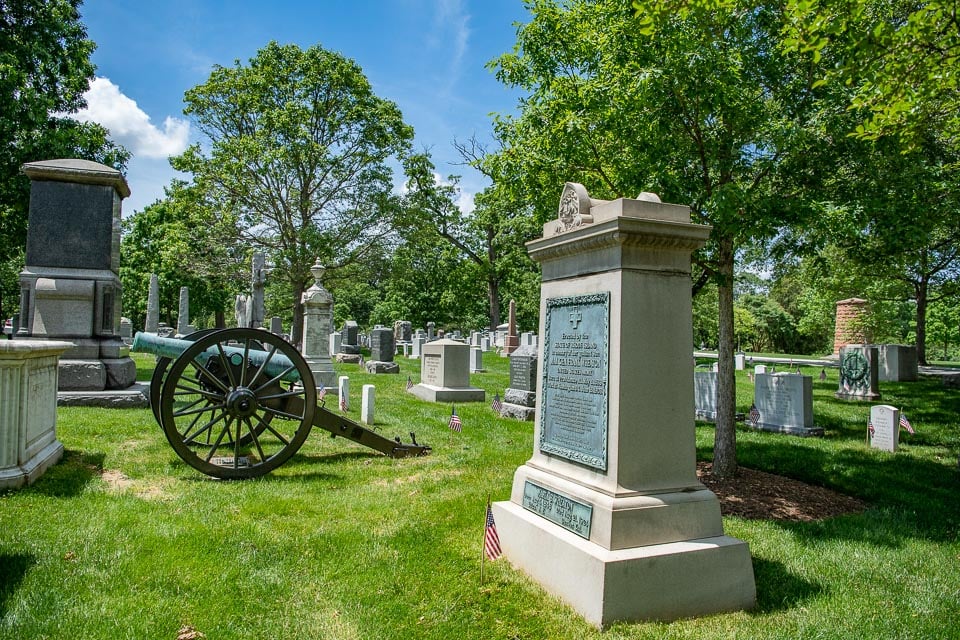 Since late 2017 Arlington National Cemetery no longer allows private grave markers, as the original sections designated for them are full. Burials in the newer sections of the cemetery all have government issued, upright white marble headstones or a white marble niche cover. These are provided by the U.S. government at no cost.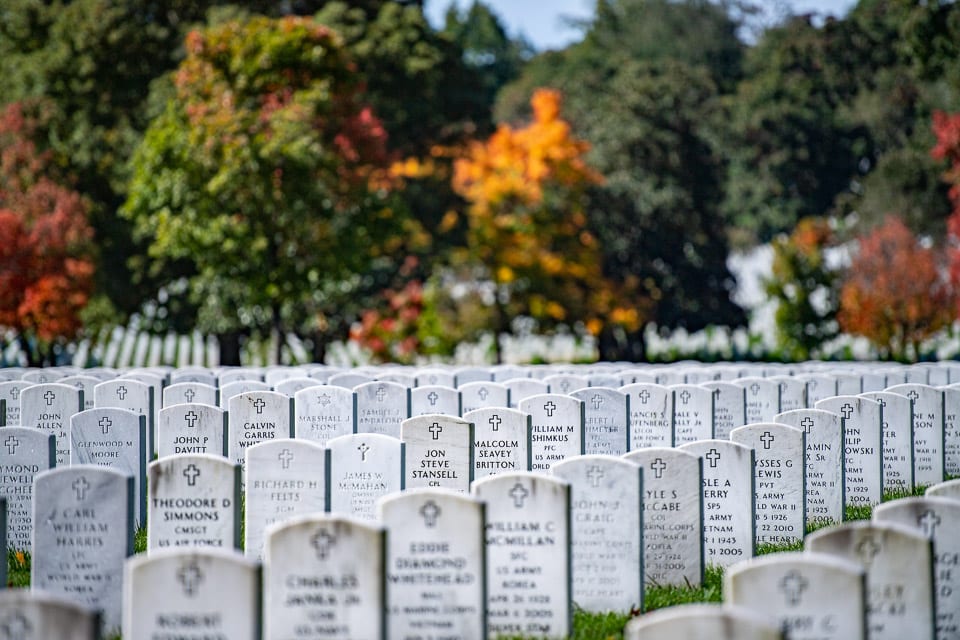 Among the cemetery's uniform rows of headstones are thousands of native and exotic trees. There are also over 140 memorial trees serving as a living tribute to veterans, military units, and others who serve.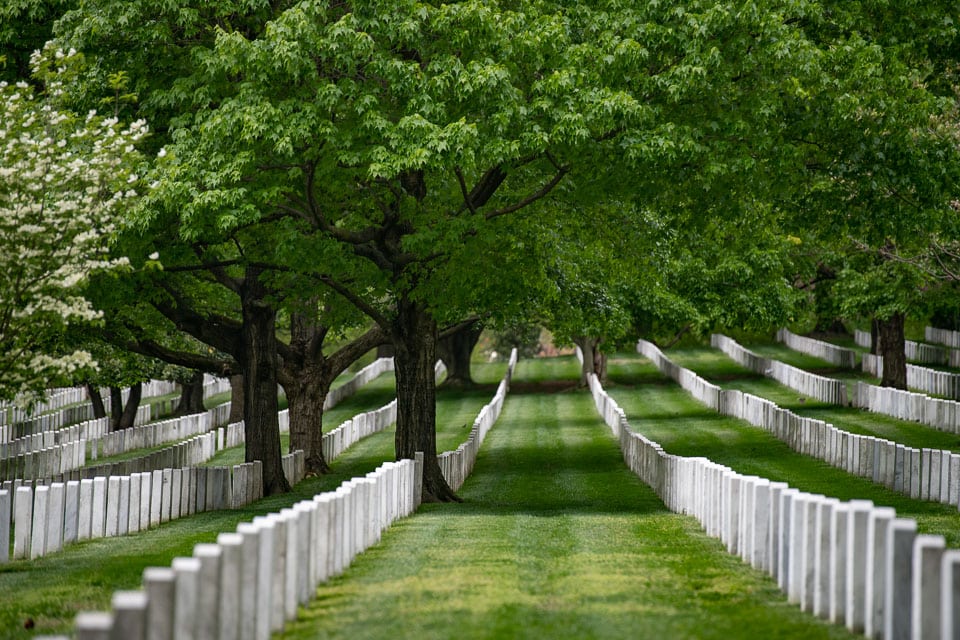 Notable Monuments and Memorials
Arlington National Cemetery has dozens of commemorative monuments dedicated to wars, battles, and military units.
Two of the highest profile monuments in Arlington National Cemetery are the Tomb of the Unknown Soldier and the Memorial Amphitheater. Built next to one another, both monuments recognize past wars and play an important role in official ceremonies honoring American service members.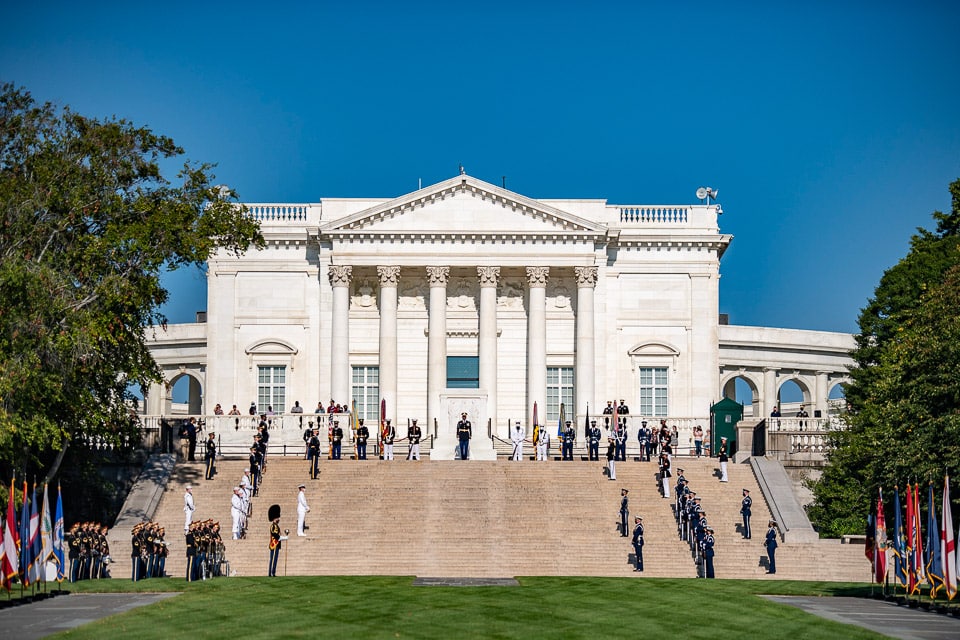 Some other prominent monuments you can see when visiting Arlington National Cemetery are:
Argonne Cross
Battle of the Bulge Memorial
Canadian Cross of Sacrifice
Tomb of the Civil War Unknowns
Confederate Memorial
Kearny Memorial
Nurses Memorial
Spanish-American War Memorial
USS Maine Memorial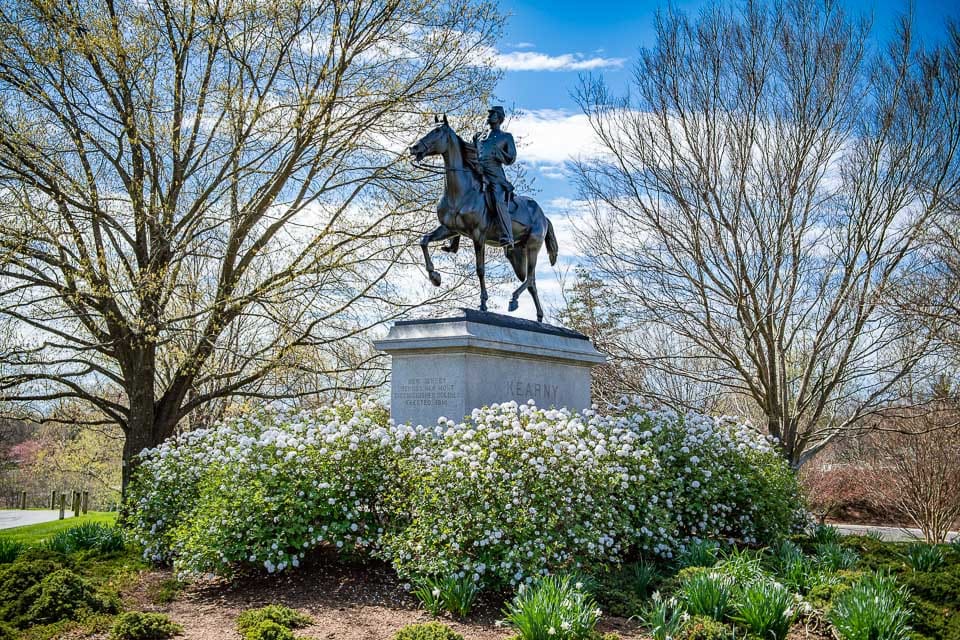 Notable Graves
Among the burials at Arlington National Cemetery are several high ranking military personnel, decorated soldiers, celebrated politicians, Supreme Court justices, and veterans who went on to achieve great things in other fields.
The most famous gravesite in Arlington National Cemetery belongs to President John F. Kennedy and First Lady Jaqueline Kennedy Onassis. The only other president buried at Arlington is William Howard Taft who died in 1930.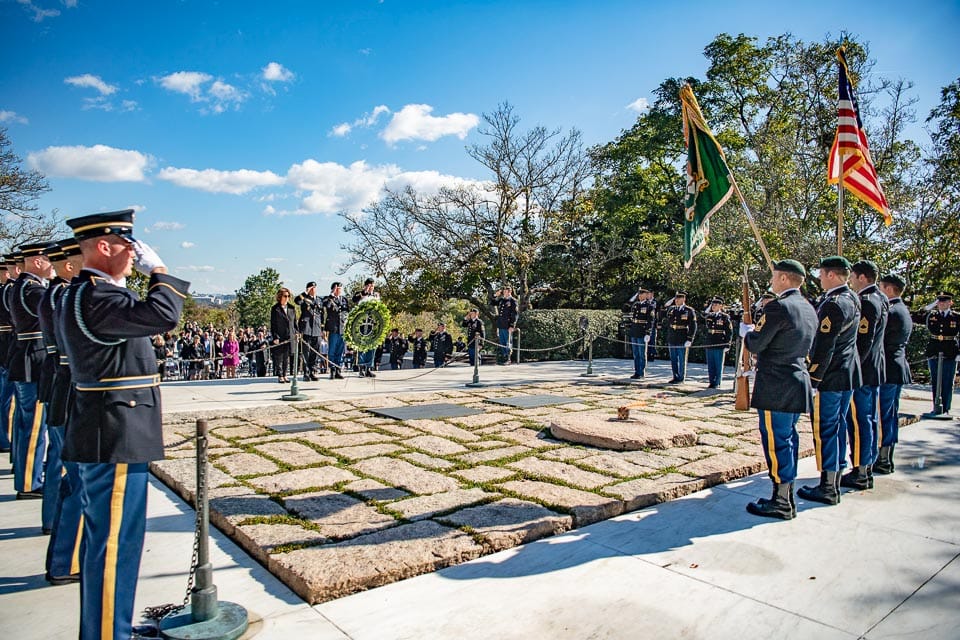 Here are just a few of the notable people buried in Arlington:
Justice Ruth Bader Ginsburg
Robert Todd Lincoln, son of President Abraham Lincoln
George Washington Parke Custis, step grandson of George Washington
Astronaut John Glenn
Lieutenant and actor Audie Murphy
Boxer Joe Louis
Doctor Walter Reed
Crews of the Columbia and Challenger space shuttles
Read more: Arlington National Cemetery Burials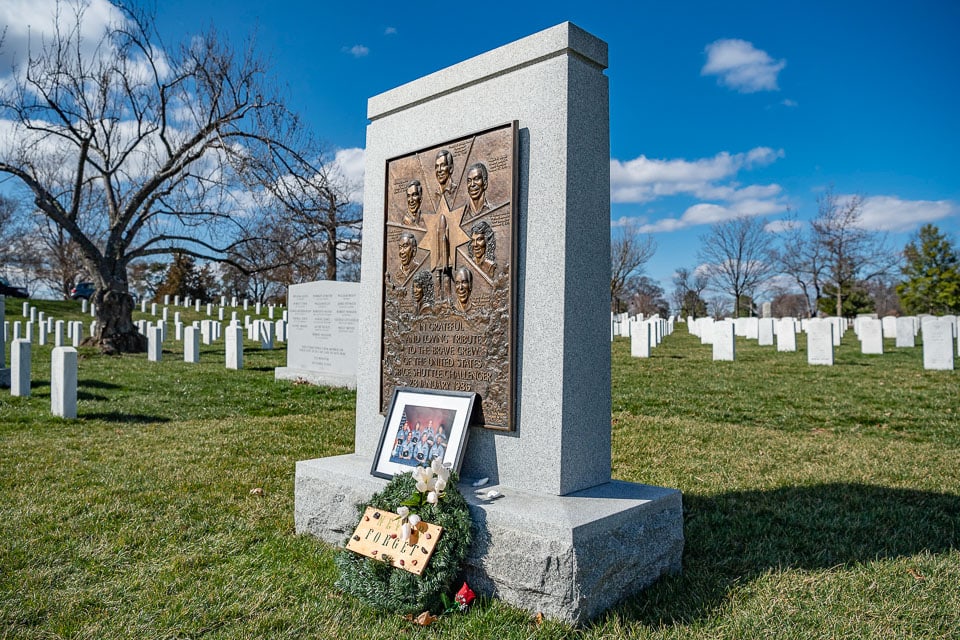 Tours of Arlington National Cemetery
For a fee, visitors can take a narrated tram tour of Arlington National Cemetery.
Every 30 minutes the trams drive a prescribed route through the cemetery, letting passengers hop on and off at designated stops (nine on weekends and six on weekdays). These tours are a good way to learn some facts about Arlington National Cemetery and make it easier to get around the sprawling grounds.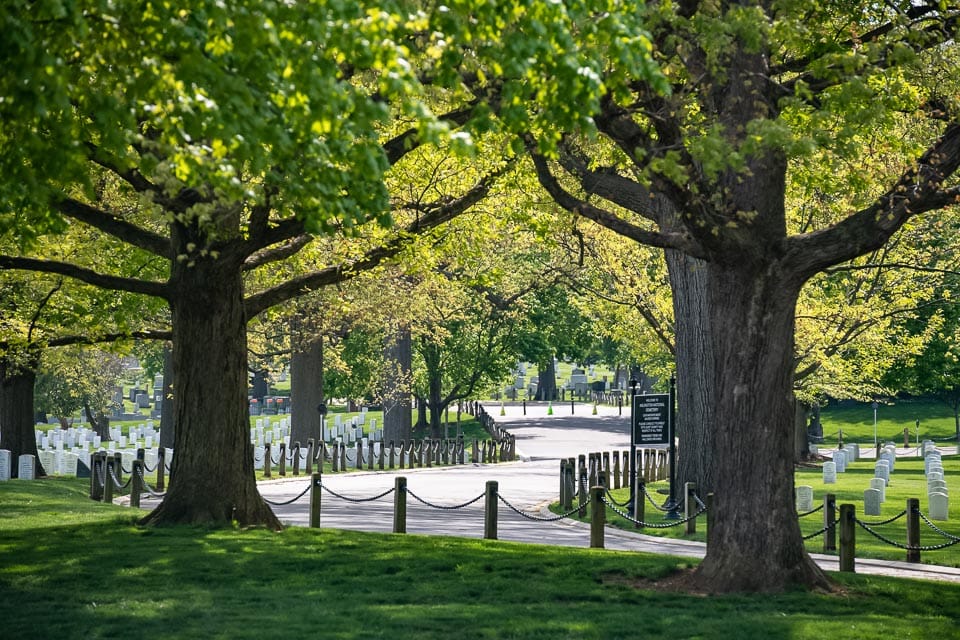 Tickets for the tram tours can be bought at the Welcome Center or online here.
If you would prefer to do a self-guided tour, you can download the ANC Explorer App and follow along on one of the themed routes.
Final Words
Arlington National Cemetery is a beautiful final resting place for the country's respected military members, however it's so much more than just a cemetery.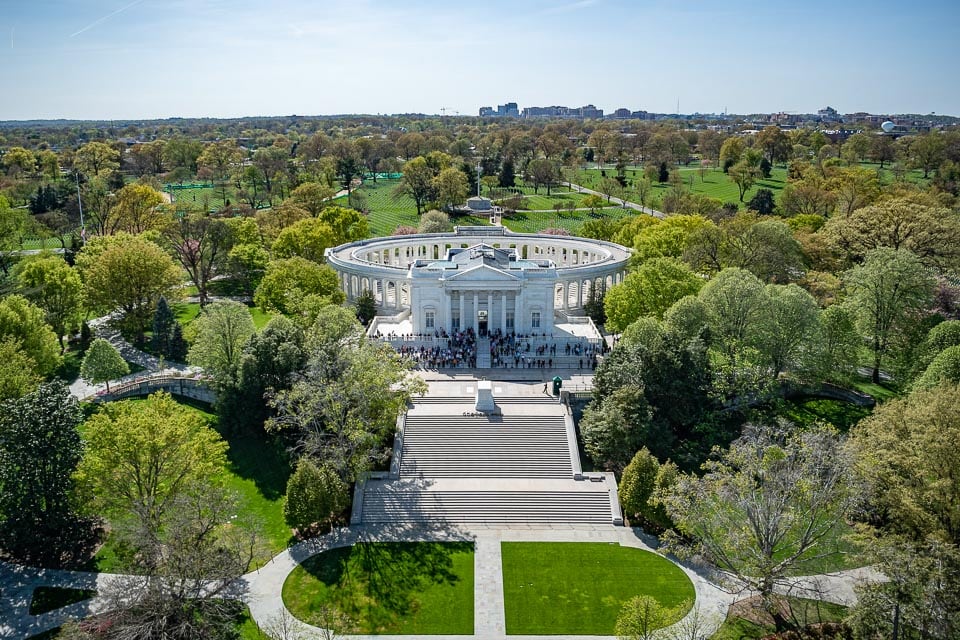 As you visit the gravesites, monuments, and memorials, you'll be taking a walk through the nation's history, from its darkest days to its most heroic moments.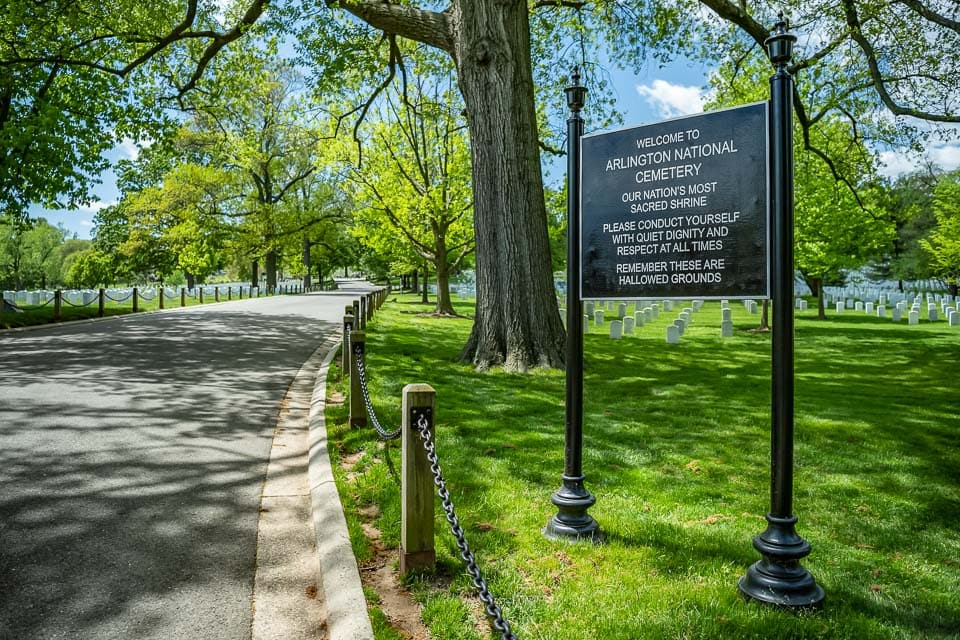 Whether you come to pay respects to those who sacrificed or to see the famous graves and historic monuments, a day at Arlington National Cemetery is a day well spent.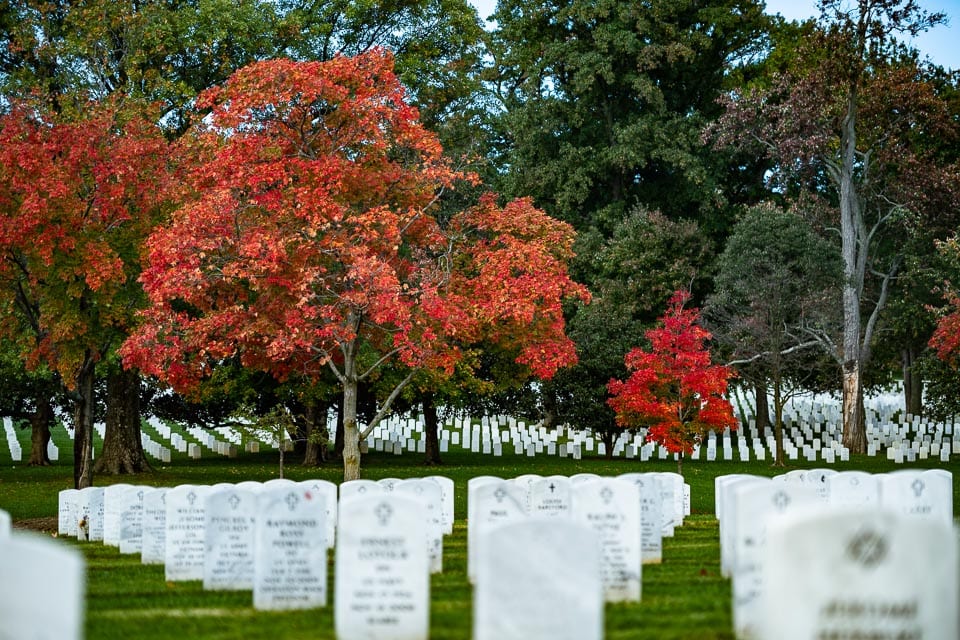 Practical Information for Visiting Arlington National Cemetery
Location: Arlington National Cemetery is located in Arlington, Virginia, across from Washington D.C. The cemetery is at the end of Memorial Avenue, on the west side of the Potomac River.
Hours: Arlington National Cemetery is open daily from 8:00 am- 5:00 pm. Confirm current hours here.
Admission Fees: None
Getting Around: Visitors can explore the cemetery on foot or by taking a hop-on hop-off tram tour. Bicycling in the cemetery is not allowed unless you have a family pass.
Tram Tour Tickets: You can buy tickets for the tram tour at the Welcome Center or online here.
Rules and Etiquette: Visitors are asked to speak quietly and respect the property. Food, alcohol, and pets are not allowed.
Map: A map of Arlington National Cemetery can be downloaded here. You can also get maps at the Welcome Center.
Accommodations
If you're planning to visit Arlington National Cemetery and need accommodations, here is a list of hotels in the Washington D.C. Metropolitan Area. Please consider booking your accommodations through the included link. It costs nothing extra and helps support this website.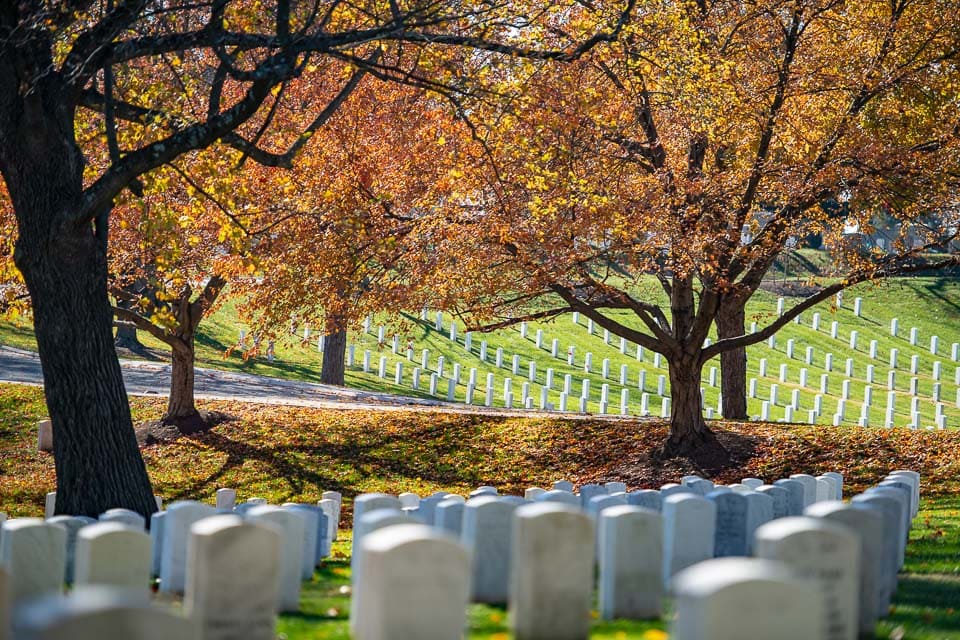 More Burial Places in the United States