Cemeteries in Boston- Historic Boston Cemeteries to Visit
Purchases made through links earn us a small commission, at no extra cost to you.
As one of the oldest cities in the United States, Boston has a rich and fascinating history, much of which can be discovered by strolling through its time-honored cemeteries.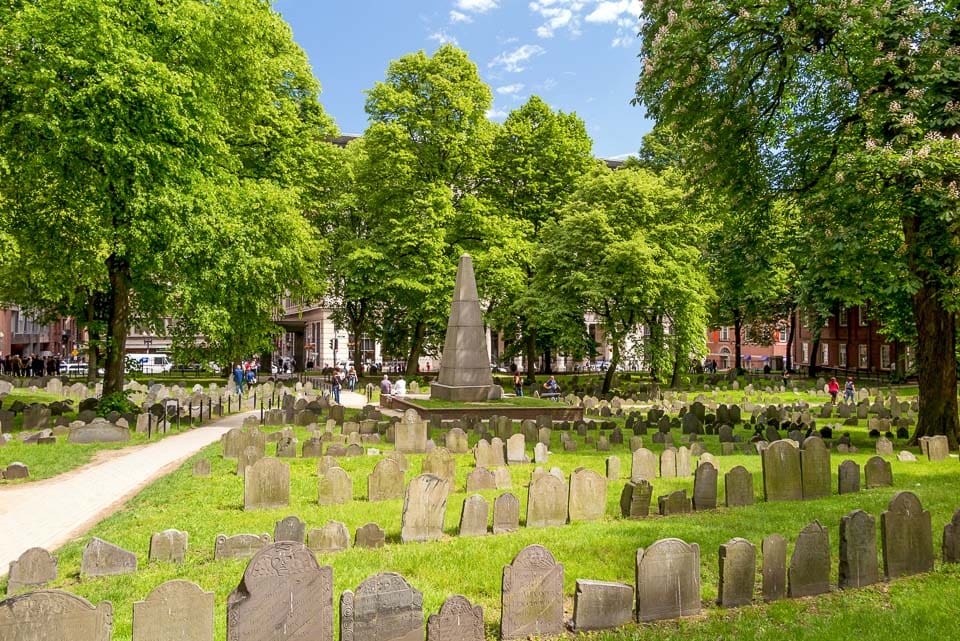 Boston's historic cemeteries memorialize the lives and stories of people who have shaped the city's past and made significant contributions to the development of the country at large. From some of the Founding Fathers of the United States to community leaders and business owners, there are several distinguished people buried in Boston cemeteries.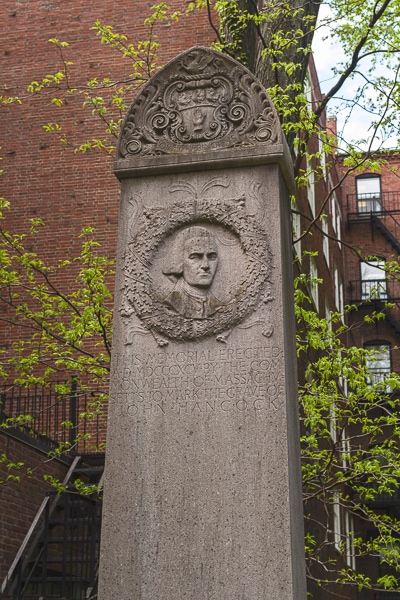 Since many of the old cemeteries in Boston date back to the colonial era, you'll also see a fine collection of Puritan iconography preserved on the gravestones.
Before we share some of the best cemeteries in Boston to visit, here's a brief history of the city's burial grounds and their funerary art.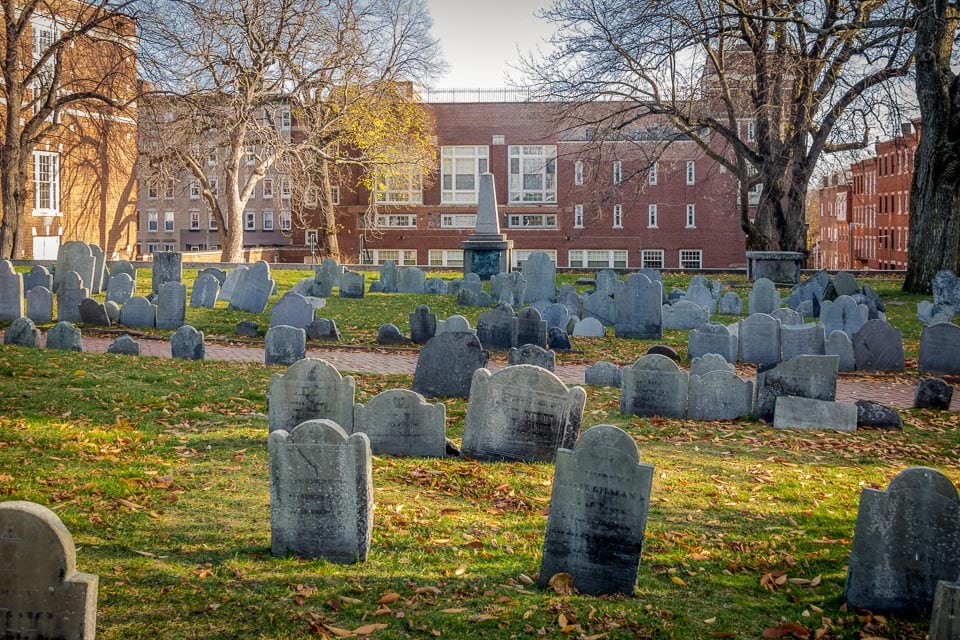 History of Boston Cemeteries
Boston's cemeteries are as old as the city itself, dating back to 1630 when Boston was founded.
The earliest Boston cemeteries were municipal burying grounds affiliated with the Puritans, English Protestants who settled the first American colonies.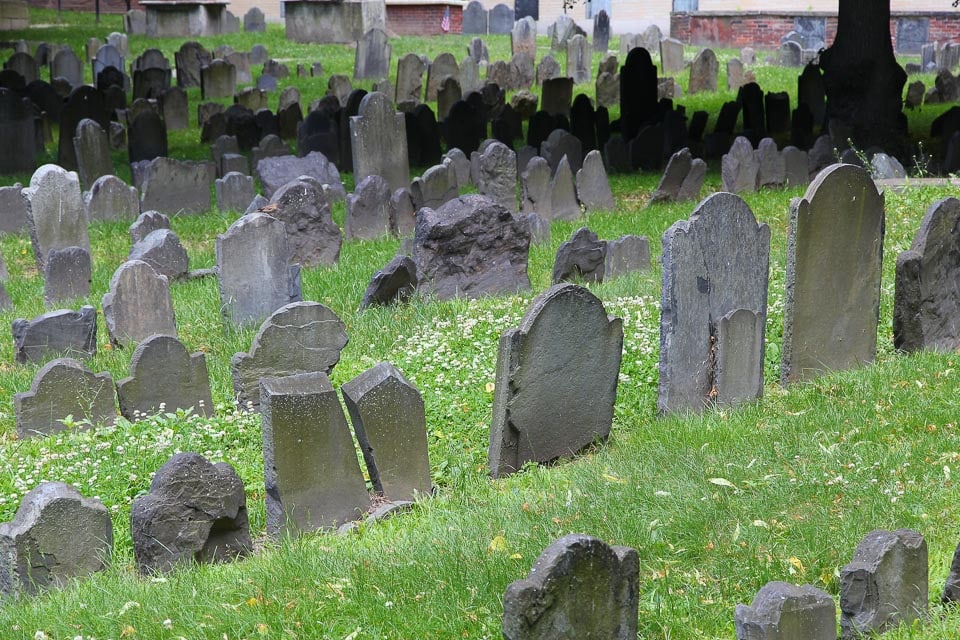 The first cemetery established in Boston was King's Chapel Burying Ground, built 56 years before its namesake chapel next door (which it was not associated with). It served as Boston's only cemetery for almost 30 years.
As the city grew, so did the need for more burial grounds and by 1660 two other cemeteries had been created in central Boston- Copp's Hill Burying Ground and Granary Burying Ground.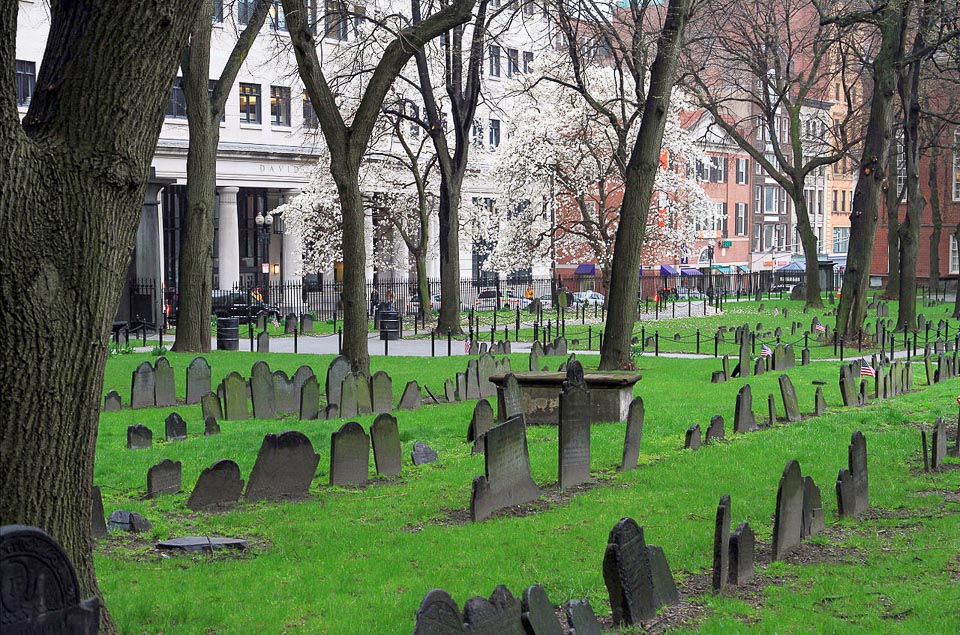 In the late 1860s, Boston began annexing neighboring communities- including Roxbury, Dorchester, Charlestown, and Brighton- thereby encompassing several more 17th century cemeteries within its new boundaries.
Today, several of the historic cemeteries in Boston are managed by the Historic Burying Grounds Initiative whose mission is "the comprehensive restoration, ongoing conservation and heritage interpretation of Boston's historic burying grounds."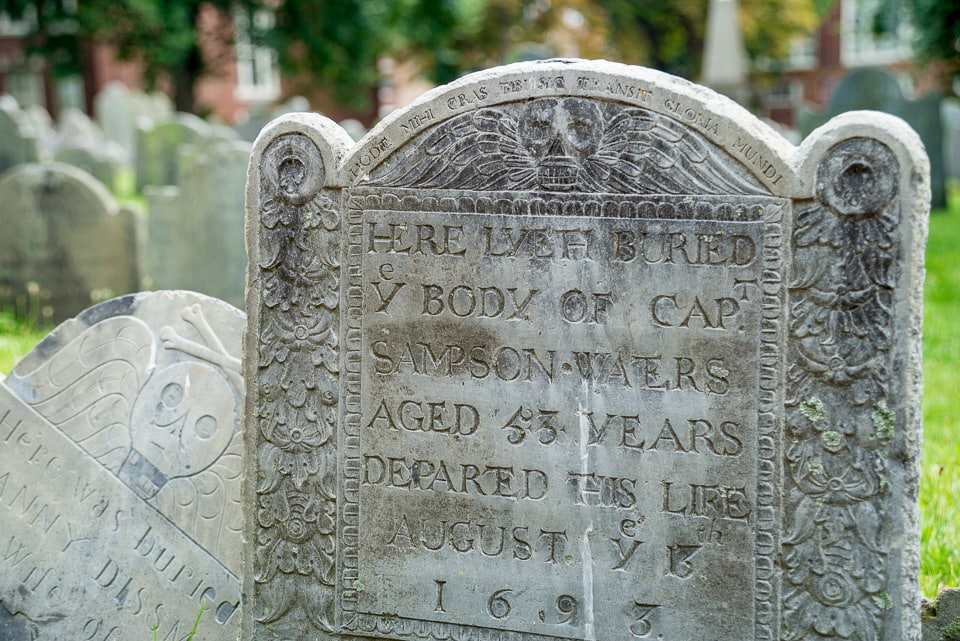 Of the 16 Boston cemeteries maintained by the Historic Burying Ground Initiative, eight are listed on the National Register of Historic Places, two are National Historic Landmarks, and two are designated Boston Landmarks.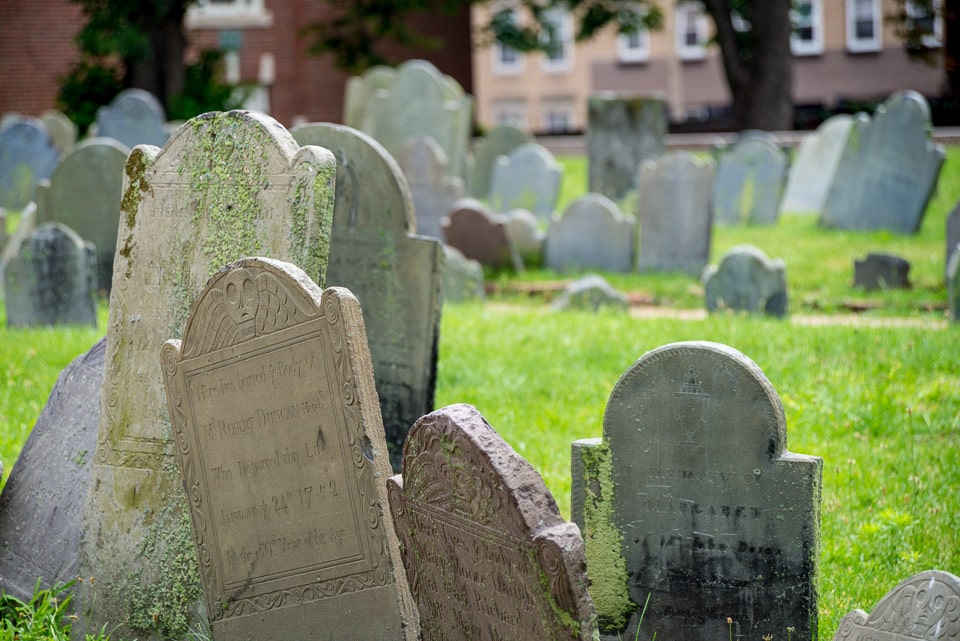 Funerary Art in Boston Cemeteries
When visiting cemeteries in Boston, you'll notice plenty of minimalistic funerary art conveying the Puritan's pragmatic attitude toward death. Society at the time accepted that death and decay were unavoidable facts of life, so headstones were engraved with imagery that represented this.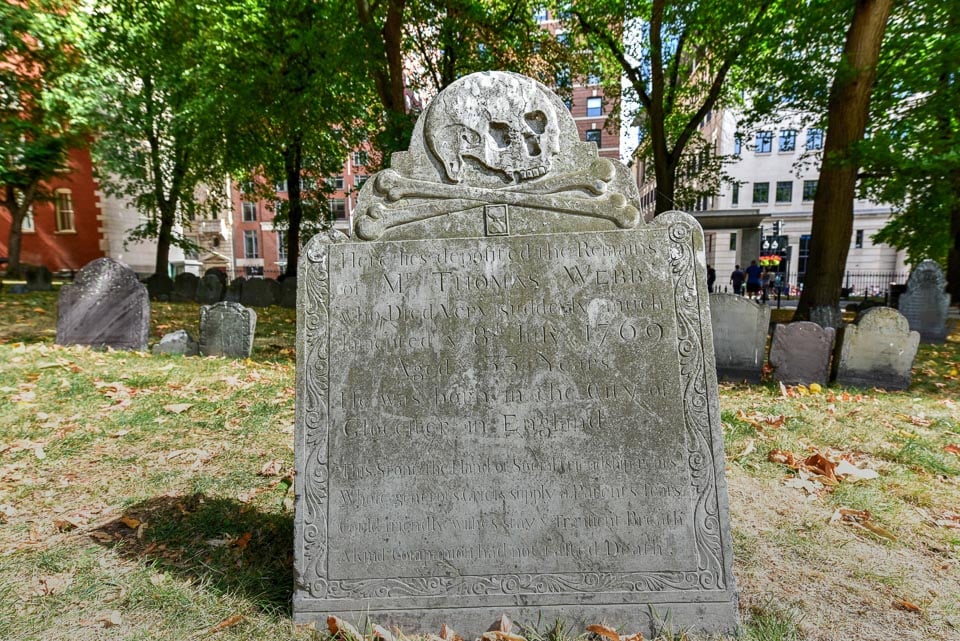 Early headstones feature a skull and crossbones or a stylized skull with wings, a motif known as "death's head". An hourglass was sometimes used to represent the fleeting nature of life.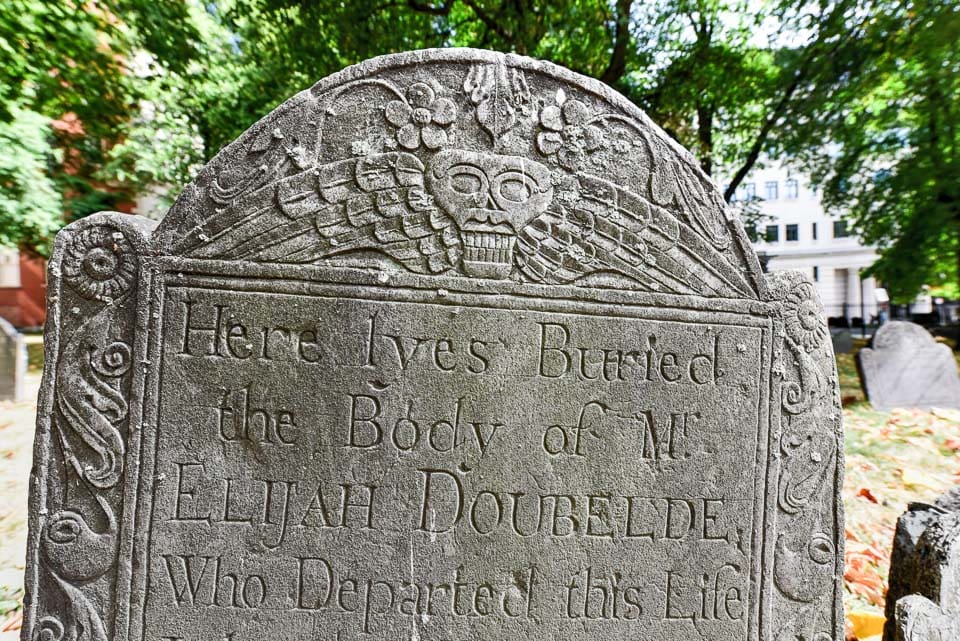 As the 18th century approached, a new motif began to be used on Boston's gravestones- winged cherubs. Known as the soul effigy, these winged cherubs represented the soul ascending to heaven.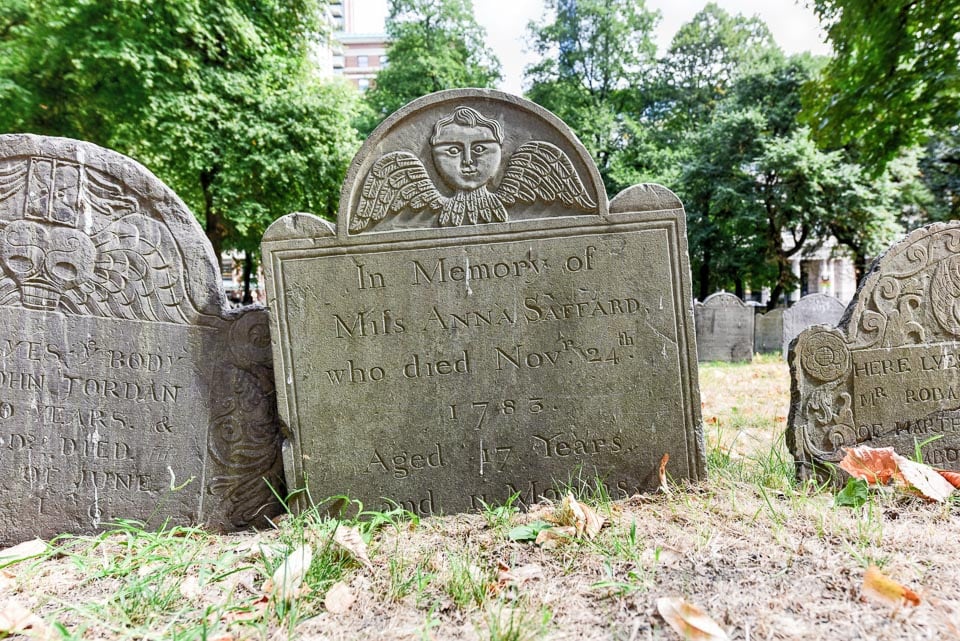 During the 19th century, funerary art changed to reflect a shift in attitudes about death. As mourning became more sentimental, headstones were embellished with urns and willows and there was a trend towards larger, more ornamented monuments.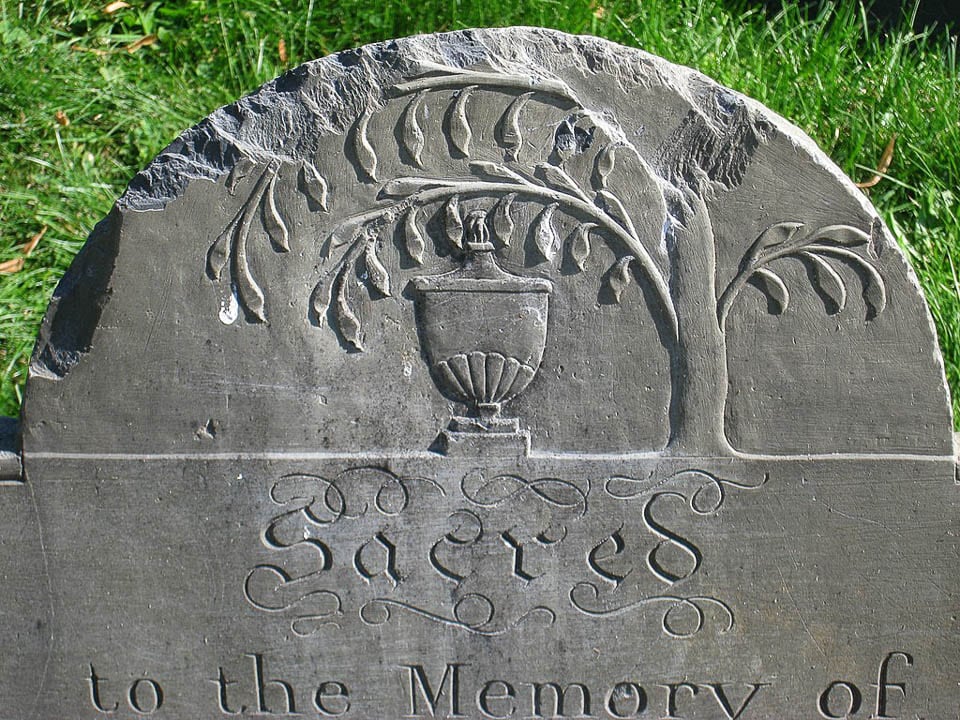 Cemeteries in Boston- Historic Boston Cemeteries to Visit
The historic cemeteries in Boston range from 17th century burying grounds to 19th century garden-style cemeteries that are still open for burials.
If you're interested in visiting cemeteries in Boston, here are some historic burial grounds to consider. The most popular cemeteries in Boston to visit are located along the Freedom Trail, a path that passes by sites significant to the American Revolution, and attract thousands of visitors each year.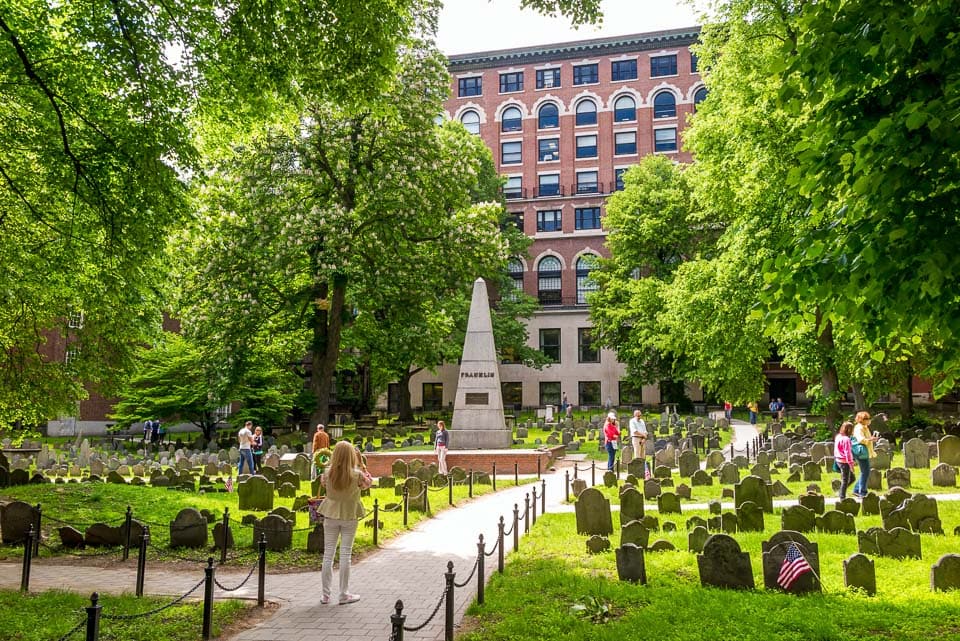 Granary Burying Ground
Established 1660
Granary Burying Ground is Boston's best-known cemetery because of the historically important individuals laid to rest here and its location on the Freedom Trail.
At Granary Burying Ground you can visit the graves of three Founding Fathers of the United States- John Hancock, Samuel Adams, and Robert Treat Paine- as well as the grave of legendary patriot Paul Revere. The burying ground is also home to a large obelisk honoring the family of Benjamin Franklin, who were residents of Boston.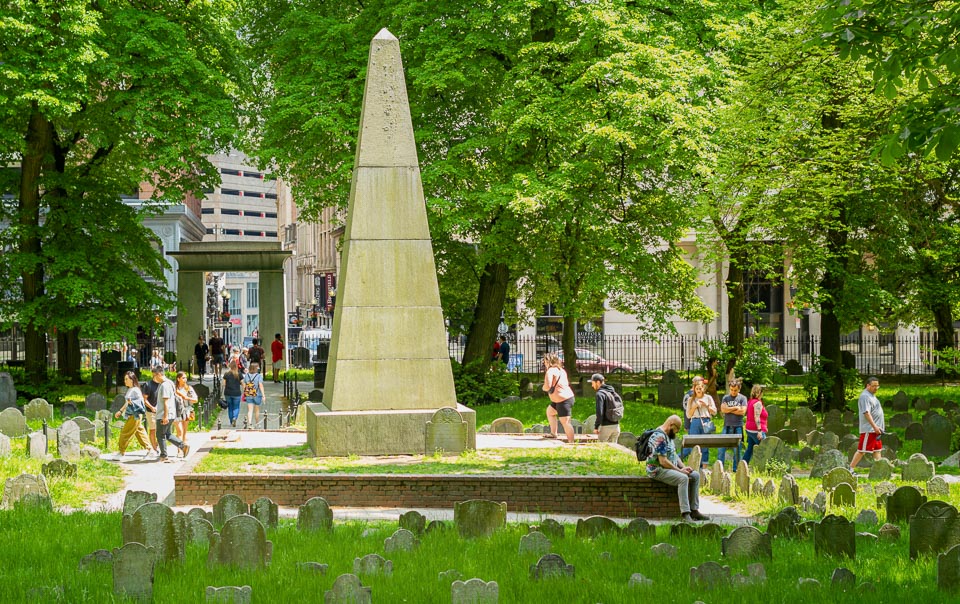 Most of the grave markers you'll see are made of slate, but some are greenstone or marble. Their original disorderly configuration was rearranged during the Victorian era for a neater, more linear appearance.
King's Chapel Burying Ground
Established 1630
If you're venturing out on the Freedom Trail, make sure you stop in at King's Chapel Burying Ground, Boston's first cemetery.
The burying ground is believed to have been built on the estate of an early settler and its graves and tombs were randomly placed throughout the property. Back then, a cemetery's practical purpose was more important than aesthetics. In the 19th century, the cemetery underwent a makeover to become more attractive and park-like with walkways, plants, and straight rows of graves.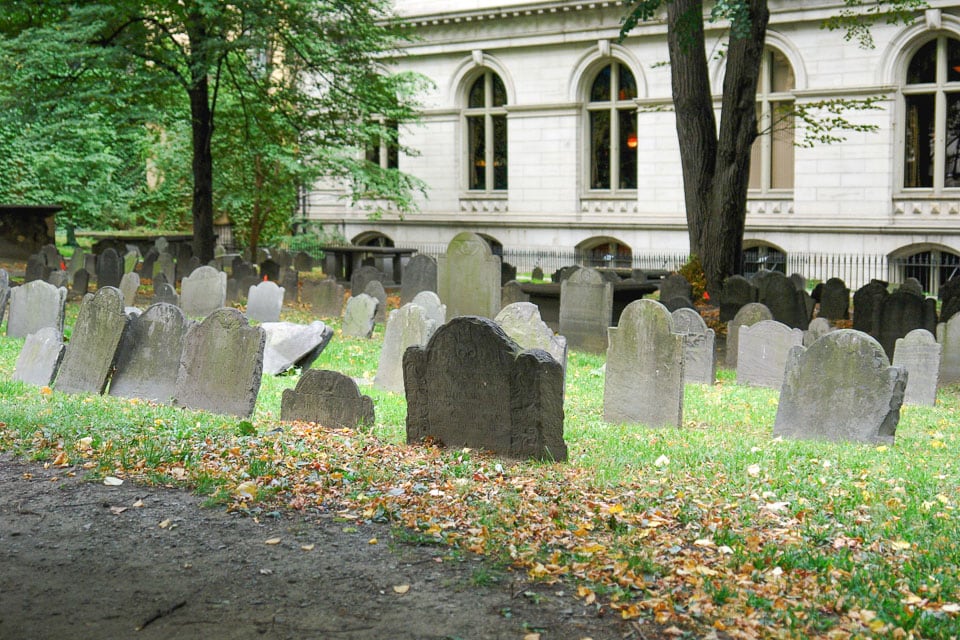 King's Chapel Burying Ground is home to several notable graves including that of John Winthrop, Massachusetts' first governor, and Mary Chiltern, said to be the first woman to step off the Mayflower.
Copp's Hill Burying Ground
Established 1659
Copp's Hill Burying Ground, also on the Freedom Trail, was the second cemetery established in Boston.
It's estimated that over 10,000 people were buried at Copp's Hill, making it the largest colonial era cemetery in Boston. Notable burials include the Mather family of Puritan ministers, who gained notoriety because of their connection to the Salem witch trials, and anti-slavery activist Prince Hall, who founded the black Masonic Order.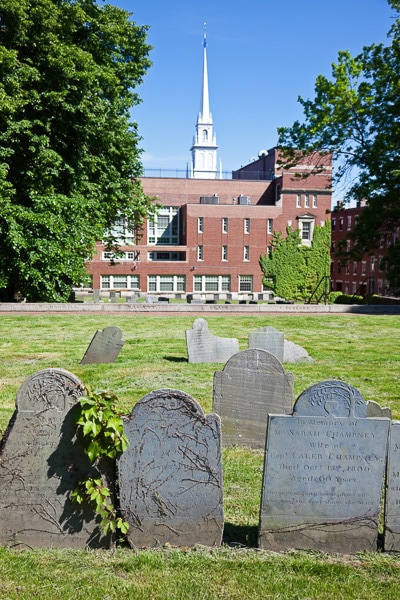 As you walk through Copp's Hill Burying Ground, keep an eye out for gravestones that were chipped by bullets. Legend holds that British troops used them for target practice during the Revolutionary War.
Central Burying Ground
Established 1756
Central Burying Ground, located in Boston Common (the oldest public park in the United States), was established after King's Chapel, Copp's Hill, and Granary burying grounds became overcrowded. At the time, locals thought it was the least desirable of Boston's cemeteries because it was furthest from the town center.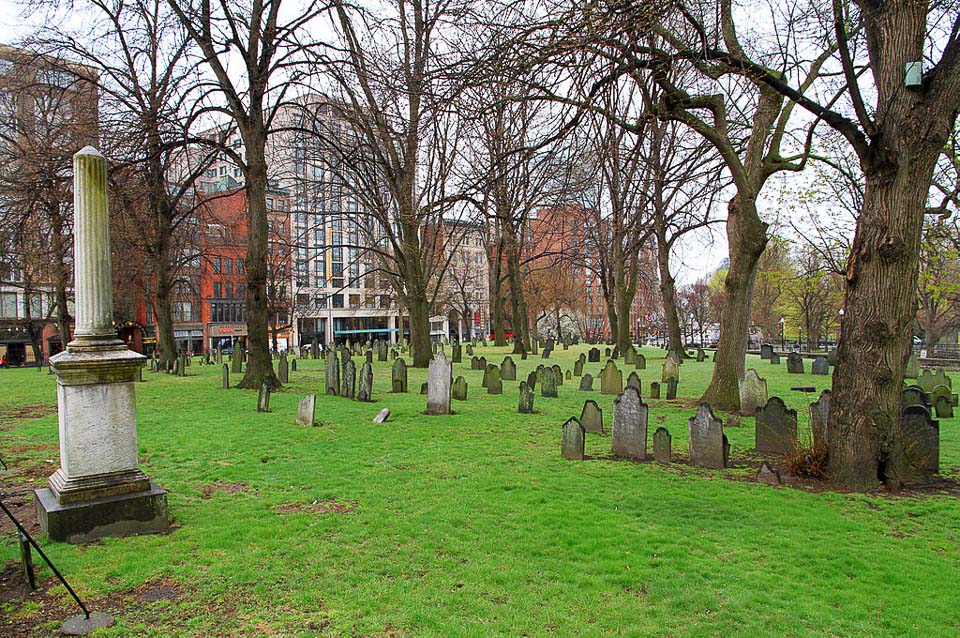 Central Burying Ground contains the remains of a wide variety of people from British common soldiers and American patriots, to composers and painters. One of the most famous burials is painter Gilbert Stuart, known for his portraits of George Washington and other presidents and political figures.
Dorchester North Burying Ground
Established 1634
As one of Boston's 17th century burying grounds, Dorchester North became the final resting place of Dorchester's founding citizens. One of its most prominent burials is colonial governor and chief justice William Stoughton, who was in charge of the Salem Witch Trials.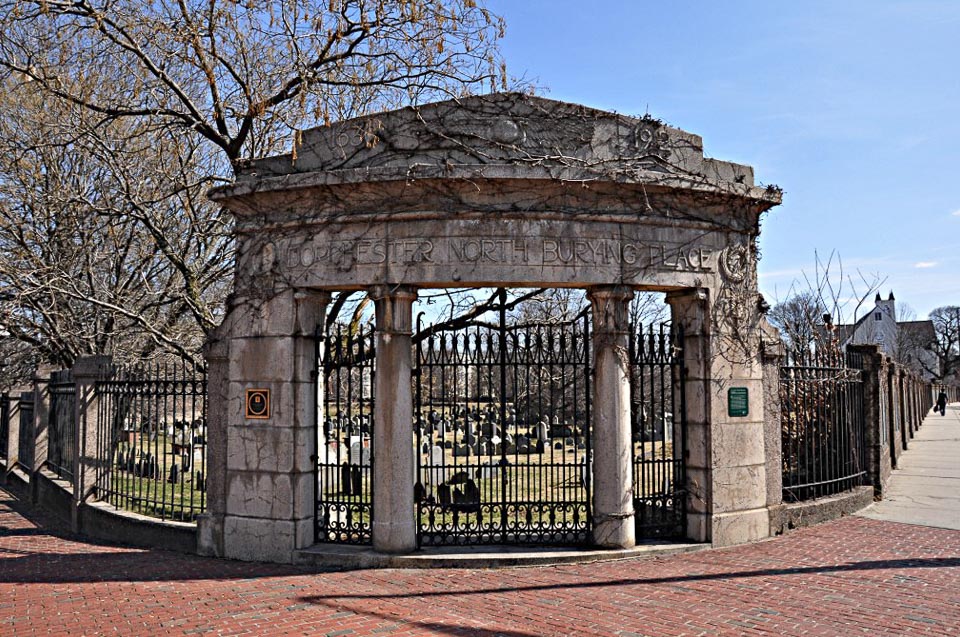 What makes Dorchester North Burying Ground special is its early slate gravestone art and a collection of funerary sculpture that spans four centuries.
Like other Boston cemeteries of that time, Dorchester North was originally quite plain. In the 1830s the cemetery was redesigned and landscaped, adding paths, flowers, shrubs, and hundreds of trees.
Phipps Street Burying Ground
Established 1630
Phipps Street Burying Ground became one of the oldest cemeteries in Boston after the Charlestown community was annexed by the city in the 19th century.
The Phipps Street Burying Ground contains the graves of influential Charlestown families, including the Harvards (there's an obelisk monument for John Harvard). The cemetery is also the burial site of Nathaniel Gorham, a signer of the U.S. Constitution, and Thomas Beecher, an early settler of the Massachusetts Bay Colony.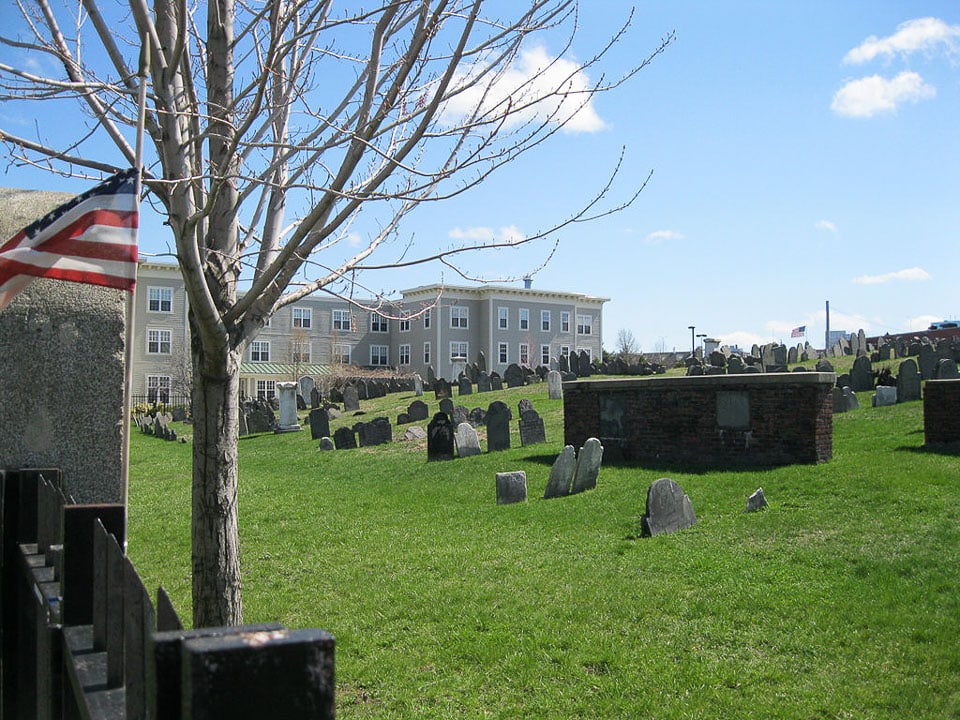 Unlike other Boston cemeteries of the 17th century, Phipps Street Burying Ground maintains its original gravestone configuration, as it was not rearranged during the beautification campaign of the Victorian era.
Forest Hills Cemetery
Established 1848
Boston's Jamaica Plain neighborhood is home to Forest Hills Cemetery, a 19th century rural cemetery and greenspace. It was added to the National Register of Historic Places in 2004 and is still open for interments.
The cemetery's sprawling, landscaped setting was inspired by Mount Auburn Cemetery in Cambridge, Massachusetts and features large trees, a pond, and sculpted monuments, making it one of the prettiest cemeteries in Boston.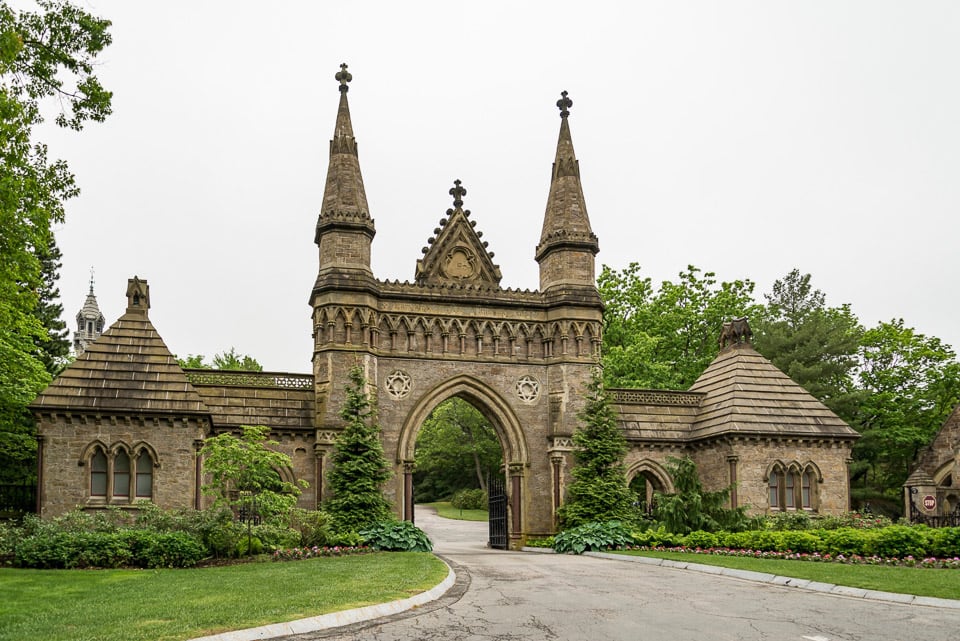 Among the natural beauty of Forest Hills Cemetery you'll find the graves of entrepreneurs, businessmen, politicians, generals, judges, authors, artists, and athletes.
More Cemeteries in Boston
If you're looking for some other historic cemeteries in Boston to explore, here are a few more you may want to visit:
Bennington Street Burying Ground (established 1838)- has several gravestones with inscriptions in foreign languages.
Bunker Hill Burying Ground (established early 1800s)- has marble gravestones and a garden-like setting inspired by the rural cemetery movement.
Dorchester South Burying Ground (established 1814)- a garden cemetery with many monuments.
Eliot Burying Ground (established 1630)- the oldest burying ground in Roxbury.
Evergreen Cemetery (established 1850)- contains graves of prominent Brighton families and war veterans.
Fairview Cemetery (established 1893)- a lawn cemetery that is the final resting place of several accomplished residents of the Hyde Park area.
Hawes Burying Ground and Union Cemetery (established 1800s)- adjacent cemeteries in South Boston.
Market Street Burying Ground (established 1764)- was Brighton's primary burial place until the 1850s.
Mount Hope Cemetery (established 1852)- was designed according to principles of the rural cemetery movement and contains several group monuments.
South End Burying Ground (established 1810)- has only 20 grave markers but records show that there are over 11,000 people buried here.
Walter Street Burying Ground (established early 1700s)- has a large tomb for Revolutionary soldiers.
Westerly Burying Ground (established 1683)- has individual mound tombs and graves of veterans from the Revolutionary and Civil Wars.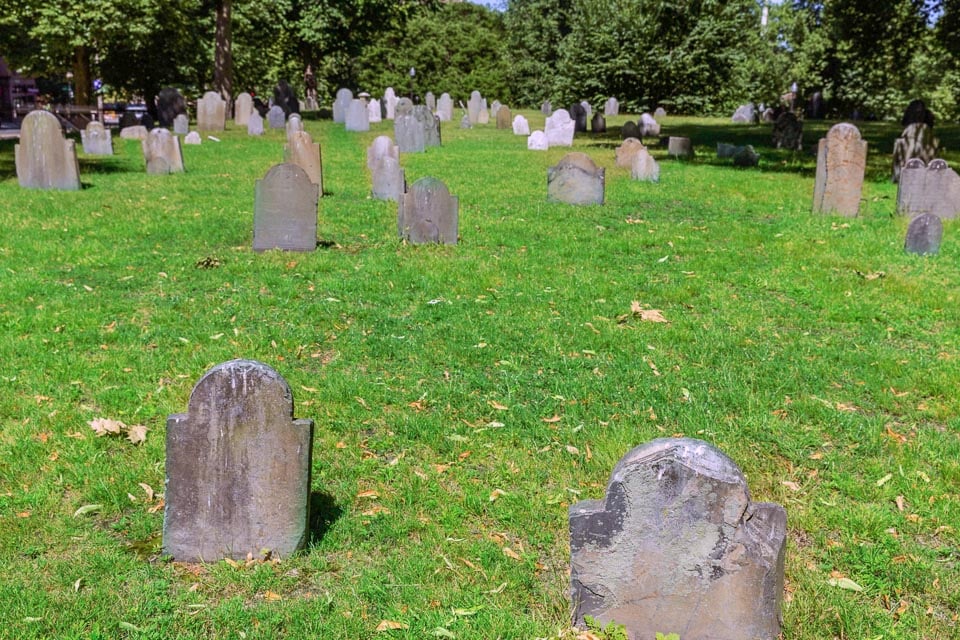 Boston Cemetery Tours
There are guided tours of Boston's cemeteries, but most of these tours focus on the Freedom Trail burying grounds, since they're located in the central part of the city.
Some Boston cemetery tours highlight the cemeteries' history and the people buried within them, while other tours go for the haunted angle, focusing on spooky legends and supernatural events.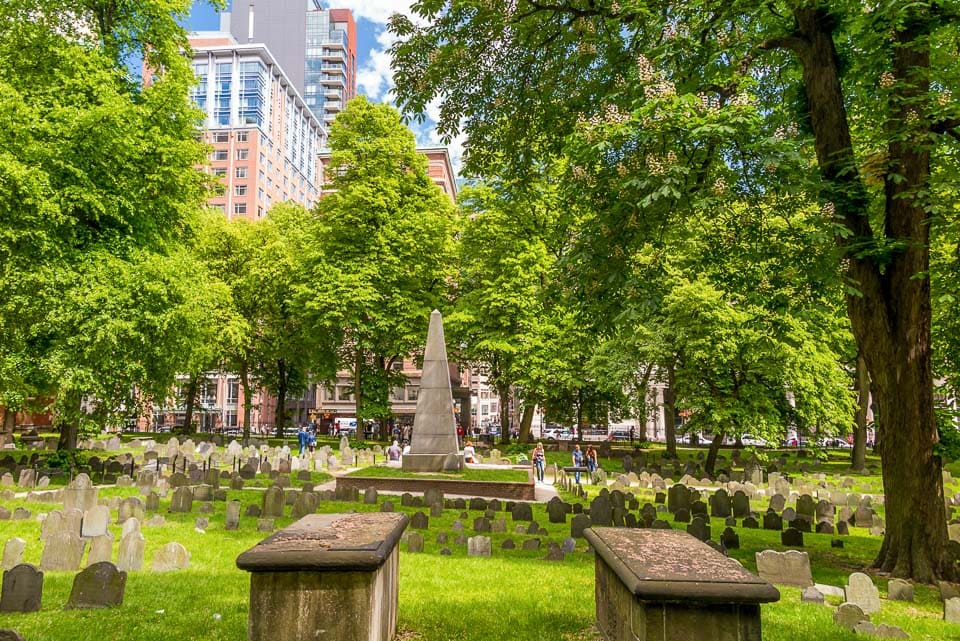 Final Words
Visiting cemeteries in Boston is a great way to discover the city's past, its people, and their stories. Boston's historic burying grounds not only provide a glimpse into the city's early days as a Puritan colony and its role in the American Revolution, but they give visitors a place to pay respects to the individuals who helped shape the United States.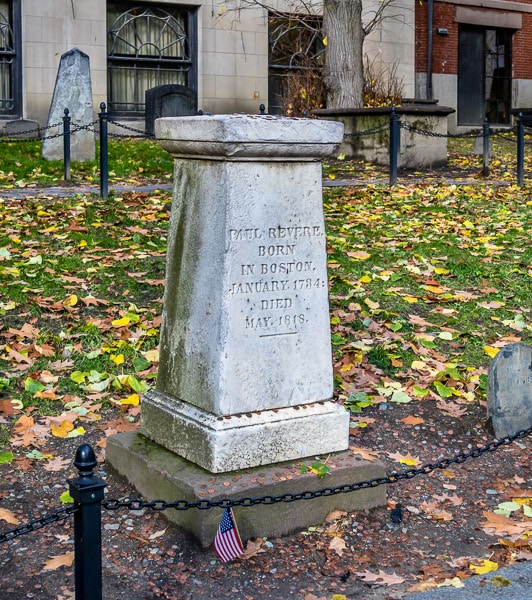 Practical Information for Visiting Cemeteries in Boston
Hours: Most of the cemeteries in Boston have specific hours when they are open to visitors, so it's best to research this in advance of your visit. Typically they are open from 9:00 am- 4:00 pm. Nine historic cemeteries don't have regular visitation hours and can only be accessed if you schedule an appointment 24 hours in advance.
Cemeteries without regular hours include Phipps Street Burying Ground, Bunker Hill Burying Ground, Bennington Street Cemetery, the Dorchester North and South Burying Grounds, Eliot Burying Ground, Market Street Burying Ground, Hawes/Union Burying Ground, and South End Burying Ground. To request an opening, call the Cemetery Division at Mount Hope Cemetery. The burying grounds won't be opened on Sundays.
Tours: Here is a trusted site where you can book Boston cemetery tours. Boston's cemeteries are often visited as part of a larger Freedom Trail tour or a city ghost tour.
Accommodations in Boston
If you're planning to visit Boston's burial grounds and need accommodations, here is a list of hotels in Boston. Please consider booking your Boston accommodations through the included link. It costs nothing extra and helps support this website.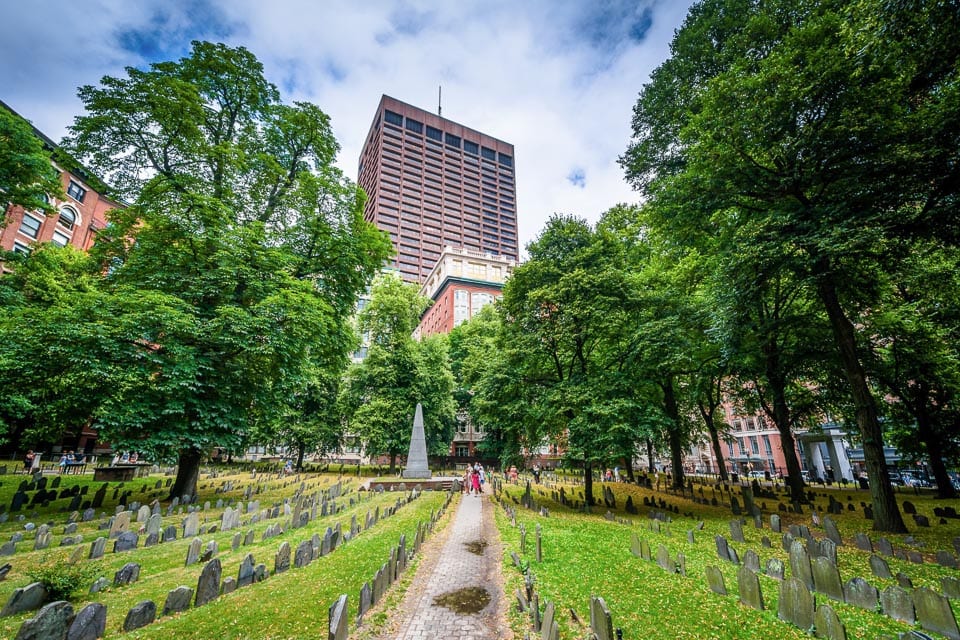 More Burial Places in the United States