Montparnasse Cemetery- Paris' South Cemetery
Purchases made through links earn us a small commission, at no extra cost to you.
Montparnasse Cemetery is one of the three main cemeteries in Paris that were established on the outskirts of the city in the early 19th century.
Originally known as Le Cimetière du Sud (South Cemetery), it became the final resting place for many artists, intellectuals, and generations of families, as well as home to some unique artworks.
History of Montparnasse Cemetery
Montparnasse Cemetery (Cimetière Montparnasse in French) is relatively new. Opening officially on the 25th of July, 1824, this Parisian cemetery occupies former farmland that was, in the 16th century, used as a dumping ground for rubble from nearby quarries. Eventually, the rubble grew to such an extent that it formed a hill: the "Mont" in "Montparnasse". It became a popular spot for students of the day, who threw open-air dances on the artificial hill.
In 1780 Paris' oldest cemetery, Cimetière des Innocents, was closed due to health concerns — an edict issued that same year banned all burials within the centre of Paris. Though the church was keen to profit from burial fees, many burial sites in the city had become gruesomely crowded — a fact made obvious after especially heavy rain.
Bodies from Cimetière des Innocents, around six million in total, were exhumed starting in 1785 and moved to the Paris Catacombs. To replace burial grounds within the city limits, a network of outlying cemeteries was later inaugurated, including Montparnasse Cemetery, Père Lachaise Cemetery, and Montmartre Cemetery.
After the cemetery's official opening in the early 19th century, it was used for burials of people who resided on the left bank of the River Seine.
Today Montparnasse Cemetery's famous graves are a tourist draw, but the cemetery is also surprisingly still in use.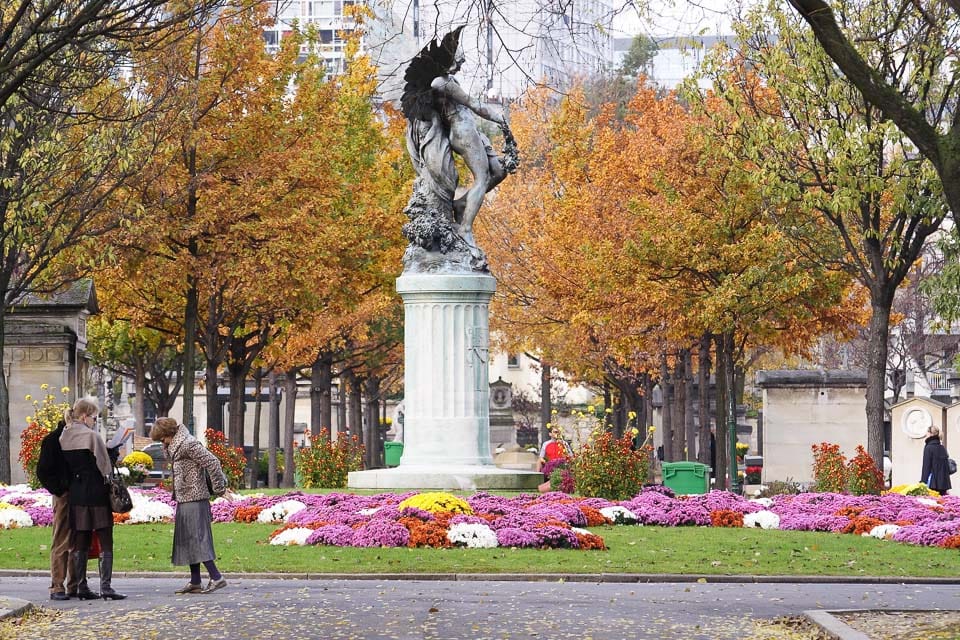 Design of Montparnasse Cemetery
Now located within the city limits, Montparnasse Cemetery is a verdant space spread across 47 acres. Bisected by the Rue Emile Richard, Montparnasse is divided into two parts: the smaller "Petite Cimetière" and the larger "Grand Cimetière". Each of these is further divided into smaller subsections for the purposes of organization.
Far from being a dark, sombre slice of Paris, the large green space is home to a wide selection of trees including conifers, maples, ash, and linden, with leafy paths and sleepy tombs laid out in a symmetrical grid.
Monuments, Funerary Art and Sculpture
As well as greenery, this Parisian cemetery is packed full with tantalizing pieces of art, sculpture, and funerary architecture. In its previous life as farmland, a windmill was built at Montparnasse. This 17th-century structure remains at the heart of the cemetery, though with no sails anymore, marking the last remnant of its rural roots. But there's more to it than that.
Before Montparnasse became home to the overflow of Paris' deceased — back when it was a hotspot for open-air dances — the windmill functioned as an entertainment venue. From the early 18th century, the windmill was converted into a guinguette, an open-air drinking establishment and dancehall. Later it housed the cemetery's caretaker but is empty today.
Another prominent landmark in Montparnasse Cemetery is the Spirit of Eternal Sleep statue. It stands perched on a column at the roundabout intersection of Avenue Transversale and Avenue Principale.
Many of the graves themselves feature eye-catching monuments. For example, that of pioneering French surgeon Jacques Lisfranc de St. Martin (1787-1847), featuring a boundary fence decorated with skulls and crossbones, boasts interesting bronze reliefs: one depicts him working in the field at the Battle of Leipzig (1813), the other features the surgeon examining a severed foot in front of onlooking students.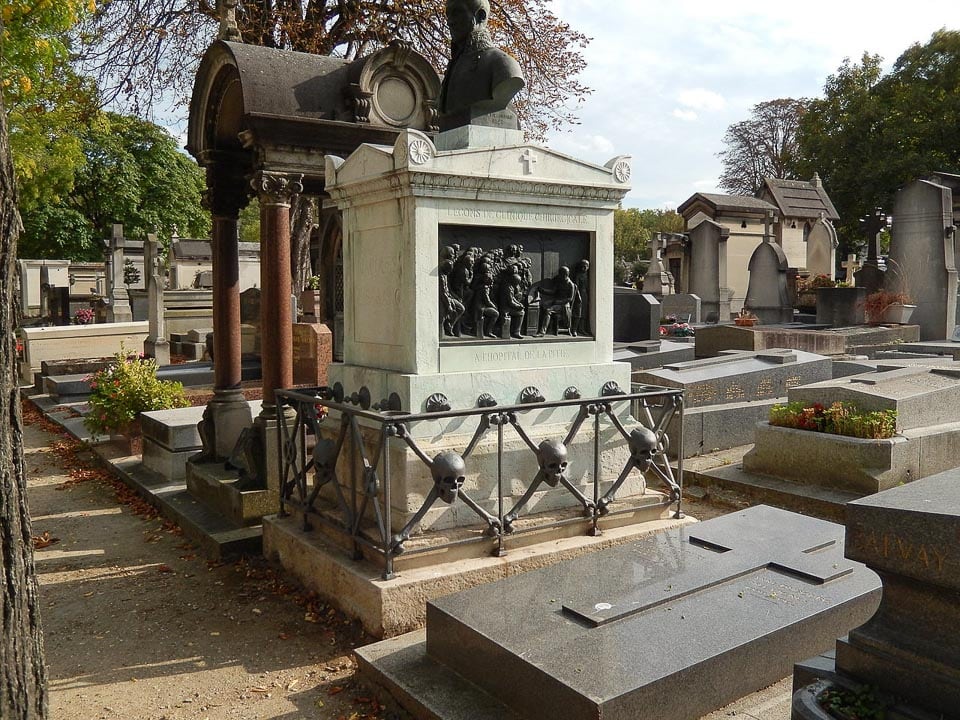 Charles Pigeon (1838-1915), the inventor of the gas lamp, is also honoured by his funerary monument. Pigeon himself commissioned the tomb in 1905 as the final resting place for himself and up to 18 members of his family. Resembling a bed, the tomb features a statue of Pigeon and his wife reclining while reading thanks to the light of Pigeon's invention.
Much newer is Niki de Saint Phalle's sculpture of a mosaic cat, A Cat for Ricardo. It was created for her friend and assistant, Ricardo Menon, who died from AIDS in 1986. The artist herself was involved in the battle against AIDS and helped raise awareness about the disease. The colourful cat features flowers and a rainbow-hued tail, with "Ricardo" written across its tummy.
Different styles of artwork are represented throughout the cemetery. The Kiss, created in 1908 by Romanian artist Constantin Brâncuși (1876-1957), was made for his friend, a Russian anarchist Tatiana Rachewskaia who committed suicide at the age of 23. Her portrait sits below the cube-like merging forms of Brâncuși's modernist sculpture. The artist himself is also buried in the cemetery, in another section.
As for monuments paying tribute to specific events or groups of people, there are only a few in the cemetery. These include a memorial dedicated to the War of 1870, a monument to the Republican Guard, and a monument to the police prefecture.
Montparnasse Cemetery Burials- Famous Graves in Montparnasse Cemetery
The burial roster of Montparnasse Cemetery is a who's-who of artists, inventors, creatives, and thinkers from the early 19th century through to the modern day. Here are just a few of those late greats who are buried in Montparnasse Cemetery.
Charles Baudelaire (1821-1867)
Macabre poet Baudelaire was a master of his craft. His dark, compelling writing combines Romanticism with realism for a visceral reflection of Paris' rapid industrialization and societal change.
In addition to his grave, there's also a cenotaph dedicated to Baudelaire in Montparnasse Cemetery.
Guy de Maupassant (1850-1893)
Influenced by Czech writer Franz Kafka, Guy de Maupassant is a master of the short story, of which he wrote over 300 (plus novels and travel books). The 1880 Boule de Suif, or The Dumpling in English, is his most famous work. His works examined the human condition and were often set during the Franco-Prussian War (1870-1871).
Eugène Ionesco (1909-1994)
Romanian playwright Ionesco was a leading figure of French avant-garde theatre in the 20th century.
Frédéric Auguste Bartholdi (1834-1904)
Pretty much everybody knows the Statue of Liberty in New York, but hardly anyone knows the man who designed it: Frédéric Auguste Bartholdi. Some of his other sculptural works include The Lion of Belfort (Belfort, France), Marquis de Lafayette (Union Square, New York City), and Switzerland Succoring Strasbourg (Basel, Switzerland).
Jean-Paul Sartre (1905-1980) and Simone de Beauvoir (1908-1986)
Sharing one gravestone are two great philosophers of the 20th century. Existential thinker and playwright Sartre met influential feminist philosopher de Beauvoir in 1929. They lived for over 50 years in an open relationship. Their gravestone is covered in kisses.
Samuel Beckett (1906-1989)
Known for his moody absurdism, literary great Samuel Beckett hailed from Ireland but lived in France for a large portion of his life. He won the Nobel Prize for Literature in 1969.
Charles Garnier (1825-1898)
French architect Charles Garnier is best known for his opera house designs, having built Palais Garnier in Paris and the Opera de Monte-Carlo in Monaco.
Serge Gainsbourg (1928-1991)
Serge Gainsbourg was one of the most influential figures in French pop music. A man of many talents, he sang, wrote over 550 songs, played the piano, and composed for films. Some of his endeavours outside the music industry included acting, writing, and filmmaking. Gainsbourg's grave is often covered in flowers, notes, and other gifts from fans.
Jacques Chirac (1932-2019)
Jacques Chirac had an accomplished career as a politician, serving as the Prime Minister of France for two terms in the 70s and 80s, as Mayor of Paris for 18 years, and as President of France from 1995 to 2007. He was buried in Montparnasse Cemetery after a requiem mass at the Church of Saint-Sulpice.
Final Words
Far from being a gloomy corner of Paris, Montparnasse Cemetery is an oasis of calm. Heading here for a break from the bustling streets of the French capital is an ideal way to break up a long weekend in the city.
Then again, fans of history will love it here, while anybody with a keen interest in art and philosophy will reap rewards from the little pilgrimages made in searching for the graves of past literati.
Paris Accommodations
If you're planning to visit Montparnasse Cemetery and need accommodations, here is a list of hotels in Paris. Please consider booking your Paris accommodations through the included link. It costs nothing extra and helps support this website.
More Burial Places in Paris