Famous People Buried in Paris- A Guide to the Famous Graves in Paris 
Purchases made through links earn us a small commission, at no extra cost to you.
Paris has several different nicknames that have been given to it over the years. The fashion capital, the City of Love and the City of Light are all names that are synonymous with the French capital. However, there is another thing that Paris is known for – the number of high profile people buried in the city.
In this article, you will learn all about the famous people buried in Paris – some of them might even come as a surprise to you. So, without further ado, let's visit some famous graves in Paris.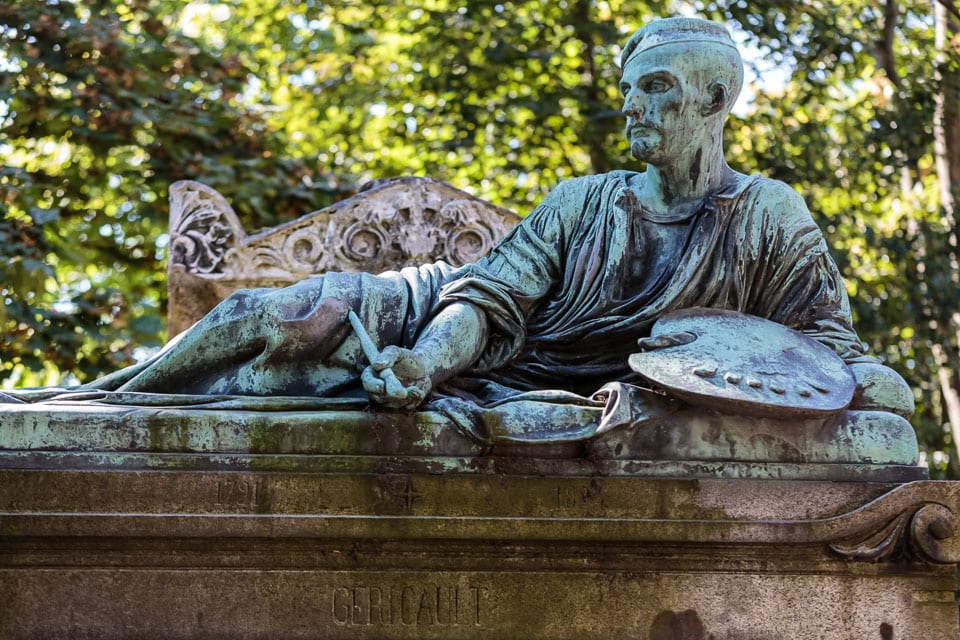 Famous People Buried in Paris- Where to Find Notable Graves in Paris
In no particular order, here's a selection of notable tombs and graves in Paris and the cemeteries or mausoleums in which you can find them.
Napoleon Bonaparte
Napoleon Bonaparte, the famous French commander and Emperor, has his final resting place at Les Invalides. The awe-inspiring sarcophagus of Napoleon is housed within the Dome of Les Invalides which boasts an impressive array of statues, marble, gold and other artifacts of the late Emperor's famous victories.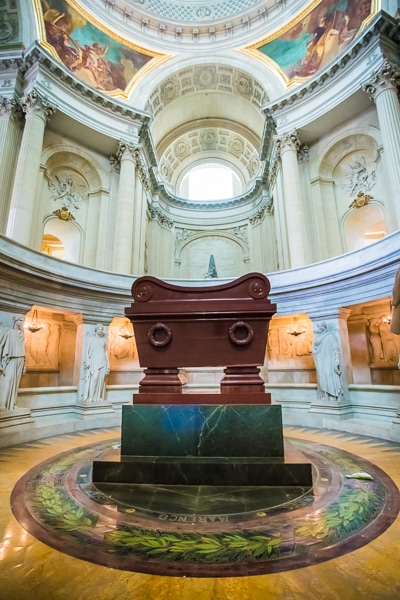 Jim Morrison
Jim Morrison, born James Douglas Morrison, was a famous American singer, songwriter and poet, most famous for his lead vocalist role in the rock band The Doors. His final resting place is at the Père Lachaise Cemetery, after passing away of heart failure in a Parisian apartment bathtub on the 3rd of July 1971.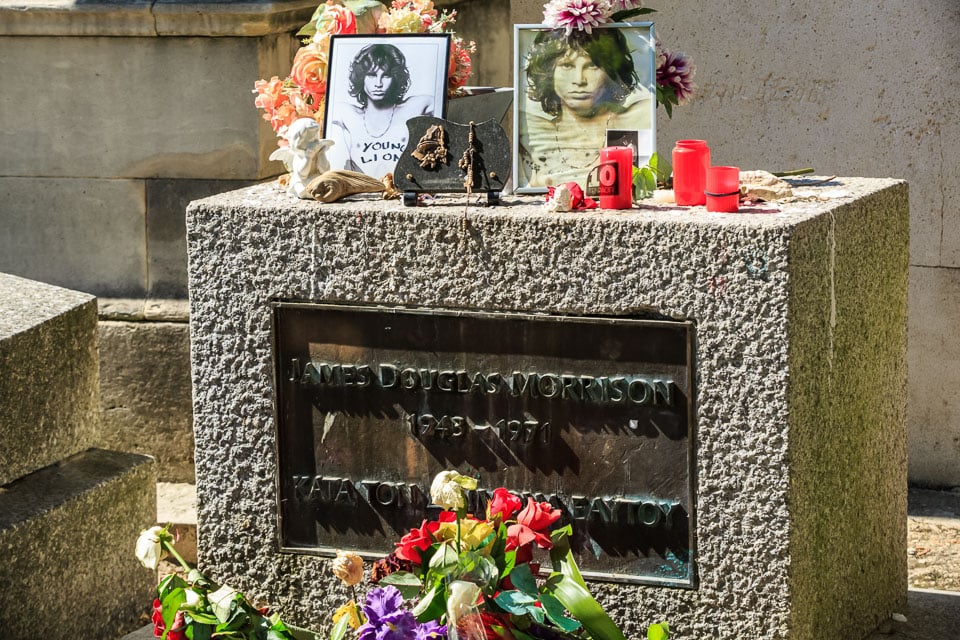 Victor Hugo
Victor Hugo, born Victor-Marie Hugo, was a French poet and novelist. He is considered the most famous French author of all time, with a career spanning more than sixty years. Some of Hugo's most notable works include The Hunchback of Notre-Dame, Les Misérables, and The Man Who Laughs.
Aside from his ties to literature, Hugo was also a statesman who helped shape the Third Republic and democracy in France. He passed away in Paris on 22nd of May 1885 at the age of 83, succumbing to pneumonia. His final resting place is at the Pantheon, a monument in the 5th arrondissement of Paris.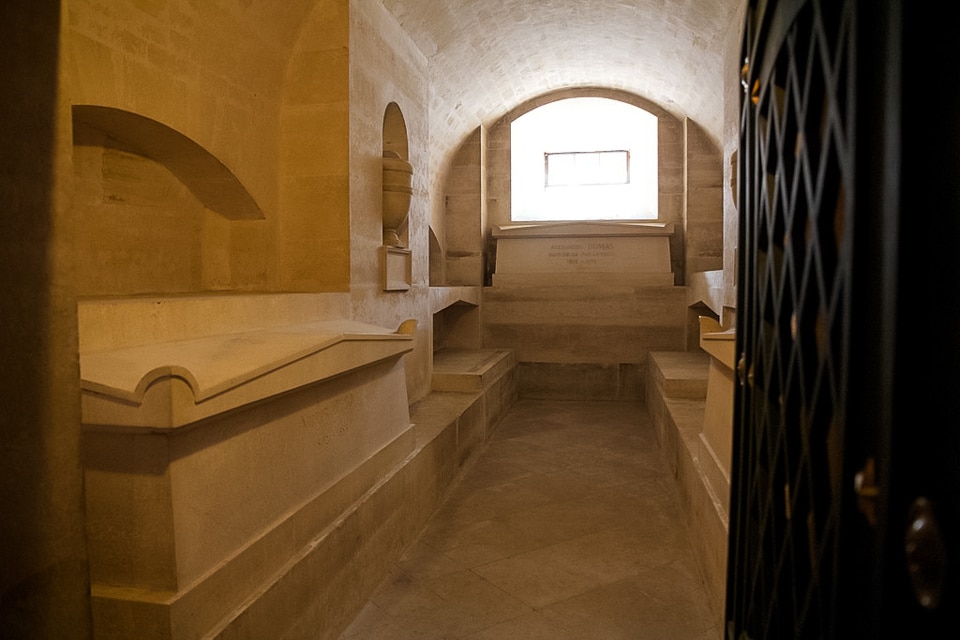 Oscar Wilde
Among the famous people buried in Paris is Oscar Wilde. Born Oscar Fingal O'Flahertie Wills Wilde, he was an Irish poet and playwright, best known for his plays in London in the 1890s. Wilde called France home after his release from prison in 1897, but later passed away in 1900 from meningitis.
Oscar Wilde's tomb, which resembles a Sphinx and may have been inspired by the British Museum's winged Assyrian bulls, is at the Père Lachaise Cemetery.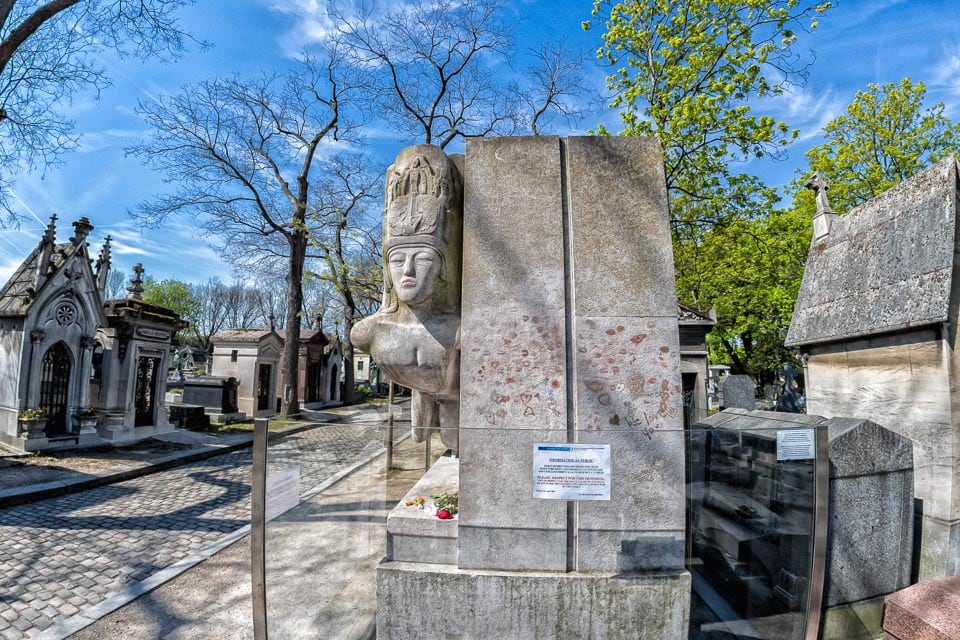 Charles Garnier
Charles Garnier, born Jean-Louis Charles Garnier, was a French architect most famous for his designs of Palais Garnier and the Opéra de Monte-Carlo. He passed away in 1898 in Paris, after suffering two strokes over a period of two days. Today he is among many famous Paris burials, with his final resting place located at the Montparnasse Cemetery.
Marie Curie
Marie Curie, born Marie Salomea Skłodowska–Curie, was a Polish physicist and chemist, most famous for her radioactivity research. Although she was born Polish, she was naturalized French, thus died a French citizen. She passed away in Passy, France at the age of 66 from aplastic pernicious anaemia, a condition that she developed after years of exposure to radiation. She was laid to rest at one of the most famous burial places in Paris, the Pantheon.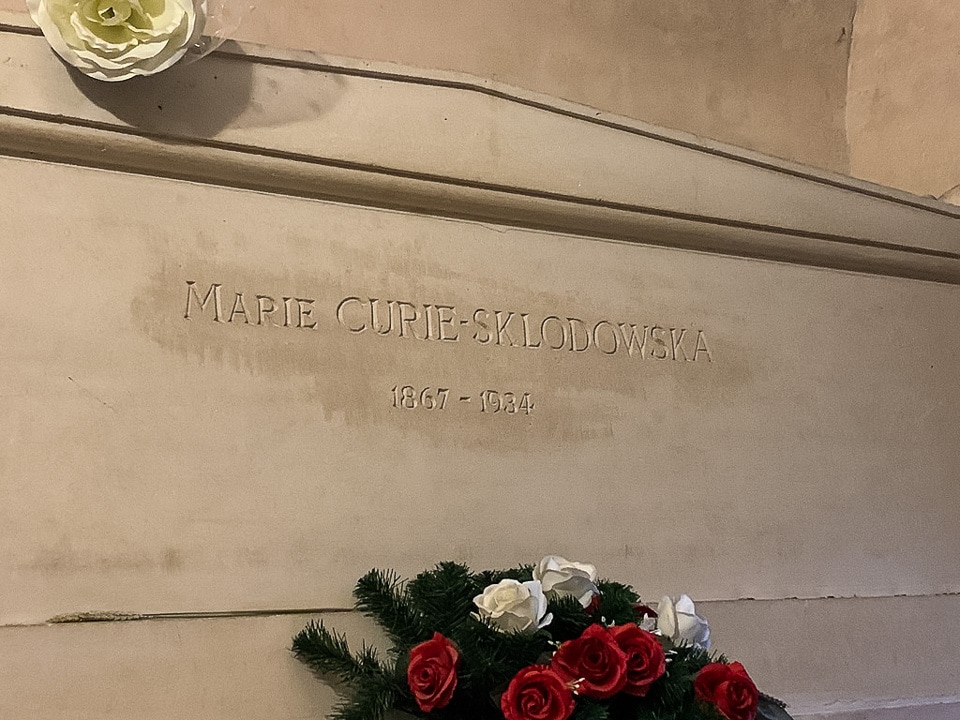 Frederic Chopin
Frederic Chopin, born Frédéric François Chopin, was a Polish composer and pianist considered to be one of the great masters of Romantic music. He died at the young age of 39 after succumbing to tuberculosis in the lungs and larynx.
Chopin's body is buried at one of the largest cemeteries in Paris, the Père Lachaise Cemetery, however his heart was moved to a crypt in Warsaw's Holy Cross Church.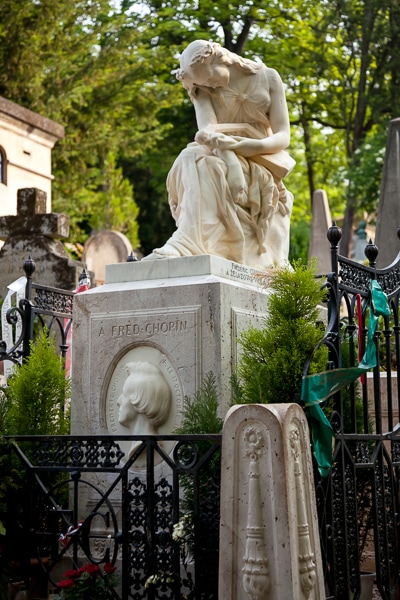 Edgar Degas
Edgar Degas was a French Impressionist artist, known best for his pastel and oil painting works. He was born in Paris in 1834 and died in the city 83 years later in his own apartment. Today, he is buried in a tomb at the Montmartre Cemetery.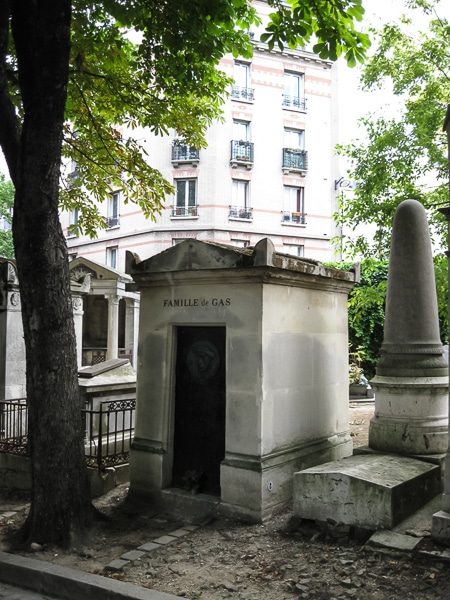 Gustave Eiffel
Gustave Eiffel, born Alexandre Gustave Eiffel, needs no introduction. He was a French civil engineer whose company pioneered the construction of the world-famous Eiffel Tower in 1889. Eiffel passed away at the age of 91 years old from a cerebral haemorrhage, apparently while listening to Beethoven's 5th Symphony. He is another one of the famous people buried in Paris and his grave is at the Levallois-Perret Cemetery.
Edith Piafe
Edith Piafe was one of France's most widely known stars popular for her singing, acting and lyrical talents. She died at the age of 47 from liver cancer and her body now rests at the Père Lachaise Cemetery in a family grave marked "Famille Gassion-Piaf".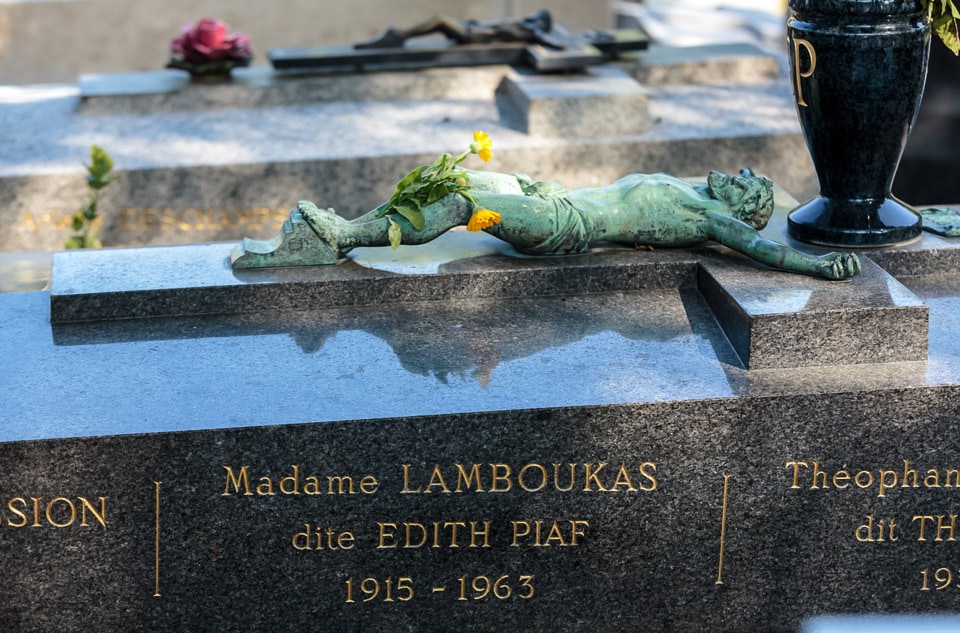 Simone de Beavoir and Jean-Paul Sartre
Simone de Beavoir and Jean-Peal Sartre were lovers who met as philosophy majors and shared a life-long relationship together. Even today, they lie buried next to each other at the Montparnasse Cemetery.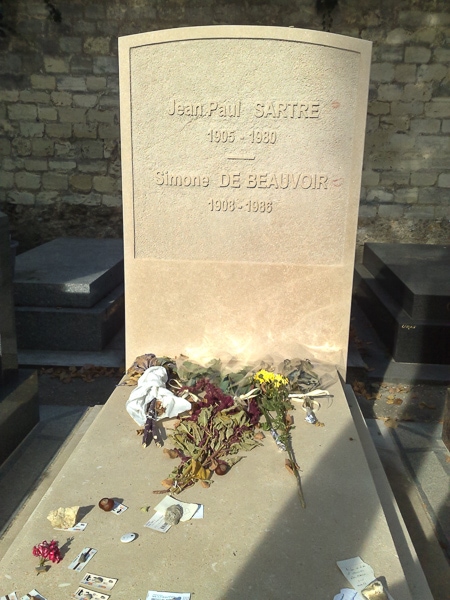 Alexandre Dumas
Alexandre Dumas was one of the most widely known French writers, with works such as The Three Musketeers being translated into many different languages around the world. He passed away in 1870 from natural causes, likely a heart attack. Today, he is buried in the Pantheon.
Louis Braille
Aside from being an educator and inventor, Louis Braille is most famously known for his invention of the Braille system for the visually impaired. While Braille has long since passed, his reading and writing system remains today. He died in 1852 from tuberculosis and is interred in the crypt of the Pantheon.
Edouard Manet
Edouard Manet, a French modernist painter, lies buried at the Passy Cemetery in Paris, after his death in 1883 from a disease known as tabes dorsalis (a consequence of syphilis).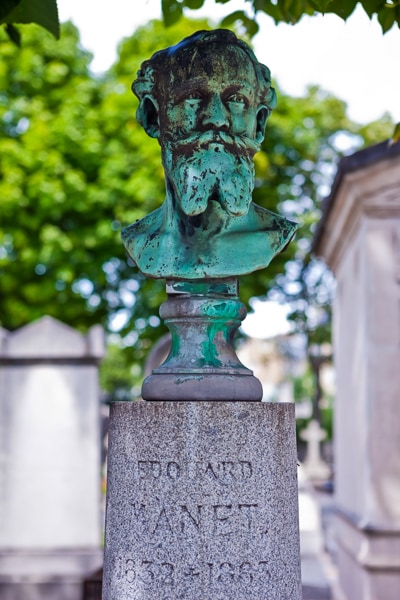 Eugène Delacroix
Eugène Delacroix, born Ferdinand Victor Eugène Delacroix, was a French Romantic artist and leader of the French Romantic School. He passed away in 1863 in his Parisian apartment and is buried at the Père Lachaise Cemetery.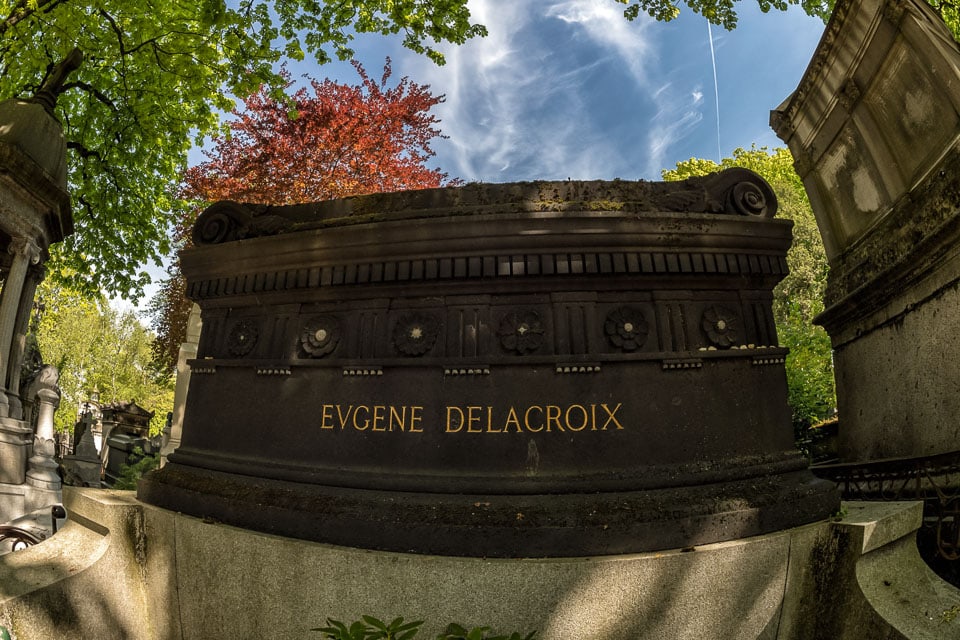 Dalida
Dalida, born Iolanda Cristina Gigliotti, was an Italian French singer that was born in Egypt. Her claim to fame was that she sang in 11 different languages, selling millions of album copies throughout her career. She took her own life in 1987, after succumbing to her bouts of depression. She is buried at the Montmartre Cemetery.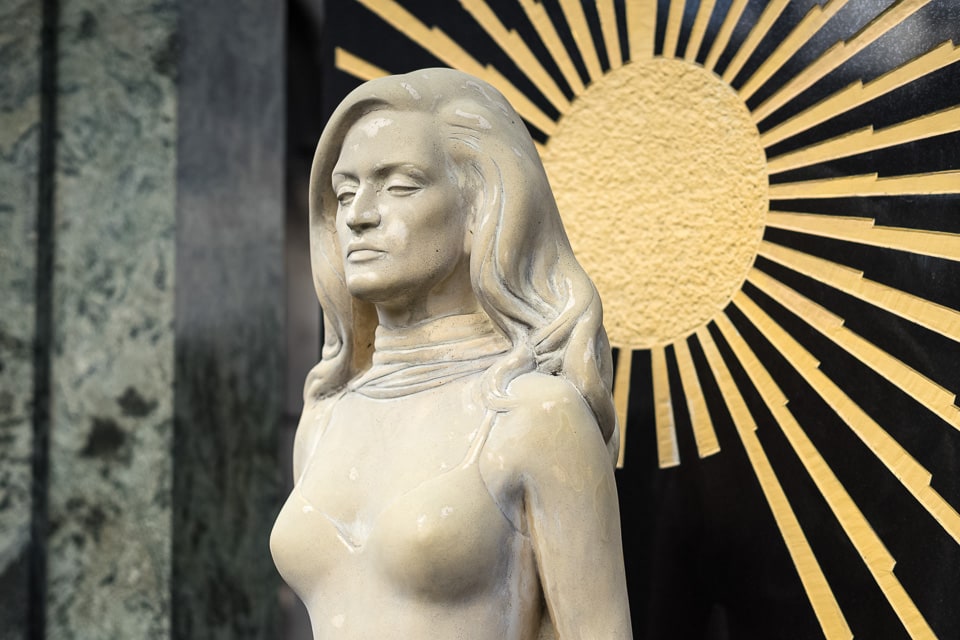 Marcel Marceau
Marcel Marceau, most famously known for his role as "Bip the Clown", was a French actor and mime artist. His career spanned over 60 years, and he passed away at the age of 84 from a heart attack. His final resting place is at the Père Lachaise Cemetery.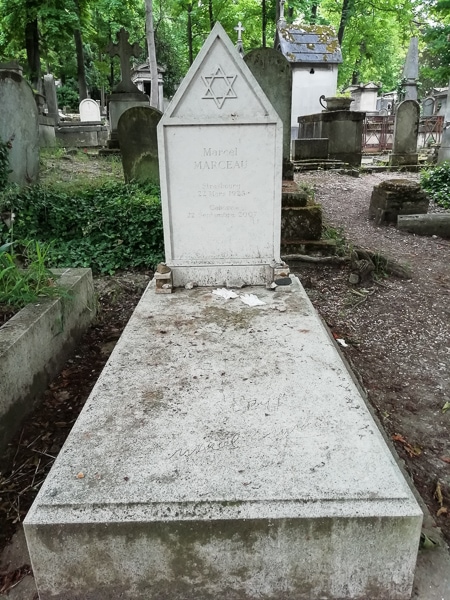 Louis Pasteur
Louis Pasteur was a French microbiologist and chemist, most famously known for his discovery of pasteurisation, a process still used today. He died after succumbing to the after-effects of multiple strokes he suffered.
After initially being buried at the Notre-Dame Cathedral, his final resting place is now in a crypt at the Pasteur Institute. The ceilings and walls of the crypt are richly decorated with golden mosaics that represent Pasteur's scientific discoveries.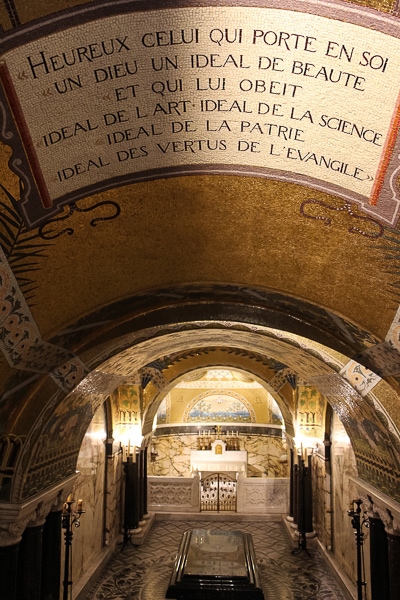 Final Words
That concludes the list of famous people buried in Paris and what cemeteries and mausoleums you can find their gravesites in. The graves in Paris are great attractions to visit if you are particularly interested in history and public figures, and also enjoy a haunted walk around a cemetery.
Tours of Famous Graves in Paris
To make it easier to find famous graves in Paris, you may find it helpful to take a guided tour, especially for a cemetery as large as Père Lachaise. Guides not only know where the most interesting graves are located, but they can also share information about the people buried in Paris and the history of the cemetery.
Here is a trusted site where you can book tours of Père Lachaise Cemetery.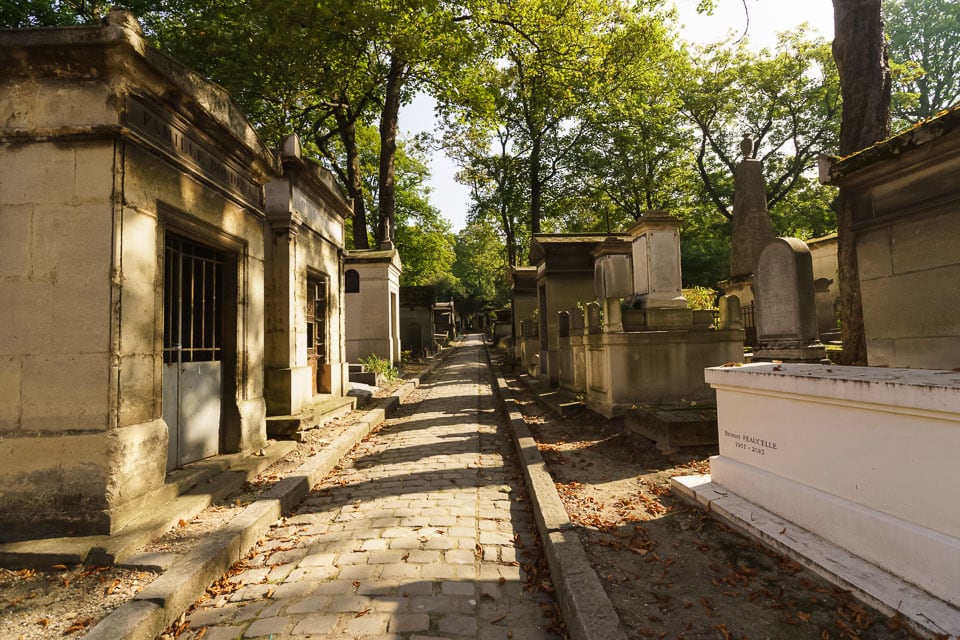 Paris Accommodations
If you're planning to visit Paris' famous graves and need accommodations, here is a list of hotels in Paris. Please consider booking your Paris accommodations through the included link. It costs nothing extra and helps support this website.
More Burial Places in Paris