Montmartre Cemetery- Paris' North Cemetery
Purchases made through links earn us a small commission, at no extra cost to you.
The Montmartre Cemetery in Paris, officially known as Cimitière du Nord, has been in existence since 1825. It is currently the third largest cemetery in Paris after Père Lachaise Cemetery and Montparnasse Cemetery respectively.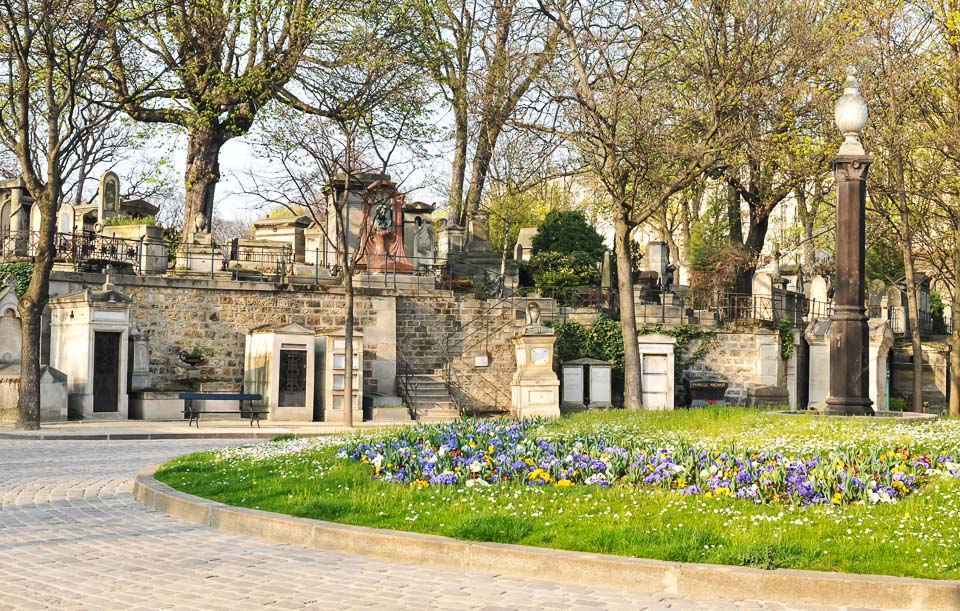 Montmartre Cemetery was one of the four cemeteries in Paris that were arranged at the four cardinal points of the city. They were all established in the city in the early 19th century and replaced older parish cemeteries that were forced to close due to poor sanitation and resultant disease.
It has been described as having a romantic layout and appearance – something you wouldn't necessarily associate with a cemetery. Stretching over an area of 11 acres, the cemetery of Montmartre houses over 20,000 graves and contains many vaults and funerary monuments.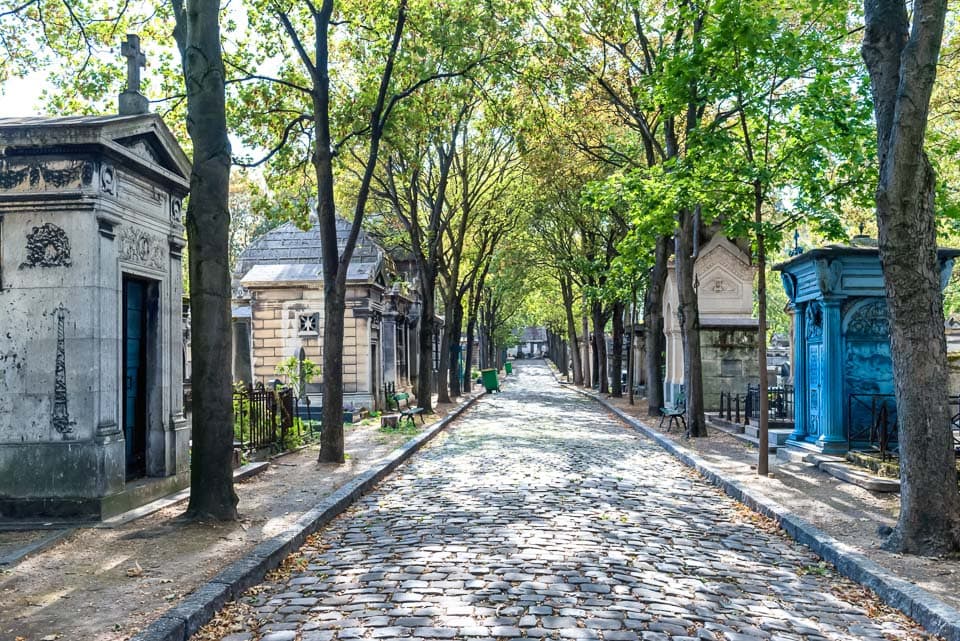 After navigating through this article, you should be equipped with a host of information about Montmartre Cemetery, a classic Parisian necropolis.
History of Montmartre Cemetery
Towards the end of the 18th century, cemeteries in Paris were becoming overcrowded which led to a host of other problems. Among them were escalating funeral costs and poor sanitation in the surrounding neighbourhoods. This ultimately led to further disease and death, and as a result, the city banned the burial of corpses within the city.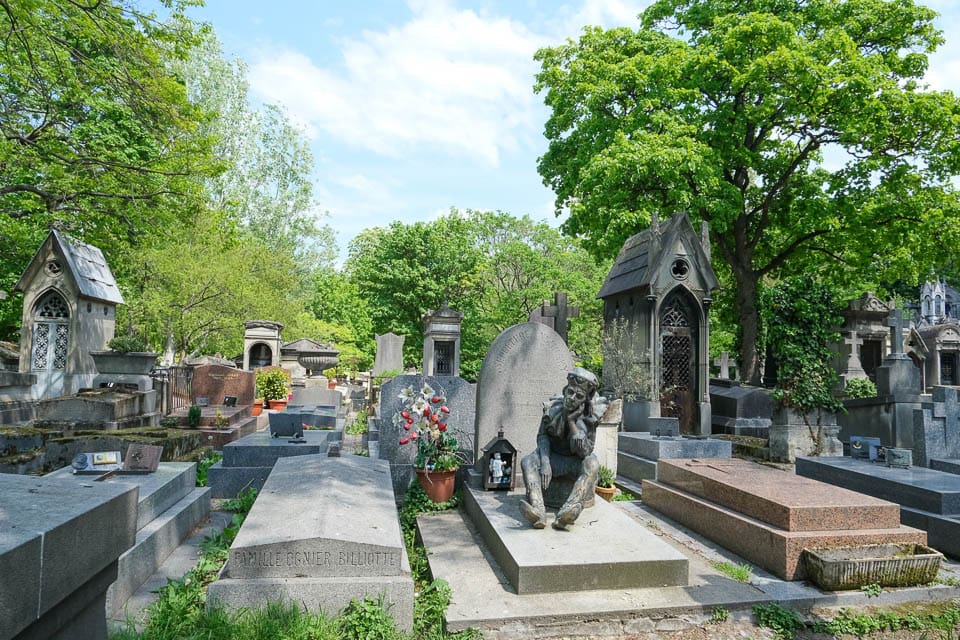 This created the need for additional cemeteries to be built, but they were required to be outside of the city's precincts. Among these new cemeteries was the Montmartre Cemetery to the north of the city. The original name of the cemetery was le Cimetière des Grandes Carrières which translates to "the cemetery of the large quarries". The name was derived from the fact that the cemetery was housed in an old gypsum quarry. The name was later changed to the Montmartre Cemetery, which remains today.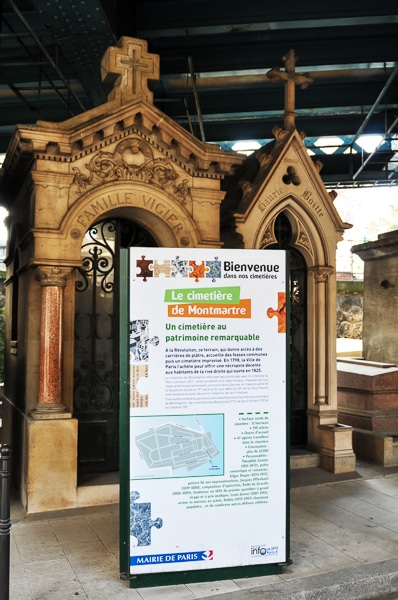 Because of the cemetery's location in Montmartre, a neighbourhood known for its artistic history, it became the burial ground for many creatives including painters, poets, writers, singers, dancers, composers, and actors. Some of the most famous graves in Paris can be found in Montmartre Cemetery.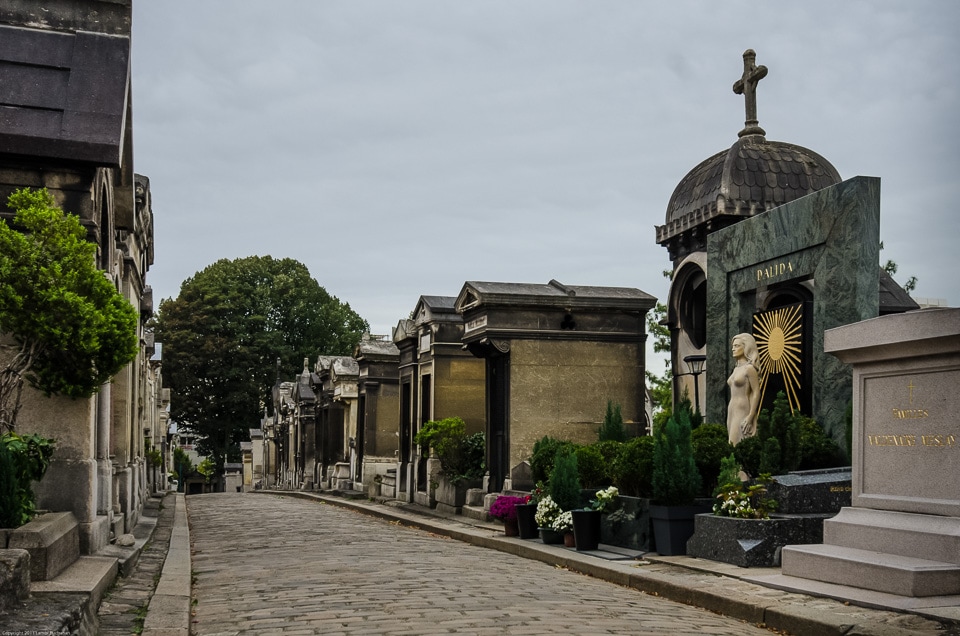 Design and Features of Montmartre Cemetery
Exploring the 11 acre area that contains Montmartre Cemetery is both a unique and eye-opening experience, especially if cemeteries are not usually your top places to visit. There is an array of tombs, vaults, and graves throughout the site, many of which have rather unique and interesting sculptures. This is largely due to the multi-denominational nature of the cemetery.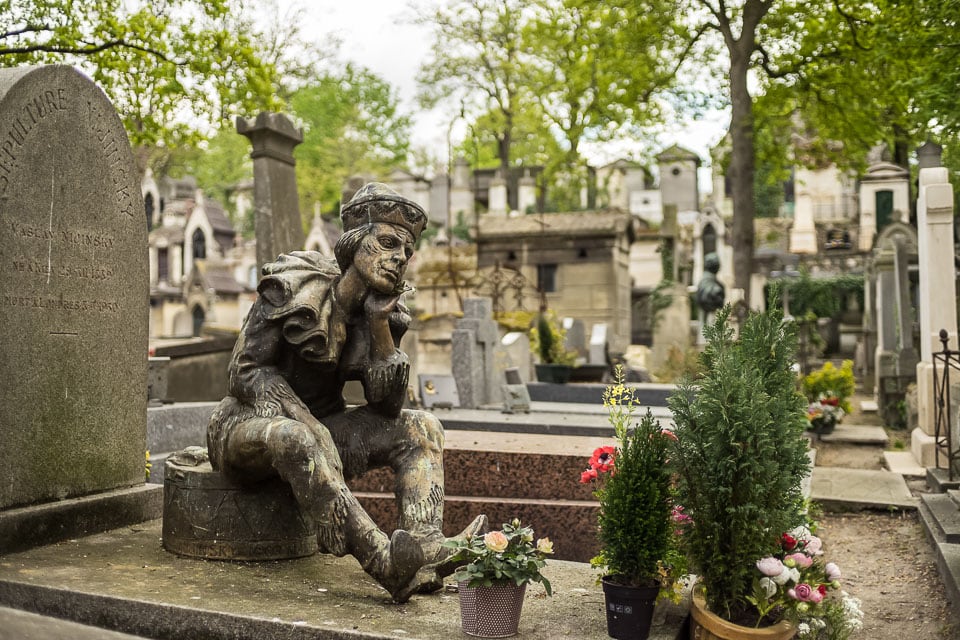 These sculptures range from religious-themed to ones of a unique and dark nature. There are even somewhat comical sculptures among the tombstones. The cemetery also has many statues next to the graves depicting the sadness of a loved one departing the earth before a parent or partner.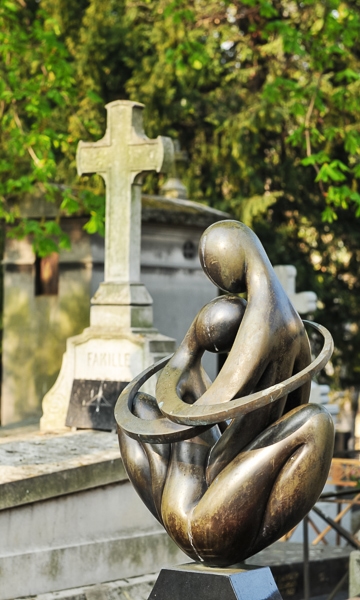 What You Can See When Visiting Montmartre Cemetery
There are several unique monuments and graves in Montmartre Cemetery that can be seen on a self-guided walking tour of the area. To help you plan your route, pick up a complimentary Montmartre Cemetery map at the entrance that will guide you through the various burials.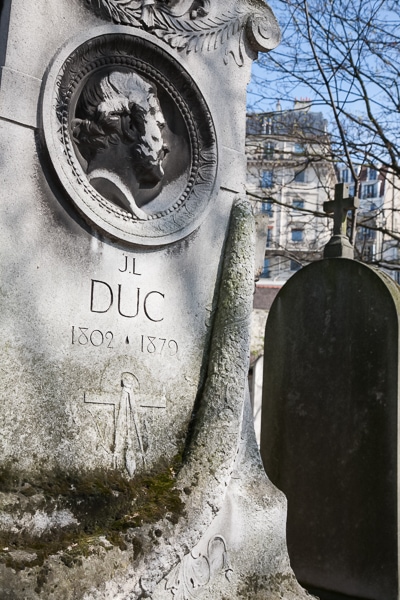 While the Montmartre Cemetery has an underlying feeling of darkness and death, the beautiful layout and scenery are somewhat paradoxical. The attractive tree-lined walkways and decorated tombs are a peaceful break from the bustling city of Paris.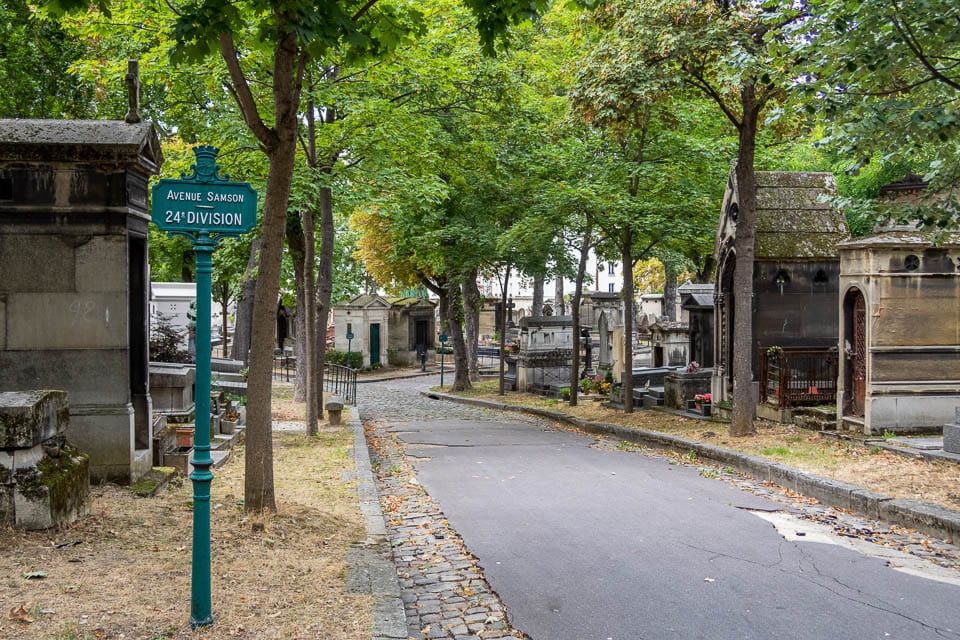 Montmartre Cemetery is also home to more than 50 beautiful stray cats who live on the property. They seem to be at peace in the cemetery and lie around in the sun, as cats do, but also stretch themselves over the tombstones and wander in and around the vaults. It is a rather unique sight and another reason why the cemetery is a great place to visit, especially if you are a cat lover.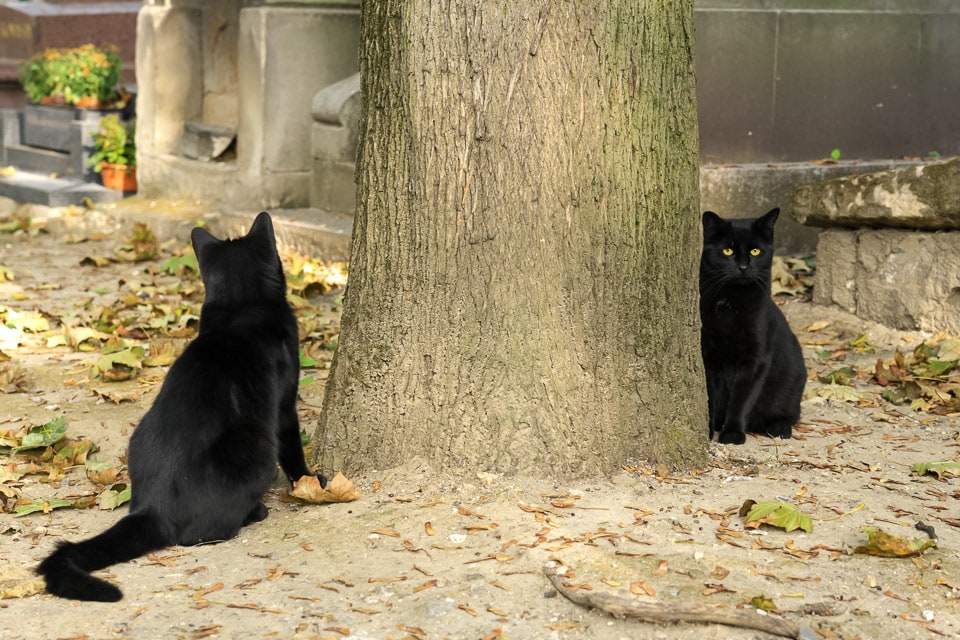 Montmartre Cemetery Burials- Famous Graves in Montmartre Cemetery
While the Montmartre Cemetery is a popular tourist destination today, it is the final resting place of many famous artists who lived and worked in the Montmartre area. There are also a number of other well-known people outside of the arts who have their final resting place at Paris' north cemetery.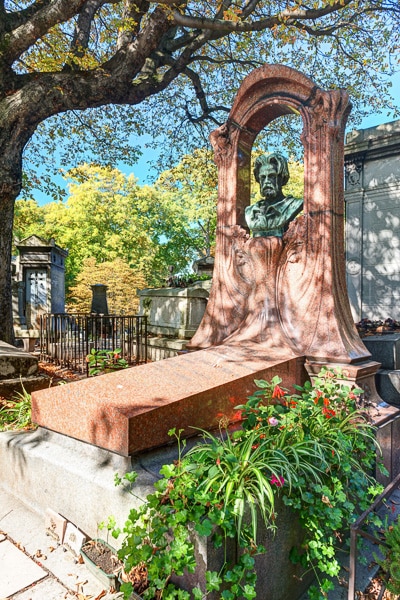 Here are a few of the Montmartre Cemetery burials that tend to be of interest to tourists.
Dalida
Dalida was a famous Egyptian-born singer who was buried at Montmartre Cemetery after taking her own life. Her grave is the most visited and always has flowers at it – a sign of her worldwide fame. Aside from her beautiful, white silhouette statue in the cemetery, there is an upper body bust statue of her in Place Dalida (a square in Montmartre) that many people cannot resist groping. This is evident in the worn area around her bosom.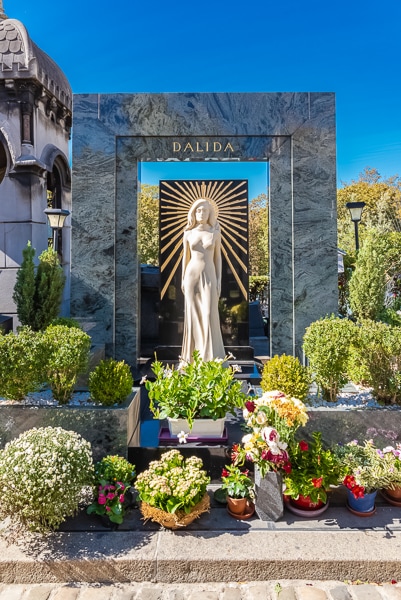 Alexandre Dumas fils
Alexandre Dumas fils (french for son) was the son of prominent French writer Alexandre Dumas (who is buried in the Paris Pantheon). Like his father, Dumas was also an author and playwright. He is best known for his novel La Dame aux Camelias, which was later adapted into the opera La Traviata. His grave consists of a sculpture of him laying down between four columns supporting a grand tomb roof.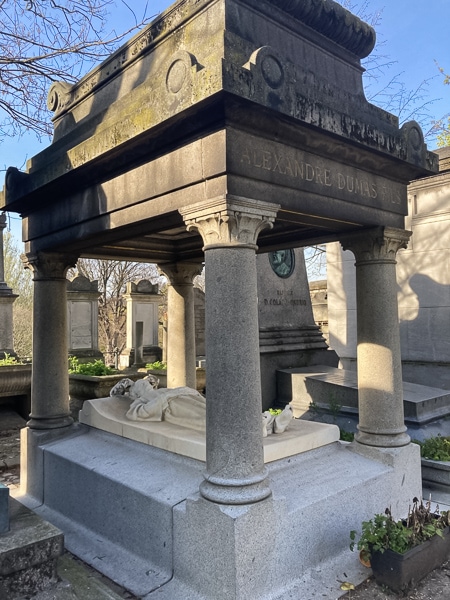 Edgar Degas
Edgar Degas was one of the most beloved French impressionist artists, best known for his oil paintings of ballet dancers. His gravesite is a tomb building that reads "Famille de Gas" above a door with his birth and death dates inscribed below a portrait of him.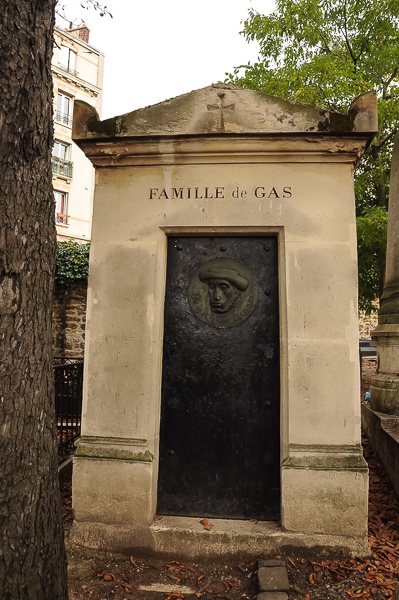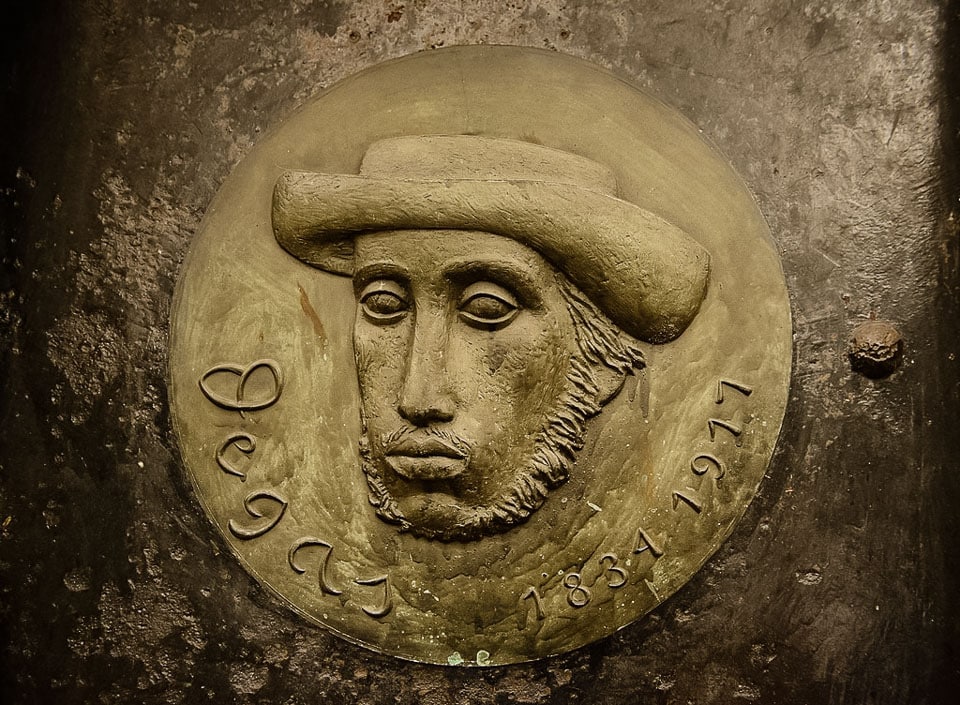 Vaslav Nijinsky
Vaslav Nijinsky was a ballet dancer and choreographer regarded by some to be the greatest male dancer of the early 20th century. Nijinsky's grave has a statue depicting him as Petrushka, a puppet that was the main character in a ballet of the same name.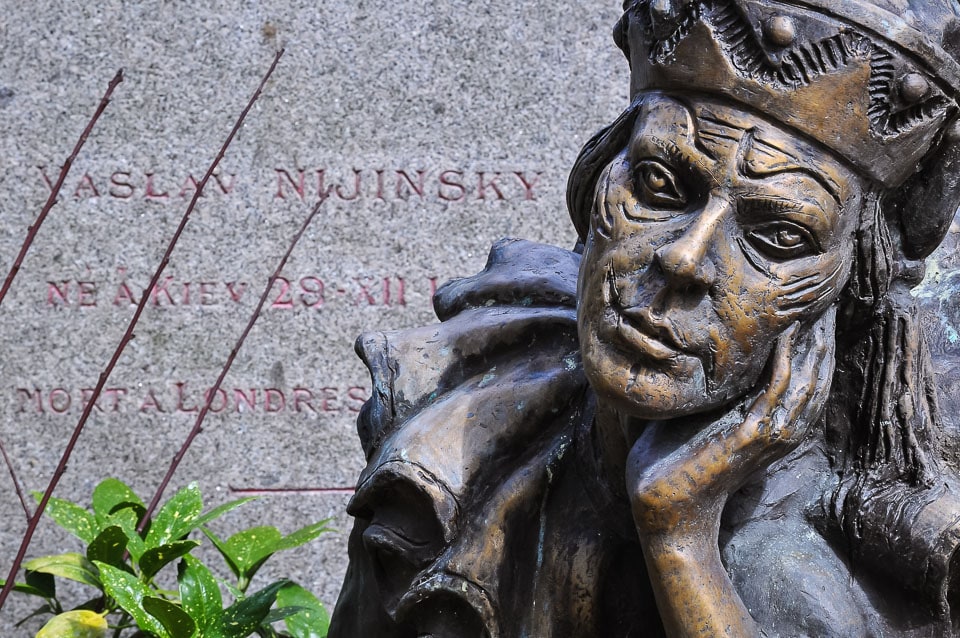 Jean Bauchet
Jean Bauchet was an entertainer and businessman who became the owner of the Moulin Rouge cabaret. Seated on his grave is a large bronze sculpture of a naked man that was created by Bertrand Richard.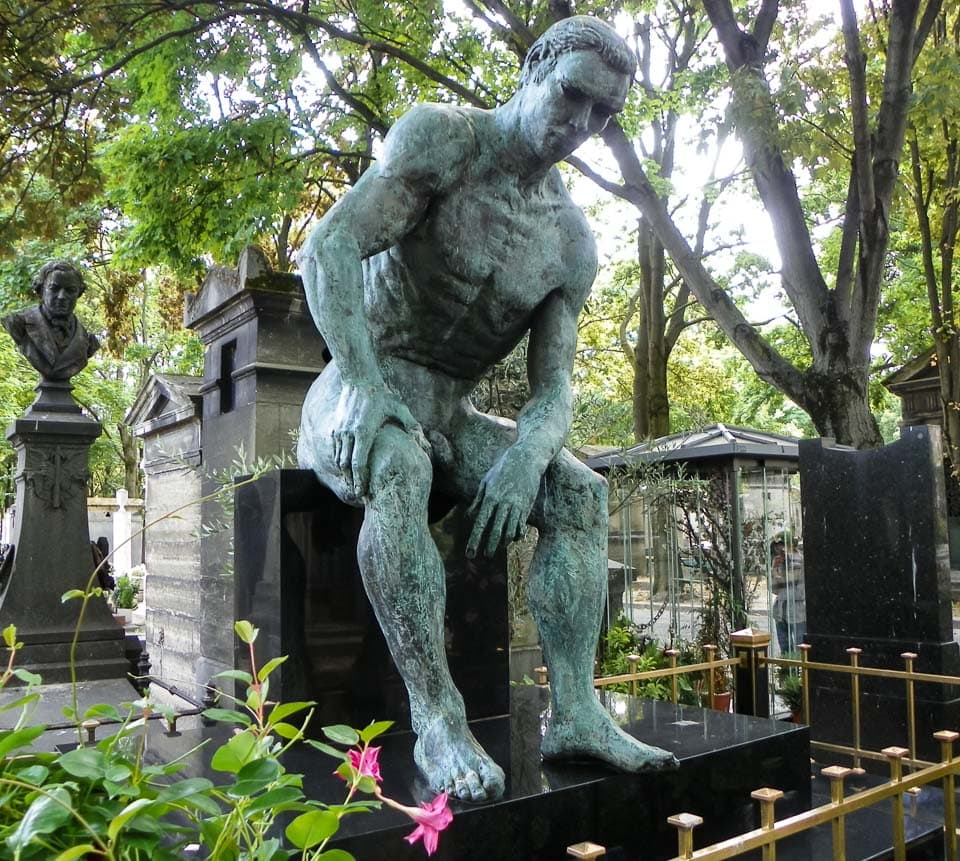 Interesting Facts About Montmartre Cemetery
Here are a few more interesting facts about the cemetery in Montmartre:
The quarry on which the cemetery was built had previously been used during the French Revolution as a mass grave.
The Royal Executioner of France who beheaded Louis XVI is buried here. His name was Charles Henri Sanson and it is believed he executed as many as 3,000 people.
Author Emile Zola was originally buried in Montmartre Cemetery but was moved to the Paris Panthéon in 1908. The Zola family grave in the cemetery still has Emile's name on it.
There are nearly 800 trees of 38 different species in the cemetery including maples, cedars, and chestnut trees.
The Montmartre Cemetery is below street level. As a result, a metal bridge forming part of Rue Caulaincourt runs over a section of it.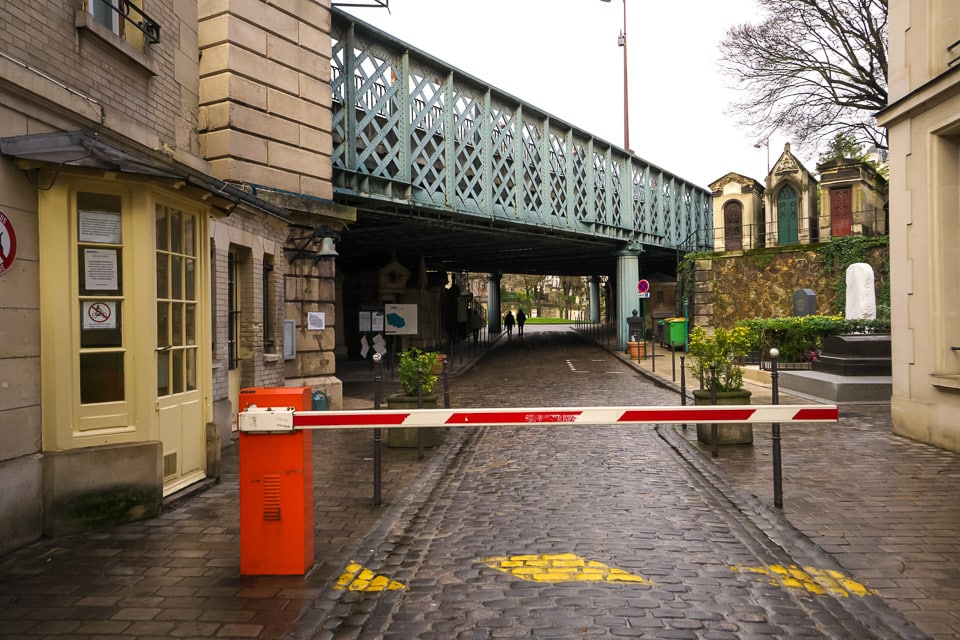 Final Words
While most people flock to the more well-known tourist attractions within the city of Paris, such as the Eiffel Tower, the Champs Elysée, and the Arc de Triomphe, there are many other lesser-known attractions that are worth exploring. The Montmartre Cemetery is one of them.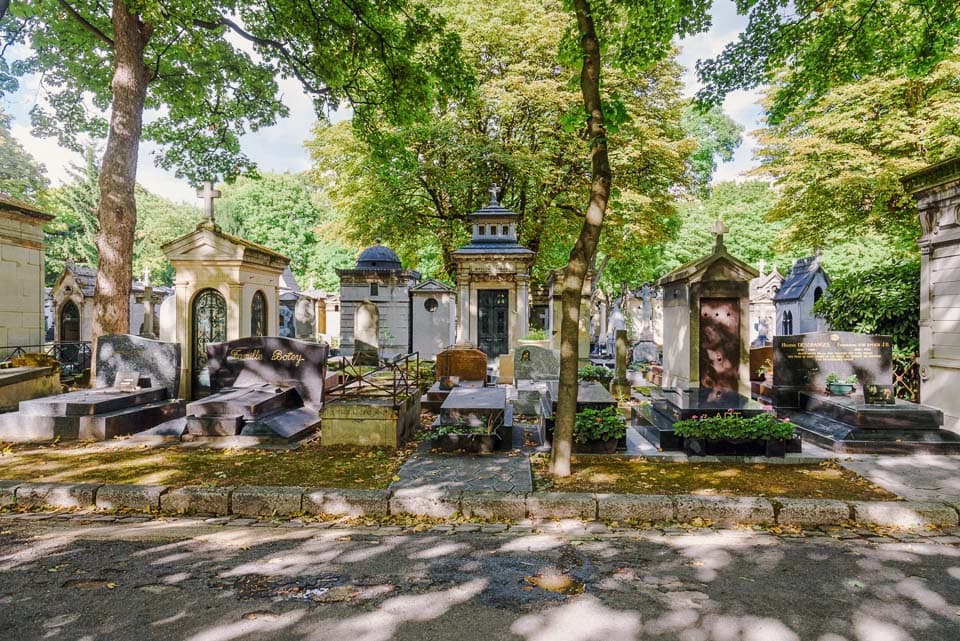 Visiting Montmartre Cemetery is a great way to spend the day away from the hustle and bustle of the inner-Parisian streets. As you explore the graves of former famous French citizens, you'll be taking a walk through history. As a bonus for animal lovers, you might get to pet one of the cute cats that call the cemetery home.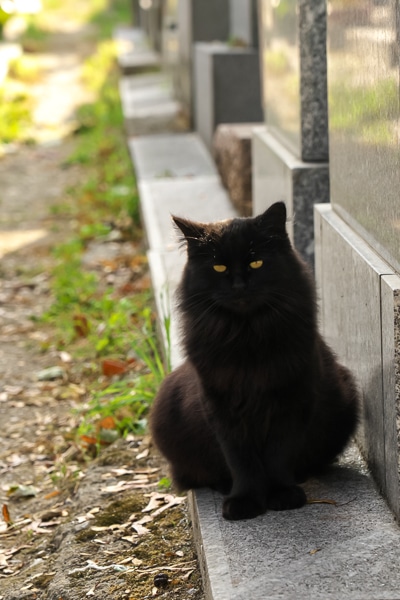 Practical Information for Visiting Montmartre Cemetery
Location: Montmartre Cemetery is located in the 18th arrondissement. The only entrance is at 20 Avenue Rachel, down a flight of stairs from Rue Caulaincourt.
Hours: The cemetery is open daily but hours vary depending on the season. Confirm current hours here.
Admission Fees: None
Map: At the entrance you can borrow a plastic covered map that will show you where to find the most notable gravesites. You can also download a map of Montmartre Cemetery here.
Tours: Tours of Montmartre Cemetery are sometimes included as part of a larger tour of the Montmartre neighbourhood. You can book Montmartre tours online here.
Paris Accommodations
If you're planning to visit Montmartre Cemetery and need accommodations, here is a list of hotels in Paris. Please consider booking your Paris accommodations through the included link. It costs nothing extra and helps support this website.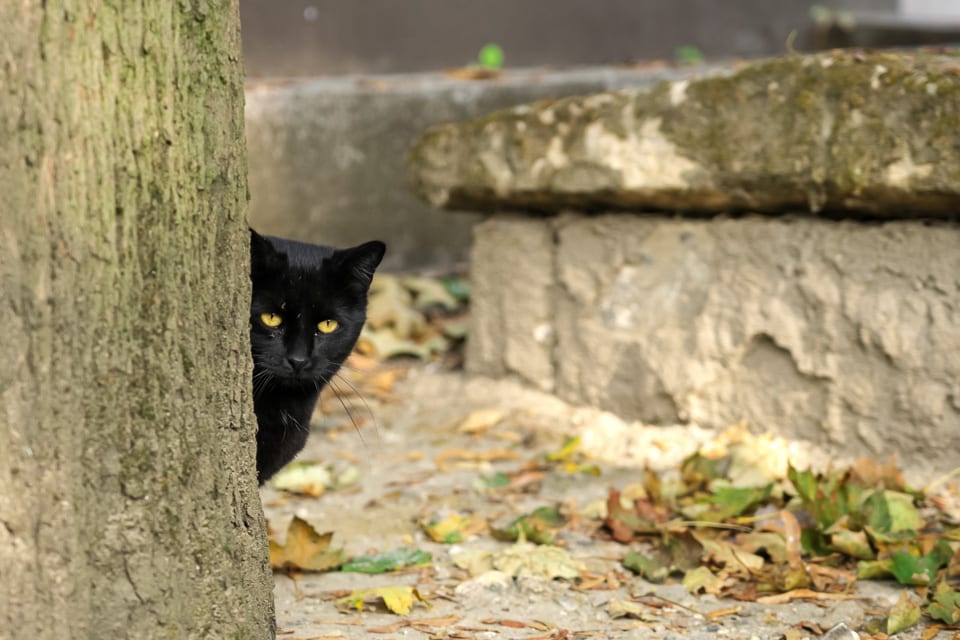 More Burial Places in Paris