Père Lachaise Cemetery Burials- Famous Graves in Père Lachaise Cemetery
Purchases made through links earn us a small commission, at no extra cost to you.
Nestled among the cobblestone paths and lush vegetation of Père Lachaise Cemetery are the graves of some of the most prominent people buried in Paris.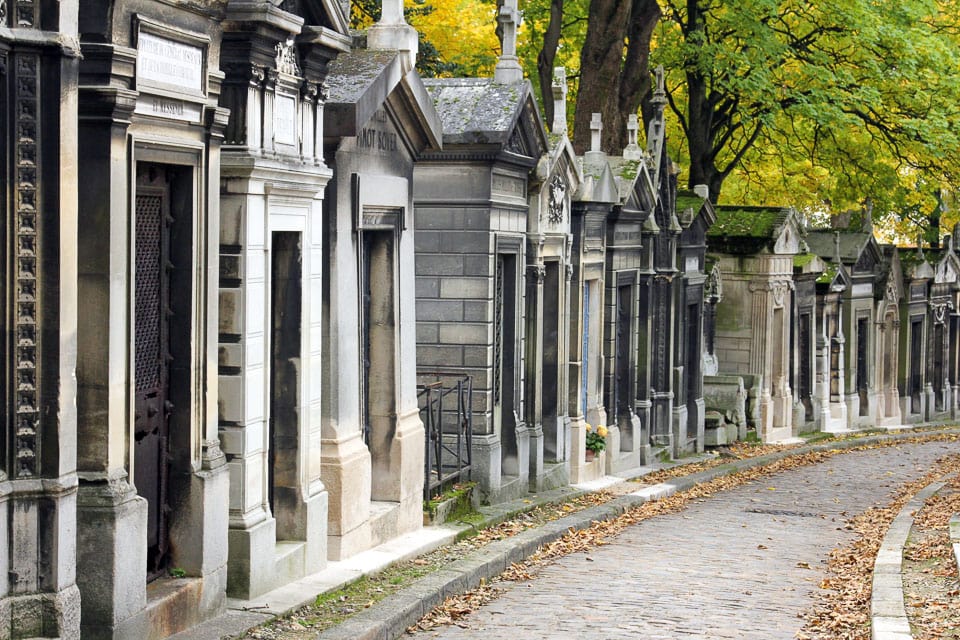 For generations, Père Lachaise Cemetery has been the final resting place of some of the world's most celebrated individuals. As unforgettable as the famous people buried at Père Lachaise Cemetery are, so too is the magnificent funerary art decorating the tombs and graves.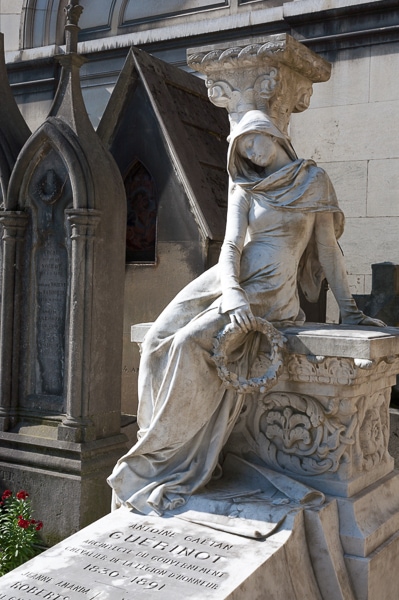 A stroll amid the Père Lachaise Cemetery burials is a captivating journey, with the most famous graves in Père Lachaise Cemetery epitomizing both human achievement and intriguing art. So whether you're looking to visit the graves of renowned individuals, or just admire some exceptional funerary sculpture, you can do both in Père Lachaise, the most beloved of Paris' historic cemeteries.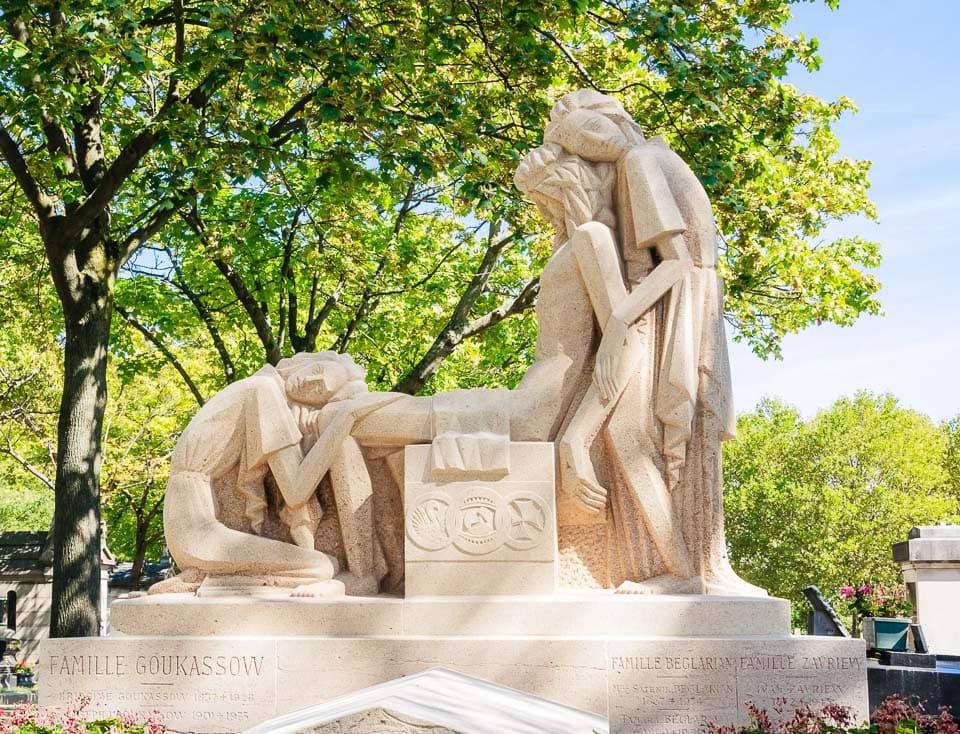 Père Lachaise Cemetery Burials- Exploring the Famous Graves in Père Lachaise Cemetery
The list of Père Lachaise Cemetery burials is an impressive collection of influential people from the worlds of art, music, literature, theatre, film, philosophy, science, architecture, and politics. With so many famous people buried in Père Lachaise Cemetery, it can be hard to decide which graves to visit, especially if you're short on time.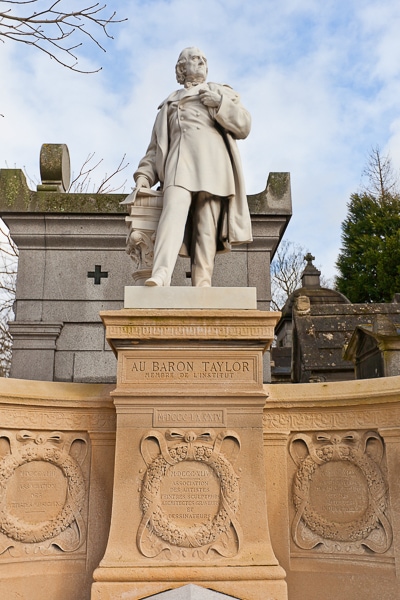 To help you discover who is buried in Père Lachaise Cemetery and decide which gravesites you are most interested in visiting, we will highlight some of the noteworthy people buried in Père Lachaise Cemetery through a brief biography and description of their graves.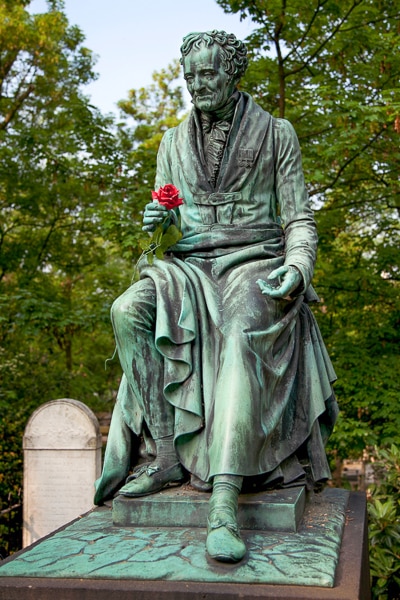 While most people buried in Père Lachaise Cemetery that are of interest to tourists are those who were public figures or celebrities, there are several striking memorials commemorating people who were never (or are no longer) high profile.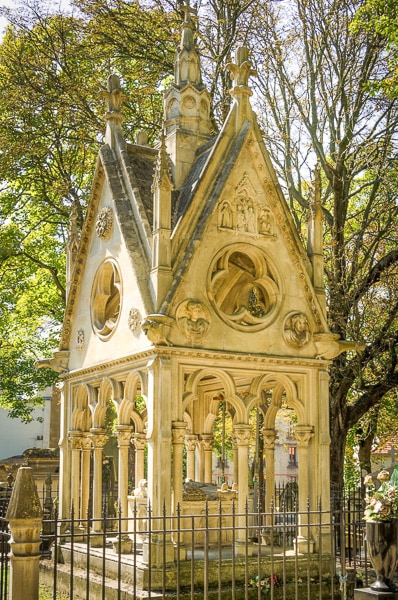 With that in mind, here's a look at some of Père Lachaise's famous graves and the legacies of those buried within.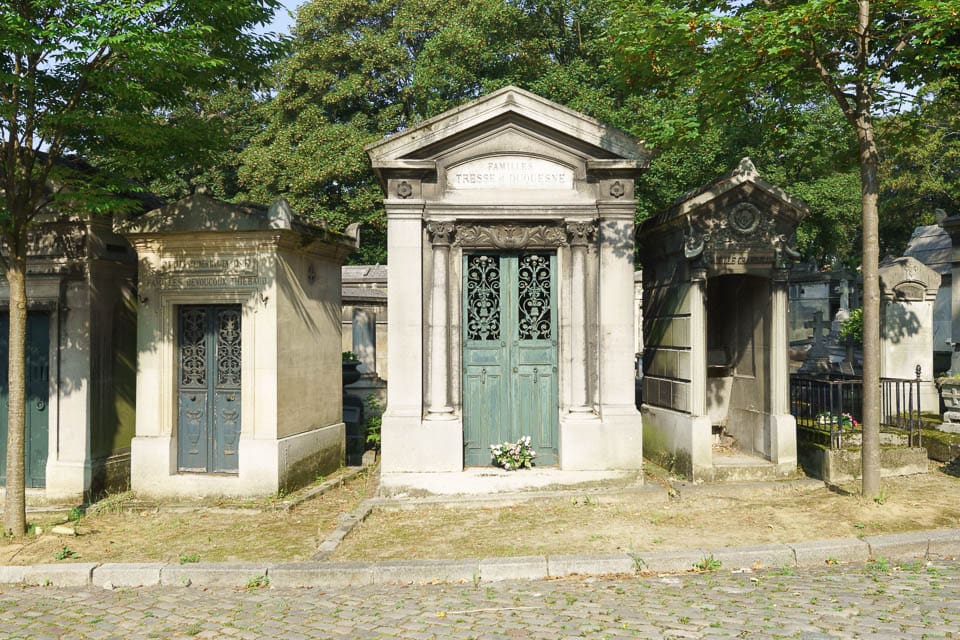 Grave of Jim Morrison
Division 6
One of the most famous graves in Père Lachaise Cemetery belongs to singer-songwriter and poet Jim Morrison.
As frontman for 60's rock band The Doors, Morrison became known for his rich baritone voice, good looks, poetic lyrics, and charismatic, sometimes controversial, performances. In 1971, Morrison unexpectedly died in Paris at the premature age of 27. His official cause of death was listed as heart failure, but an autopsy wasn't conducted.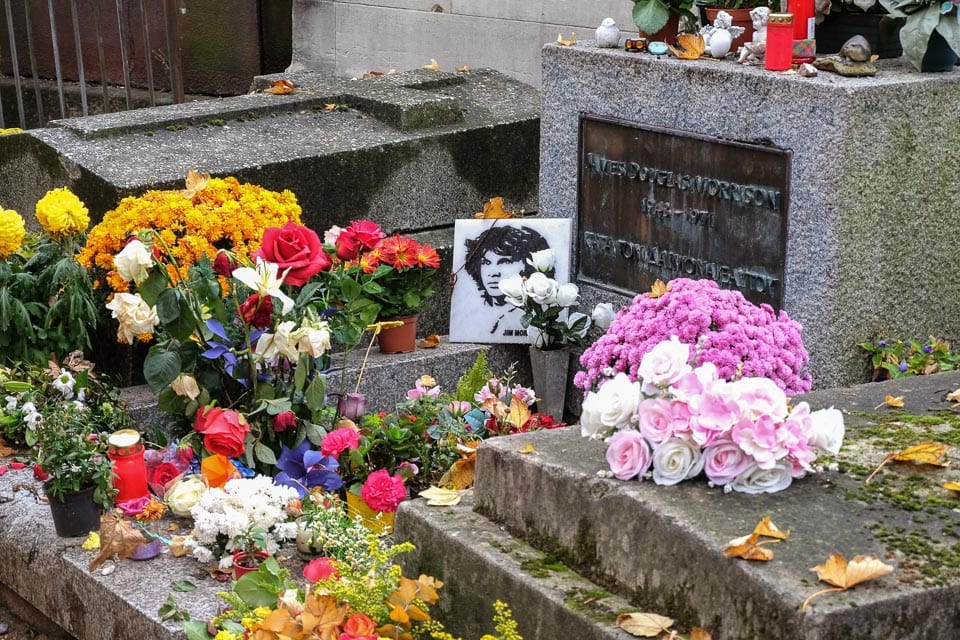 Jim Morrison's grave in Père Lachaise is one of the cemetery's most visited even though it's rather underwhelming and modest- not what you'd expect for such a legendary rock star. Morrison's headstone has changed (and been defaced) throughout the years, but since 1990 has featured a flat stone with a bronze plaque bearing the ancient Greek inscription "ΚΑΤΑ ΤΟΝ ΔΑΙΜΟΝΑ ΕΑΥΤΟY", which translates to "True or faithful to his daimon" or "True to his own spirit."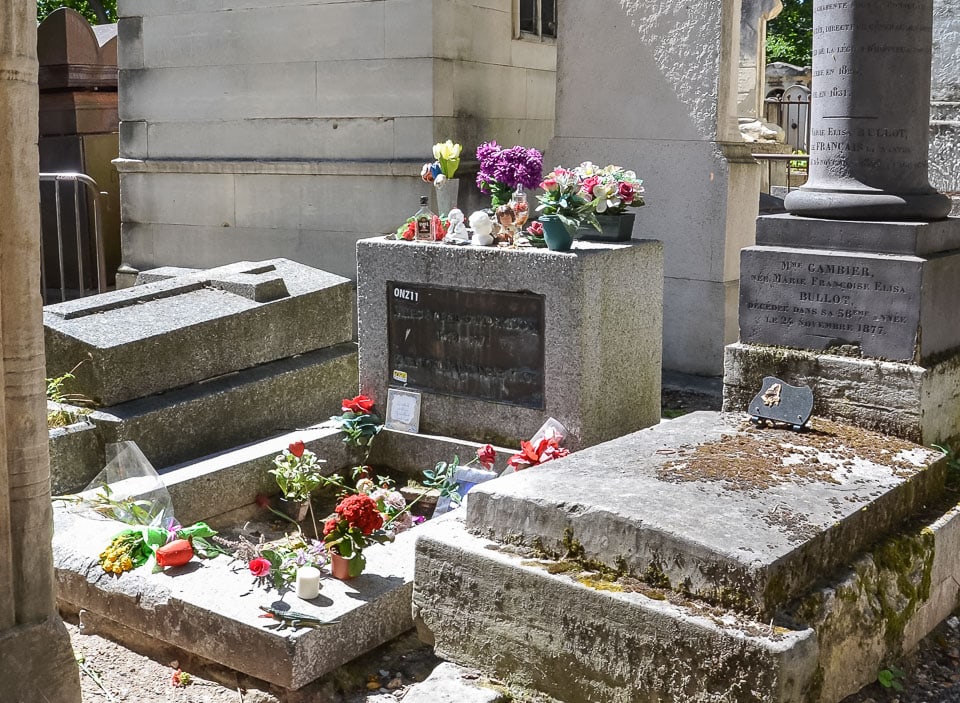 More than 50 years after Morrison's death fans continue to place flowers, photographs, and other offerings on his grave even though a fence was put up to keep people (especially vandals) off it.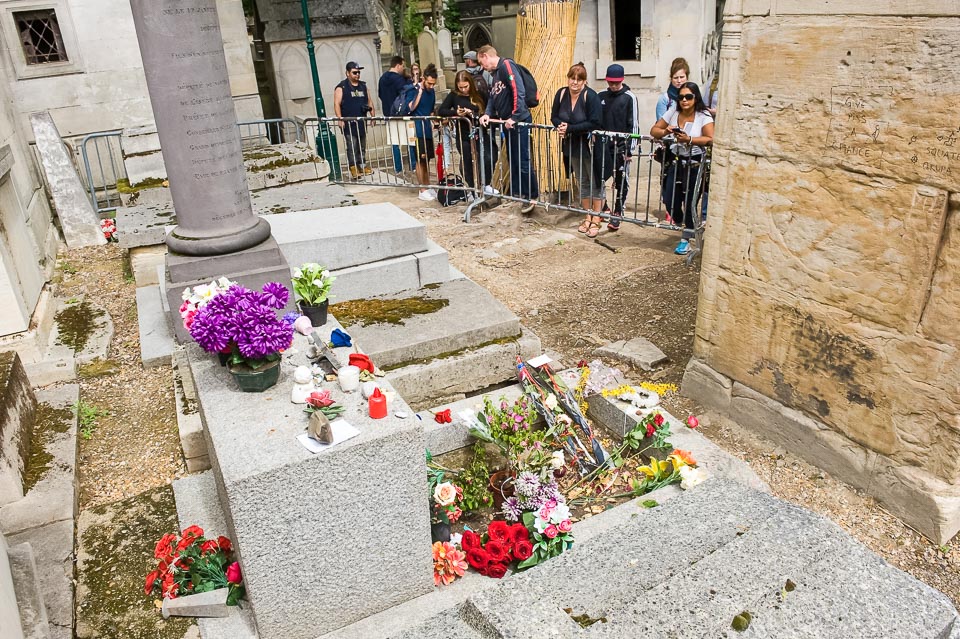 Grave of Frédéric Chopin
Division 11
Another musician who lies among the famous people buried at Père Lachaise Cemetery is Polish pianist and composer Frédéric Chopin.
One of the top musicians of the Romantic period, Chopin was known for his nuanced performances, highly technical compositions, and musical innovation. He moved to Paris in 1831 where he had many opportunities to showcase his musical talents, eventually earning his place among Paris' musical elite.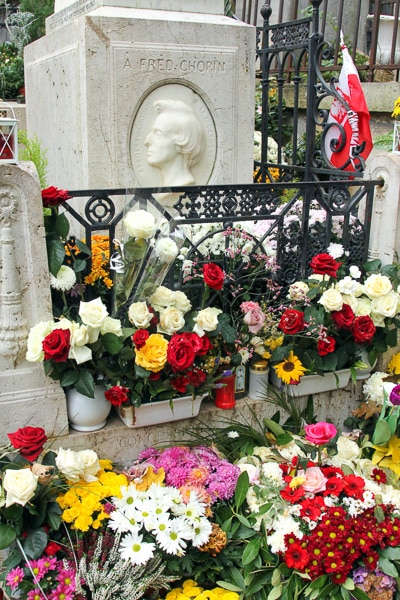 In 1849, after a period of declining health, Chopin died in Paris at the age of 39. Following his funeral at the Church of Sainte-Marie-Madeleine, Chopin's body was buried at Père Lachaise Cemetery but his heart was returned to Poland and placed in a monument at Warsaw's Holy Cross Church.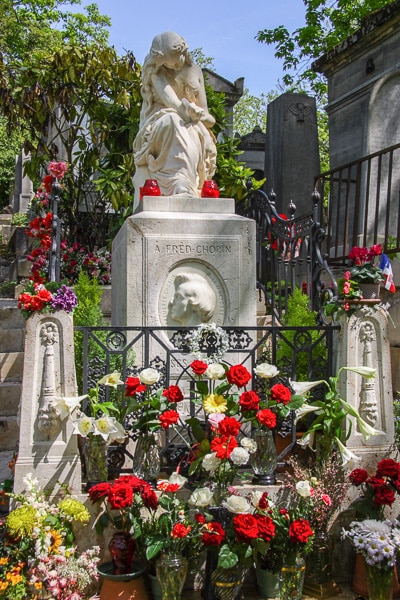 Chopin's grave at Père Lachaise Cemetery is marked with a marble tombstone featuring a portrait medallion and a sculpture of Euterpe, the Greek muse of music. The sculpture of Euterpe sadly looking down at a broken lyre was made by Jean-Baptiste Clésinger and installed in 1850 on the anniversary of Chopin's death. The gravesite is often surrounded by fresh flowers and other gifts from fans.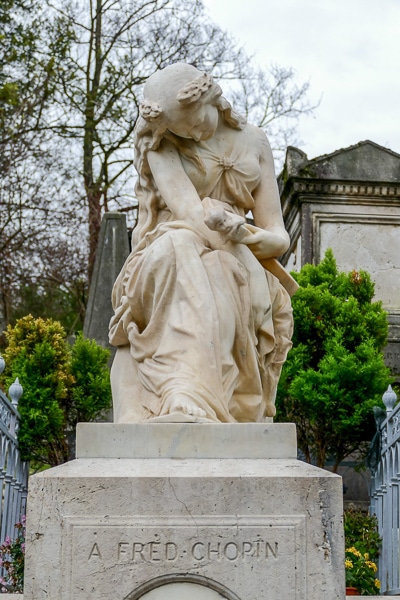 Chopin's enduring musical celebrity and beautifully designed gravesite make his burial place one of the most visited graves in Père Lachaise Cemetery.
Grave of Oscar Wilde
Division 89
One of the most notable writers among the Père Lachaise Cemetery burials is Irish poet, playwright, and novelist Oscar Wilde.
As a prominent figure in the late 19th century literary scene, Wilde was known for his sharp intellect, wit, social commentary, and distinctive style. His popular works include The Importance of Being Earnest and The Picture of Dorian Gray.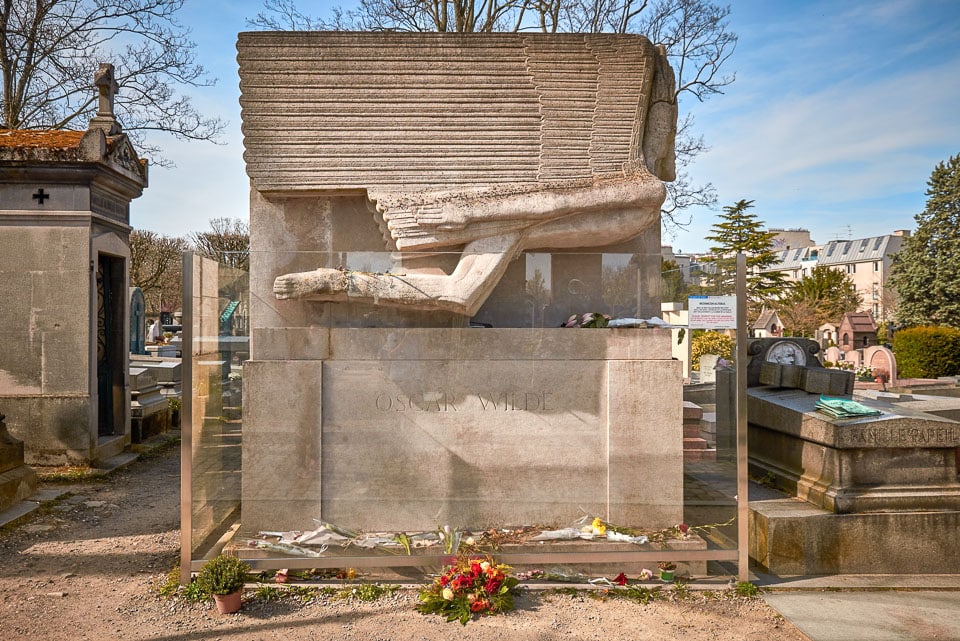 After serving a prison sentence in England for homosexual acts, Wilde immediately fled to France where he lived until his death in 1900 at the age of 46. Initially buried outside of Paris, his remains were transferred to Père Lachaise Cemetery in 1909.
The tomb of Oscar Wilde was designed by sculptor Sir Jacob Epstein and features a relief of a winged angel in flight. The angel is more modernist than traditional and was inspired by Egyptian art, Wilde's poem "The Sphinx", and the winged Assyrian bulls in the British Museum. The epitaph on the tomb's accompanying plinth is a verse from Wilde's poem The Ballad of Reading Gaol.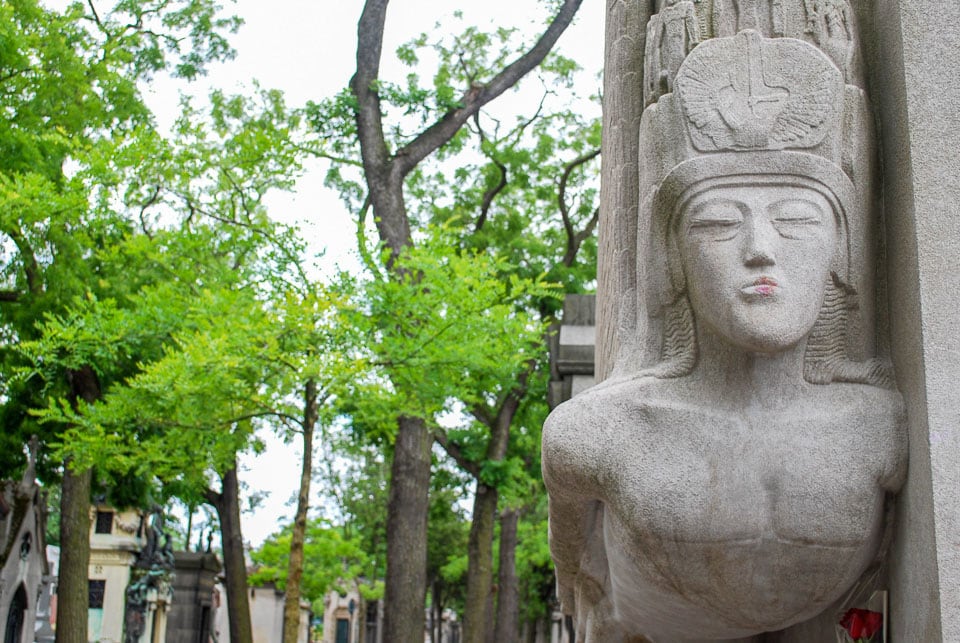 As one of the most famous graves in Père Lachaise Cemetery, Oscar Wilde's tomb attracts crowds of admirers who developed a tradition of leaving lipstick kisses on the monument. The lipstick, graffiti, and subsequent cleaning of the tomb were causing permanent damage to the stone so a glass barrier was put up to protect it.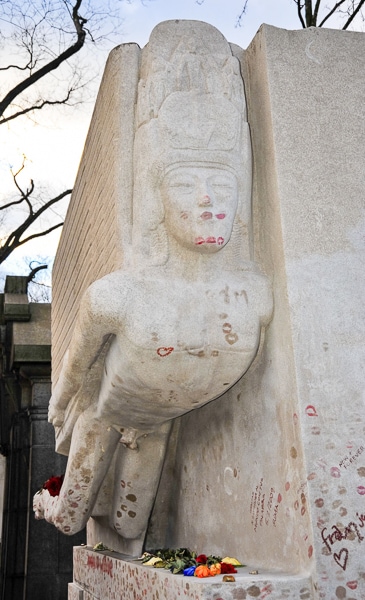 Grave of Marcel Proust
Division 85
Another writer on the list of famous people buried in Père Lachaise Cemetery is French novelist and essayist Marcel Proust.
Best known for his novel In Search of Lost Time, Proust is often considered by fellow writers and literary critics to be one of the greatest authors of 20th century literature. He struggled with poor health throughout his life, dying in 1922 of pneumonia and a pulmonary abscess.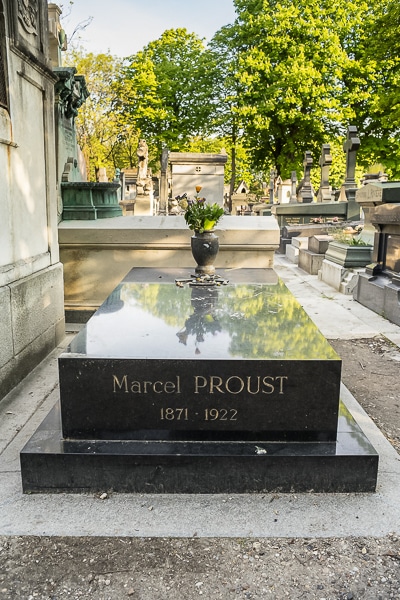 Proust's grave in Père Lachaise Cemetery has a simple black stone slab with his name engraved on the front in gold lettering.
Grave of Eugène Delacroix
Division 49
There are several renowned painters who have graves in Père Lachaise Cemetery including French Romantic artist Eugène Delacroix, one of the last Old Masters of painting.
Delacroix skillfully used light and colour to create emotionally expressive paintings that were influenced by historical events and literary subjects. His most influential work is Liberty Leading the People, a painting of Parisians taking up arms during the 1830 revolution against King Charles X.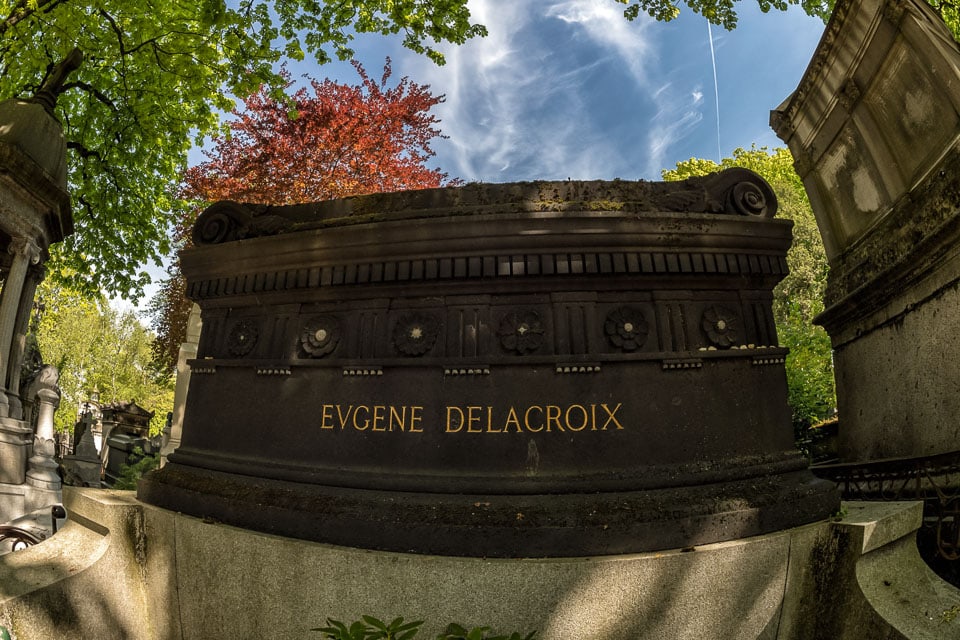 After suffering from a bad throat infection, Delacroix passed away in 1863 and was buried in Père Lachaise Cemetery. His large, dark-coloured tomb sits on a stone base and is decorated with a row of carved flowers.
Grave of Georges Seurat
Division 66
Another notable artist buried in Père Lachaise Cemetery is French painter Georges Seurat.
Seurat was a pioneer of Neo-Impressionism, a movement that started after Seurat's masterpiece A Sunday Afternoon on the Island of La Grande Jatte was first exhibited in Paris. The painting is a fine example of pointillism, a meticulous technique developed by Seurat that uses small dots of pure colour to create a vibrant image.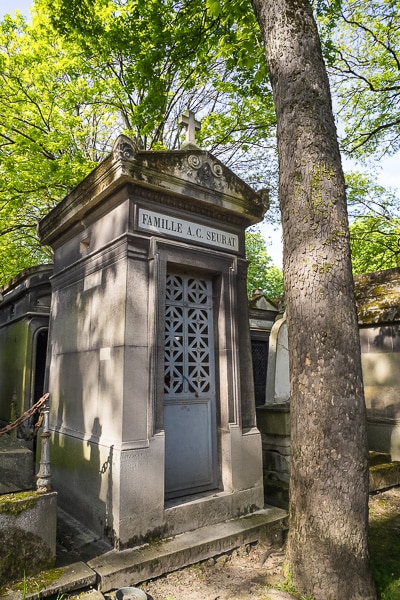 Unfortunately, Seurat had a rather short career, dying at the age of 31 of uncertain causes. On March 31, 1891, one day after his memorial service, Seurat was interred at Père Lachaise Cemetery.
Seurat's remains are in a small family mausoleum on the south side of Avenue des Peupliers, near the intersection with Chemin d'Ornano. The mausoleum has a door decorated with two rows of diamond-shaped cutouts and the words "Famille A.C. Seurat" above. Make sure you peek inside to see the plaque listing the family members buried here.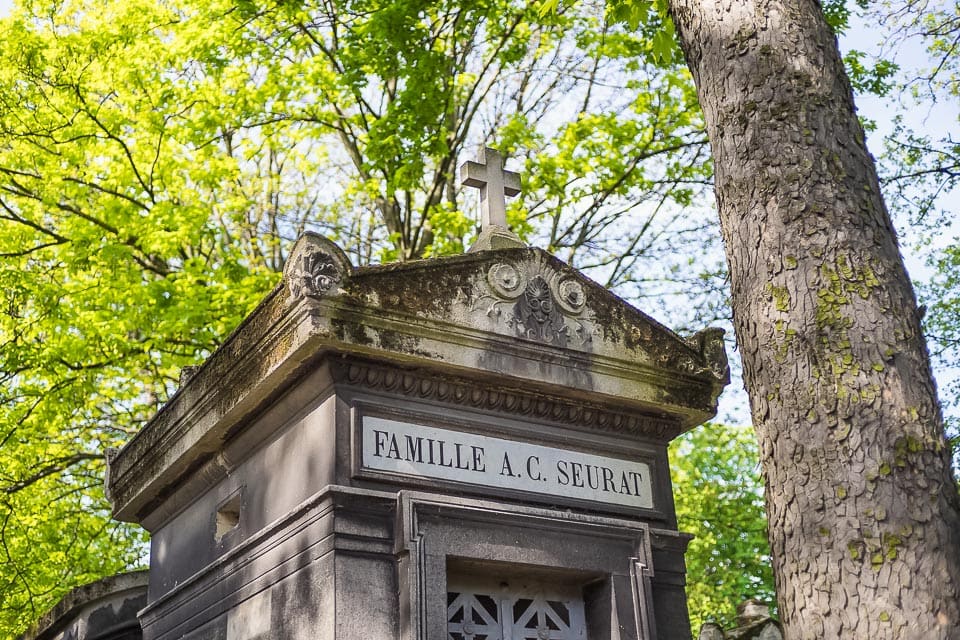 Grave of Edith Piaf
Division 97
The burial site of Edith Piaf, one of France's most internationally recognized singers, is another one of Père Lachaise's famous graves.
Known for her emotive and passionate performances, Piaf rose to prominence performing in the cabaret and modern chanson genres, often singing autobiographical ballads. Her repertoire included the timeless classic La Vie en Rose, which has been covered by many artists since it was first performed in 1946.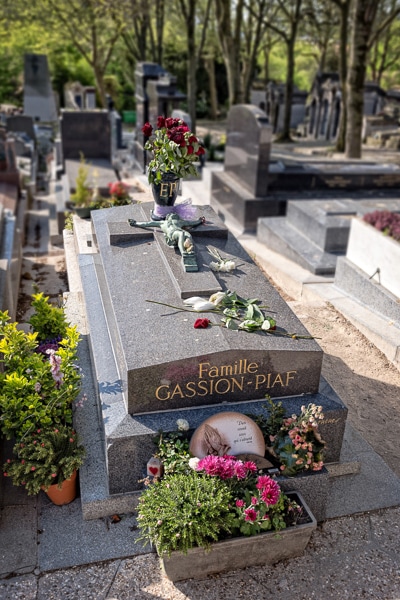 Piaf was buried in Père Lachaise Cemetery after dying of liver cancer in 1963 at the age of 47. She lies in a family grave shared with her father, Louis Alphonse Gassion, and her last husband, Theo Sarapo.
Edith Piaf's grave is covered by a tombstone adorned with a crucifix and a vase with the initials EP. "Famille Gassion-Piaf" is inscribed on the front and the names of Edith and her family are on the side. Piaf's gravesite is one of the most visited graves in Père Lachaise Cemetery and is usually surrounded by flowers, showing how well-loved Edith is after all these years.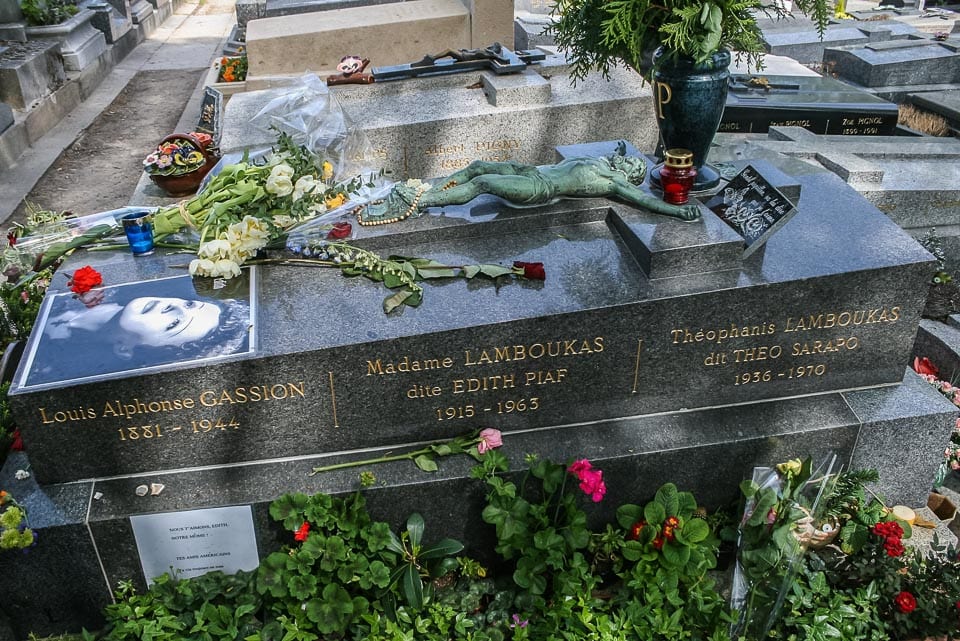 Grave of Honoré de Balzac
Division 48
French novelist and playwright Honoré de Balzac is another influential writer whose final resting place is Père Lachaise Cemetery.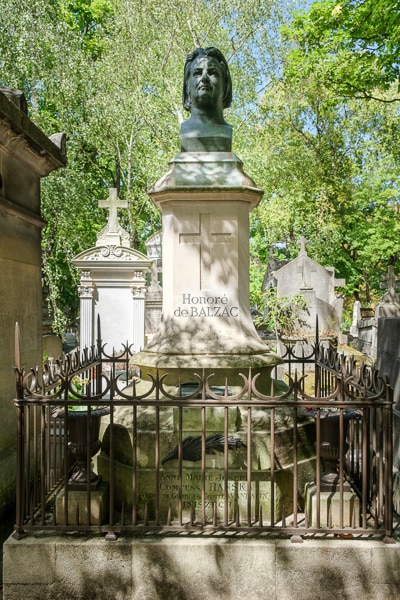 Balzac's writing style was known for its realism, using detailed descriptions of objects and places, complex and nuanced characters, and an unfiltered portrayal of societal structures. His large body of work, much of which formed his masterpiece novel sequence La Comédie humaine, influenced several other acclaimed novelists including Marcel Proust, Charles Dickens, Émile Zola, and Henry James.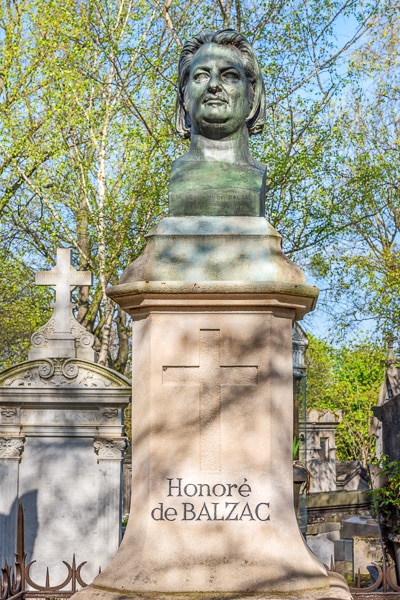 Balzac died in Paris in 1850, aged 51, and his grave is marked by a pedestal topped with a bust of himself.
Grave of Héloise and Abélard
Division 7
Héloise and Abélard are not the most famous people buried in Père Lachaise Cemetery, but their gravesite is one of the most romantic and beautiful.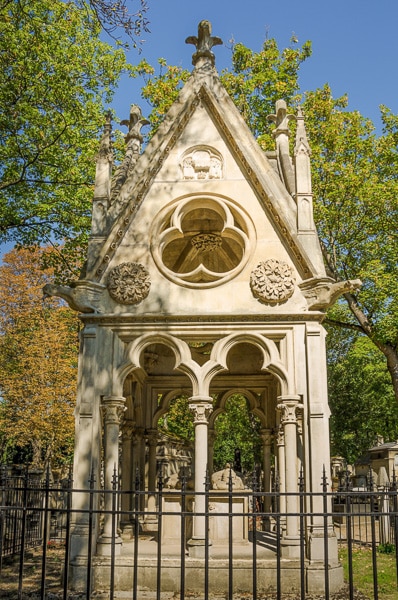 Héloise, a philosopher and writer, and Abélard, a philosopher and theologian, were known in medieval times for their tragic love affair. During their illicit courtship, the couple exchanged love letters, advancing their relationship from student and tutor to husband and wife, marrying in secret. After Héloise's uncle began to publicly discuss the marriage, Abélard sent Héloise to a convent and he became a monk. They lived apart for the rest of their lives but continued exchanging letters.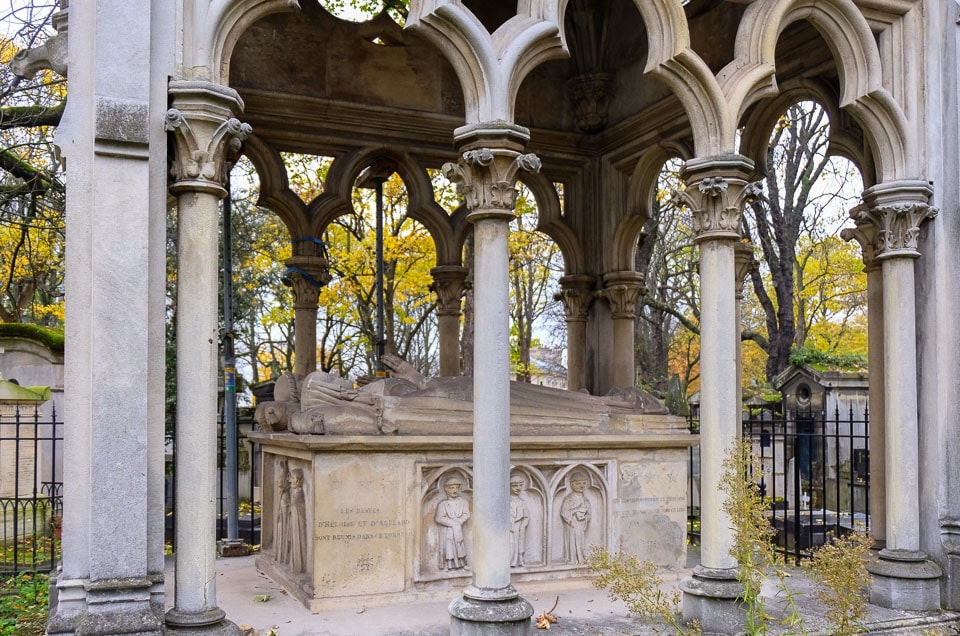 The couple was reunited after death when their remains were allegedly moved to Père Lachaise Cemetery in 1817. A High Gothic canopy covers their tomb on which there is a sculpture of the couple lying side by side, hands pressed together in prayer. Visitors sometimes leave letters at the burial site wishing for everlasting love.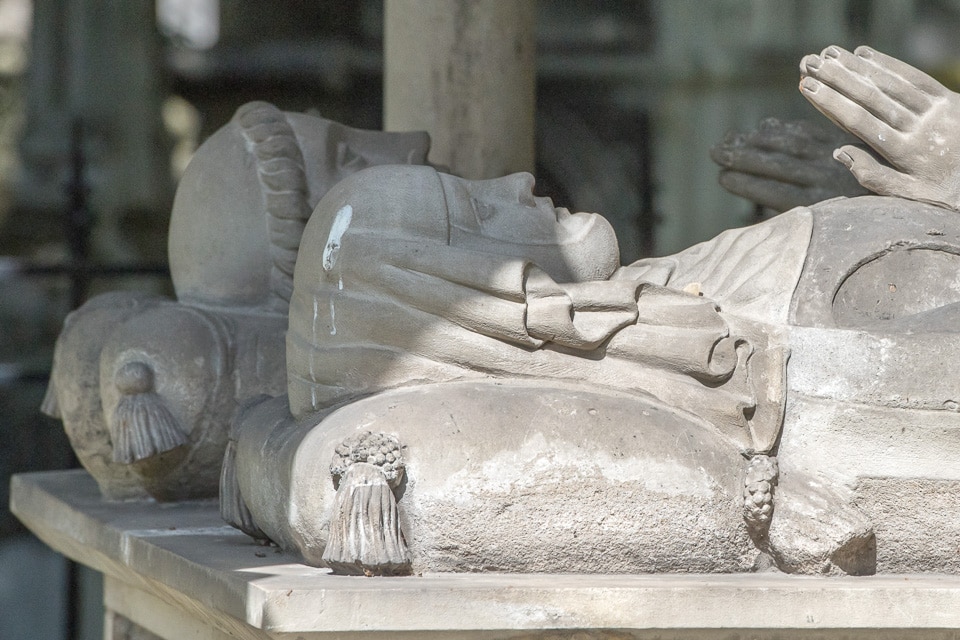 Grave of Théodore Géricault
Division 12
If you like sculptural funerary art, consider visiting the grave of painter and lithographer Théodore Géricault.
Géricault was one of the pioneers of the Romantic movement and his expressive works include portraits and military themes. His best-known painting is The Raft of Medusa which is a dramatic interpretation of the aftermath of a French shipwreck, a contemporary tragedy.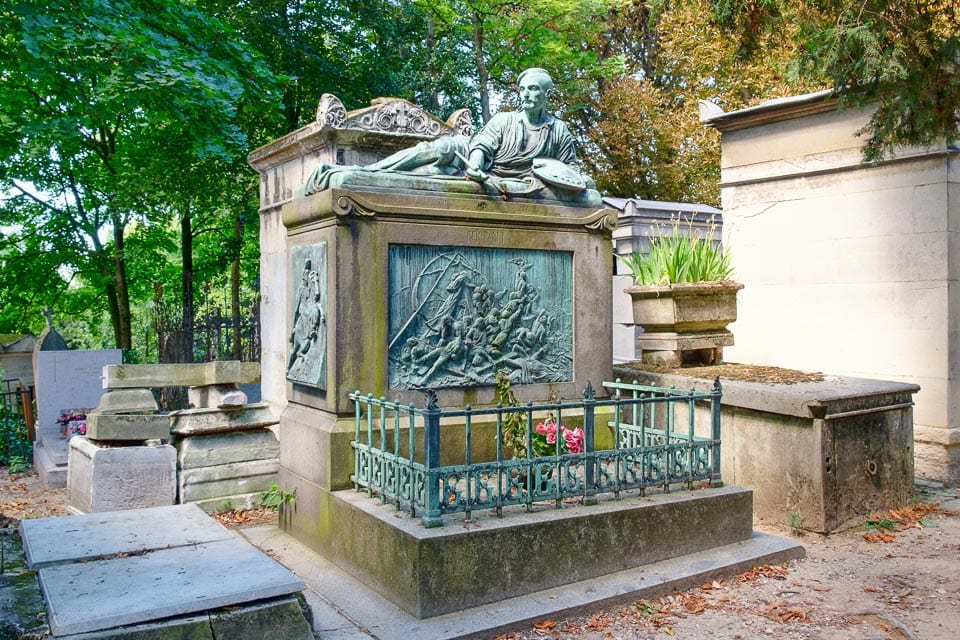 Géricault's tomb honours his profession as an artist, featuring a low-relief panel of the Raft of Medusa and a bronze sculpture of him reclining above holding a paintbrush and palette. He died in Paris in 1824, at 32 years old, after a period of poor health due to tuberculosis.
Grave of Etienne Robertson
Division 8
Another one of the Père Lachaise graves worth searching out, especially if you like more ghoulish funerary art, is that of Etienne Robertson (born Etienne Gaspard Robert in 1763).
Robertson was a physicist specializing in optics who used his knowledge to produce phantasmagoria shows, a type of horror theatre. As a stage magician, Robertson used optical illusions, smoke and mirrors, and mobile magic lanterns to project ghostly images onto pieces of wax-coated gauze. Paris audiences were so terrified by the visual effects that Robertson's first production was shut down by authorities.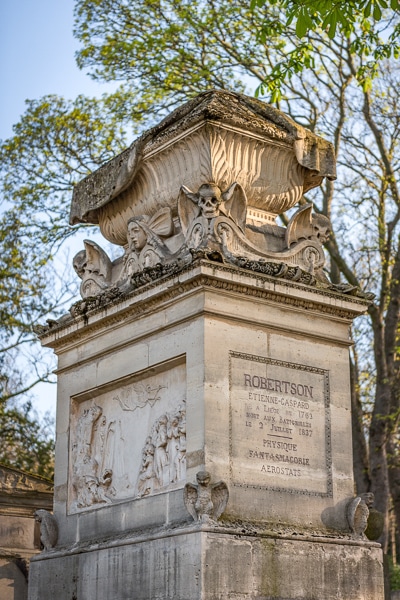 To pay tribute to Robertson's spooky showmanship, his large tomb was decorated with winged skulls and a bas-relief depicting a scene from one of his productions. The carving shows a frightened audience as a skeleton flies overhead while playing a horn.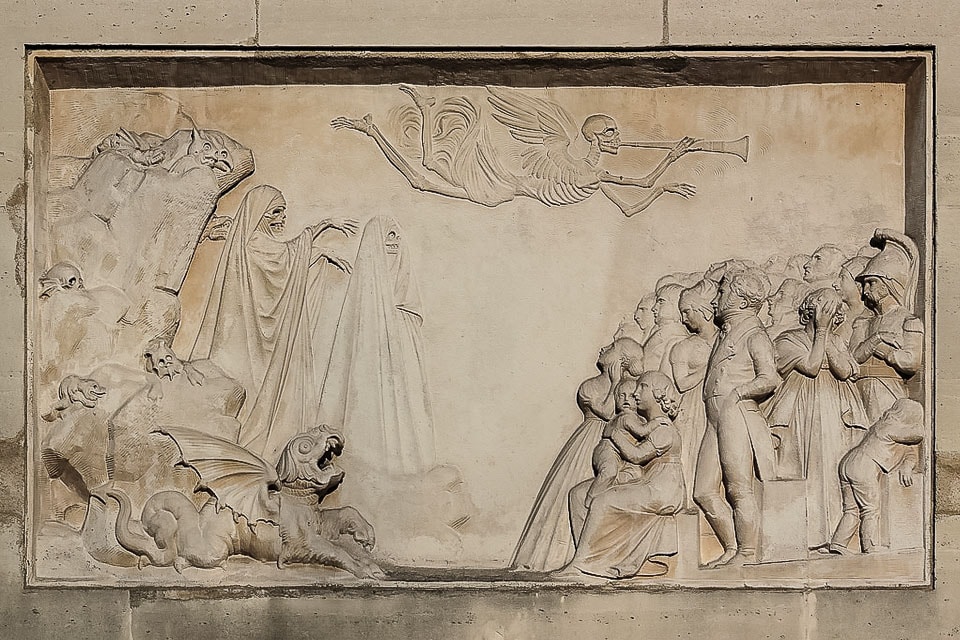 Grave of Victor Noir
Division 92
Among the most famous graves in Père Lachaise Cemetery is that of journalist Victor Noir, popular not so much for the man himself but because of the legend about his grave.
Noir was a French journalist who was shot dead in 1870 by Prince Pierre Bonapart, cousin of Emperor Napoleon III, during a dispute between two newspapers. Public outcry after the murder and acquittal of the prince led to violent demonstrations against an already disliked emperor.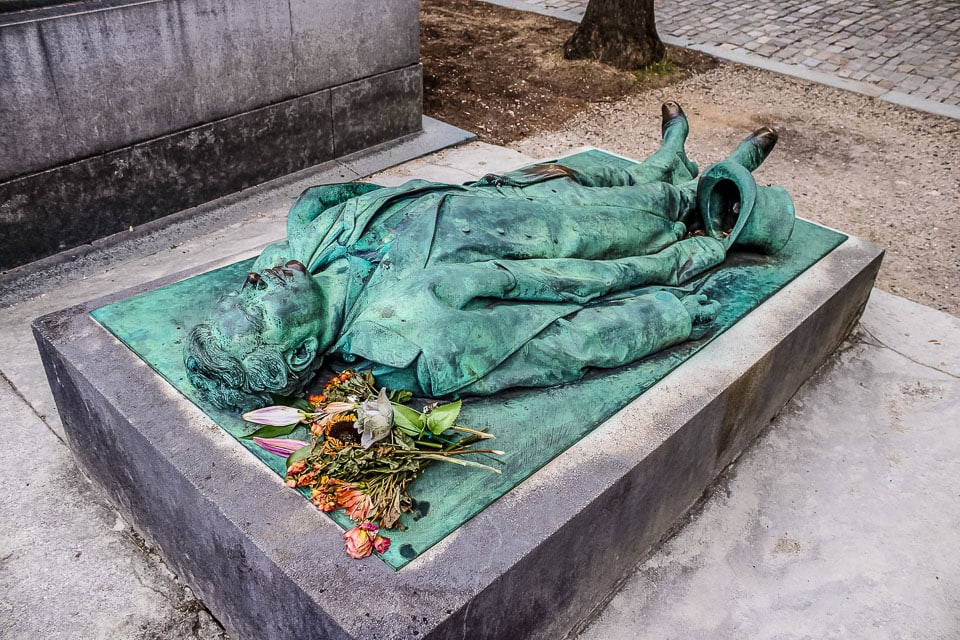 Victor Noir's grave in Père Lachaise Cemetery is covered by a life-sized bronze statue portraying him lying dead in the street. There's a very noticeable bulge in his pants and legend holds that rubbing it will improve fertility. The statue's protuberance and lips are now shiny from being rubbed by superstitious visitors.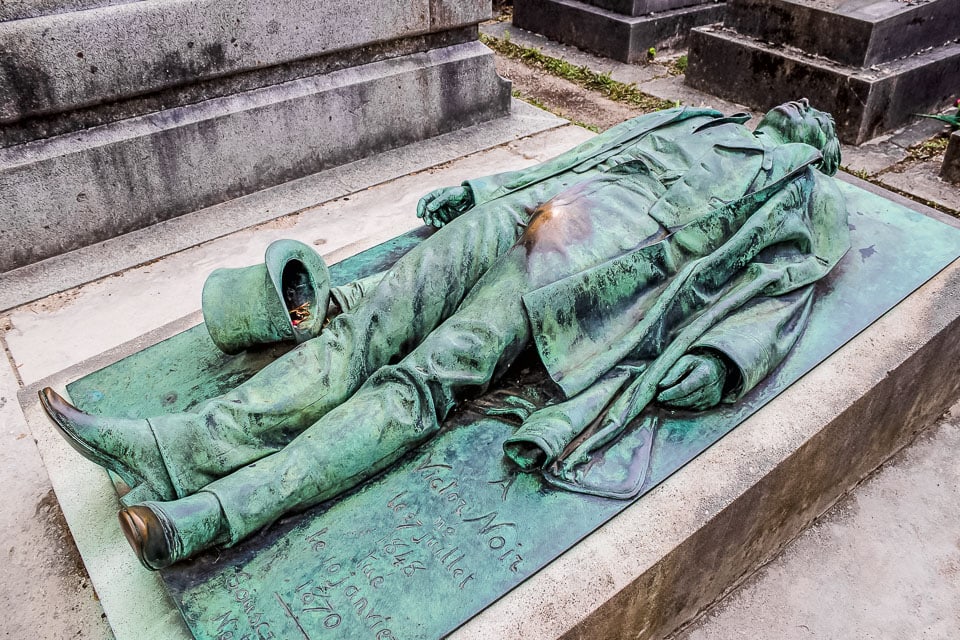 Grave of Georges Rodenbach
Division 15
Another example of interesting graves in Père Lachaise Cemetery is the gravesite of Belgian poet and novelist Georges Rodenbach.
Just like his writing, Rodenbach's grave portrays romance and tragedy with a bronze figure of himself holding a rose above his head as he bursts out of the top of his tomb.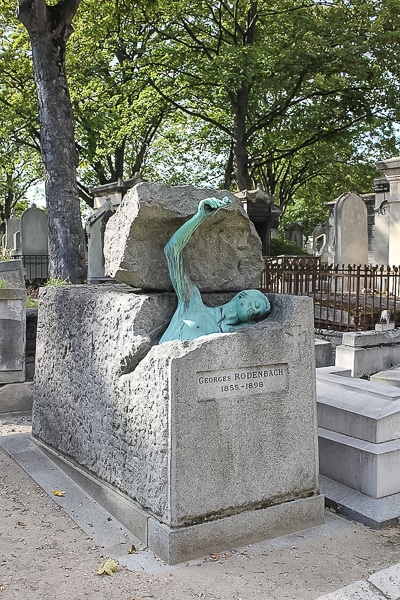 Grave of Louis Visconti
Division 4e
Architect Louis Visconti, who worked in Paris designing public buildings, squares, fountains, and residences, is another one of the notable Père Lachaise Cemetery burials.
Some of Visconti's best known projects include designing Napoleon's tomb at Les Invalides, Fontaine Molière (a fountain in the 1st arrondissement commemorating playwright Molière), Place Saint Sulpice and its Fountain of the Four Bishops, and Fontaine Louvois (a fountain in the 2nd arrondissement paying homage to the four great rivers of France).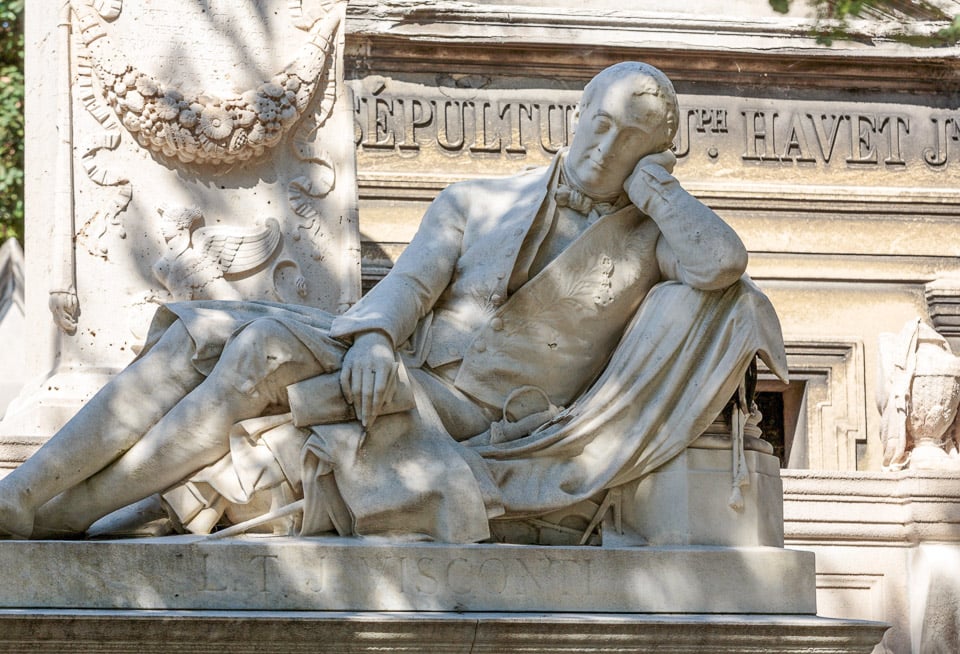 Visconti was buried in Père Lachaise Cemetery after dying of a heart attack in 1853. His tomb is surrounded by a wall and has a life-sized sculpture of himself reclining on top.
Graves of Molière and Jean de La Fontaine
Division 25
The graves of Molière and La Fontaine are two of the original celebrity graves in Père Lachaise Cemetery. Famous writers of their time, their bodies were reburied at Père Lachaise in 1817 as part of a promotional campaign to attract burials to the new cemetery.
Molière, born Jean-Baptiste Poquelin, was a playwright, actor, and director known for his comedic works. Even today, long after his death in 1673, he is regarded as one of the greatest French writers. La Fontaine gained fame through writing poetry and fables. He died in 1695 and is one of the most popular French poets of the 17th century.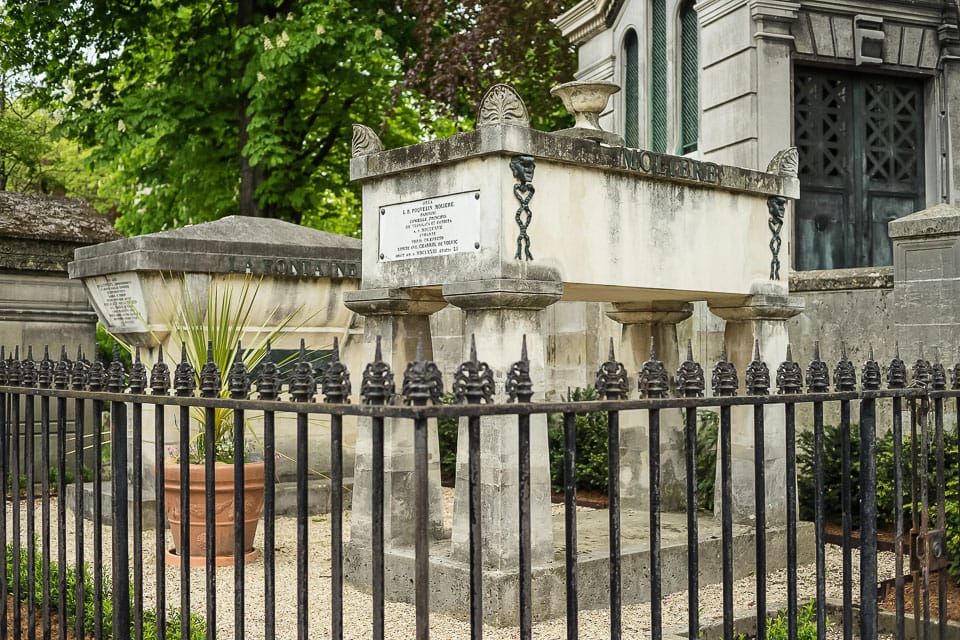 The large tombs of Molière and La Fontaine stand side by side in Père Lachaise Cemetery, sharing a space surrounded by shrubs and a decorative iron fence.
Grave of Antoine-Augustin Parmentier
Division 39
In a city known for its gastronomy, it's only fitting that a pioneer in nutritional chemistry be buried in Père Lachaise Cemetery.
Antoine-Augustine Parmentier was a pharmacist and agronomist best known for popularizing the potato as a food source for humans when it was previously thought to cause leprosy and was only used as animal feed. Parmentier also developed a method for extracting sugar from sugar beets and a cost-efficient way of making bread.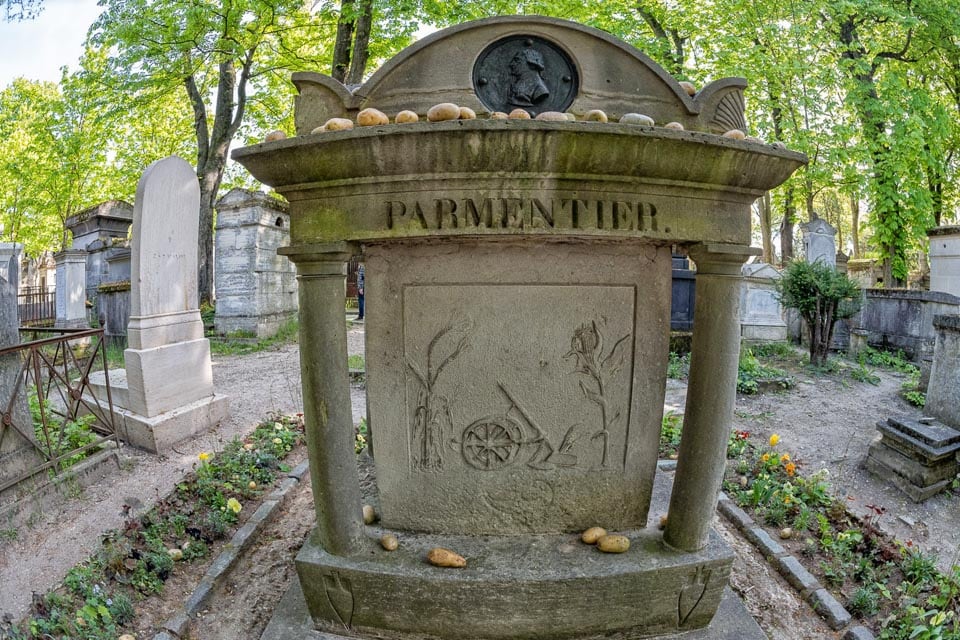 Parmentier died in 1813 at the age of 76. To honour his biggest achievement, Parmentier's gravesite is surrounded by potato plants and visitors often leave potatoes on top of his tomb.
Grave of Fernand Arbelot
Division 11
While Fernand Arbelot is not one of the famous people buried at Père Lachaise Cemetery, his grave is certainly a unique piece of funerary art.
Very little is known about Arbelot and the circumstances of his death in 1942, but legend states that he wanted to gaze at his wife's face from the grave for all eternity. Arbelot's tomb design reflects his wishes, depicting him lying on his back holding the disembodied head of his crying wife looking down at him. Some may find this romantic, while others will think it's creepy, so you'll have to visit his grave to decide for yourself.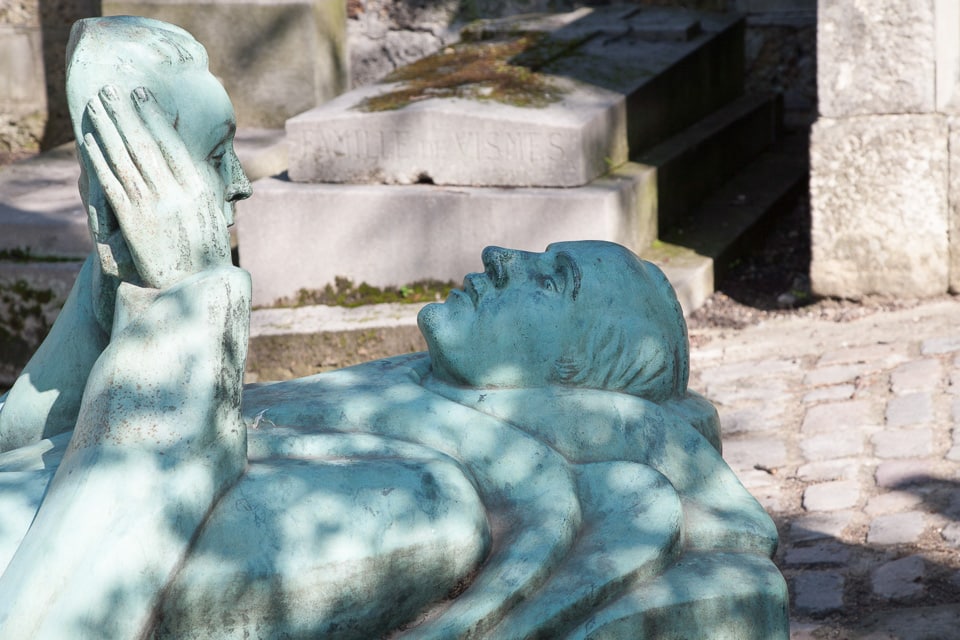 Who Else is Buried in Père Lachaise Cemetery?- More Famous People Buried at Père Lachaise
Since there are so many notable Père Lachaise Cemetery burials, here are some more people buried at Père Lachaise you may want to seek out during your visit.
Actors, Musicians, Composers and Performers
Jane Avril (1868-1943)- French can-can dancer at the Moulin Rouge (Division 19)
Vincenzo Bellini (1801-1835)- Italian opera composer (Division 11)
Sarah Bernhardt (1844-1923)- French stage and motion picture actress (Division 44)
Luigi Cherubini (1760-1842)- Italian composer (Division 11)
France Clidat (1932-2012)- French pianist (Division 13)
Isadora Duncan (1877-1927)- American dancer and choreographer (Division 87 in the Columbarium)
Marcel Marceau (1923-2007)- mime artist and actor (Division 21)
DJ Mehdi (1977-2011)- French DJ and musician (Division 73)
Yves Montand (1921-1991)- Actor and singer (Division 44)
Michel Petrucciani (1962-1999)- jazz composer and pianist (Division 11)
Simone Signoret (1921-1985)- actress (Division 44)
Mano Solo (1963-2010)- French singer, songwriter, and guitarist (Division 10)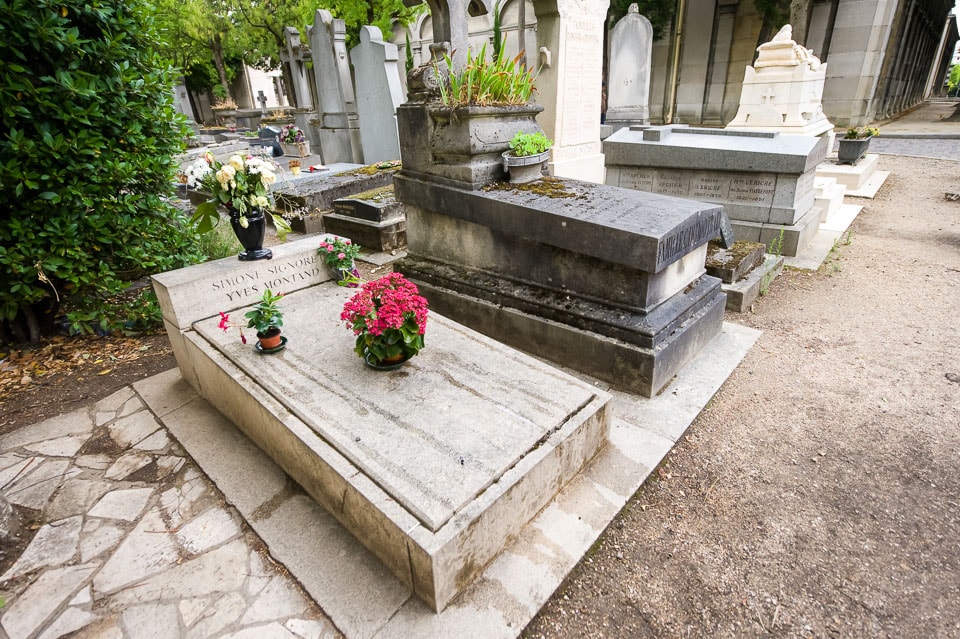 Writers
Guillaume Appollinaire (1880-1918)- poet, novelist, playwright, short story author, and art critic (Division 86)
Miguel Angel Asturias (1899-1974)- Guatemalan poet, novelist, playwright, journalist, and recipient of the Nobel Prize in Literature (Division 10)
Colette (1873-1954)- French author/novelist (Division 4)
Gertrude Stein (1874-1946)- American writer (Division 94)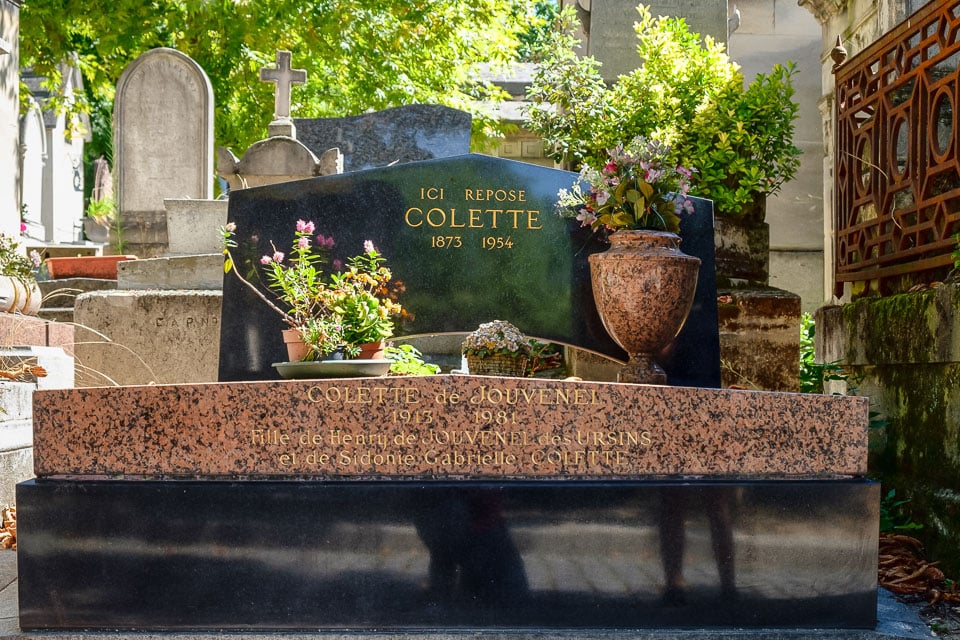 Artists
Arman (1928-2005)- conceptual artist (Division 11)
Camille Corot (1796-1875)- painter (Division 24)
Honoré Daumier (1808-1879)- painter, sculptor, and cartoonist (Division 24)
Giuseppe De Nittis (1846-1884)- Italian painter (Division 11)
Gustave Doré (1832-1883)- printmaker, painter, illustrator, and sculptor (Division 22)
Lucien Gibert (1904-1988)- sculptor (Division 61)
Marie Laurencin (1883-1956)- painter and printmaker (Division 88)
Amedeo Modigliani (1884-1920)- Italian painter and sculptor (Division 96)
Camille Pissarro (1830-1903)- painter (Division 5)
Pierre-Joseph Redouté (1759-1840)- Belgian painter and botanist (Division 28)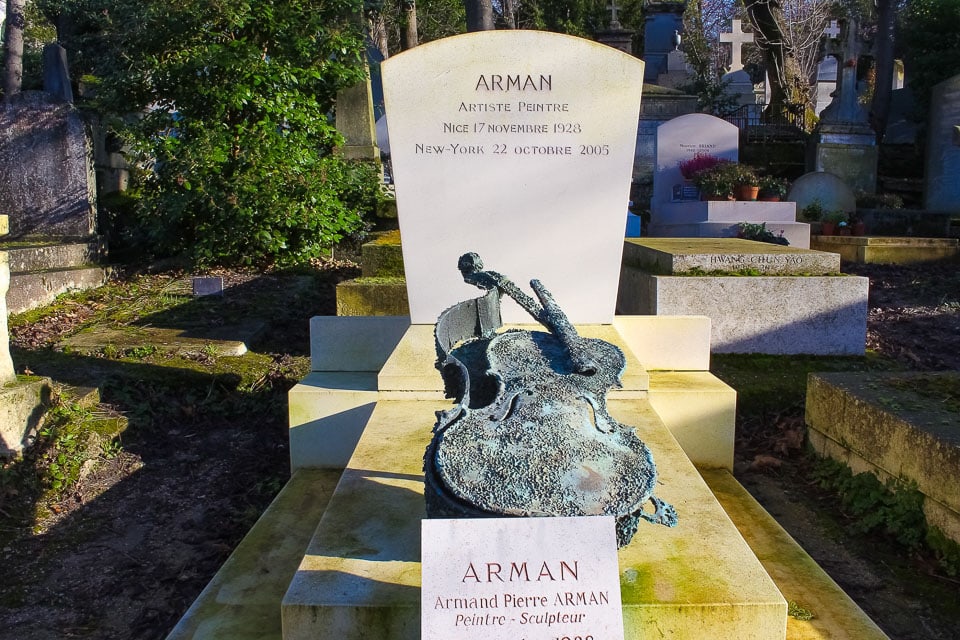 Politicians and Government Officials
Félix Faure (1841-1899)- President of France (Division 4)
Georges-Eugène Haussmann (1809-1891)- French official who served as prefect of Seine, Member of the Senate, Member of the Chamber of Deputies, and an urban planner (Division 4)
Ferdinand de Lesseps (1805-1894)- French diplomat and developer of the Suez Canal (Division 6)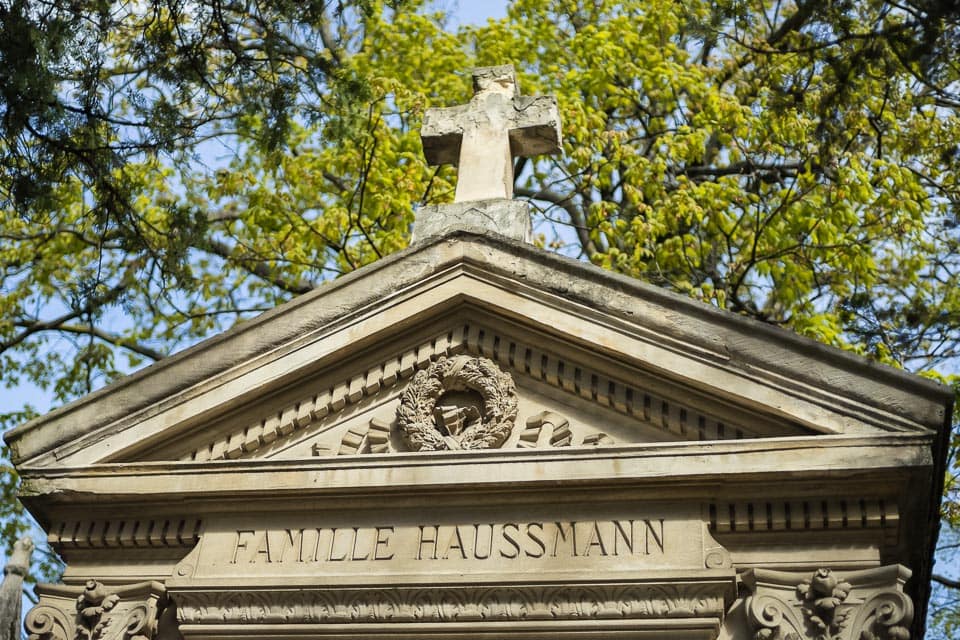 Scientists, Inventors, and Engineers
Auguste Bain (1856-1916)- inventor and manufacturer of various cutting devices (Division 93)
Fulgence Bienvenue (1852-1936)- civil engineer who designed and developed the Paris Metro (Division 82)
Samuel Hahnemann (1755-1843)- doctor and founder of homeopathy (Division 19)
François Raspail (1794-1878)- chemist, physician, physiologist, and later a politician. (Division 18)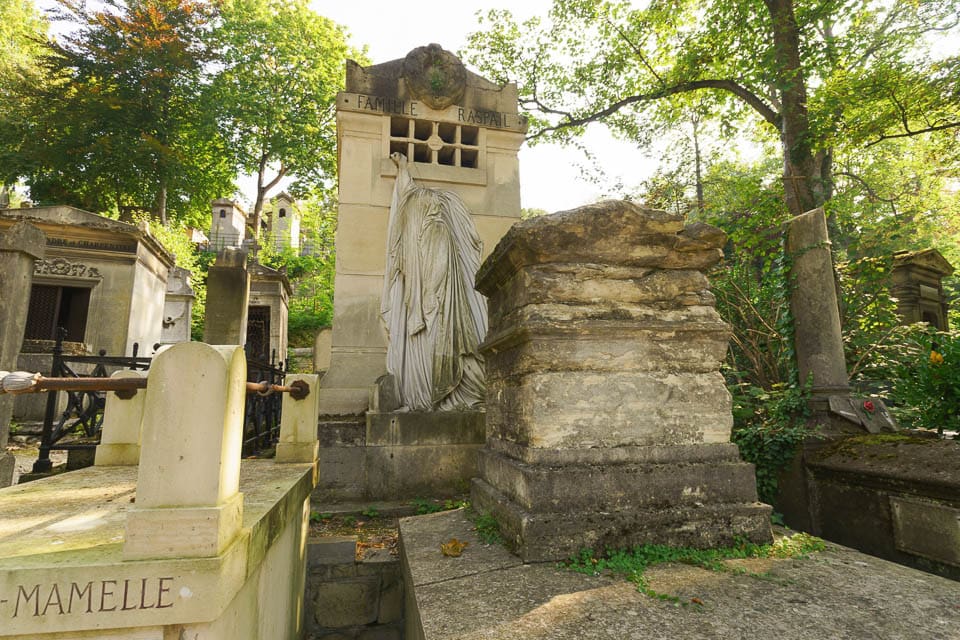 Others
Jean-François Champollion (1790-1832)- Egyptologist and decipherer of hieroglyphics (Division 18)
Cino del Duca (1899-1967)- magazine publisher and film producer (Division 53)
Maximilien Foy (1775-1825)- French military leader (Division 28)
Sophie Germain (1776-1831)- mathematician (Division 16)
Ted Lapidus (1929-2008)- French fashion designer (Division 53)
Etienne Goeffroy Saint-Hilaire (1769-1832)- naturalist (Division 19)
Sir Richard Wallace (1818-1890)- philanthropist, creator of Paris' Wallace fountains (Division 28)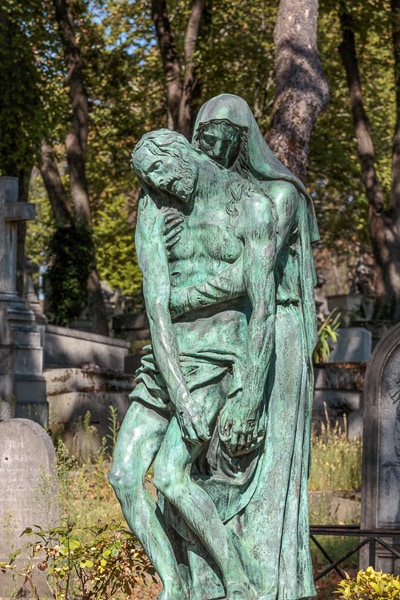 Tours of the Père Lachaise Cemetery Famous Graves
One of the best ways to learn about the Père Lachaise Cemetery burials is to take a tour with a local guide. During a tour you'll discover who is buried in Père Lachaise Cemetery, hear stories about their lives, and learn about the funerary art decorating their graves.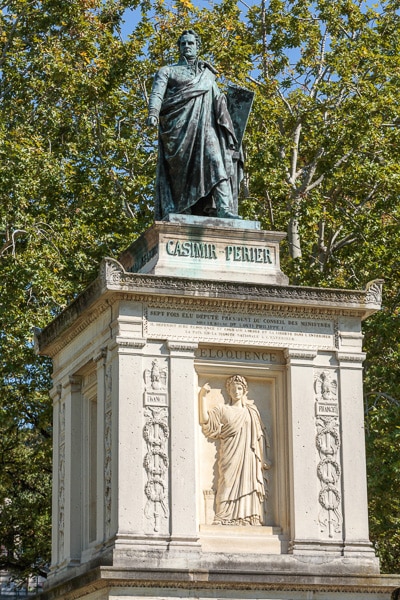 Tours are a good idea if it's your first time visiting or you're short on time because the guides know where the most interesting and famous graves in Père Lachaise Cemetery are.
If you prefer to do a self-guided tour, there are some apps you can download with interactive maps and custom walking routes to follow.
Practical Information for Visiting Graves in Père Lachaise Cemetery
Location: Père Lachaise Cemetery is located in Paris' 20th arrondissement.
Hours: Opening hours of Père Lachaise Cemetery change depending on the season, but typically it opens between 8:00 and 9:00 am and closes at 5:30 or 6:00 pm. The cemetery is open 7 days a week. You can confirm current hours here.
Admission Fees: None
Map of Père Lachaise Famous Graves: You can download a map of Père Lachaise Cemetery with locations of famous graves here (English) or here (French). The city's website also has thematic maps based on different interests here. Printed maps are not given out at the cemetery, but there are maps posted on signs at information points by the entrances.
Finding the divisions is easy once you have a map because the cemetery has street signs with the path names and division numbers.
Tours: There are many tours of Père Lachaise Cemetery offered by local guides and tour companies. Here is where you can book Père Lachaise Cemetery tours.
Visitor Guidelines: When visiting Père Lachaise Cemetery, remember that this is an active cemetery where people come to grieve. Don't disturb the tranquility or sit or climb on the funerary monuments.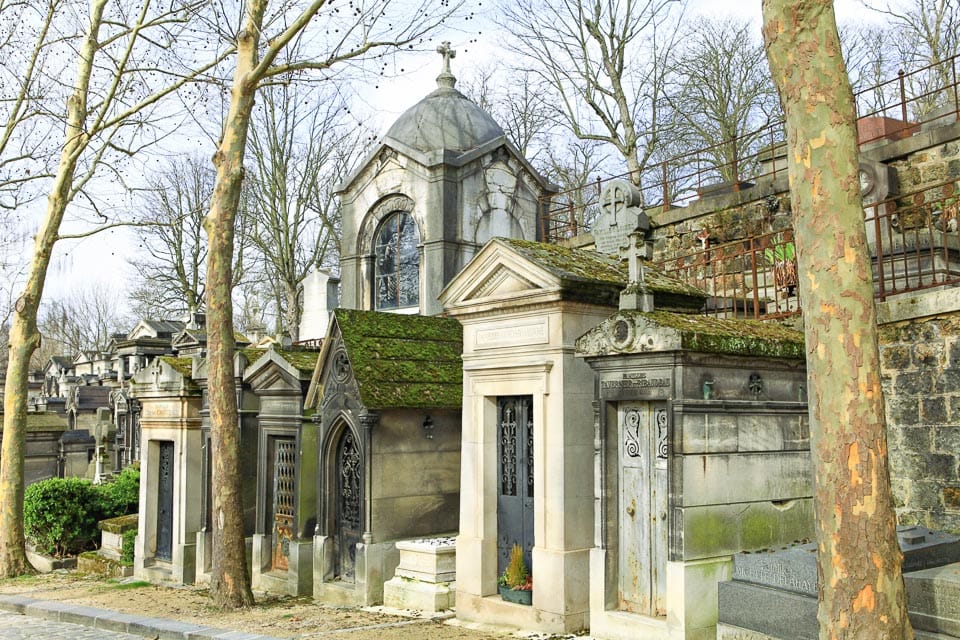 Paris Accommodations
If you're planning to visit Père Lachaise Cemetery and need accommodations, here is a list of hotels in Paris. Please consider booking your Paris accommodations through the included link. It costs nothing extra and helps support this website.
More Burial Places in Paris