Cemeteries in Paris- Historic Paris Cemeteries to Visit
Purchases made through links earn us a small commission, at no extra cost to you.
Paris is known for its historic sites, attractive architecture, and world-class museums, but one of the most fascinating aspects of the city is its cemeteries and the stories they hold.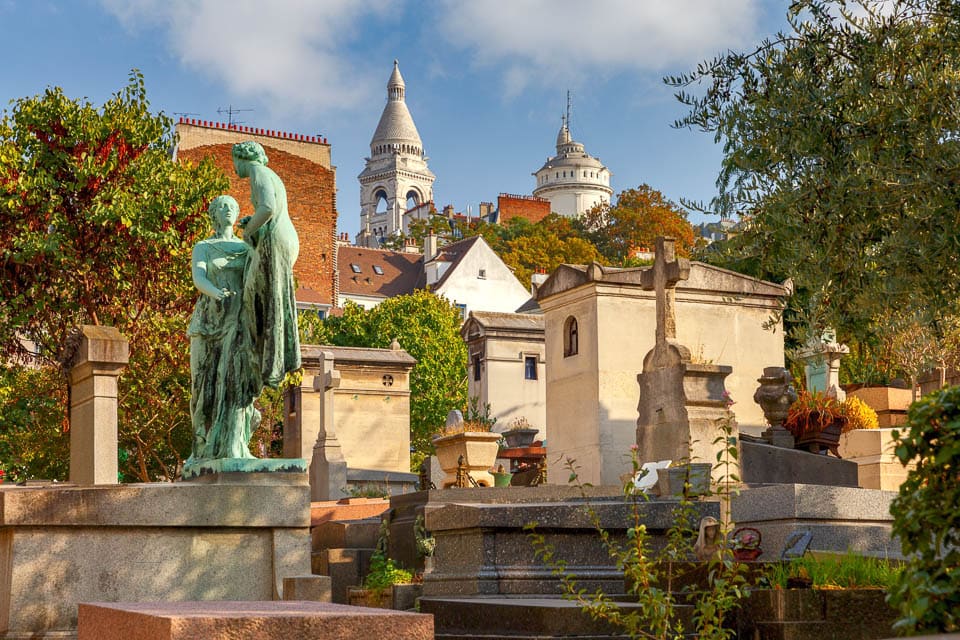 From sprawling prestigious necropolises to small lesser-known burial places, visiting cemeteries in Paris is a great way to learn about the history of the city while discovering generations of its most illustrious residents.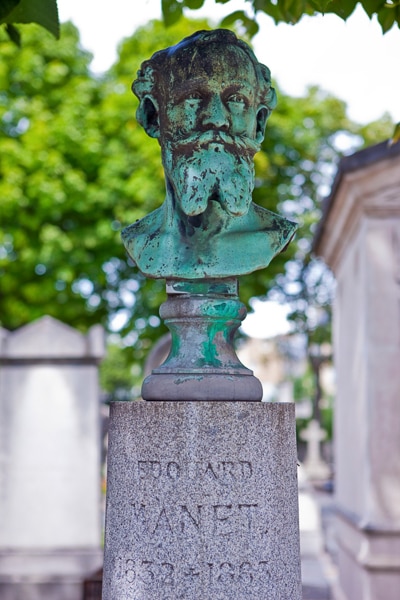 Parisian cemeteries not only offer an unconventional glimpse into the lives and deaths of prominent French figures, but they showcase centuries of exquisite funerary art from the Victorian era to the modern day.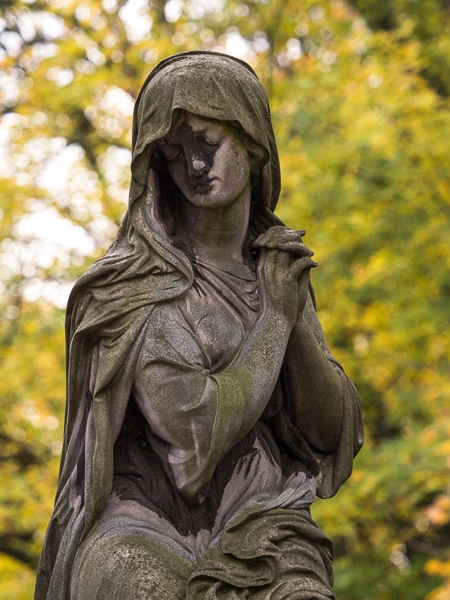 Before we share some of the best cemeteries in Paris to visit, here's a brief history of the city's burial grounds.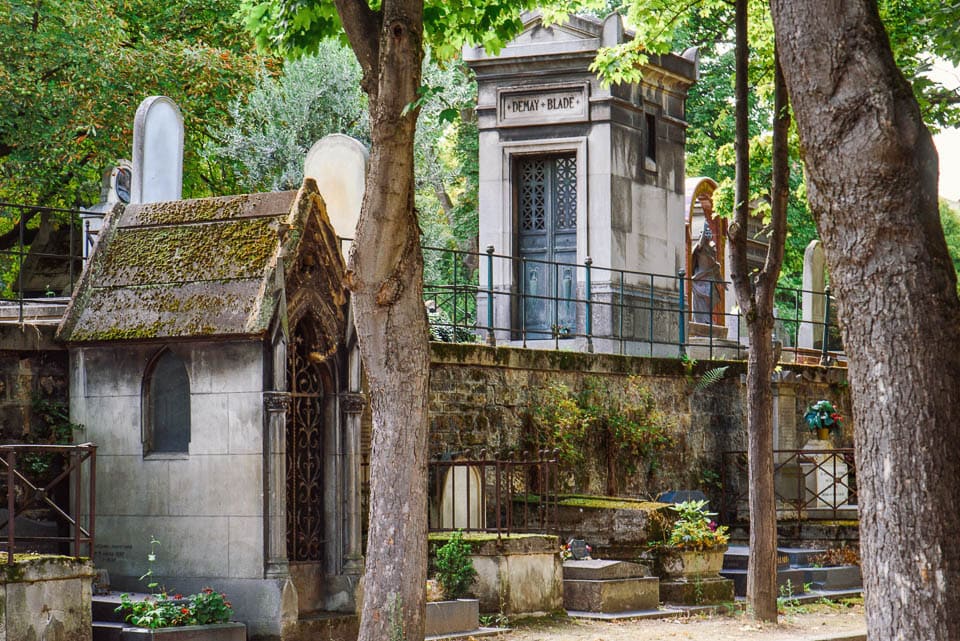 History of Paris Cemeteries
Before the 19th century, Parisians were buried in church graveyards at dozens of locations across the city. The oldest and largest of these was Holy Innocents' Cemetery, which had been used since the Middle Ages.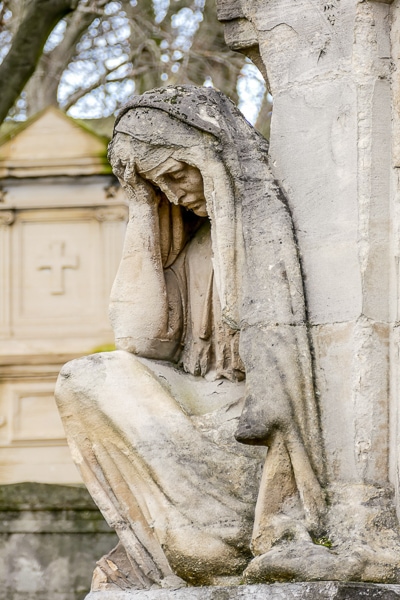 As the end of the 18th century approached, these parish graveyards became overused and unsanitary. Holy Innocents' Cemetery was literally overflowing with bodies causing its surrounding walls to collapse.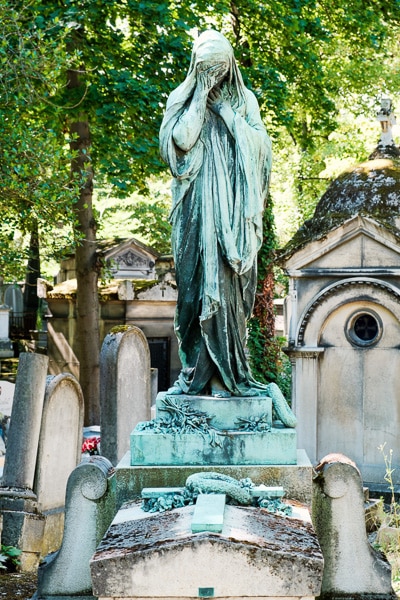 As a result, these crowded cemeteries were ordered to be closed and burials within the city limits were forbidden after 1780. Over the next several years, bodies were exhumed and the bones were moved to a new ossuary- the Paris Catacombs.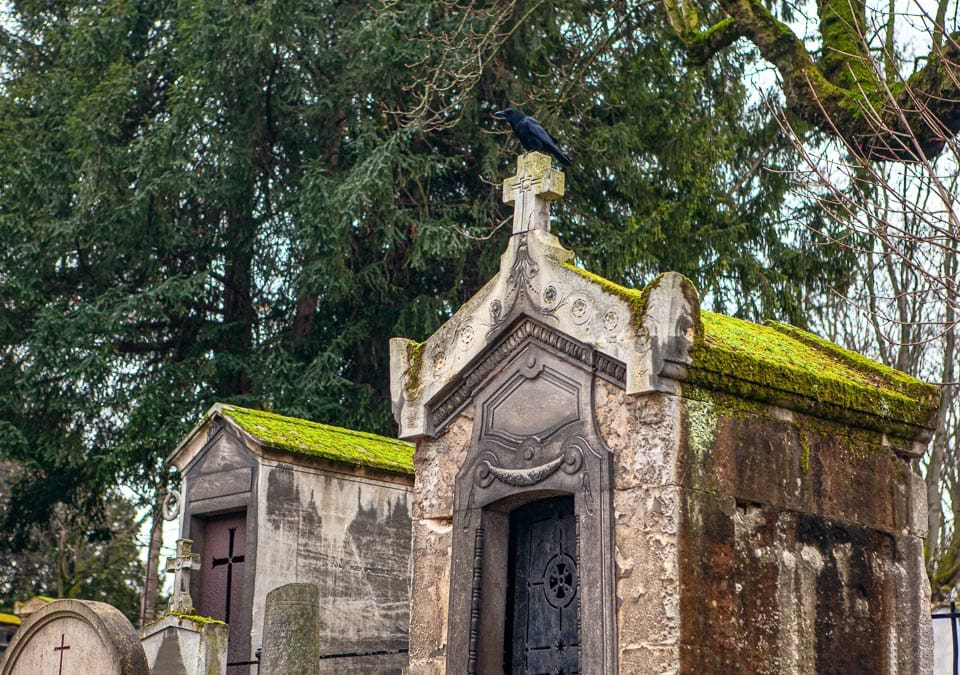 In need of some new burial places, three large necropolises were created on the outskirts of the city- Père Lachaise in 1804, Montparnasse in 1824, and Montmartre in 1825. When Paris expanded its boundaries in 1860, these cemeteries were now within city limits, along with cemeteries of the newly annexed municipalities.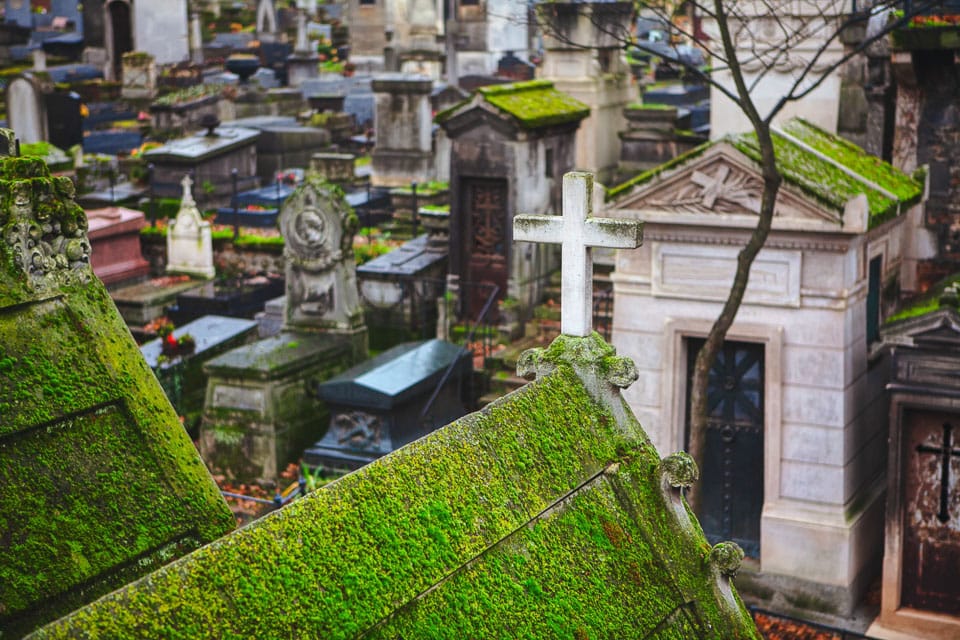 Cemeteries in Paris- Historic Parisian Cemeteries to Visit
Today Paris has 14 public cemeteries within the city limits (intra-muros) and 6 cemeteries in neighbouring Ile-de-France municipalities (extra-muros). These 20 cemeteries are managed and maintained by the Service des Cimetières de la Ville de Paris. There are additional cemeteries in Paris that aren't owned by the city.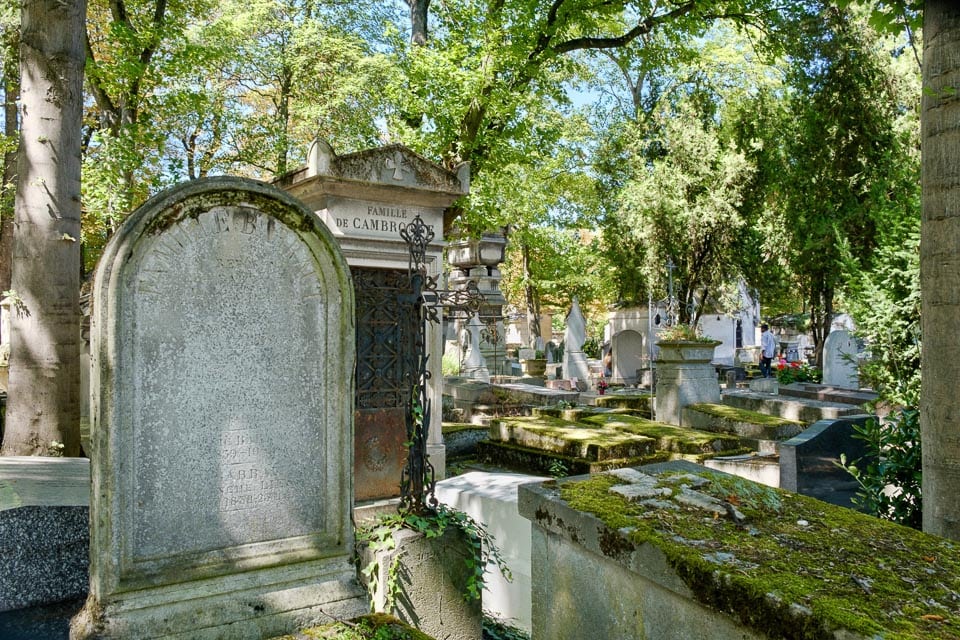 An impressive number of Paris' cemeteries date back to the first half of the 1800s or earlier, so they are a treasure trove of history. Mature trees, shrubs, and flowers bring natural beauty and life to the rows of stone memorials, making the cemeteries wonderful places to go for a walk.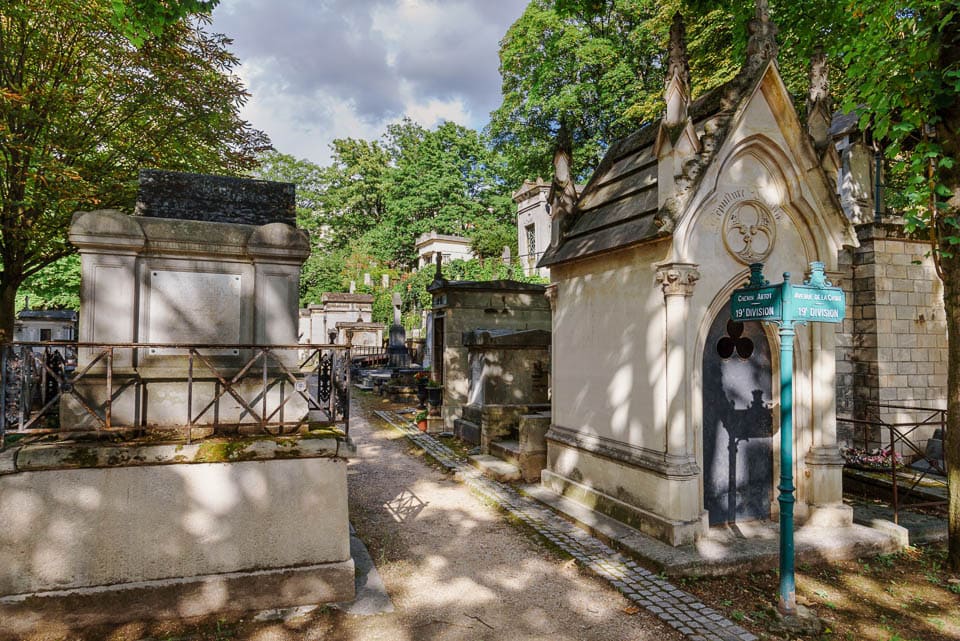 If you're interested in discovering Paris' historic necropolises, here are some of the most beautiful and interesting cemeteries in Paris to visit.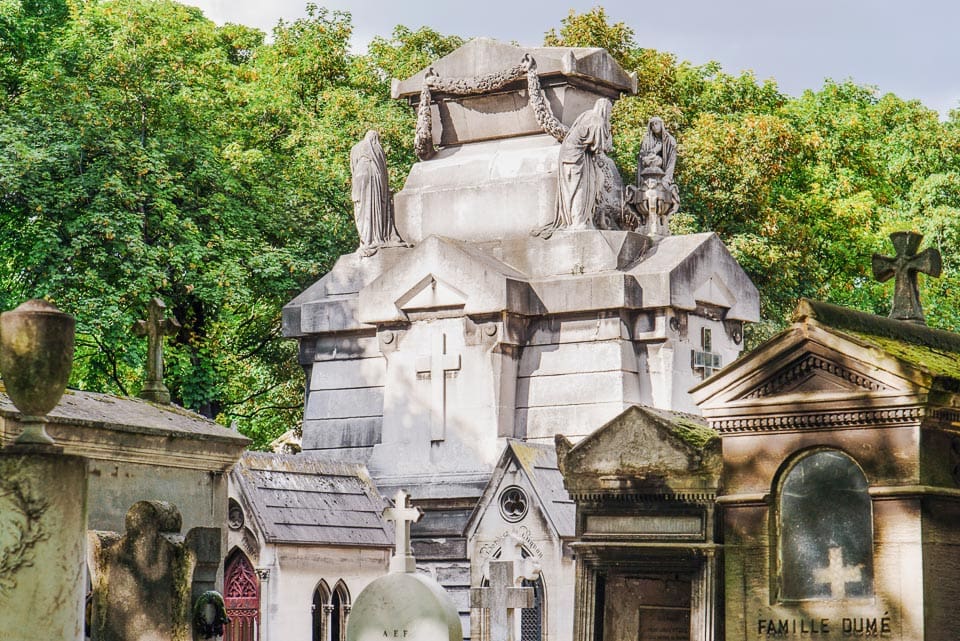 Père Lachaise Cemetery
Established 1804
Of all of the beautiful cemeteries in Paris, the best-known and most beloved is Père Lachaise. In fact, it's so popular among tourists that it attracts over 3.5 million visitors each year, making it the most visited cemetery in the world.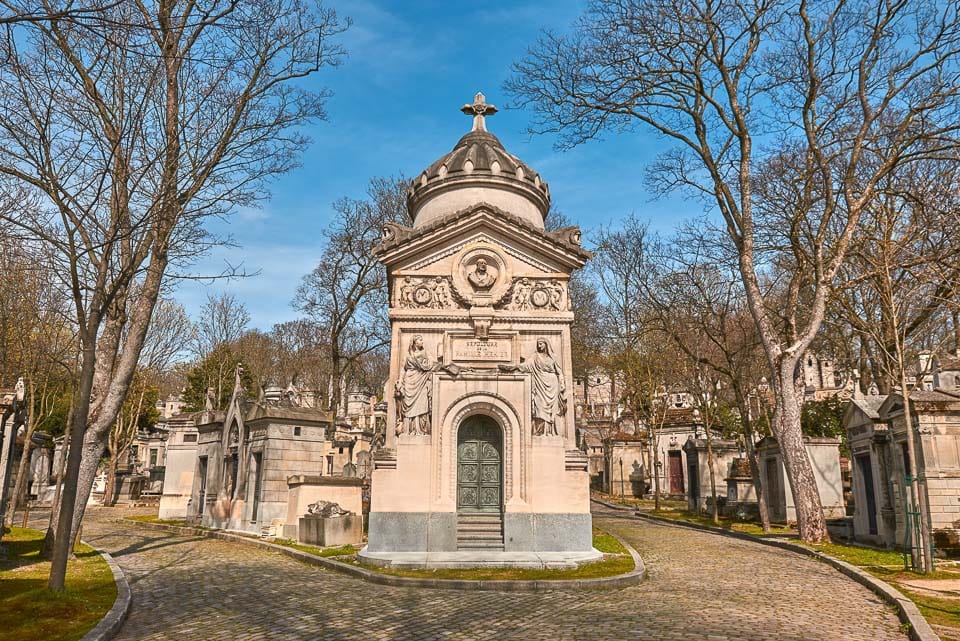 Much of the intrigue surrounding Père Lachaise Cemetery is due to it being the final resting place of an impressive number of notable people. From musicians and artists to authors and statesmen, some of the most famous people buried in Paris have been laid to rest in tombs and graves in Père Lachaise Cemetery.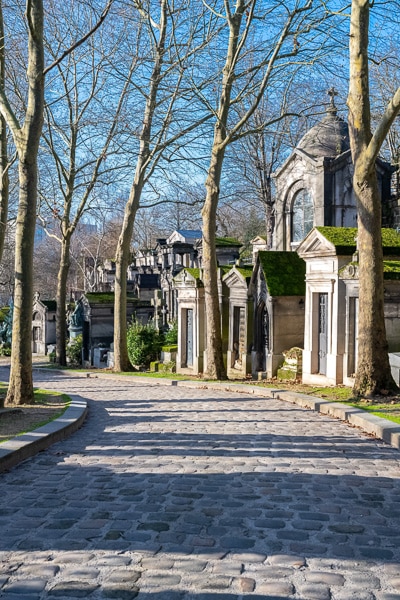 Père Lachaise Cemetery is so much more than a burial place for acclaimed individuals though. As the world's first garden cemetery, it also has a wonderful park-like setting with towering leafy trees, cobblestone pathways, and elegant sculptures dotting the cemetery's 110 acres. You may even come across some wildlife and spot several species of birds while strolling the tomb-lined alleys of Paris' largest cemetery.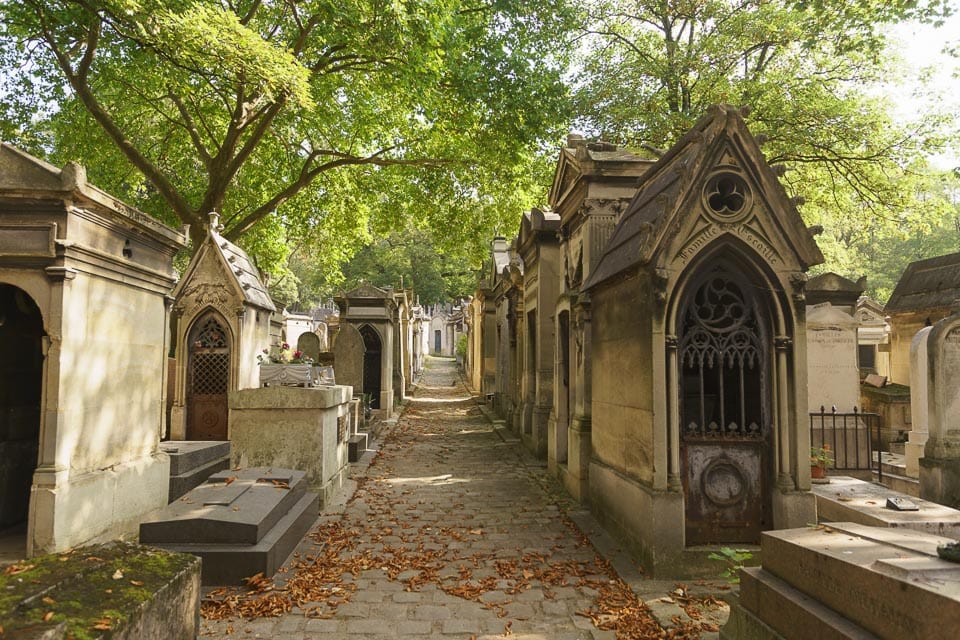 Notable Gravesites: Jim Morrison, Oscar Wilde, Frederic Chopin
Location: 20th arrondissement
Montmartre Cemetery
Established 1825
Montmartre Cemetery is as charming as the village-like neighbourhood it's located in, with a collection of burials that reflect the artistic history of the area.
Nestled on the side of Butte Montmartre, the cemetery is the burial place of many notable figures in the arts including composers, singers, painters, dancers, actors, and playwrights.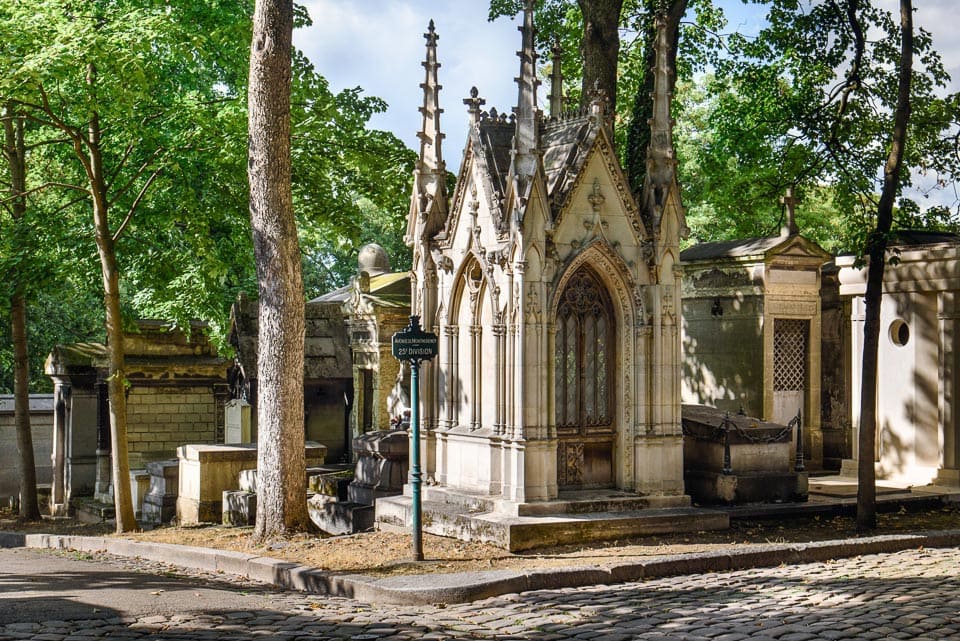 In addition to its accomplished residents, the cemetery also has several lovely sculptures and hundreds of trees. What makes Montmartre stand out from other Paris cemeteries though is the cute stray cats that call the property home.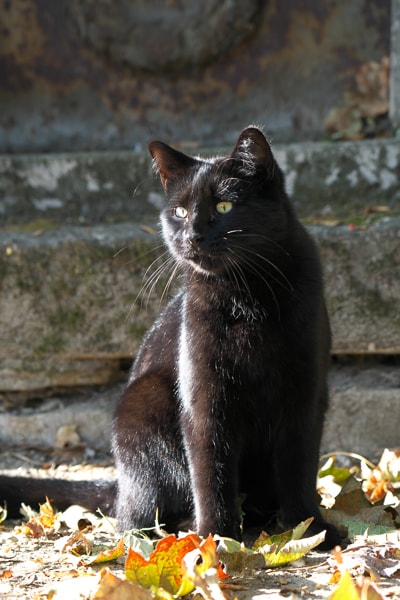 Notable Gravesites: Dalida, Edgar Degas
Location: 18th arrondissement
Montparnasse Cemetery
Established 1824
Montparnasse is another Paris cemetery that will appeal to visitors interested in the city's artistic and literary history.
Buried among the graves in Montparnasse Cemetery are writers, philosophers, actors, and artists. The funerary art is as impressive as whose tombs they adorn, with works ranging from traditional bronze sculpture to modern colourful mosaics.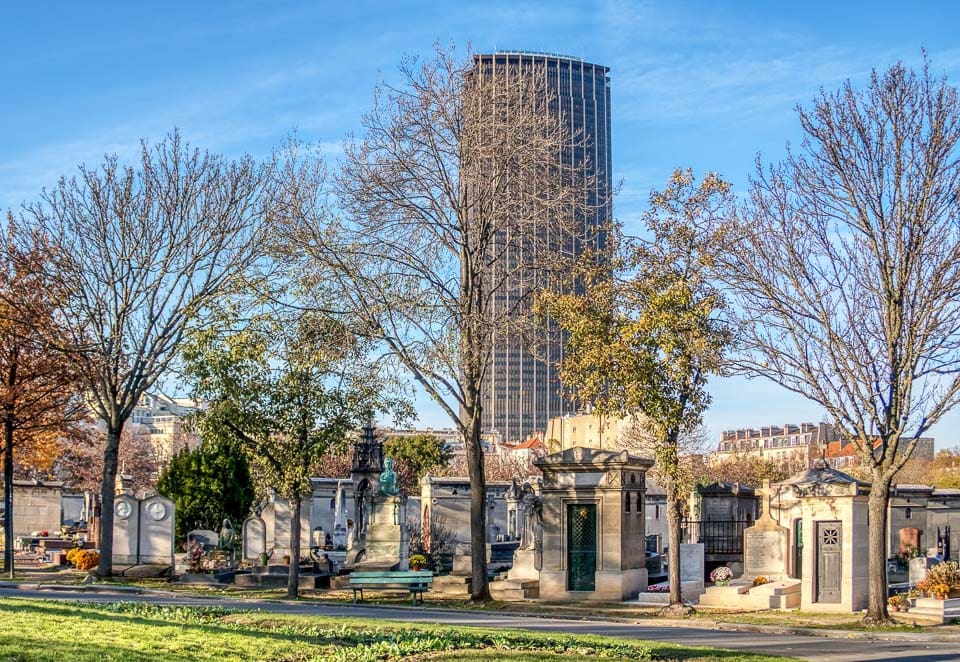 The cemetery's most prominent landmark is a 17th-century windmill (without its sails) that stands as a reminder of the property's farmland origin.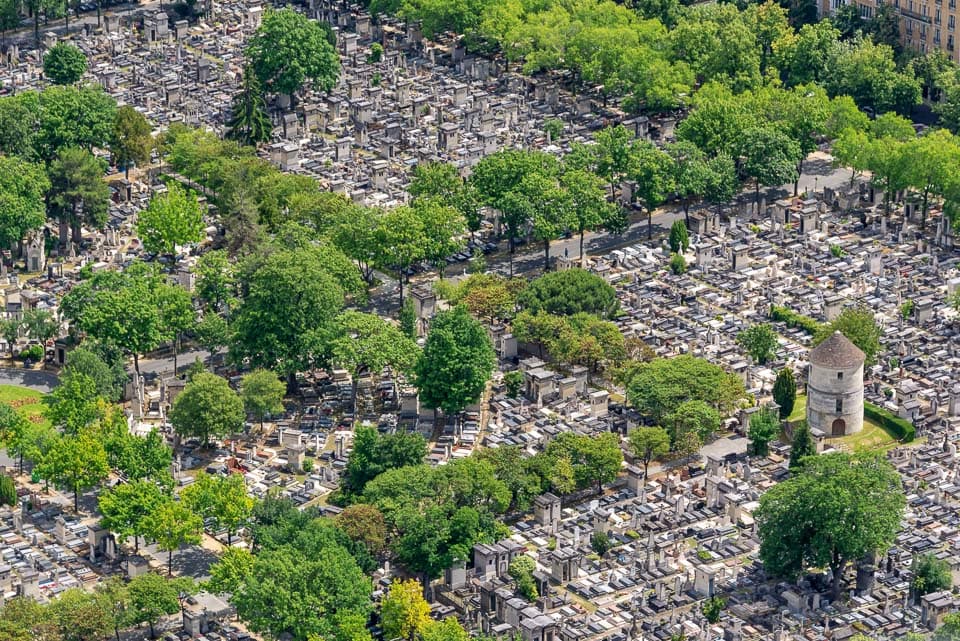 Notable Gravesites: Charles Baudelaire, Jean-Paul Sartre and Simone de Beauvoir, Serge Gainsbourg
Location: 14th arrondissement
Passy Cemetery
Established 1820
At a little over 4 acres, Passy Cemetery is much smaller than some of the other historic Paris cemeteries that opened in the 1800s. Still, it contains about 2,600 tombs, many of which belong to aristocrats and high-profile figures in the arts, politics, finance, and industry. There are even some foreign princesses and an emperor.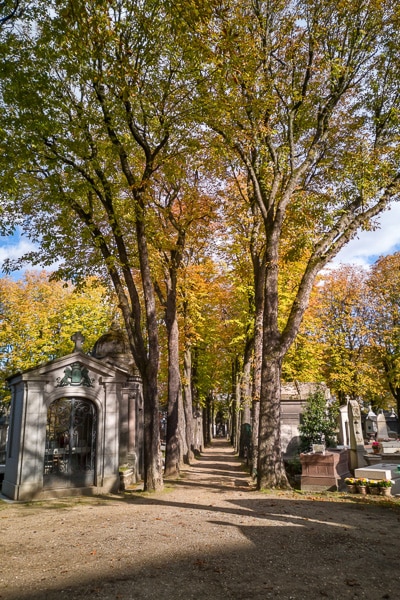 In addition to all the monumental tombs and mausoleums, Passy Cemetery also features a large entrance gate, reception pavilion, and retaining wall decorated with bas-reliefs. The view of the Eiffel Tower is pretty nice too!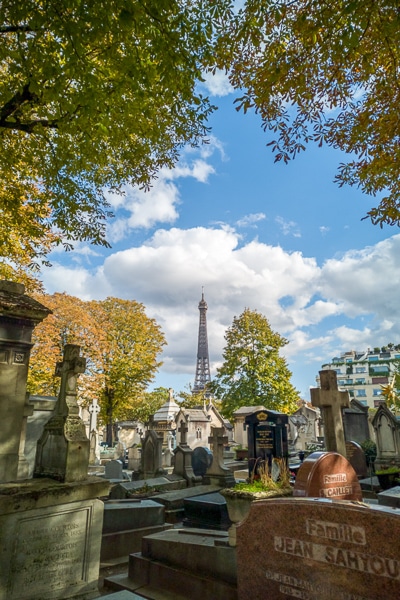 Notable Gravesites: Edouard Manet, Claude Debussy, Hubert de Givenchy
Location: 16th arrondissement
Calvaire Cemetery
Established 1688
Calvaire Cemetery is the oldest cemetery in Paris, opening in 1688. It's also Paris' smallest cemetery with about 85 burial plots in the 6,500 square foot enclosed property.
Most of the graves belong to aristocratic families who lived in Montmartre and currently only their descendants can be buried here.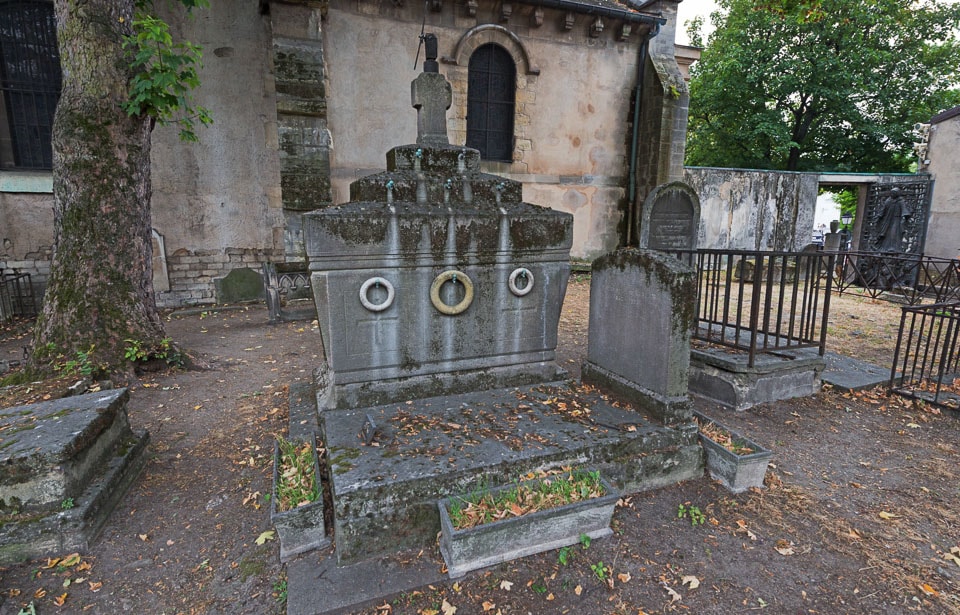 One of the most notable features of the cemetery is the large bronze door, created by Italian sculptor Tomaso Gismondi, that opens to public visitors on one day of the year- November 1st for All Saints' Day.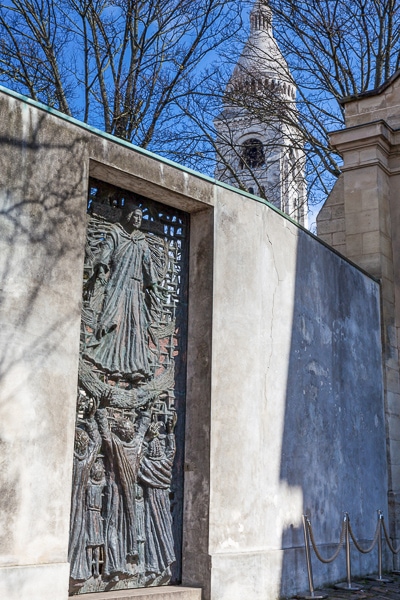 Notable Gravesites: The Debray family
Location: 18th arrondissement
Picpus Cemetery
Established 1794
Picpus Cemetery was created during a period of the French Revolution known as the Reign of Terror. Public executions were the norm during this time and a guillotine was moved around to several plazas in the city.
Since the pace of the beheadings was so rapid at Place de la Nation (then called Place du Trône Renversé), a burial ground nearby was needed. Two pits were dug in the garden at the convent of the Chanoinesses de Saint-Augustin, which was seized during the revolution, and bodies were thrown into mass graves.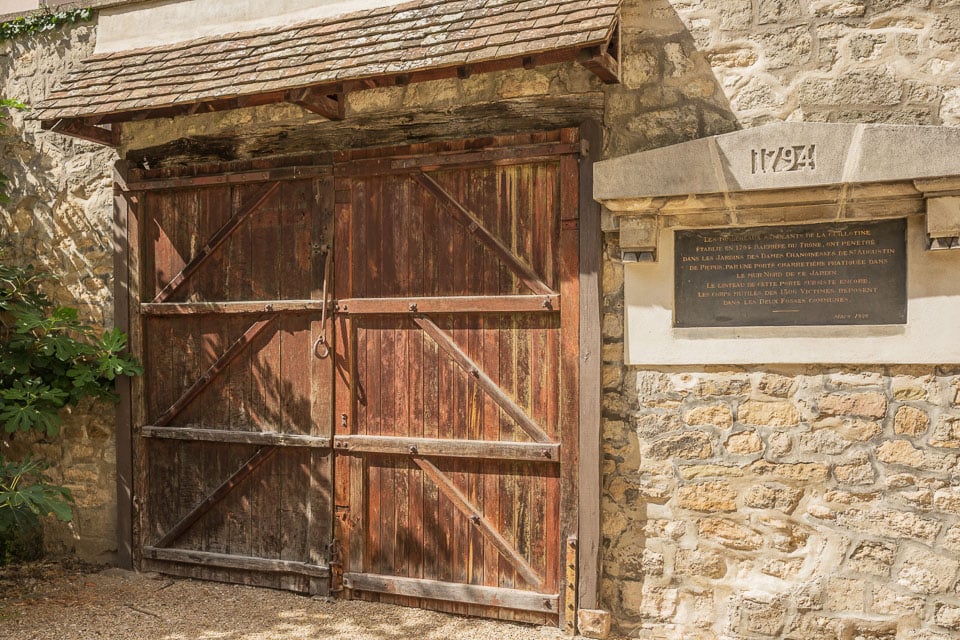 Post-revolution, a private cemetery was established on the site after family members of the victims bought the land and set up a memorial for the 1,306 victims executed between June 14 and July 27, 1794.
Today Picpus Cemetery is the largest private cemetery in Paris and burials are only open to ancestors of the guillotine victims. It is included on the Ministry of Culture's list of Monuments Historiques.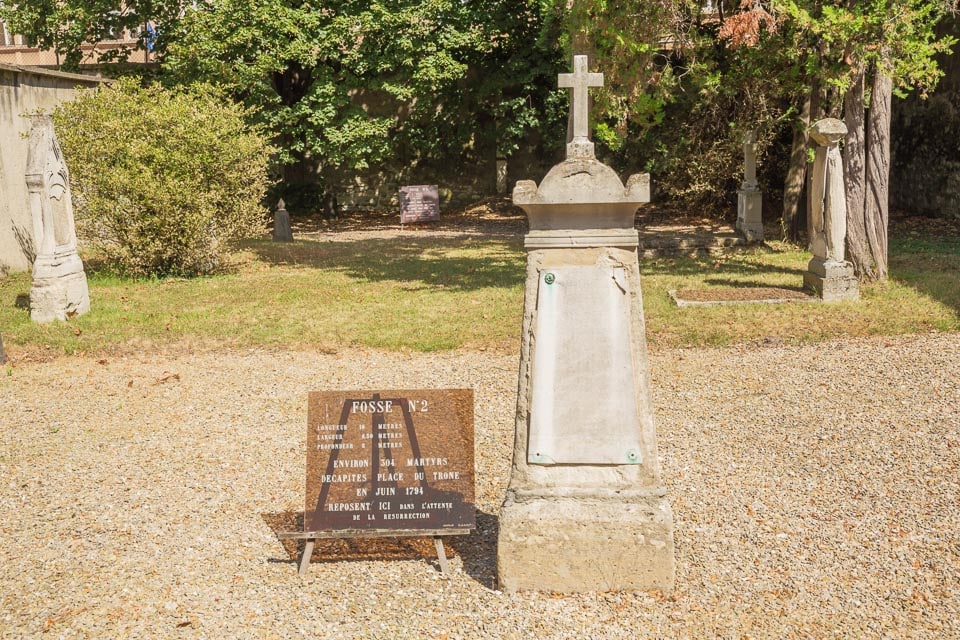 Notable Gravesites: Gilbert du Motier Marquis de Lafayette
Location: 12th arrondissement
More Cemeteries in Paris
If you've already visited the main historic cemeteries in Paris and are looking for some others to explore, here are a few more old Parisian cemeteries to visit:
Auteuil Cemetery (established 1800, 16th arr.)- has more than 1,200 tombs including scholars, writers, musicians, and artists.
Batignolles Cemetery (established 1833, 17th arr.)- has 15,000 graves and over 27 acres of green space.
Belleville Cemetery (established 1808, 20th arr.)- has about 3,200 graves and a memorial to the Paris Commune.
Bercy Cemetery (12th arr.)- has over 1,100 burials and an entrance door with stone hourglasses symbolizing the passage of time.
Charonne Cemetery (20th arr.)- small cemetery adjoining Saint-Germain Charonne church.
Grenelle Cemetery (established 1835, 15th arr.)- has 1,000 burials of residents of the former village of Grenelle.
St. Vincent Cemetery (established 1831, 18th arr.)- has about 900 graves and is the burial place of prominent Montmartre families.
Vaugirard Cemetery (established 1787, 15th arr.)- has about 3,000 graves and a memorial to soldiers of the Great War. It's the oldest active cemetery in Paris.
Villette Cemetery (established 1828, 19th arr.)- has 2,500 plots on its 2.8 acres.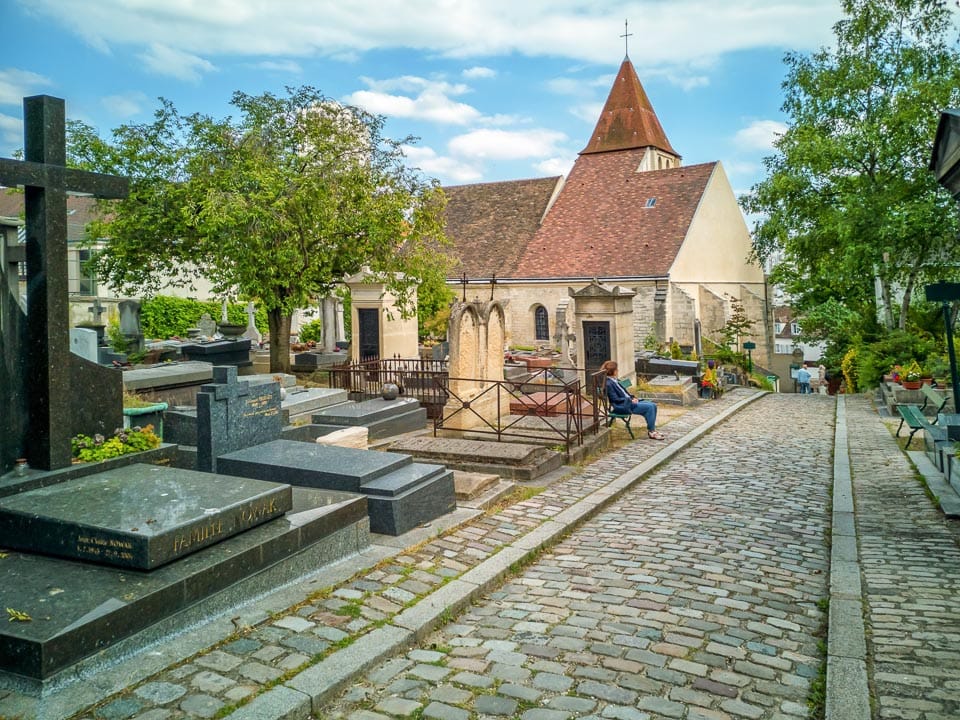 Final Words
Cemeteries aren't the typical tourist attraction that first comes to mind when thinking about Paris, but the cemeteries of Paris are worth visiting for their historic and artistic value.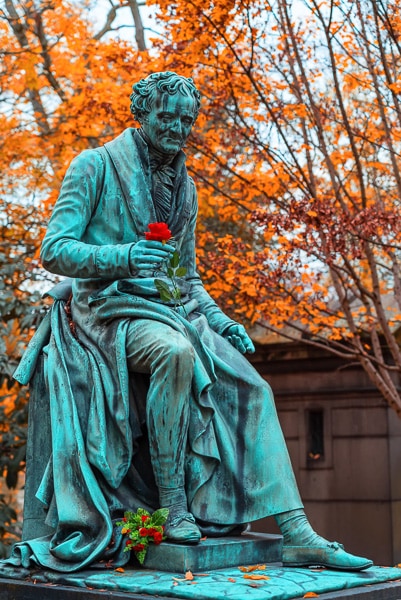 From famous burials and eye-catching funerary art to peaceful tree-lined walkways, the cemeteries in Paris are undoubtedly an important part of the city's heritage and culture.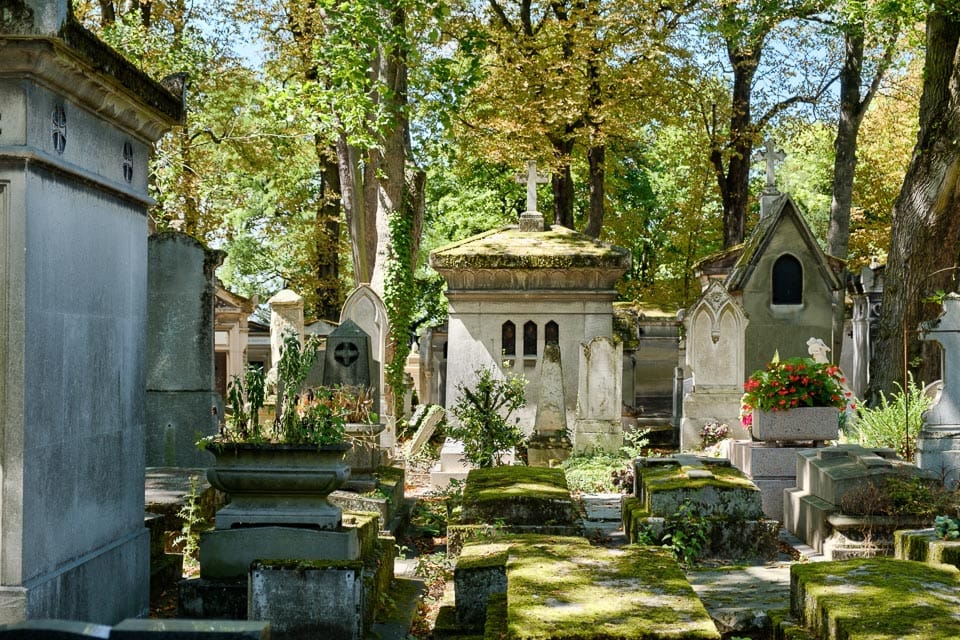 Practical Information for Visiting Cemeteries in Paris
Hours: Most of the cemeteries in Paris have specific hours when they are open to visitors, so it's best to research this in advance of your visit. Typically they open between 8:00 and 9:00 am and close at 5:30 or 6:00 pm, depending on the season.
Maps: Maps of the Paris cemeteries with locations of their most famous graves can be downloaded from the city's website here.
Tours: There are many tours of Père Lachaise cemetery that are offered by local guides and some of the other cemeteries are often visited as part of a neighbourhood tour. You can book Paris cemetery tours here and below are links to tours of specific locations.
Paris Accommodations
If you're planning to visit cemeteries in Paris and need accommodations, here is a list of hotels in Paris. Please consider booking your Paris accommodations through the included link. It costs nothing extra and helps support this website.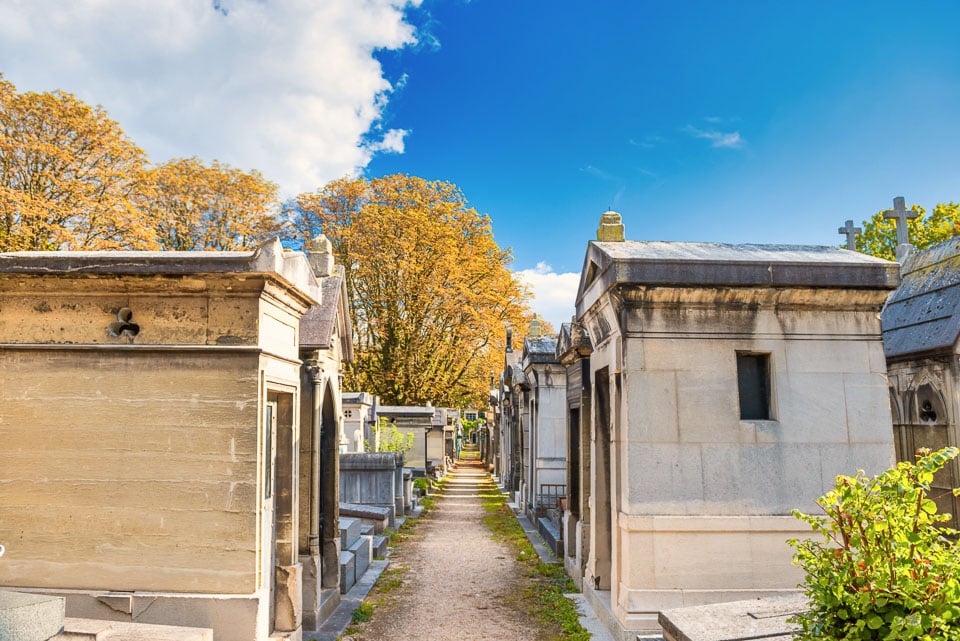 More Burial Places in Paris