Charleston Cemeteries- Discover Historic Cemeteries in Charleston
Purchases made through links earn us a small commission, at no extra cost to you.
When a city is as old as Charleston, you're bound to find a fascinating collection of burial grounds serving as a record of the past. The cemeteries in Charleston do just that. They quietly keep the stories of former residents, their funerary art illustrates changing attitudes toward death, and their monuments mark significant cultural events.
With so much history to discover, it's no wonder that Charleston's cemeteries and graveyards are a top tourist attraction in South Carolina.
Cemeteries in Charleston, South Carolina
Charleston's historic cemeteries are a diverse collection of burial grounds ranging from small church graveyards to the sprawling rural cemeteries that were trendy in the mid-19th century.
Several cemeteries in Charleston are listed on the National Register of Historic Places. There's even an entire district in north Charleston, between the Cooper River and Meeting Street, known as the Charleston Cemeteries Historic District. This district contains 23 cemeteries created between 1850 and 1956.
If you're interested in visiting cemeteries in Charleston, here are some interesting ones to consider.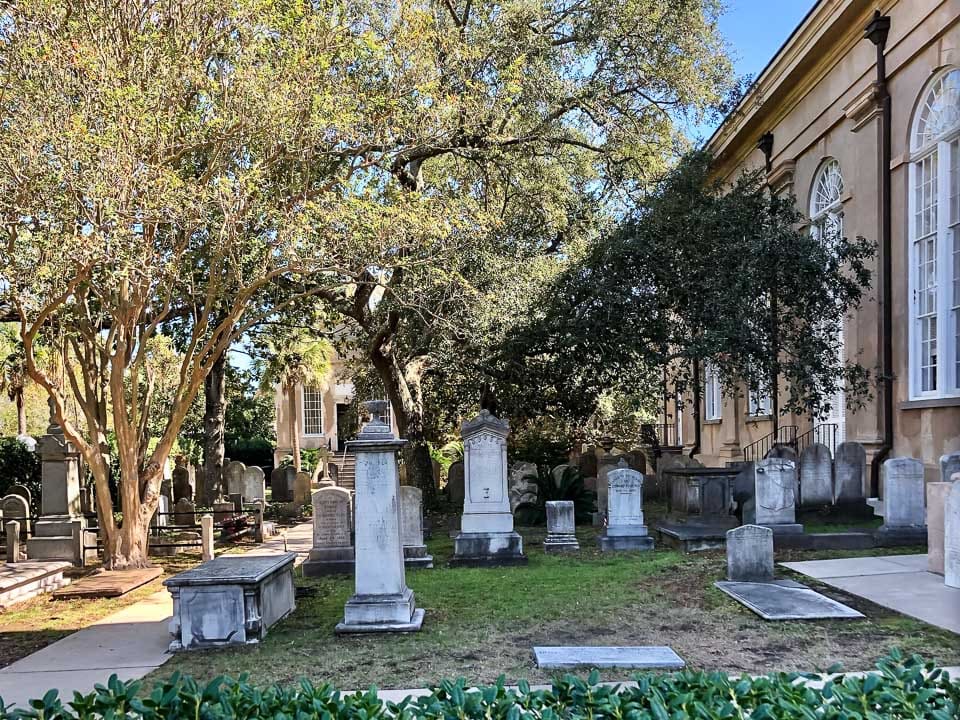 Magnolia Cemetery
Of all of the historic cemeteries in Charleston, Magnolia is the most notable and picturesque. It's also the oldest public cemetery in Charleston.
Built near the Cooper River in 1850, on the site of a former rice plantation, Magnolia Cemetery features ponds, winding pathways, mature trees, and elegant statuary. Magnolia is a wonderful example of what rural cemeteries of the 19th century were like- part art museum, part burial ground, and part public park.
Generations of prominent Charlestonians have been laid to rest at Magnolia Cemetery, from Civil War generals to federal judges and politicians. Many of the most famous graves in Charleston are at Magnolia Cemetery, including those of the final crew of H.L. Hunley, the first combat submarine to sink a warship.
Bethany Cemetery
Another Charleston cemetery that was established during the Victorian era is Bethany Cemetery.
Bethany Cemetery was opened by St. Matthew's Lutheran Church in 1856 after its first cemetery reached capacity due to a series of yellow fever outbreaks.
This second cemetery would go on to be the burial place of several influential members of Charleston's German community. Franz Melchers, who published a German language newspaper in Charleston, and his brother Alexander, president of the German Friendly Society, are buried here. Charleston architect Augustus Constantine was also laid to rest in Bethany.
Throughout Bethany Cemetery you'll find Victorian funerary art, prominent monuments, and several historic structures. A few that are not to be missed are the stone gatehouse, the German Artillery and Wagener Monument, the German-style chapel, and the receiving tomb built in 1858.
St. Lawrence Cemetery
Like several other historic Charleston cemeteries, St. Lawrence Cemetery reflects the aesthetics of the Victorian era with intricate ironwork, grand mausoleums, and symbolic statuary. However, unlike neighbouring Magnolia and Bethany cemeteries, St. Lawrence has roads laid out at right angles instead of the winding pathways that were typical of rural cemeteries of that time.
An unmissable monument in St. Lawrence Cemetery is the very detailed wrought iron cross under which Christopher Werner, a local foundry owner, is buried. Werner created the cross himself and was known for his high quality iron designs and manufacturing.
St. Philip's Graveyard and Cemetery
St. Philip's Church, in the Charleston Historic District, has two burial grounds- a graveyard adjacent to the church and a cemetery across the street (St. Philip's West Cemetery).
The graveyard was reserved for church members who were born in Charleston, whereas the west cemetery was for people born elsewhere. The most noteworthy individual buried at St. Philip's is John C. Calhoun, 7th Vice President of the United States.
St. Michael's Graveyard
St. Michael's is the oldest surviving church building in Charleston, completed in 1761 after ten years of construction. Its graveyard is best known for being the final resting place of two signers of the U.S. Constitution- John Rutledge and Charles Cotesworth Pinckney.
Among the historical figures buried in St. Michael's Graveyard are politicians and military leaders including Robert Young Hayne (Governor of South Carolina and mayor of Charleston) and Mordecai Gist (American Revolutionary War general).
Unitarian Church Graveyard
Another historic Charleston graveyard you can visit is at the Unitarian Church. The graveyard is quite lush with a variety of trees, bushes, and flowering plants growing naturally around the monuments and graves.
One of the more poignant monuments in the churchyard is the Slave Memorial created in 2013 to honour enslaved workers who built the church. The top of the memorial is decorated with oyster shells as this is how the Gullah traditionally marked burial sites. On the front is a Sankofa symbol which represents learning from the past in order to move forward.
While no famous people are buried in this graveyard, there are some intriguing legends of paranormal activity. One popular tale is that the ghost of Lavinia Fisher, highway robber and alleged serial killer, haunts the graveyard because she was executed nearby.
Coming Street Cemetery
The Coming Street Cemetery was founded in 1762, making it one of the oldest Jewish burial grounds in the United States and the oldest one in the South.
The cemetery has hundreds of marble and brownstone grave markers that are signed by prominent local stonecutters and sculptors. Markers include obelisks, box tombs, and tabletop tombstones.
The Coming Street Cemetery is a private cemetery owned by the Kahal Kadosh Beth Elohim Synagogue. Visitation is by appointment only and a fee is charged for tours.
Circular Congregational Church Graveyard
The Circular Congregational Church is believed to be the oldest English burial ground in Charleston. More than 500 gravestones remain, with the earliest unmarked grave being from 1695 and the earliest inscribed stone dating back to 1729.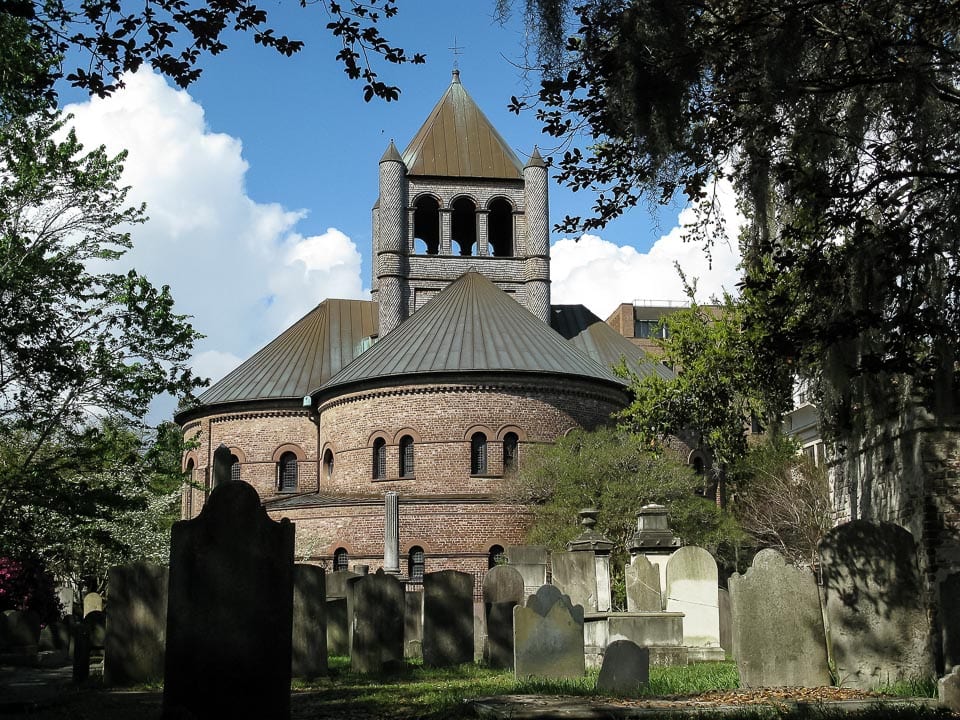 Circular Church's original gravestones were made of slate and carved in New England. Adorned with images and medallion portraits, they are perhaps the most unique gravestones of all of Charleston's cemeteries.
The tombstone of Reverend Nathan Bassett Jr. is thought to be the first portrait-style stone in the United States. Interestingly, no other South Carolina town has gravestones with portraiture. Another common thing you'll see on headstones in the Circular Congregational Church burial ground is the soul effigy, an image of a winged head representing the flight of the soul to Heaven.
Final Words
Visiting old cemeteries in Charleston is a great way to admire some beautiful art and learn about the city's past. Whether you're a history buff, interested in genealogy, or just have an appreciation for historic burial grounds, you'll make plenty of interesting discoveries in Charleston's cemeteries.
Accommodations in Charleston
If you're planning to visit Magnolia Cemetery and need accommodations, here is a list of hotels in Charleston. Please consider booking your Charleston accommodations through the included link. It costs nothing extra and helps support this website.
More Burial Places in the United States