The Magnificent Seven Cemeteries- Victorian Cemeteries in London
Purchases made through links earn us a small commission, at no extra cost to you.
London's "Magnificent Seven" is a group of large, Victorian era cemeteries that were established to meet growing demand for burial space in the city. As parish cemeteries became overcrowded, seven private burial grounds, informally known as the Magnificent Seven cemeteries, were built outside of central London. These spacious new cemeteries gave Londoners more scenic, sanitary places to bury their loved ones.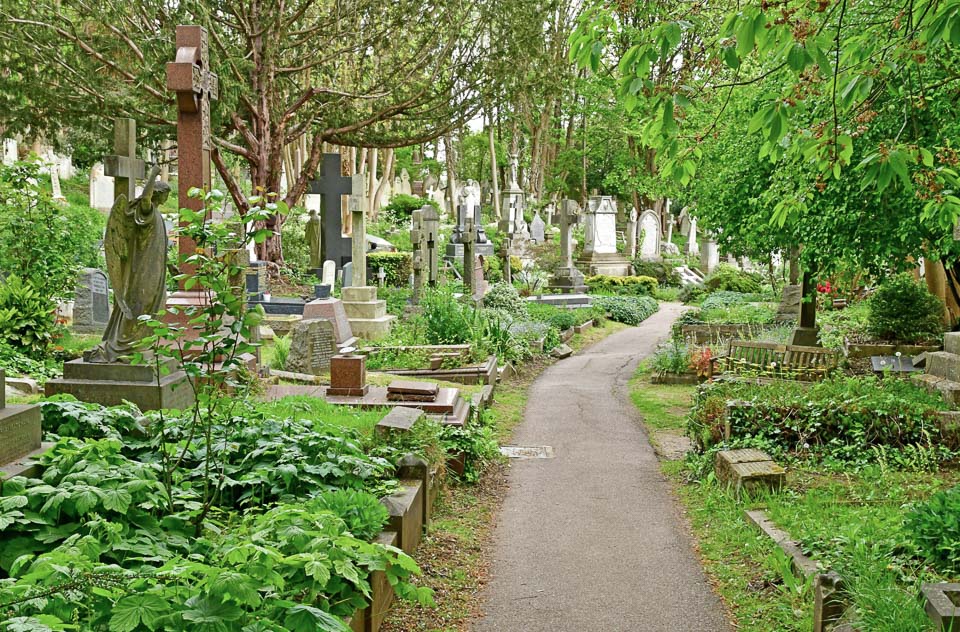 History of the Magnificent Seven Cemeteries
Before the Magnificent Seven cemeteries were built, it was common practice to bury wealthy and respected individuals inside churches, while more ordinary folks were laid to rest outside in churchyards. This method wasn't the most sanitary way to bury bodies, namely because of the stench, but it worked well enough until the 1800s when London's population boomed.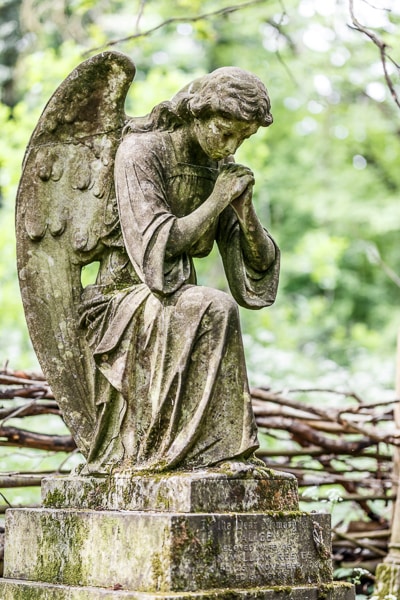 Between 1800 and 1850, London grew from 1 million to 2.3 million residents. This rapid population growth caused crowded conditions, which then led to multiple epidemics and excessive deaths. Soon, walls and floors of church buildings became packed with bodies, as did the adjoining graveyards.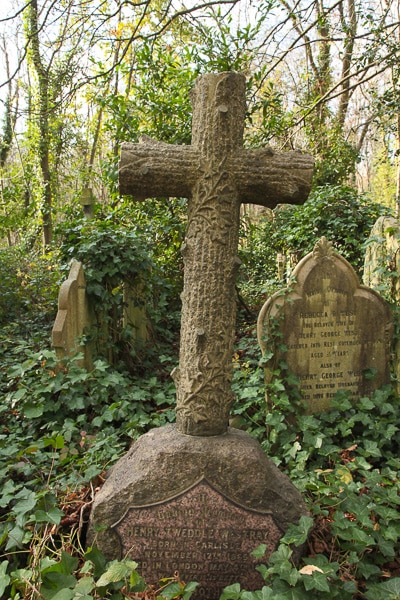 The overcrowding of parish cemeteries caused decaying matter to leach into the water supply, exacerbating London's public health challenges. In response to deteriorating conditions and public pressure for burial reform, the British Parliament passed an act in 1832 allowing the establishment of private cemeteries outside central London. This change was inspired by Père Lachaise Cemetery in Paris and that city's move to rural cemeteries as a solution to unsanitary church graveyards.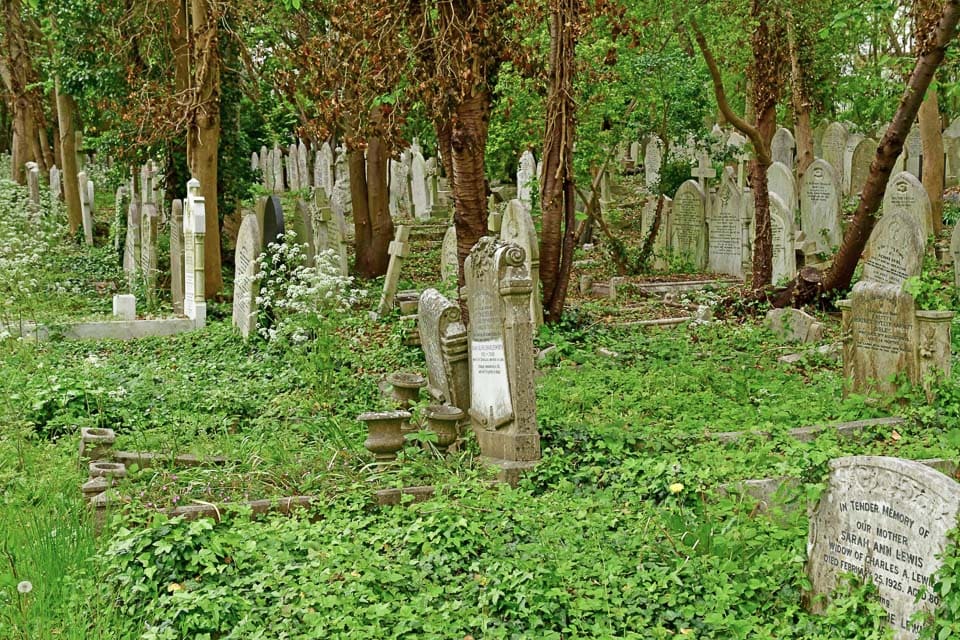 Over the next decade, seven private cemeteries opened on the outskirts of the city, forming a circle around central London. These cemeteries had plenty of green space, giving them a park-like appearance and atmosphere. It wasn't until 1981 that these cemeteries were given the nickname "The Magnificent Seven" by architectural historian Hugh Meller.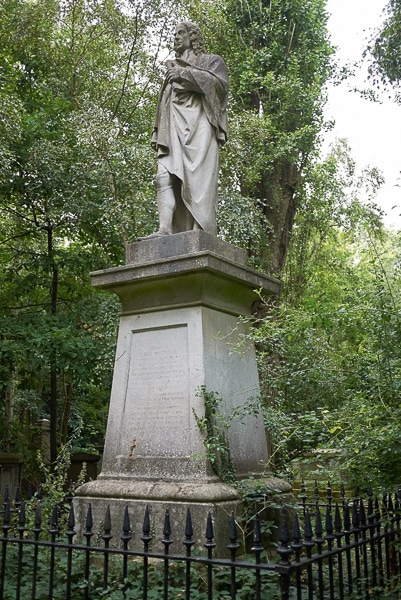 As time went on, several of the cemeteries were neglected and became overgrown with trees, shrubs, and vines. More recently, there has been a renewed interest in these historic cemeteries and their monuments are being restored.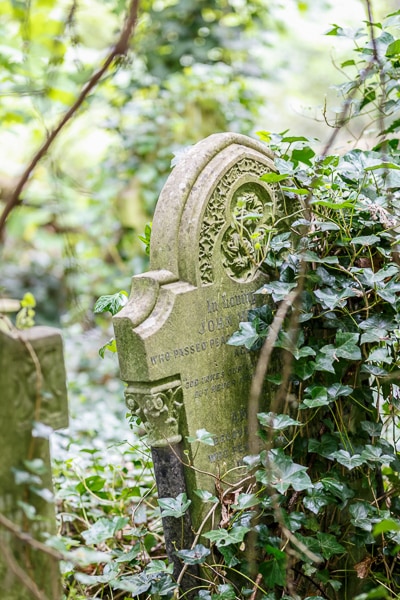 Currently, London's Magnificent Seven serve dual roles as cemeteries and nature reserves. Only three have been closed to new burials. Several of the Magnificent Seven cemeteries are also listed on the National Register of Historic Parks and Gardens.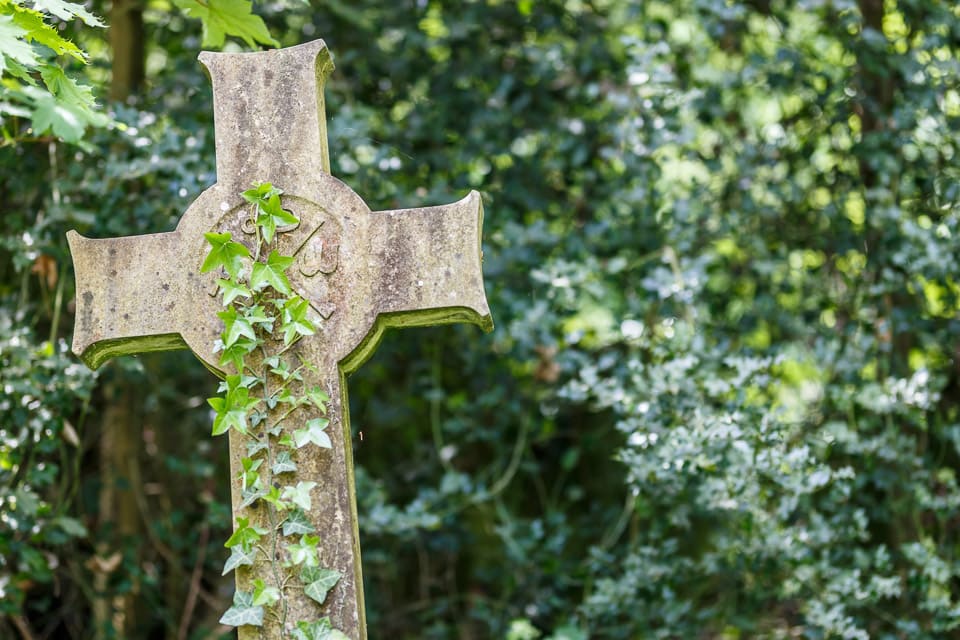 The Magnificent Seven Cemeteries in London
The 19th century burial grounds collectively known as the Magnificent Seven cemeteries are:
Kensal Green Cemetery
West Norwood Cemetery
Highgate Cemetery
Abney Park Cemetery
Brompton Cemetery
Nunhead Cemetery
Tower Hamlets Cemetery
Below is a brief description of each of the Magnificent Seven cemeteries in London.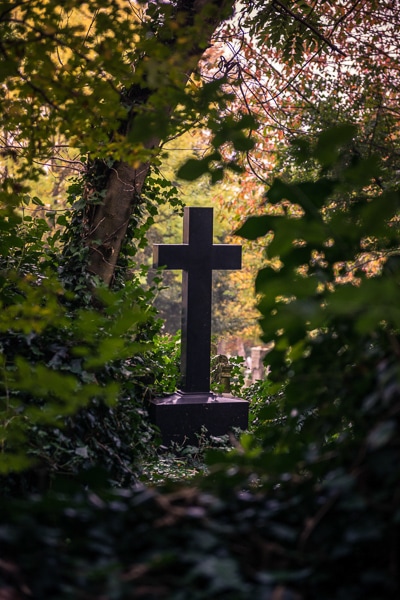 Kensal Green Cemetery
Established 1833
Kensal Green Cemetery is the oldest of the Magnificent Seven cemeteries, opening in 1833. The cemetery's grounds occupy 72 acres of land next to a canal and encompass two conservation areas rich with birds and other wildlife.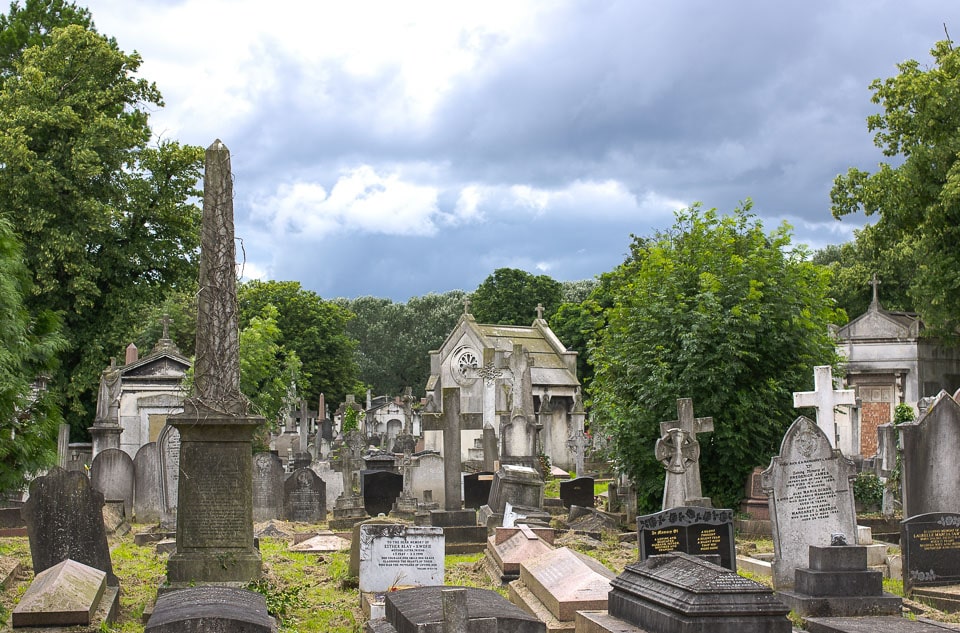 The cemetery features neoclassical chapels, formal avenues, ornate mausoleums, and plenty of trees and shrubs. There also is a catacomb below a Greek-style colonnade. Several of the cemetery's structures are listed as protected because of their historic or architectural interest.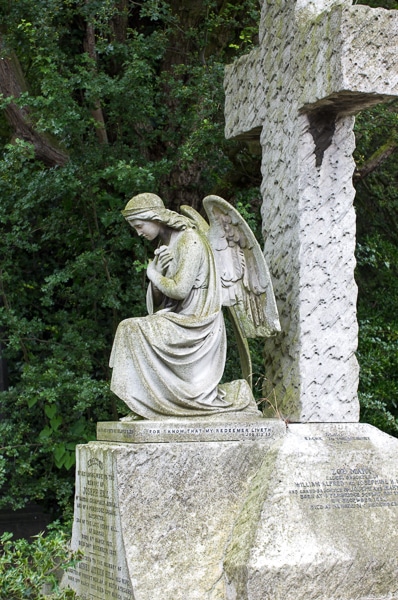 The attractive landscaping made Kensal Green a popular burial place for the rich and famous. Hundreds of British aristocrats, some royalty, and other members of high society have been laid to rest here.
West Norwood Cemetery
Established 1837
West Norwood Cemetery is a 40 acre walled burial ground considered to be the world's first cemetery designed in Gothic Revival style.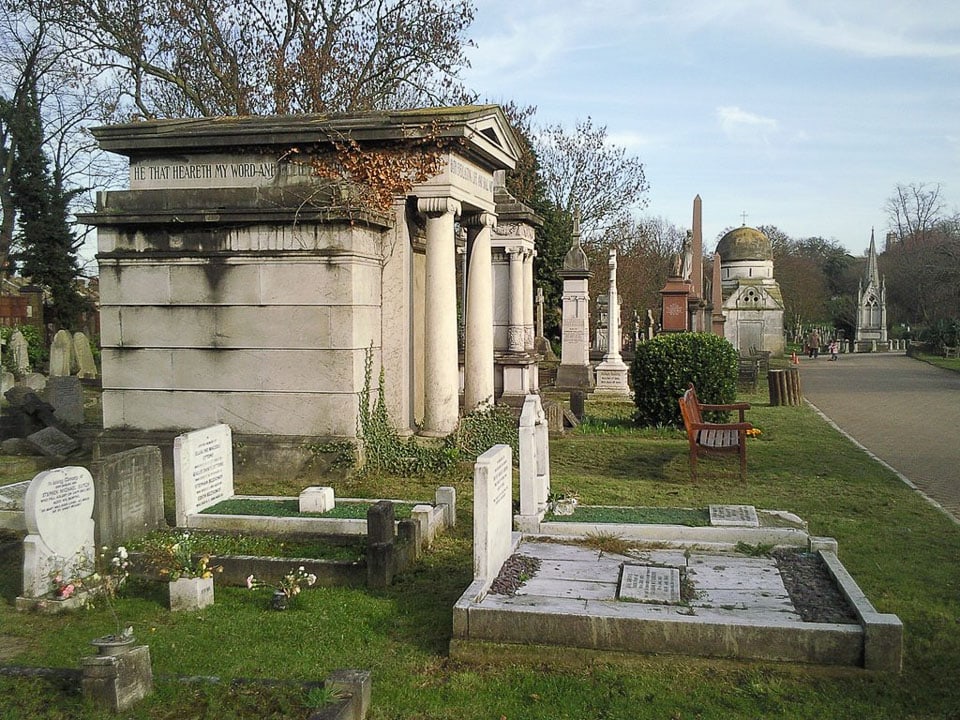 The cemetery has a mix of large mausoleums and traditional tombstones along with a columbarium, crematorium, and catacombs. An enclosure on the northeast side of the cemetery contains a Greek Orthodox necropolis that was established by London's Greek community in 1842.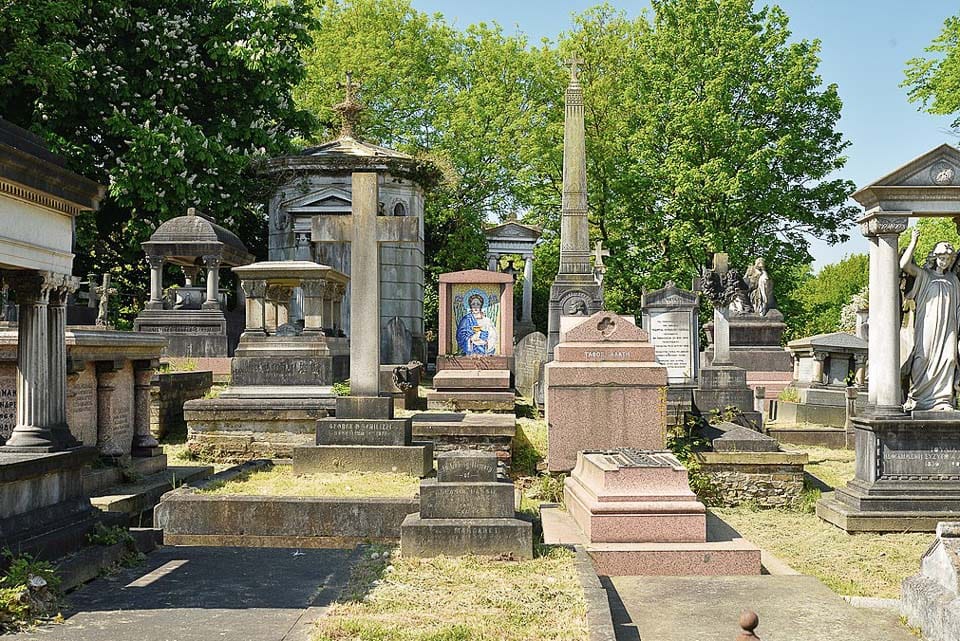 Many people buried here in the Victorian era were very wealthy and included royals, inventors, politicians, athletes, artists, and entertainers. The cemetery is now closed to new burials but is still used for cremations.
Highgate Cemetery
Established 1839 (West) and 1860 (East)
Highgate Cemetery is the most evocative of London's Magnificent Seven thanks to its lush, at times overgrown vegetation, beautiful funerary sculpture, and famous residents. Highgate is the best-known of the Victorian cemeteries in London and is popular among tourists.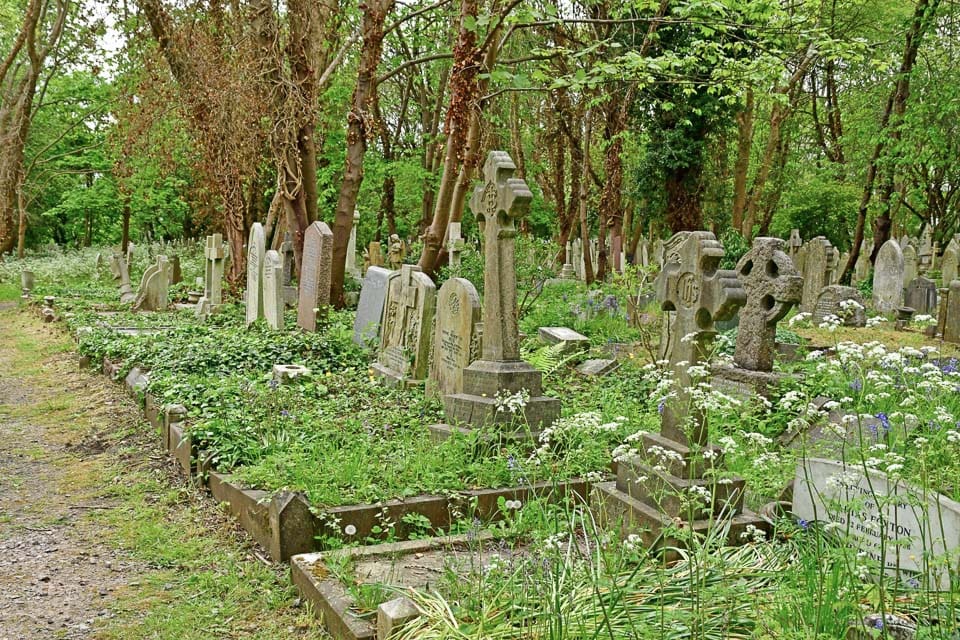 The cemetery has many architectural highlights including its Tudor Gothic gatehouse and chapel, the archway and vaults of Egyptian Avenue, the Gothic-inspired Terrace Catacombs, and the Circle of Lebanon's classical-style vaults. There are also many uniquely personal grave markers with sculptures representing the interests and accomplishments of those buried beneath them.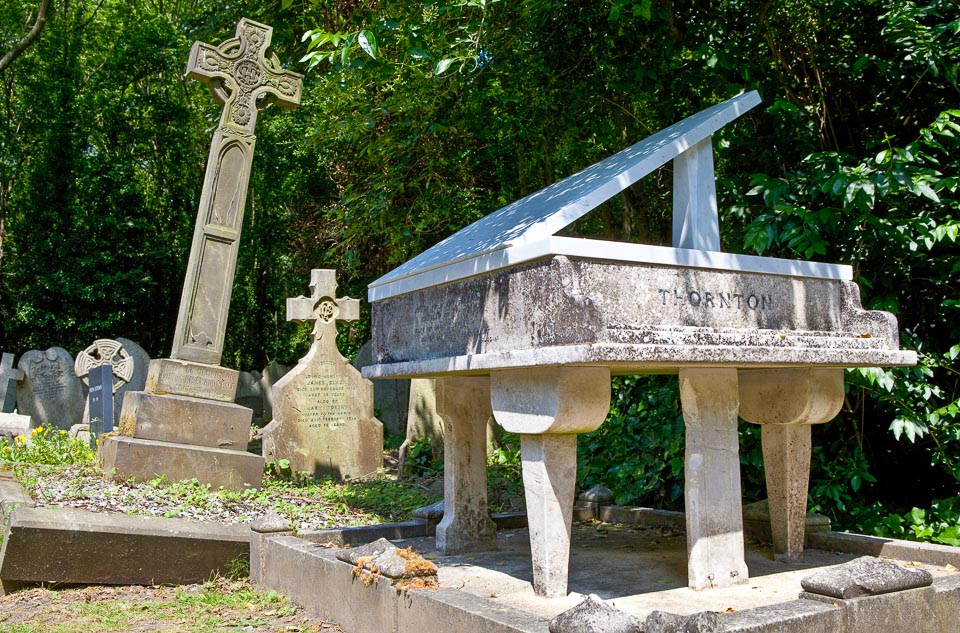 There are plenty of distinguished people buried in Highgate Cemetery, but one of the most notable is German philosopher Karl Marx.
Abney Park Cemetery
Established 1840
Abney Park Cemetery is unique among the Magnificent Seven cemeteries both in its design and wider purpose.
Built on the grounds of an 18th century park, Abney Park Cemetery was always intended to be used as parkland as well as a nondenominational burial ground (it's the only one of the Magnificent Seven that's not consecrated). The cemetery served another role as an educational arboretum and is now a designated Local Nature Reserve.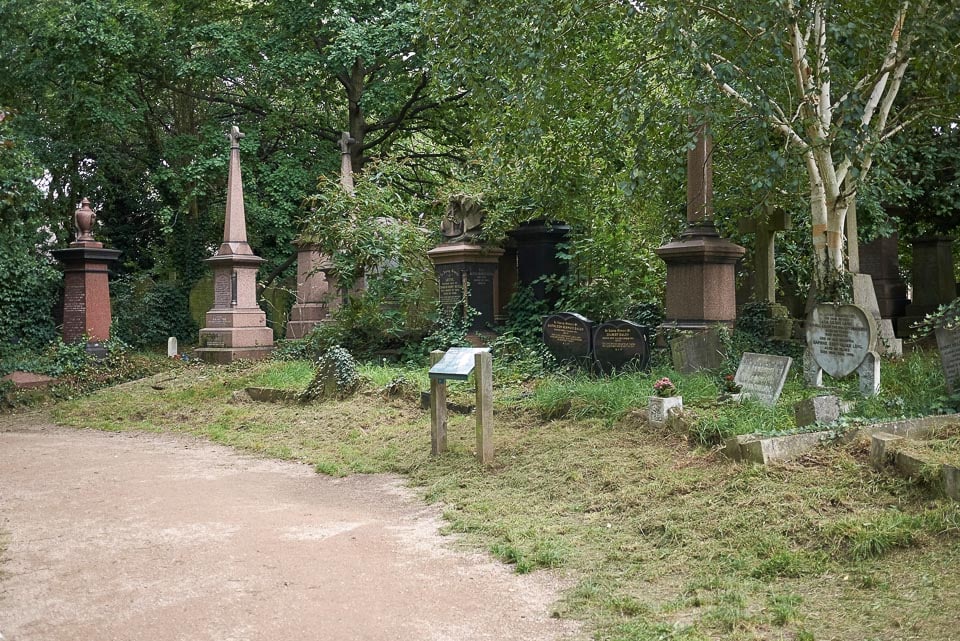 Some must-see landmarks in the cemetery include the Egyptian Revival entrance (inspired by the gate to Mount Auburn Cemetery near Boston), the Gothic central chapel (the first nondenominational cemetery chapel in Europe), and the Commonwealth War Memorial.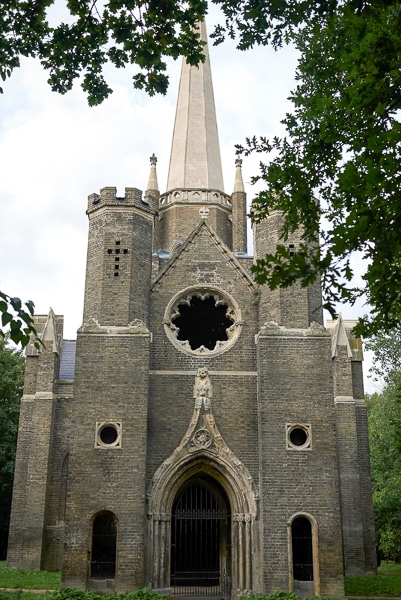 Abney Park Cemetery is no longer an active cemetery, but prior burials include nonconformists, abolitionists, music hall performers, and the Salvation Army founders and commissioners.
Brompton Cemetery
Established 1840
Brompton Cemetery is the only London cemetery that is now Crown property and managed by The Royal Parks.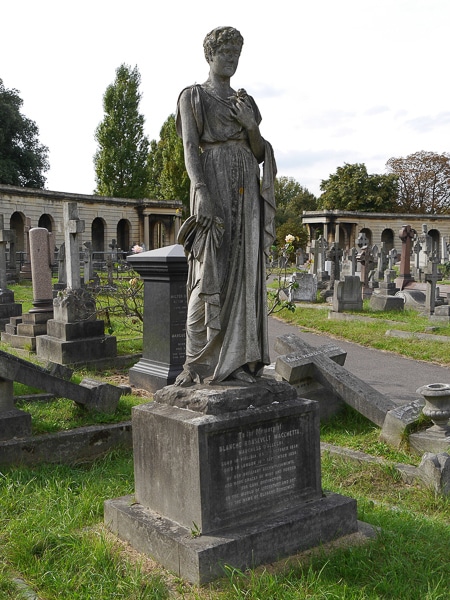 The cemetery is laid out on a rectangular piece of land with straight boulevards and rows of trees. The central focal points are the domed sandstone chapel and the two colonnades that were inspired by St. Peter's Square in Rome. There are catacombs below the colonnades.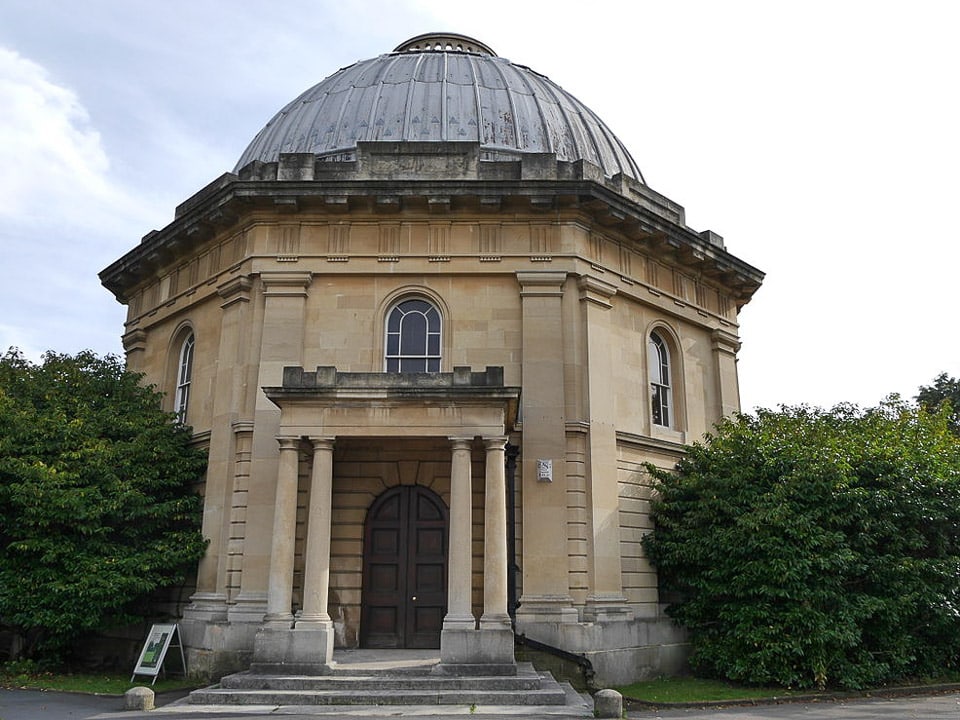 Brompton Cemetery has hundreds of military graves and other notable interments include scientists, doctors, architects, politicians, writers, and actors.
Nunhead Cemetery
Established 1840
Nunhead Cemetery is not as well known as the other Magnificent Seven Cemeteries, but that doesn't mean it's any less beautiful.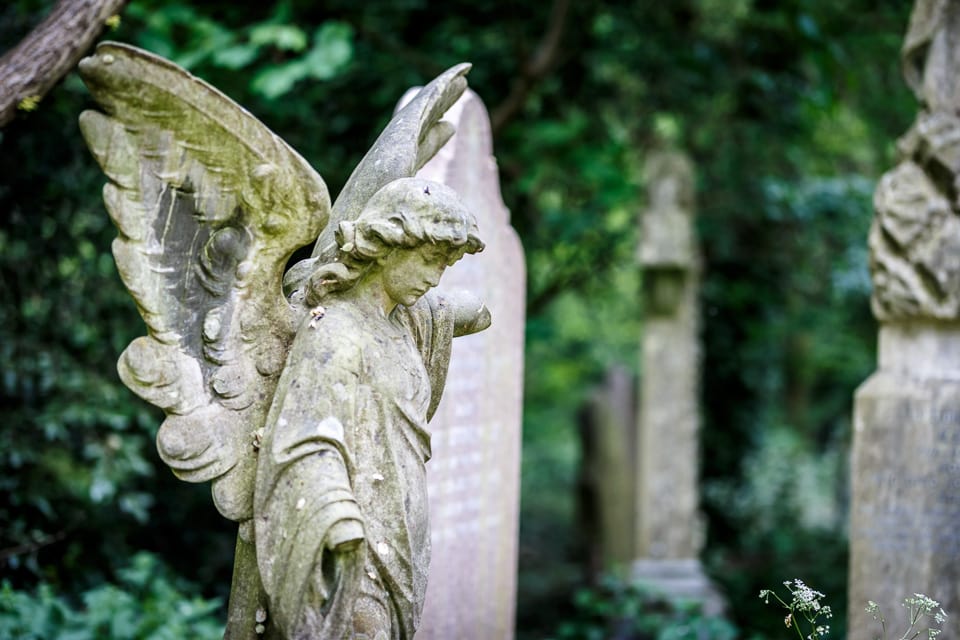 The cemetery has an Anglican chapel, a formal avenue framed by mature trees, and pathways that wind through the dense woodlands. It's a designated Local Nature Reserve and can be a good spot for birdwatching.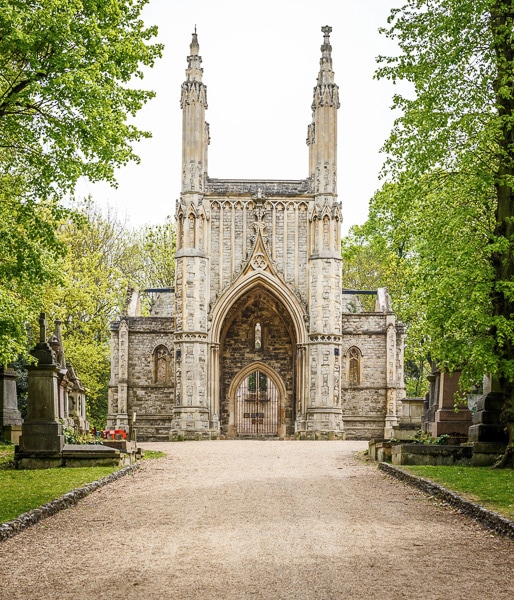 There are large monuments scattered among simple tombstones, many of which are overgrown with vines. Graves include those of service personnel from the First and Second World Wars, artists, and performers.
Tower Hamlets Cemetery Park
Established 1841
Tower Hamlets Cemetery Park was the last of the seven great Victorian cemeteries in London to open. It was divided into two areas- a consecrated part for Anglicans and an unconsecrated part for burials of other denominations.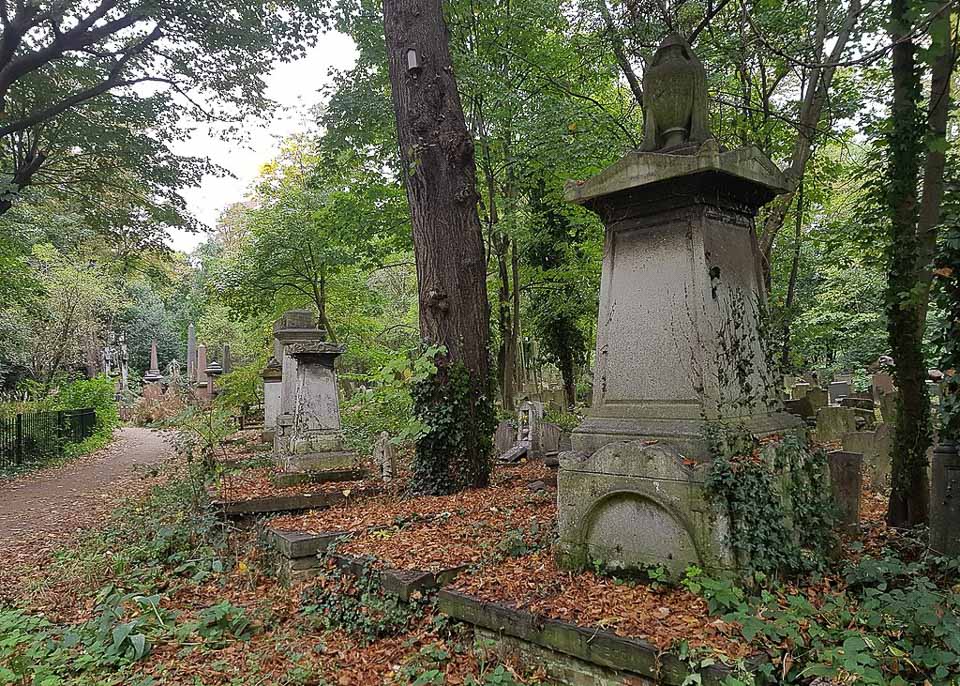 The cemetery was bombed multiple times during World War II, damaging both chapels and some graves. Most of the cemetery's original structures have since been demolished (including the chapels, mortuary, and lodge), but the surrounding brick wall remains. Today the cemetery doubles as an urban green space with woodlands and walking trails and is a designated Local Nature Reserve.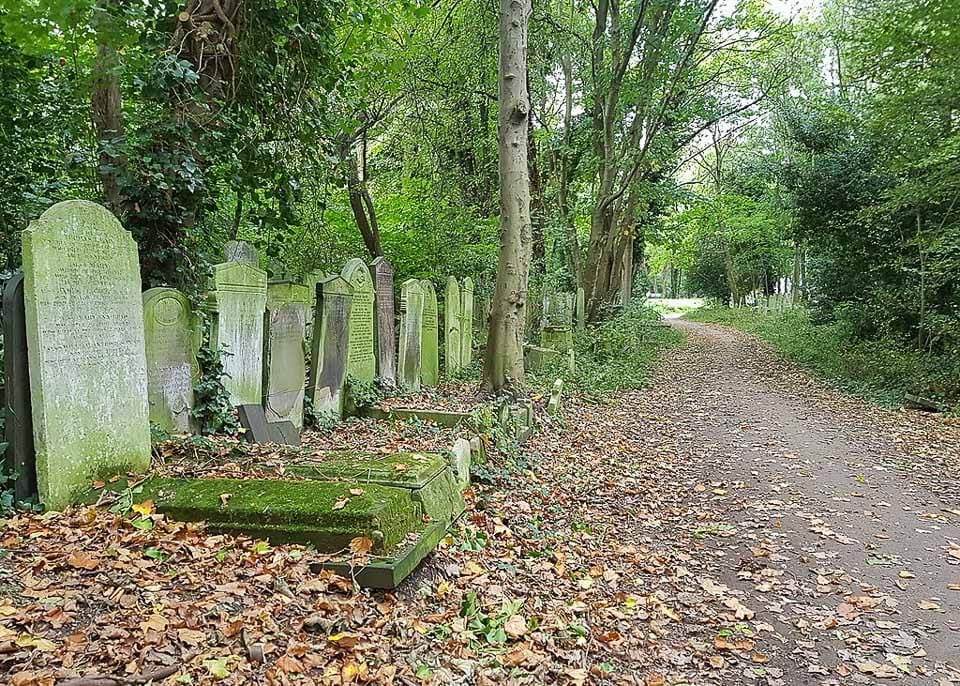 The cemetery's notable graves include those of soldiers and prominent social reformers, but it was primarily a burial ground for the working class. Tower Hamlets Cemetery has been closed to new burials since 1966.
Final Words
The Magnificent Seven are among some of the most interesting, historic cemeteries in London.
From ivy-clad monuments to Gothic architecture, there are plenty of beautiful sights in the Magnificent Seven cemeteries of London. Whether you're looking to discover some local history or just take a walk in a pretty, peaceful location, the Magnificent Seven Cemeteries are great places to visit.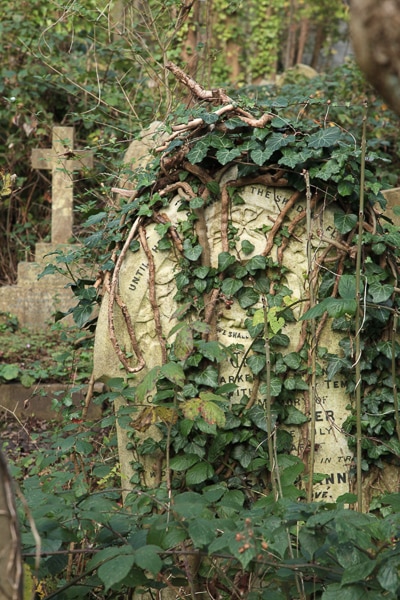 Practical Information for Visiting the Magnificent Seven Cemeteries
Hours: Most of the Magnificent Seven Cemeteries have specific hours when they are open to visitors, so it's best to research this in advance of your visit.
Admission Fees: Highgate Cemetery charges an admission fee, but the other cemeteries are free to visit.
Tours: Some of the Magnificent Seven cemeteries offer guided tours. If you're interested in a tour of a certain cemetery, contact them directly for the schedule.
Accommodations in London
If you're planning to visit the Magnificent Seven Cemeteries and need accommodations, here is a list of hotels in London. Please consider booking your London accommodations through the included link. It costs nothing extra and helps support this website.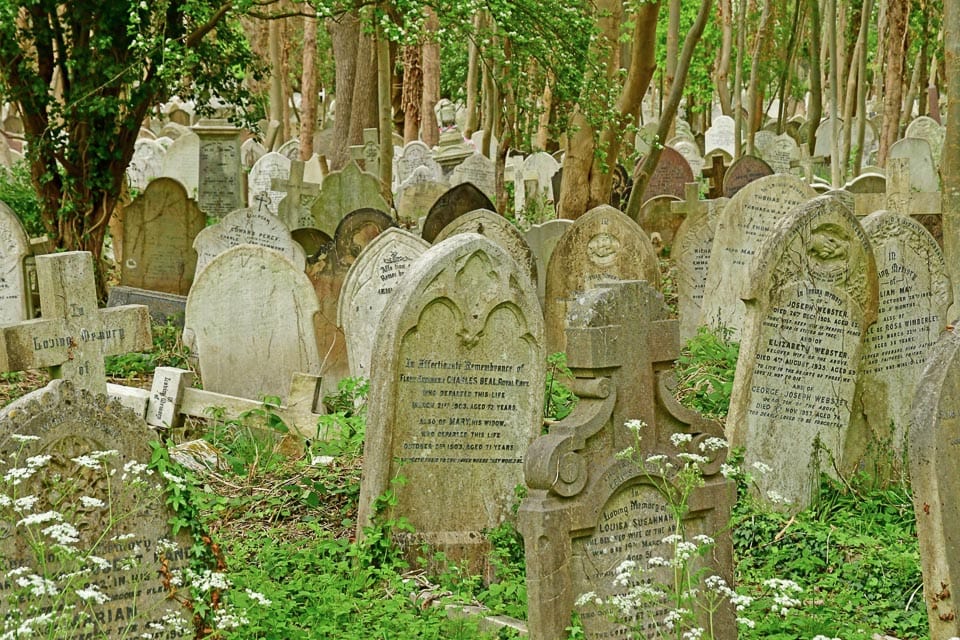 More Burial Places in the U.K. and Overseas Territories